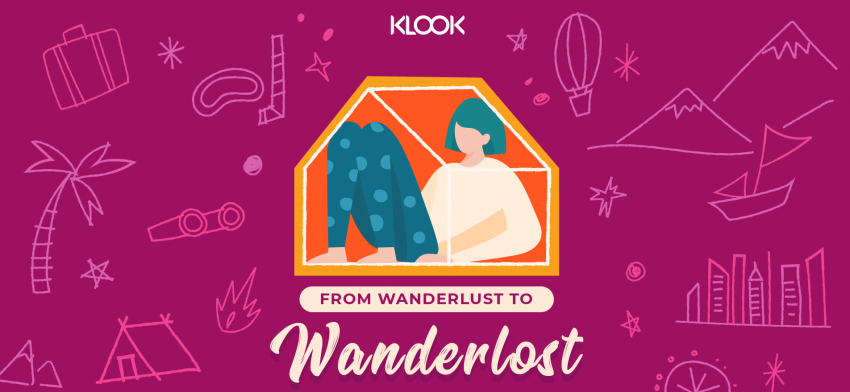 We're a country that's been blessed with a lot of public holidays, and more often than not, Malaysians tend to travel abroad during these times. However, with the COVID-19 pandemic and international travel restrictions in place, we are unable to travel as freely as before. This has come to affect peoples' happiness in terms of work, family, and relationships. 
World-leading travel and leisure platform, Klook, calls this the 'Wanderlost Syndrome', a sort of withdrawal experienced by people due to the lack of travel. Klook commissioned a survey – named The Wanderlost Syndrome survey – with YouGov across 15,323 individuals in 13 countries in Asia Pacific to see how people were being affected by the travel ban. In Malaysia, 1,117 individuals participated in the survey to unearth the five main symptoms of wanderlost that are plaguing them.

Symptom #1: Torn between visiting family and escaping from them
A staggering 87% of the Malaysian respondents are unhappy about not being able to reunite with their families this year. This ranks Malaysia second after the Philippines (89%). On the flip side, 60% of the Malaysian respondents also admit that they are keen to escape from their families to avoid family gatherings and potential nosy questions from their relatives with 79% of respondents who are in relationships but unmarried feeling the most strongly about this. This could be attributed to being confined with family members or partners for extended durations during the Movement Control Orders (MCO).
Symptom #2: Romantic dry spells
More than half of the local respondents – 55% to be exact – feel that their dating pool has been affected as they now have a lesser chance to meet and date new people. Results state that 65% of the single men across all markets (except Taiwan and Vietnam) are unhappier about being unable to make new friends and date different people. Meanwhile, 56% of single women clock in on this same dissatisfaction. 
A higher and alarming level of unhappiness, however, is seen among married adults with children. About 6 in 10 of total respondents reported feeling unhappy because of their inability to travel. This is especially so in Hong Kong (87%) and Malaysia (84%).

Symptom #3: It's now tougher to de-stress from work
Kuala Lumpur is one of the top five overworked cities in the world according to a work-life balance study conducted by Kisi in 50 cities worldwide. Klook's survey resulted similarly, placing Malaysia at the top of the list. 85% of the Malaysian respondents stressed that the travel restrictions disables them from unplugging from work completely. 
Additionally, it was found that 73% of respondents don't believe that vacationing within Malaysia is the best way to utilise leave from work. They think it is wasteful to use up precious leave days when they can't travel abroad.
Symptom #4: Harder to create happy memories without travelling abroad
Compared to the rest of the 13 Asia Pacific markets, Malaysia ranks the highest in this category as 92% of respondents view travel as one of the most crucial ways to create happy memories with friends and family. Millennial singles also tend to be unhappier about this situation than any other age group. A total of 95% Malaysian singles are unhappy with not being able to create travel experiences and memories with friends and loved ones.
Symptom #5: Frustrated about having to stay at home and not able to travel
While there are many entertainment options, 79% of Malaysian respondents – the highest among the 13 markets – expressed that they are tired of watching yet another TV show or YouTube video instead of travelling. 80% of said respondents have also admitted that they find themselves looking at past travel photos to reminisce since they can't travel. 
Emily Tan, marketing lead of Klook Malaysia said that The Wanderlost Syndrome survey has shown that Malaysians have a huge desire to reconnect, explore, and enjoy themselves again through travel. While international travel is halted, an easy remedy is to head out and explore our own backyard. If there's anything we've all learnt this year, it is to be grateful for the things that we do have – good health, a comfortable home, and the beauty of our own tanah air. 
Whether it's a staycation or treating yourself to a unique dining experience, there is plenty to do and explore in our beautiful country that can help turn that feeling of wanderlost back into one of wanderlust.
Get all the latest travel stories from Zafigo. Follow us on Facebook, Twitter, and Instagram.