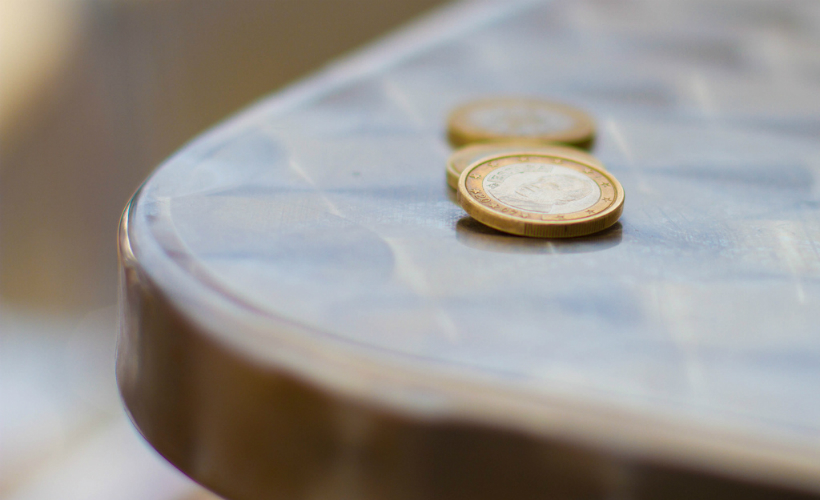 As Asians, we find it very normal not to tip… anyone. Sadly for us (or happily for everyone else), the rest of the world doesn't agree with that practice. In light of this, we've put together a handy guide on when, where, who to tip and how much to do so, for scrooges and the clueless (that includes us)!
When to tip
By rule of thumb for everyone in the service line, the most common tipping mistake is not tipping. So whether it's 10%, 15%, or a few bucks, you should leave something for them, whether you get good service or not.
Bad service? Tip them anyway, but give them feedback. Kill them with kindness. [Wanderluxe Editor Note: I like to leave only a few coins and THEN give them feedback as to why I didn't tip more – that makes them mad, plus I'll probably never go back if the service wasn't good, but hey, that's just me]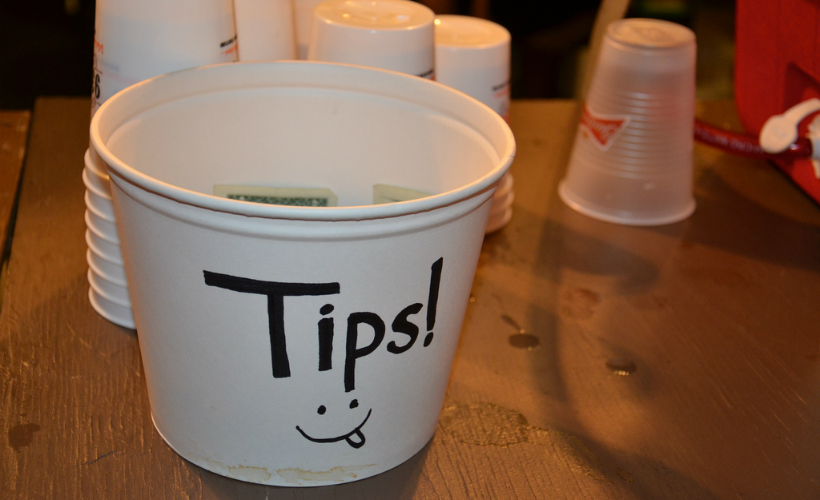 When you can avoid tipping
In cases of restaurants or other service areas where you see service charge already factored into the bill, it's okay not to tip. However, most customers do so as a customary practice to round up the bill. When paying by credit card, you can skip out on it, but where cash is concerned, leaving an extra buck or two won't kill your wallet.
Who to tip
Bellhops
Wait staff
Tour guides
People behind the food counters
Delivery people
Parking attendants
Concierge (especially if they have just gone out of their way to help you)
Hotel housekeepers*
*Hotel housekeepers will sometimes have this conundrum where they leave your tips because they don't want to be accused of stealing. To avoid this, either leave the tip amount on your pillow, or pass it to them personally when you see them around.
Who not to tip
This is generally a grey area because who doesn't want extra money? Here are some people who actually would feel offended if you were to tip them.
Doctors
Nurses
People whose services you buy (dry cleaners, painters)
Which country is it a sin to not tip?
United States of America (they actually yell at you if you don't tip!)
Austria
Canada
Chile (it's mandatory!)
Egypt
Israel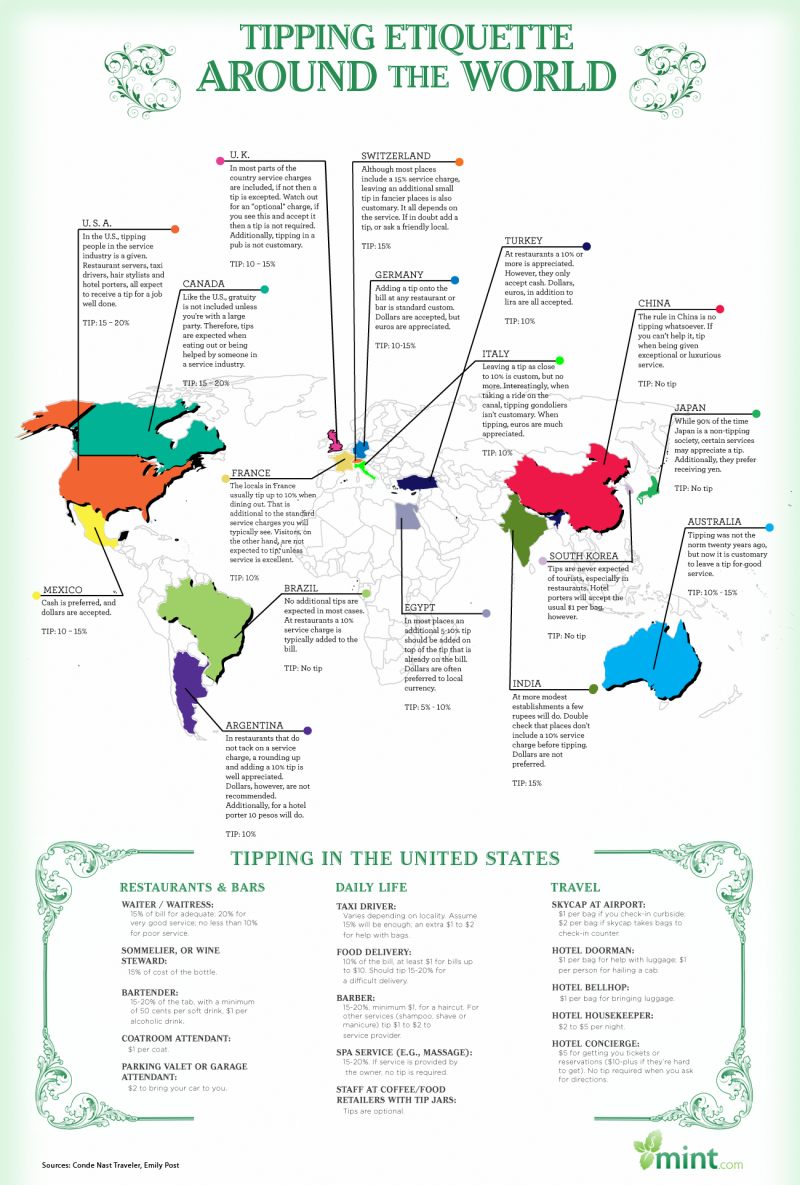 How much to tip?
Here's the million dollar question, and while it varies every country, waitbutwhy presents us with a pretty accurate percentage guide on how much to tip.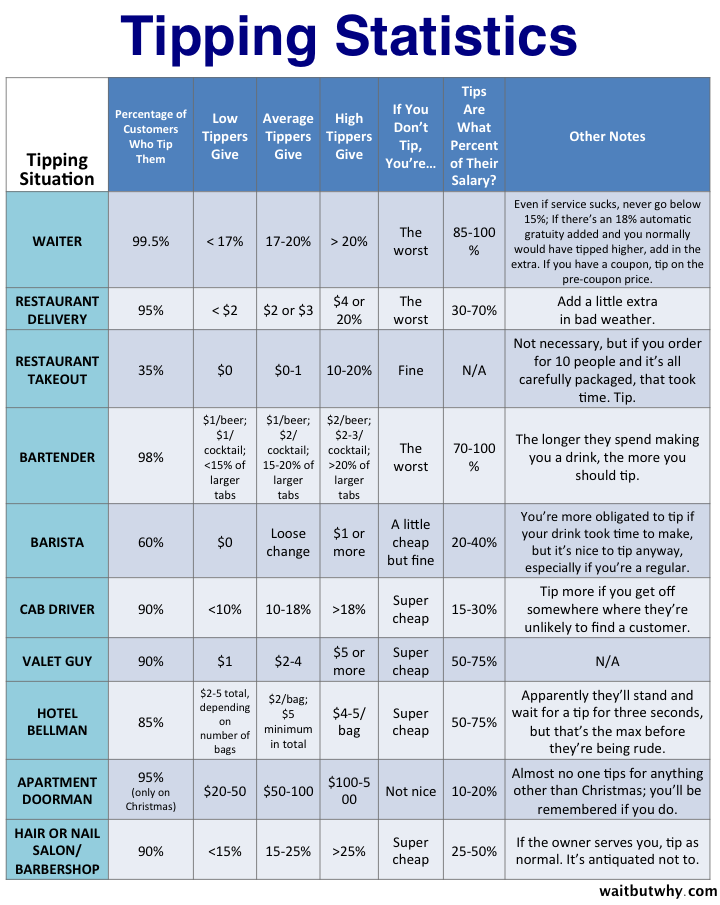 Overtipping
The only scenario where overtipping would be frowned upon is when people mistake you for trying to bribe them. In which case, only tip after services are over and of course, leave immediately.
This story was originally published on Wanderluxe by The Luxe Nomad
Zafigo republished this story in full with permission from the author to hopefully bring the story and the author to a larger audience, simply because good authors and stories should be read by as many people as possible! If you are keen on Zafigo republishing your stories that will be of interest and useful to women travellers especially in Asia and the Middle East, please get in touch with us at info@zafigo.com.