'God's mini-scape', 'The sculpture museum of nature' – these are the other names that the geologically stunning Stone Forest (Shilin in Chinese) goes by. Located in Kunming, the capital city of China's Yunnan Province, Stone Forest is a UNESCO World Heritage Site that's famed the world over for its magnificent and beautiful karst formations.
As I researched about Kunming's must-visit places, the Stone Forest came up on the top list. So on my fifth day in Yunnan, off I went to Shilin with my travel buddy to see what the limestone landscape of the Stone Forest had to offer.
The town is called Shilin because the area is indeed a stone forest. We even thought that we'd arrived right at the Stone Forest because there were plenty of karst formations at the train station itself. Stepping off the train, the first thought I had in mind was that Shilin was going to be lively and vibrant. Especially since it was one of the top destinations to visit. However, when I was there, it was a quiet town. Nowhere near as touristy as I thought it'd be.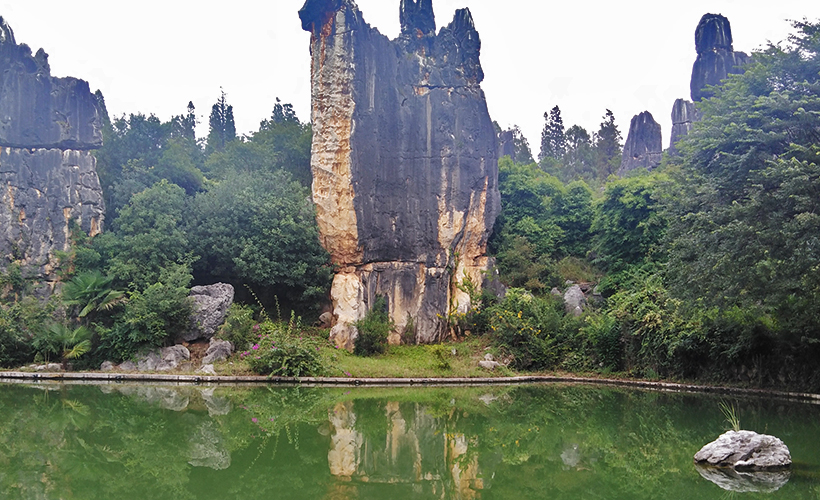 On our bus ride from the train station to Stone Forest, towering karsts heavily dotted the landscape, so much so that it felt as if we were lost in time. These geological marvels were formed over some 270 million years, and the area also features a waterfall, serene lakes, karst caves, and verdant forests. As we arrived at the Stone Forest, we were treated to a lovely view of myriad flowers spread about in full bloom.
I took photos of almost every type of flower I saw. The local Sani folk were donned in their colourful traditional dress and offered to take pictures with us, but we declined politely as we needed to pay for it. Nonetheless, it was a beautiful sight and so different for me to see. We paid an entrance fee of CNY135 (approximately USD19) to enter the Stone Forest and continue our tour.
---
Take a walk on the wild side. Or a hike. You can count on being rewarded with picture-perfect vistas and photo-ready wildlife:
---
Since the place was so huge, we only managed to see a few stone sites and one of them was the popular Ashima Stone, located at the Lesser Stone Forest. Locals told us that Ashima was the Goddess of the Sani people and that there's a beautiful story behind the stone. As someone who loves stories, this was my favourite stone because I could relate to it. According to legend, Ashima was being forced to marry a man she didn't love and was kidnapped by her groom-to-be. Her true love came to her rescue, but alas, as they were fleeing, a flood drowned her. Although a tragic tale, this stone remains a symbol of hope for the freedom to marry.
To understand more about the history and story behind the different stones, there are tour guides available, but for an additional fee. Since we were on a budget, our best guide was Google and the information book we took at the entrance.
For me, the best site to take pictures was at the peak stone of Greater Stone Forest. From the peak, we got to see lots of crowded stone peaks rising abruptly out of the ground, all varying in layers and shape. We were told that every stone peak in a peculiar shape is the bearer of a touching legend.
After hours of touring the Stone Forest, we decided to deepen our knowledge at the China Stone Forest Karst Geology Museum. It was definitely the biggest and most interesting museum I've ever been to in my life, full of remarkable fossils. In total, they house more than 10,000 exhibits.
Personally, I think the Stone Forest is a fascinating place to visit. But whether or not it's worthy of the hype is a matter of personal taste. If you're someone who loves learning, is into geology, and enjoys seeing new things, it's definitely worth a trip. I would go again, but probably during either the spring or winter season, as the landscape will be absolutely stunning during those times. Overall, a day well-spent.
All photos courtesy of the author.
22971, 29837, 29247
Get all the latest travel stories from Zafigo. Follow us on Facebook, Twitter, and Instagram.