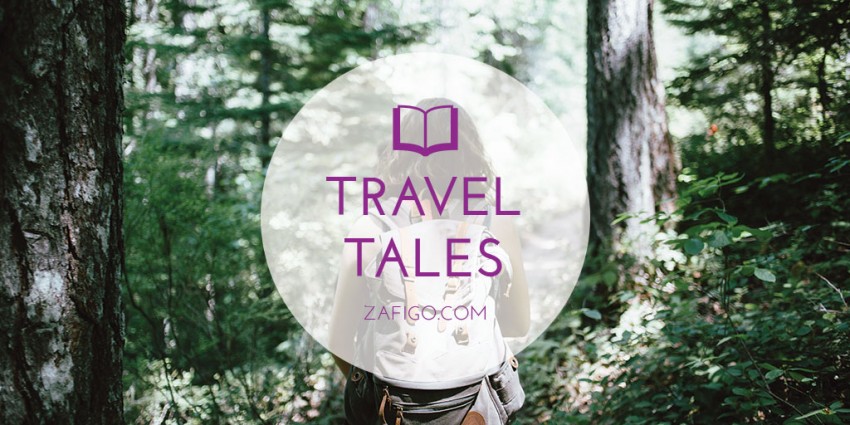 Although I was born and raised in Cebu, in the Philippines, my parents hailed from Batangas, some distance away. Visiting our grandparents every school vacation was something we did growing up, but back then, airfares were astronomically-priced, so we always travelled by ship from Cebu to Manila (roughly 23 hours).
As a child, I endured the long journey because there were plenty of things to do on board. Now, as an adult, I have my doubts about whether I'd still be able to enjoy such a long journey on a ship. My husband and I have been putting off an ocean cruise vacation because we couldn't reconcile with the thought of being at sea for seven to 10 days.
To see if we'd be able to take on a majestic ocean trip, we decided to try a mini-cruise first. It's mini for three reasons: 1. It's a short five days, 2. It means lesser time spent at sea, and 3. It has land-based accommodation as opposed to treating the vessel as a hotel.
So, off we go. We ventured on a cruise that visited the capitals of four Scandinavian countries: Stockholm (Sweden), Helsinki (Finland), Copenhagen (Denmark), and Tallinn (Estonia).
When we got the itinerary, two days were allotted for Tallinn. Estonia is located in the Baltic Sea, formerly part of the Soviet Union, and with links to Sweden and Denmark. Its capital is only 85 kilometres from Helsinki. Here's how we spent the two wonderful days:
We started with a three-hour walking tour with other tourists who, like us, were also eager to get to know the city. Helen, our tour guide, commented that by far this was the largest number of walking tour participants at 160. So, we were split into two groups for better interaction.
Helen took us to key locations of Tallinn, shared with us a lot of things about Estonian history, and short amusing stories about the country's culture, religion, food, and so on.
Estonia has a population of 1.5 million, with 450,000 people living in Tallinn. The Estonian tri-coloured flag symbolises the following:
Blue stands for loyalty. It also represents the blue skies, seas, and lakes.

Black represents the past oppression and the rich soil of the country.

White stands for Estonia's long struggle for freedom and independence. It's also a representation of the winter snow.
We're also told that making small talk like saying, "Good morning" and "Hello" is unusual Estonia. Due to their history and the many countries that conquered them, they're not very warm and friendly to foreigners. Estonians are generally reserved and disciplined, and personal space is very important to them.
In the past, practicing religion was prohibited. Hence, most of the churches were converted to museums. Estonia is one of the world's least religious countries with only 14 per cent of the population declaring religion an important part of their daily life. Despite this, they respect freedom of religion, and guarantee the separation of church and state.
Estonians love to sing. While a part of the Soviet Union, Estonians bought lyrics of western songs in black markets, read every line, and judged whether it was a nice song without even hearing its tune. Like in the Philippines, you can also find many karaoke bars in Estonia. They even got their independence by singing! The so-called 'Singing Revolution' lasted over four years (1987 to 1991) and led to the restoration of the independence of Estonia.
Tallinn is the home of some familiar things like the first Christmas tree and Skype. In 1441, the world's first Christmas tree was put up near Tallinn Town Hall as part of a winter ritual where people danced around the tree and later set it on fire. Later in 2003, Estonians created Skype and released the first public beta version.
Needless to say, the city is teeming with sites to see. Here's our round-up:
Medieval times at the Old Town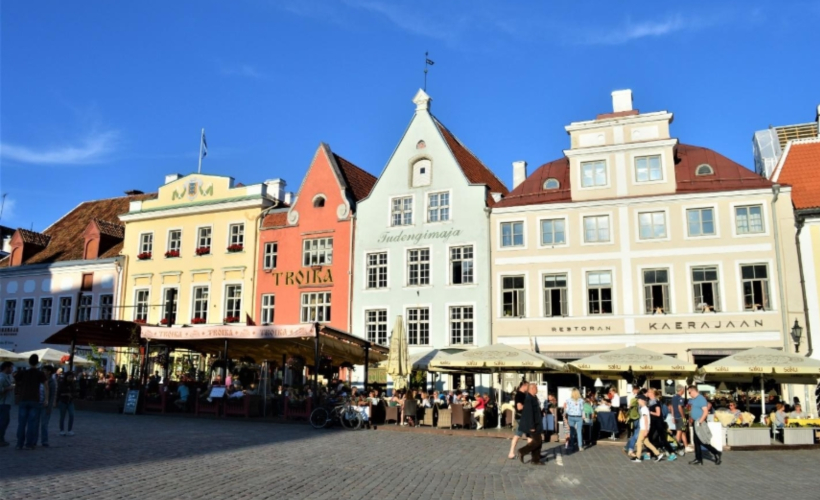 Like a classic fairy tale movie, wander into colourful houses, cobblestoned alleyways, medieval buildings, and watch towers. Despite Estonia's centuries of successive German, Danish, Swedish, and Russian rule, its capital city of Tallinn is famous for its well-preserved Hanseatic architecture and medieval structures.
Hanseatic refers to the Hanseatic League. Also known as Hansa or German Hanse, this association was formed by north German towns and merchant communities abroad during the 13th to 15th century to protect and control trading activities. Tallinn's intact 13th century Old Town has been a UNESCO World Heritage Site since 1997.
Tallinn's Town Wall give the town a medieval atmosphere. Built as a fortification, the wall enclosed and protected the town from invaders. We've travelled to many places in Europe, but I've never seen the walls of a medieval city intact. In most places, only fragments of the walls are left. According to the Tallinn Tourism Board, a full stretch of wall (1.9 kilometres of its original city wall) and 20 observation towers are still standing.
Katariina käik (St. Catherine's Passage) is a winding passageway that'll take you back to the middle ages. This narrow alleyway wass a charming fusion of crafts and religion. On one end, stand a wide array of craft shops that was well worth the visit. On the other end, we saw the remnants of St. Catherine's Church along with tombstones from the original sanctuary. The church is said to be the largest church in medieval Northern Europe. Today, these church ruins act as a venue for concerts, plays, and exhibits.
We completed our medieval tour of the town with none other than a medieval meal! On the menu was ox rib, elk soup, and meat pie. All super delicious and everything was well laid together. With servers dressed in medieval costumes, the setting felt very authentic.
Buildings fit for royalty
Estonia has a Parliamentary form of government with their Prime Minister as the head. They also have a President for ceremonial events. We learned from our tour that the Presidential Palace (Kadriorg Palace) is not guarded, and it was true. We ended having photo shoot there.
Toompea is a limestone hill in the central part of the city of Tallinn. This is where a wooden fortress, Toompea Castle, was built during the 9th century. In the course of history, Danish, Livonians (from Latvia), Swedish, and Russians fortified the fortress and ruled the territories of Estonia from here. Today, Toompea is the seat of the Parliament of Estonia, the Riigikogu. The Estonian flag atop the Pikk Hermann tower symbolises Estonia's independence and own government in power.
The Kiek in de Kök Fortification Museum is an artillery tower that gives insight into Estonia's past and the vast range of defences it used to protect itself. Inside this tower is a museum of the town's armours, weapons, and medieval-era life. This is also the starting point for touring the hidden tunnels that run underneath Toompea Hill. Kiek in de Kök literally means 'peek into the 'kitchen'. Due to its 38-metre high structure, it was a well-recounted joke that medieval guards could see right down the chimneys and into the kitchens of the houses below.
Getting the best views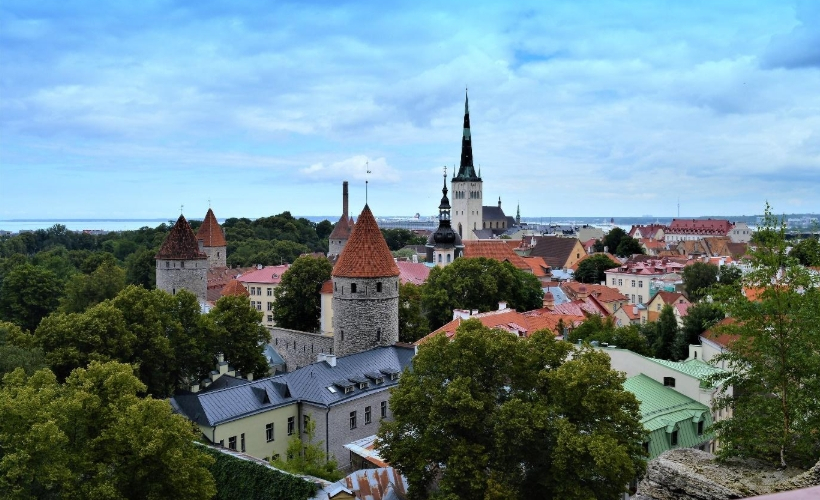 Looking to capture some Insta-worthy panoramas? We went to the Kohtuotsa and Patkuli vantage points for some lovely views of Tallinn. They're just a short walk away from each other and two of Tallinn's many viewing platforms at Toompea Hill.
We'd arrived around mid-day, so it was difficult to get the perfect spot for a picture. However, once the crowds settled, we had fine views of old and new Tallinn. Look out for the red roofs of the Old Town with its ancient walls and towers, and the modern Tallinn harbour where you can see ferries travelling to and from Stockholm and Helsinki. We also spotted the towers of St Olaf's Church (which was said to be the tallest structure between the year 1549 to 1625) and the Cathedral of Saint Mary the Virgin.
From the Patkuli viewing platform, we went down around 150 steps connecting the Upper Old Town (dominated by Toompea Hill) to the Lower Old Town (with the Town Hall Square as its heart). We sure worked up a sweat.
Paying respects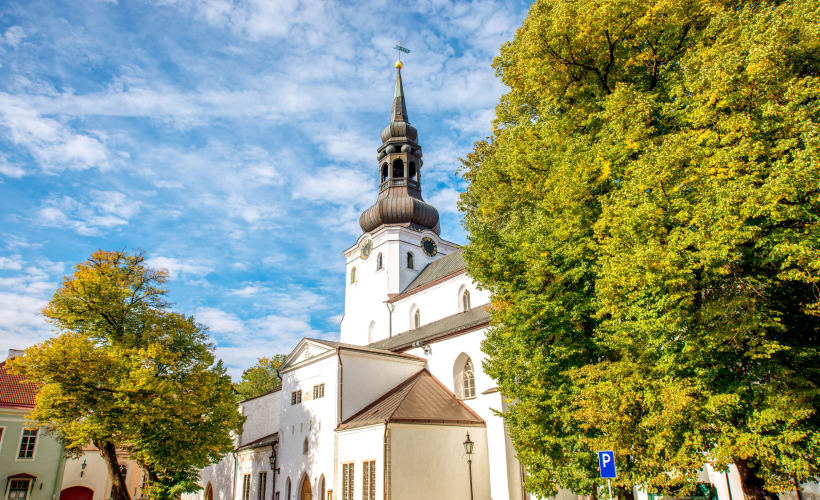 Joey and I were raised as Catholics. Every time we travel, our itinerary always includes a visit to at least one church to attend Mass. We always find it interesting participating in a service being conducted in another country's language.
St. Peter and St. Paul's Cathedral is a modest yet beautiful church with a courtyard setting that serves Tallinn's very small Catholic congregation. Apparently, the Catholic population of Estonia is only approximately 6,000 adherents. Our cruise ship arrived at the Port of Tallinn on a Sunday. Being the only Catholic church in the Old Town, we stumbled into this church and attended the 6pm Mass. The Mass was held in Russian, but the priest also gave a homily in English following the homily in Russian, after noticing us in the pews.
Another church we visited was the Cathedral of Saint Mary the Virgin (Dome Church). Originally established as a Roman Catholic cathedral by the Danish, this baroque tower located on Toompea Hill has served as a burial place for noble families since the 13th century. It became Lutheran in 1561, and is now the seat of the Archbishop of Tallinn, the leader of the Estonian Evangelical Lutheran Church.
Located in the Old Town district is another lovely place of worship called the Church of the Holy Spirit. It's the only sacred building that preserved its original medieval form, and is recognisable by the blue and gold clock on the wall above its entrance. The clock was carved in the 1680's, and is the oldest public clock in Tallinn. We paid a small fee to go inside, and it was well worth it to see the main altar, suspended pulpit, choir stalls, pews, and decorative stained glass.
Finally, we visited the alexander Nevsky Cathedral. This grand, five black onion-domed Russian Orthodox church was completed on Toompea Hill in 1900, when Estonia was part of the Russian Empire. It's just across Toompea Castle (now the Estonian Parliament) and stands out because of its massive and richly-coloured design in a sea of pastel-hued medieval buildings. Entry here is free; but since this is a working church, visitors are expected to dress appropriately.
Prior to this trip, we hadn't heard much about Tallinn. Seldom does it appear in travelogues as a top tourist destination. A visit to this medieval city turned out to be a pleasant surprise, and I'm glad we made it worth our while. Exploring made us realise how truly magical and enchanting Tallinn is. Definitely worth a return visit!
---
 Read our last Travel Tale:
4 Things I Learned Island Hopping For The First Time
---
Here's your chance to get published on Zafigo! We want your most interesting Travel Tales, from memorable adventures to heartwarming encounters, scrumptious local food to surreal experiences, and everything in between.
They can be in any form and length –short stories, top tips, diary entries, even poems and videos. Zafigo is read by women travellers the world over, so your stories will be shared to all corners of the globe.
Email your stories to [email protected] with the subject line 'Travel Tales'. Include your profile photo and contact details. Published stories will receive a token sum. 
Get all the latest travel stories from Zafigo. Follow us on Facebook, Twitter, and Instagram.