I only recently discovered Koh Lipe—a breathtaking paradise tucked away in Thailand. My friend had returned from their trip, and I was mesmerised by the photos shared with me, captivated beyond belief as my eyes feasted on the sight of the pure white sand and the crystal-clear, azure blue water. It was as if Tulum, Mexico, had magically transplanted itself to the shores of Thailand.
Instantly, I knew I had to embark on my own journey to this tropical haven, so I did what any sane person would do—I booked my ticket without hesitation. Let me share the remarkable highlights of my unforgettable trip.
Obviously, food
Unsurprisingly, one of the many things I looked forward to doing upon arriving in Thailand was indulging in the delicious food. Thai cuisine, known for its delectable flavours, already tickles the taste buds, but imagine experiencing it in its birthplace! Just the thought of it had me drooling.
Even though my friend and I made a beeline to all the local offerings, we were pleasantly surprised at how diverse the Koh Lipe food scene was. There's plenty of Spanish, Italian, and Indian food to be found if you're not in the mood for Thai.
After satisfying our cravings for local eats, we simply had to check out a restaurant called The Box. The wine selection here did not disappoint, and I was served perhaps the best fish tacos ever — and the fish came fresh from the ocean we just took a dip in! If you want to stave away from European food and stick to local favourites like pad Thai and papaya salad, check out Ranee Seafood Restaurant.
Views for days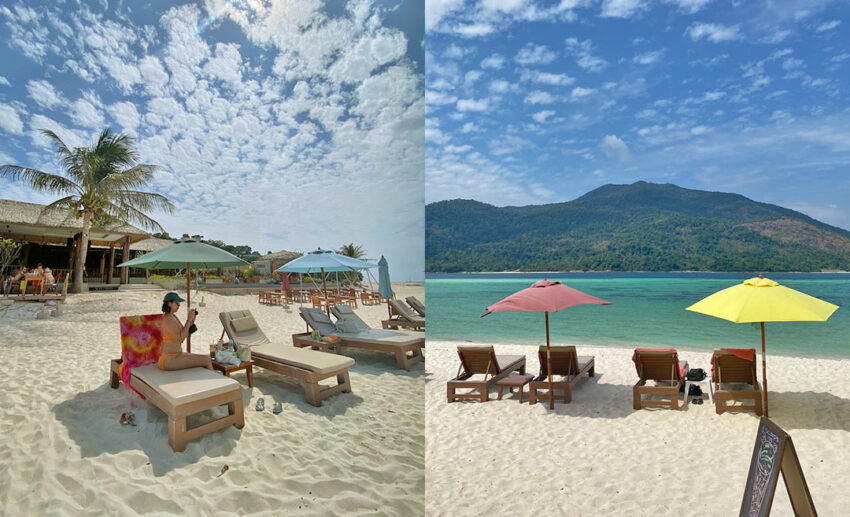 As one would expect from being on an island, the views here are breathtaking and, quite honestly, hard to describe. Each sunrise, sunset, and everything in between was something to be remembered.
Since the island is pretty small, we did a lot of walking around, which allowed us to explore the island in a short couple of hours; with every corner turned, another beautiful view awaited. Different parts of the island also offer different things, so if you're looking for something more laid-back, I highly recommend Sunrise Beach, which is on the eastern side of Koh Lipe.
A friend in need is a friend indeed
What was initially meant to be an all-girls trip turned out to be an intimate getaway between one of my closest girlfriends and I. I'm not one to spend a long period alone with someone, but this was a great opportunity for us two, who both needed time away but doing it together. What came out of it was a perfect trip with a good friend, and I couldn't have thought of a better place than Koh Lipe.
We ended up getting massages to our heart's content, ate together but were comfortably sitting in silence, and had bouts of the day where one of us would disappear to do something like watching the sunrise while the other slept in. Through this trip, we were able to appreciate each other deeper and build an even stronger level of connection.
Home away from home
For our getaway in Koh Lipe, we chose a quaint little stay known as Lipe Beach Resort, which was affordable, right by the beachfront, and easily accessible from the beach and the streets.
While it's not a 5-star hotel, it does have all the simple amenities one could need, and what was most crucial is the nightly rates don't break the bank. We figured that since we'd be spending most of our day outside the chalet, why splurge?
Breakfast is included in the rates, and if we wanted a quick nightcap, there's a bar attached to the resort. The staff here are incredibly friendly and accommodating, and what's best is that plenty of wildlife roamed around. By wildlife, I mean cats and dogs.
For those who prefer to keep moving whilst on holiday, there is a deck where yoga practice happens. There's even a treehouse that houses a massage parlour. Talk about getting bang for your buck!
Island hopping all day, every day
It's important to come to Koh Lipe with low expectations in terms of activities. When I say this island is meant for unwinding, I really mean it. Many of the usual water sports activities like jet skiing aren't readily available here. However, you can snorkel or dive as there are plenty of dive centres on the island.
Visitors can easily hop on to one of the many long boats around should they feel like island hopping, which we did after too many days of lazing around. Set aside around THB1,500 (approximately RM180) for a day of island hopping. I promise you'll catch some of the most beautiful sunsets you've ever seen.
Bar hopping on a tiny island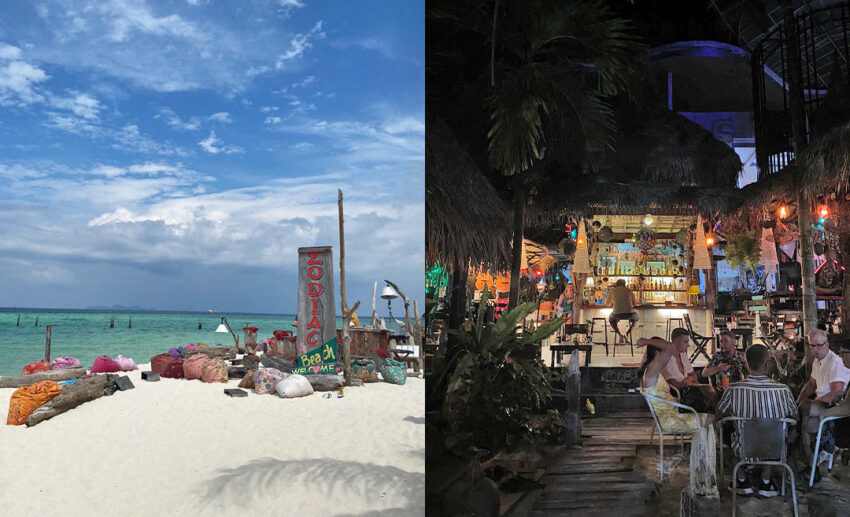 One wouldn't expect to find such cool bars on a tiny island like this. Who knew that a small island could hold such big surprises? We stumbled upon some vibrant speakeasy bars that serve delicious cocktails while playing some house music that got us vibing. Our personal favourites: Zodiac Seesun Resort, The Living Room, Time to Chill Bar, and Rainforest Bar.
So, whether it's for a quick weekend getaway or a week of unwinding, Koh Lipe is now my new go-to. And if you want a destination with spectacular views that isn't going to burn a hole through your wallet, then this island is for you.
All images courtesy of author.