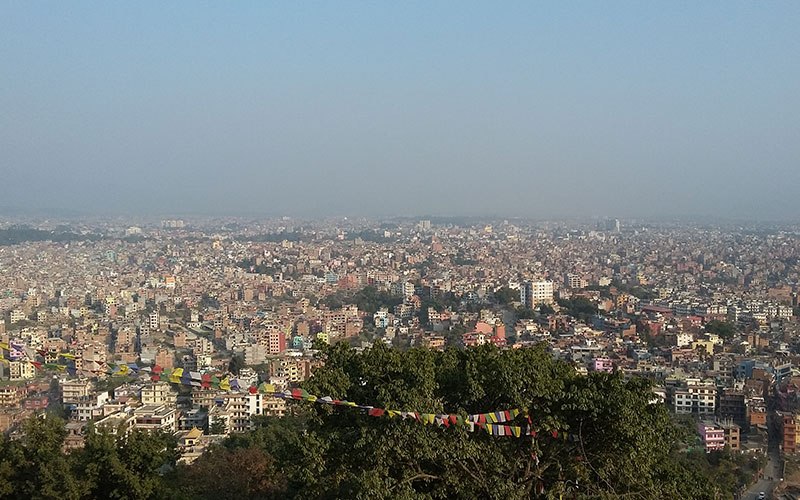 After the April 2015 earthquake, Nepal has resiliently begun the long process of recovery, a process hindered by political tension, protests along the border with India and a resulting fuel shortage. However, by the end of my trip to Kathmandu in December 2015, the message was clear to me: Nepal is still a beautiful, vibrant country and Kathmandu is still a great destination for tourists in 2016, even with the current struggles.
Where to go
Not surprisingly, the Thamel area remains open, brightly lit and decorated, and full of shops selling carpets, handmade wares, pashmina scarves and much more. As the predominate area for guesthouses and hotels, this backpacker and tourist neighbourhood depends heavily on tourists and still is home to many great stores, stalls, and restaurants.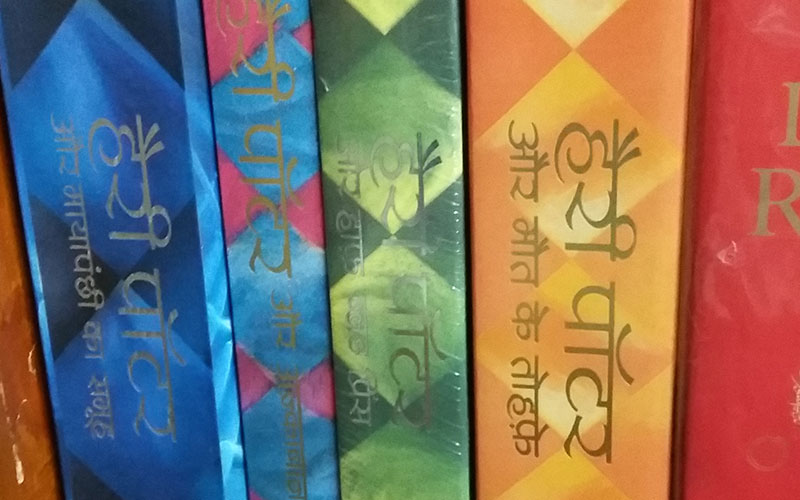 I spent nearly an hour looking around Tibet Book Store, about 200 metres from the Garden of Dreams in Thamel on Tridevi Sadak road. As the name suggests, the small bookstore specialises in spiritual guidance books related to Tibetan Buddhism and on the history of Tibet, but it also features other great travel writers and cookbooks from a number of different countries in the region. You'll easily find something to accompany you on your travels.
Another popular tourist destination is the Swayambhunath Temple, a Hindu temple atop a hill just outside of Kathmandu city that is also known as Monkey Temple. Although there are some visibly destroyed buildings at the top near the main stupa, the temple complex still offers stunning views of the valley and remains home to dozens of monkey families.
The Boudhanath Stupa has been re-opened but repairs are still in progress, which means you won't get the same stunning pictures of the stupa as before but you'll still be able to understand why it is such a landmark, and visit the shops nearby.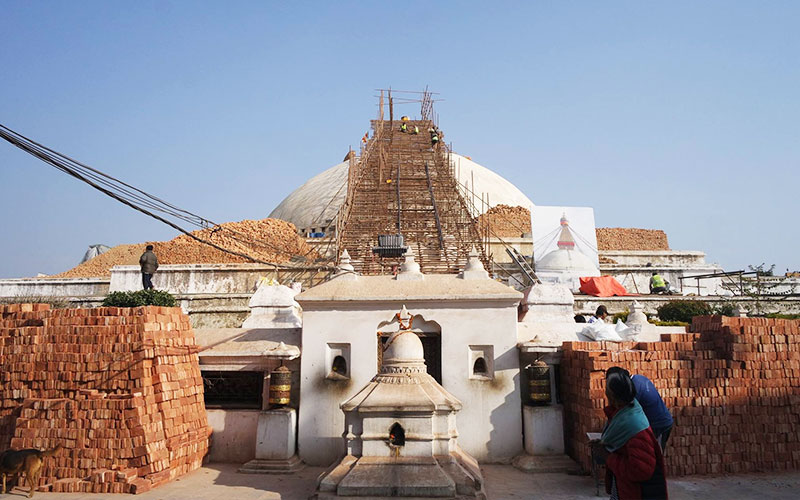 Unfortunately, I didn't have a chance to visit the different Durbar Squares during this trip. From my first trip before the earthquake, I found both Patan Durbar Square and Bhaktapur Durbar Square to be enchanting and full of stunning photo opportunities. My colleagues and friends have since told me that Patan and Kathmandu Durbar Squares have some visible damage but are still beautiful sites to visit and walk around.
Bhaktapur Durbar Square, unfortunately, suffered significant damage during the earthquake. It is open to visitors but restoration is likely to take a long time. Even with the damage and on-going recovery, these historical destinations are worth including in your itinerary as they offer an opportunity to see the architecture and city planning of old Nepal.
Tips:
Entrance to all three of the Durbar Square cost around NPR1,000/approximately USD10 for most foreign visitors. SAARC (South Asian Association for Regional Cooperation) country visitors usually get a significant discount on entry fees to tourist sites so make sure to check which fee applies to you.
'Durbar Square' refers to any royal plaza or square so when planning a trip don't forget to distinguish between Patan Durbar Square (the main royal square in Patan), Bhaktapur Durbar Square, and Kathamndu Durbar square (the three main royal plazas of the three main historical kingdoms that make up Kathmandu Valley). Many people refer to Kathmandu Durbar Square when they just say Durbar Square but the other two are also worth visiting.
Transportation costs
One the most difficult things to research online right now is the estimated cost of transportation in Kathmandu. Here is what I was told or paid while visiting but keep in mind that the fuel shortage caused by political conflict along the border with India may cause prices to fluctuate.
Getting to and from the airport
I stayed the Summit Hotel in Lalitpur, Patan and they were happy to arrange pick-up and drop-off at the airport for NPR1,500 each way, approximately 7km away. On the other hand, my friend was staying in Thamel, Kathmandu and bargained directly with the driver. She paid 800NPR for the 5.5km trip.
Tip:
You can generally get a better deal when bargaining with taxi driver directly, but I personally prefer to have a taxi arranged for pick up while I'm still learning the currency and then bargain for my taxi back on my own.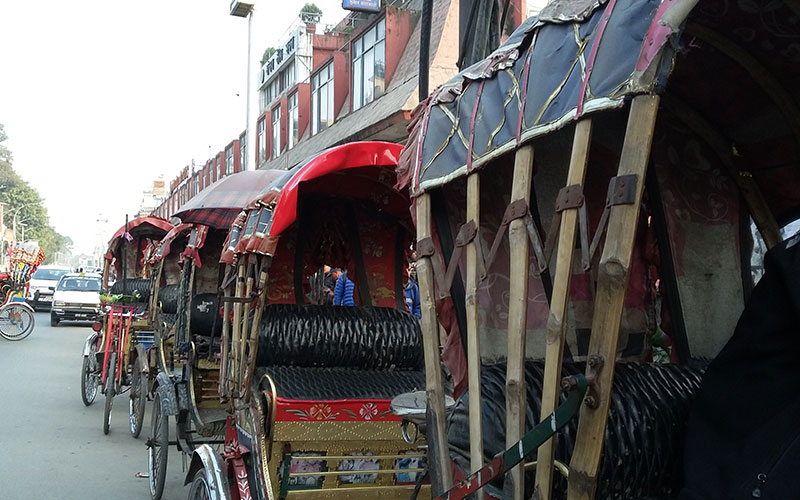 Getting around town
Since I was staying in Lalitpur, the drivers were asking for NPR800-1,000 one-way to Thamel, which was approximately 5km and 15 minutes away. A colleague of mine who lives in Kathmandu was able to bargain one driver down to NPR500. When I led the bargaining, most of my taxis were between NPR600-800, except one late night taxi home for NPR1,000. To get from Thamel to the Swayambhunath Temple, about 4.5km away, cost us around NPR300 each way plus a little more for making the driver wait while we walked around.
Tip:
Be flexible. Taxis to Thamel were cheaper than taxis from Thamel because of the increased likelihood that the driver would pick up a return customer. The late night taxi driver wanted me to pay for the roundtrip and settled on around the cost of a trip and a half instead. For some visitors, bargaining is important to feel they are getting a fair price and for others they are happy to pay whatever is asked. Find your balance.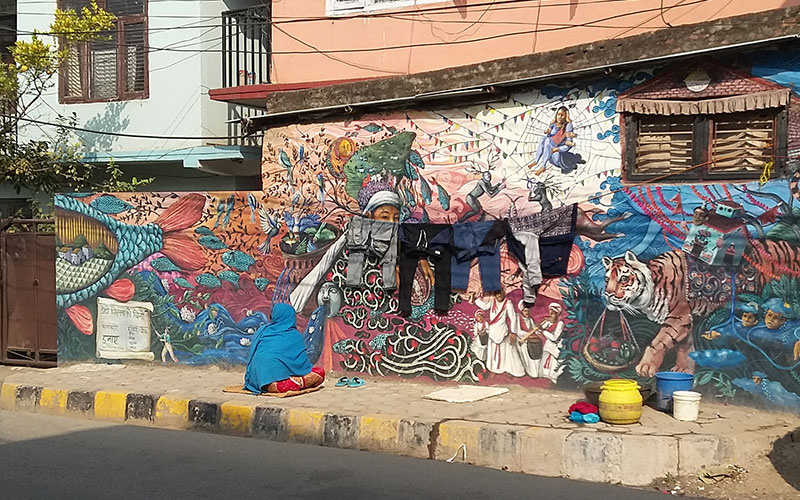 Rent a taxi for the day
One popular option for visitors to Kathamandu is to hire a taxi for the day. Many drivers can suggest an overall itinerary but you should be prepared with a list of what you want to see to make sure you don't miss anything and to make sure the driver understands your plan. Although this option is cheaper than an organised tour, your driver will likely speak only a little English so you won't get much information from them.
My travel companion did a tour while I was in meetings and his itinerary included Pashupatinath, Boudhanath, Swayambhunath (Monkey Temple), Kathmandu Durbar Square and Patan Durbar Square for NPR4,000 (bargained down from NPR5,000).
Tip:
Don't forget to factor in the entrance fee for most temples and, as mentioned above, if you're a citizen of a SAARC country, keep an eye out for discounts.

More from Zafigo
Is Sri Lanka safe for the single woman traveller?
Tips for staying healthy while travelling in Asia
Get all the latest travel updates from Zafigo. Follow us:
[button url="https://www.facebook.com/zafigo" size="small" value="Facebook" color="#94288e"]  [button url="https://twitter.com/ZafigoAsia" size="small" value=" Twitter " color="#89c44c"]  [button url="https://instagram.com/zafigoasia" size="small" value="Instagram" color="#14afa9″]