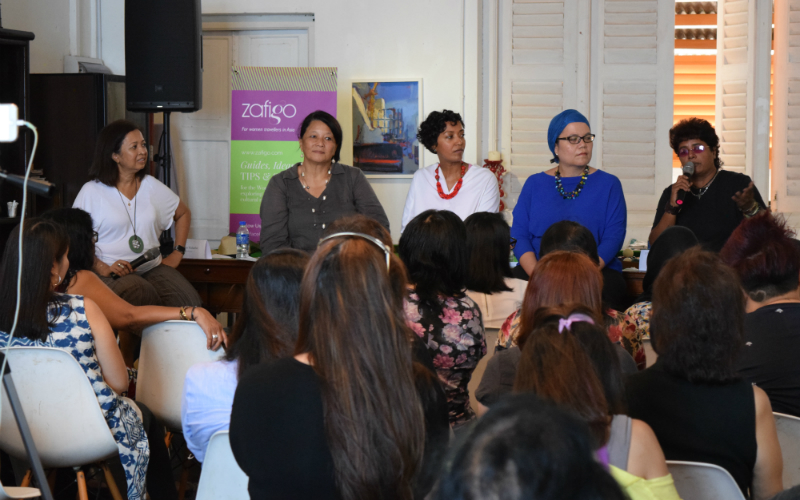 What challenges do women face when travelling? How do we make travel safer and better for women? Zafigo was founded on this premise – to serve as a medium and platform where women can connect with each other, share tips and advice, and encourage more interesting ways to see the world. Our stories serve to inform and inspire, and two weekends ago, we brought them closer to readers with our very first Zafigo Talk: Intimate Conversations with Women on Travel & Culture.
Zafigo founder Datin Paduka Marina Mahathir moderated the discussion among a panel of four speakers, all avid travellers and prolific women in their own right: Zainah Anwar, co-founder and former Executive Director of Sisters in Islam (SIS); Anita Ahmad, Zafigo Partner Blogger and founder of Travel & Be; Sasibai Kimis, founder of Earth Heir; and radio personality Priscilla Patrick, Head of Traffic Information at STAR Radio Group.
Between the five of them, there's little of the world that has not been explored. Priscilla, for example, has been to more than 50 nations and recently ticked the Antarctic off her list (yet she has not been to Pavilion, Ikea and other malls in Kuala Lumpur!). Zainah has visited Afghanistan several times, Sasibai lived in Ghana for two years, and Anita survived gunfire and confrontations with rebels in war-torn countries.
What amazing stories would these women share? The audience knew they were in for a treat so not surprisingly, all seats were snapped up within days of our announcement. On the morning itself, attendees turned up bright and early at The Canteen, China House Penang, our venue host. After registering and picking up their free Zafigo postcards, they made their way to Upstairs@Victoria and found their seats among antique furnishings and beautiful artworks. Chatting freely while nibbling on cakes and coffee provided by China House, everyone was in high spirits and there was a warm, friendly vibe all around.
George Town Festival Director, Joe Sidek, gave a short speech to kickstart the event before handing the mic over to Datin Paduka Marina, who welcomed the audience and spoke about her inspiration that led to Zafigo. Jesting that for once, the audience was not there to listen to her speak, she set a casual tone for the talk and moved on to introducing the speakers.
For the next one hour or so, the speakers took turns recounting their most memorable adventures to a rapt audience, sharing interesting observations as well as personal anecdotes that ranged from sentimental encounters to near-death tragedies. Every single one of them spoke with passion, drawing the audience into their treasured memories and taking us along as they revisited some of their favourite destinations.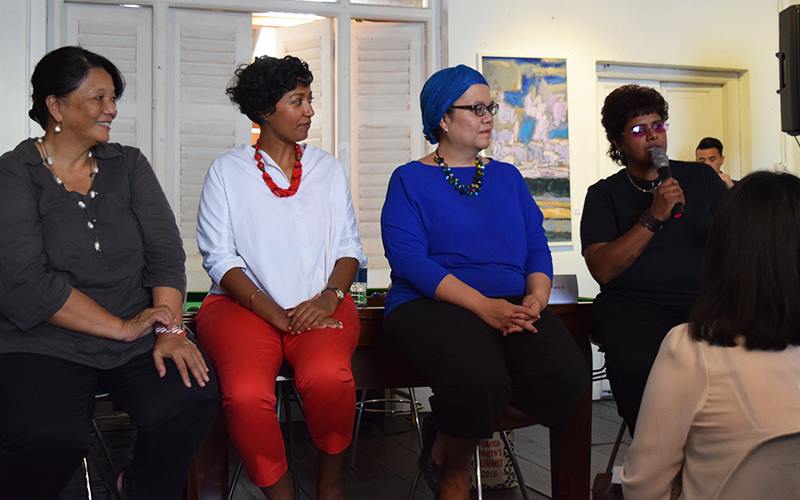 We revelled in Zainah's rose-filled spring in Afghanistan, were cocooned in the African warmth of Sasibai's Ghana, cheered on Anita as she pushed through boundaries and broke down gender stereotypes, and cheated death in the 2004 tsunami of Sri Lanka through Priscilla's evocative recollection. In that distinctive voice that Klang Valley listeners know so well, she described the terrors of being swollen up by the gigantic waves ("like a washing machine") and telling herself she wasn't ready to die because "I haven't seen enough of the world".
The talk wrapped up with a Q&A session, during which some members of the audience shared their own travel tales. They had started the morning in high spirits and by the end of the talk, it was evident that everyone had been further invigorated by the stories.
While the audience comprised largely of women, there were several gentlemen in attendance as well, including architect David Lim. "As a guy who often travels alone, it was reassuring to know that I am not the only one who finds pleasure doing so. Getting out of my comfort zone, experiencing different environments, making new friends, trying new food, adapting to and respecting different cultures and lifestyles… these are not gender-biased activities nor are they gender-limiting. It is a mental border that all humans can break through. While a multitude of differences exist beyond our borders, they are nothing to shy away from."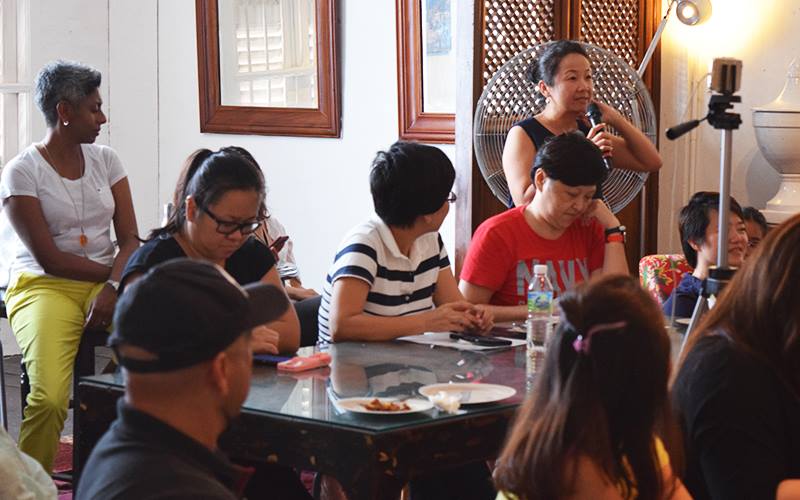 Aien Mokhtar, Founder and Chief Fragrance Designer of OLFAC3.com who had travelled from Kuala Lumpur, agreed that the talk helped empower women to step out of their comfort zones. "For someone who has been travelling as a 'young passenger travelling alone' since I was 10, it was enlightening and inspiring to hear travel stories from like-minded women who have been places where not many have been to," said Aien. "It reinstated my belief that travel is a form of education about life. I hope that there will be more events like this, where more women can share and inspire those who need a little bit of encouragement and empowerment in their lives, thus changing the way we look at travel. Here's to a lifetime of new adventures and discoveries in strange lands and unknown territories."
Singapore-based Yeoh Siew Hoon, Founder and Managing Director of Web in Travel, happened to back in her native Penang when she found out about the event. Calling it lucky timing, Siew Hoon felt that the talk covered a lot of ground and of all the things shared by the panelists, she picked out 10 quotes that stayed with her.
For the benefit of those who were unable to attend, we also streamed it live on Facebook (you can watch the video here).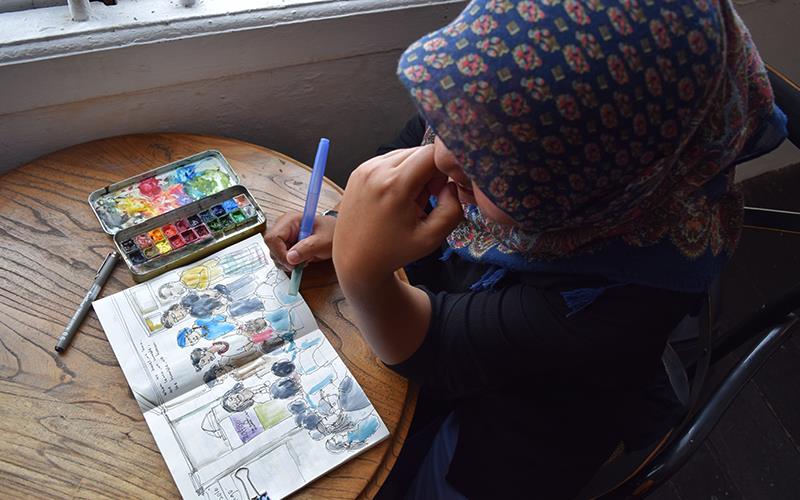 Meanwhile, seated in a corner and observing the event keenly throughout the talk was illustrator and Zafigo contributor, Marni Zainodin, who did a live sketch of our talk. She produced two pieces of artworks in her signature ink line drawings painted with water colours. "Only two, because the talk was so interesting so I didn't want to distract myself too much!" said the Cameron Highlands-based artist, who summed up the common feedback we received: "When is the next talk?"
Soon, Marni, soon…
Were you at our Zafigo Talk? Tell us what you thought of it, and what other topics you would like us to address in future events. Email us at info@zafigo.com.

Read Next: