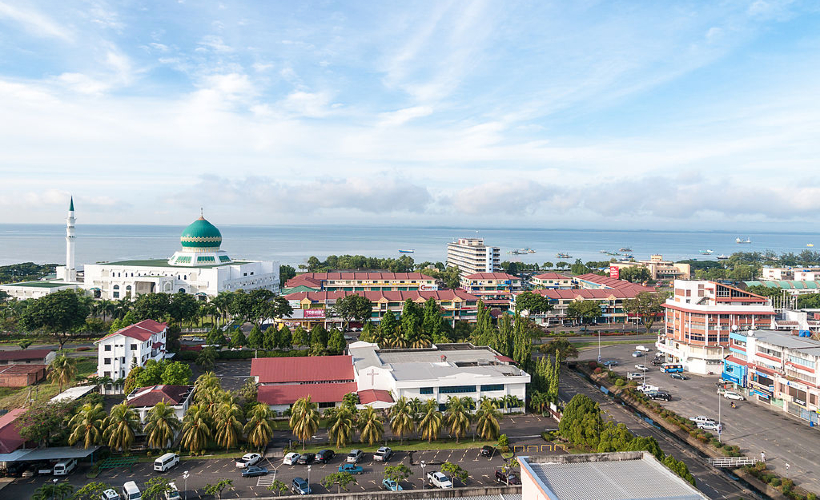 Last month, I had the great pleasure of enjoying the ins and outs of Tawau – Sabah, Malaysia's third-largest town and a seaside gem.
For those not in the know, Tawau sits on the furthest opposite end from Kota Kinabalu. Or in other words: "the very bottom of the dog's jaw." A treasure trove of marine delights, the town famous for its seafood had much to offer me, especially in terms of its local food.
In between being in awe at the affordability of the seafood there in comparison with Kuala Lumpur, and long drives on hilly lands and by the sea, I somehow managed to sneak in a couple of pictures. Here are some snippets of the best bits of what I ate in Tawau, and what you should definitely try too!
The Ones You Can't Miss
Surprisingly, the three most famous dishes in Tawau featured no seafood but instead, pork and chicken. While there are eateries specialising in their own dishes, these are the must-tries when in Tawau, and they're available all over the town.
Sang Nyuk Mee – Fresh Pork Noodles
The pork noodles served in Sabah and the pork noodles available in West Malaysia are very much different. The Sabahan version actually translates to "raw pork noodles" as the pork is freshly made with raw pork upon ordering, hence the insanely tender texture.
You can order this two ways – dry or with soup. Most opt for the dry version which entails two bowls. One bowl is filled with a noodle akin to bee hoon but thicker and springier, and topped with a salty-sweet dark sauce and crispy, deep-fried pork lard.
In the other bowl swims slices of lean pork, bouncy pork balls, offal (which you can opt for with-out) and vegetables in a light clear broth. Many also like to add white pepper into their soup.
I loved the textural play this dish had to offer. Springy noodles, bouncy pork balls and tender pork slices… what's not to love?
Find Sang Nyuk Mee at:
● Wan Wen Restaurant
● Hing Lee Restaurant
● Lao You Kee Restaurant
● Lim Lee Restaurant
Guo Tie – Pan-Fried Pork Dumplings
If you'd like to think of these as gyoza, you honestly wouldn't be too far off the mark. I was surprised to know this was a local speciality of the town. Essentially, they're the same Chinese pan-fried pork dumplings we know and love in West Malaysia.
Juicy pork filling, an oniony fragrance from spring onions, and skin that's chewy yet crisp at the same time. Just as with the pork noodles, there are a few different places you can get these from, each with their own nuances. Some have more filling, some thicker skins, and some crispier.
Keen to bring some home? Most of the places might already have frozen versions for you wrapped in plastic. Some even separate them individually for easier defrosting.
After a trip through Asia, you might come back a few kilos heavier. That's okay though. It's just a sign of a trip well enjoyed. Read this ? 45 Must-Eat Dishes In Asia
Soto Ayam – Spicy Yellow Chicken Soup
Tawau has a large population of Indonesians since it's so close to the country. So don't be surprised if you stumble upon eateries offering bakso (beef meatball soup), soto ayam (spicy chicken soup), and es campur (cold, sweet dessert).
Particularly popular is the soto which you can get either with beef or chicken, though more commonly chicken. Not really a noodle soup, it's an intensely flavourful broth with various other components.
The broth is faintly spicy and bright yellow from the generous amount of turmeric. Then you've got your other components – rice vermicelli, boiled eggs, potatoes, Chinese celery leaves, and fried shallots. They all come together to create an amazingly appetising and soothing dish.
Flat Noodle Soup (Pan Mee) at Wei Jia Bao Restaurant
A hot favourite of the locals, this is where many come to slurp up lunch on a busy day. The restaurant is famous for pan mee, but has a multitude of other side dishes and noodles on their menu.
Doesn't ring a bell? Pan mee is a popular Malaysian Chinese noodle soup featuring a clear anchovy-based broth and wheat flour noodles cooked al-dente, plus the usual toppings of minced pork, shiitake mushrooms, and deep-fried anchovies.
What makes Wei Jia Bao special, aside from the usual wheat flour noodle, is that you can also opt for noodles made with spinach and pumpkin! Tinged green and orange respectively, they add a colourful pop and healthy touch.
*Wei Jia Bao Restaurant doesn't seem to have an online presence, but if you make your way over to the spanking new Kubota Square and circle the area, you're bound to come across it.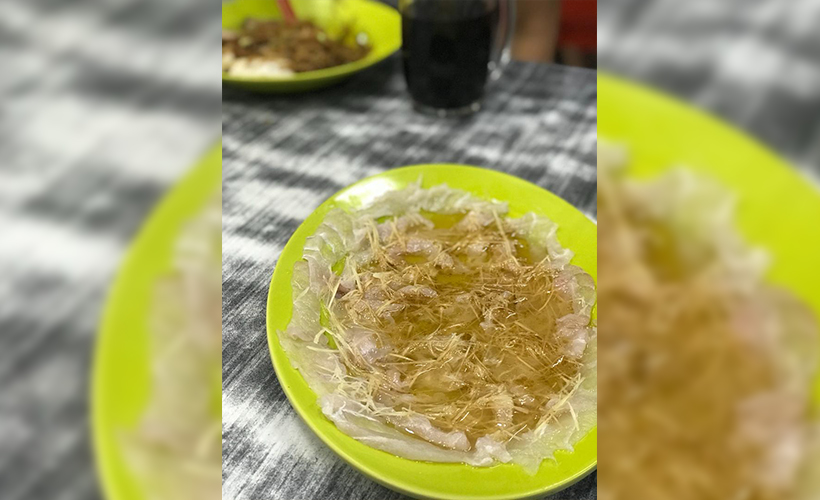 Marinated Sashimi and Pork Satay at Leong's Porridge House
Now, this is probably my favourite spot throughout my entire trip. This establishment has been running for over 60 years and is famous for its porridge. Subtly sweet from what I can only assume is either oats or barley, plus a smooth texture that isn't too goopy, the porridge certainly was a treat.
It was the sashimi and pork satay really stole the spotlight for me. Whitefish sliced thinly and marinated with julienned ginger and a zesty, fragrant sauce of sesame oil and white vinegar.
The pork satay is available in an unassuming stall under the open air. It was charred to perfection, and you're given a small dish of Indonesian-style sambal in place of the usual peanut sauce.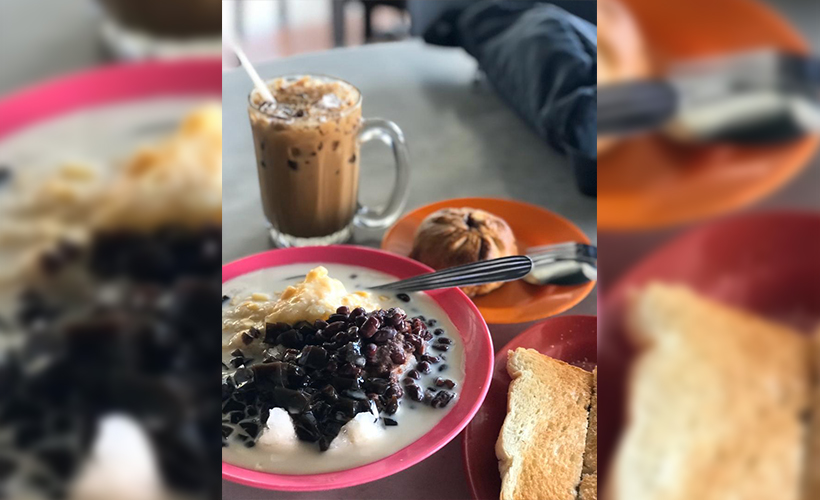 Tea and Treats at Union Tea House
Looking for afternoon tea? Union Tea House is popular with the younger folk and boasts an extensive menu. Apparently, the Yin Yong tea or "Kopi Cham" is a must try – a mixture of Hai-nanese white coffee and Hong Kong-style milk tea.
While there were noodles and a multitude of other treats to sample, I opted for the siew pao which was hefty and had a boiled egg inside. The ABC dessert – while beautiful to look at – was quite diluted and underwhelming.
What to bring home?
Travelling wouldn't be the same without bringing home souvenirs for your loved ones. Apart from the aforementioned pan-fried pork dumplings, you can also drive to the seaside to buy freshly caught fish from local waters or at the morning markets. After all, you won't find any cheaper and fresher elsewhere. Good quality salted fish is also a popular option. No one leaves Tawau without buying the town's famous salted fish (ideally the entire fish).
*All photos courtesy of the author unless stated otherwise.
Get all the latest travel stories from Zafigo. Follow us on Facebook, Twitter, and Instagram