[vc_column_text]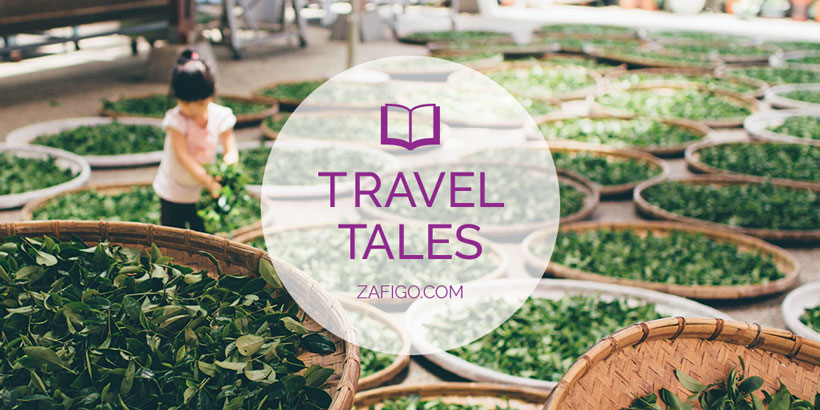 My first trip to Nepal was two years ago, and I didn't have a favourable first impression of it. All I remember is that it was cold, cold, and cold. Cold shower, cold room. Granted it was winter, but back home in Korea, I always managed to find a comfortable spot even on the coldest days. It didn't help that I had a severe fever and swollen tonsils, and ended up in an emergency ward at a hospital in Kathmandu. I was all too happy to get out of Nepal and fly to Thailand to warm up on the beach.
I also sprained my ankle while paragliding in Pokhara, a short flight from Kathmandu. Yet, something in me yearned to visit Nepal again and go trekking with a loved one. To be honest, my wish was to honeymoon in Nepal and make love in the Himalayas. I prayed to the Gods of the Himalayas and the Creator to prepare me to be a mother. "Give me the right person, who is also ready to come to me," I prayed.
It sounds funny in hindsight. Moreover, I am really more of a beach person. I love tropical weather and the ocean, and I enjoy surfing. So I don't know why I would dream about trekking the Himalayas. Maybe it's the thrill of a new and big challenge, the rush of which makes me feel alive. After several years of harbouring this lofty dream, it came true this year…
Happiness is only real when shared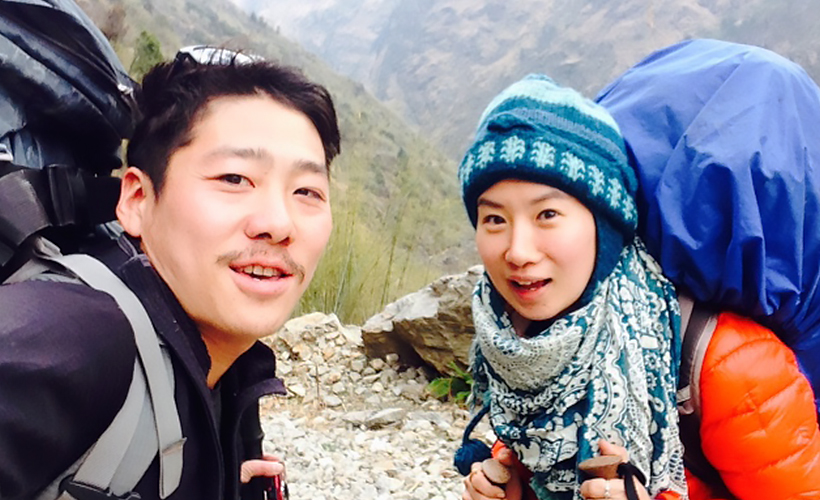 I was afraid, worried. I didn't really prepare for trekking the Annapurna Circuit. My dream was finally coming true, but my body didn't feel ready for it! I suggested to him that maybe a short trek will do. The circuit trek generally takes roughly two weeks, and the thought of that was weighing down on me. I asked him, of the many trekking trails in Nepal, why the Annapurna circuit?
He said that it is one of the most beautiful trekking courses he has ever done in Nepal and has many great memories of it. Most importantly, he realised, happiness is only real when shared (he was also inspired by the movie, Into The Wild). He too had thought it would be most wonderful to do it with someone he loves. I was moved. His thoughts echoed mine, so I agreed to trek the Annapurna circuit with him last month. And he was right; we shared so many happy moments throughout the trek.
These are some of them: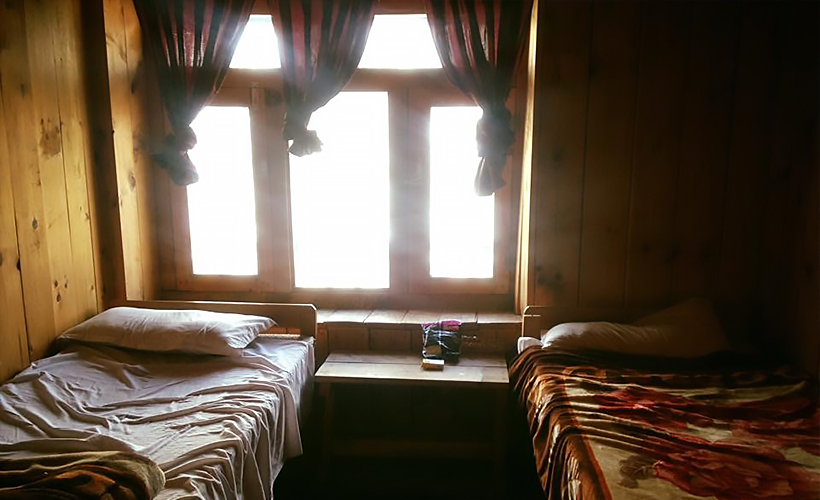 This was everything
The view from our guest house in Upper Pisang was stunning. We spent a beautiful afternoon here. The sun was out, we sat down for good food and conversation over cold beers. In that moment, we had everything we needed. What more could I ask for?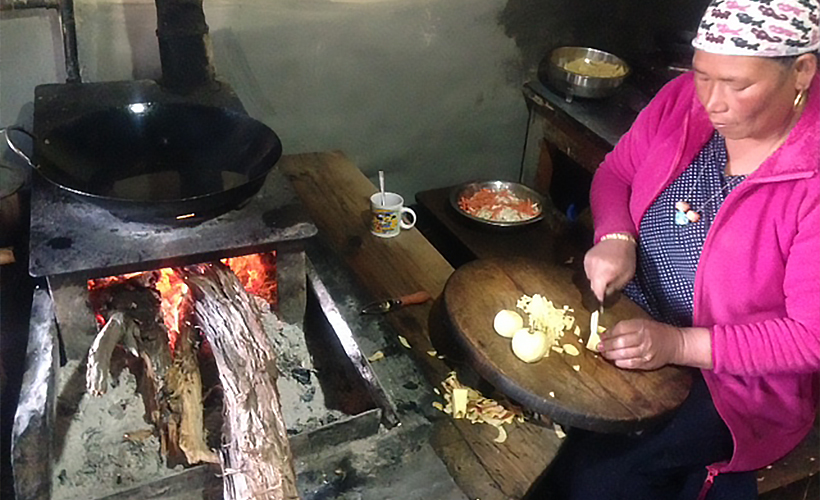 Sleep, eat, walk
Trekking life is very simple and goes by this saying: Wake up at 6AM, have breakfast at 7AM, and move by 8AM! Sleep, eat, walk – this is what we did every day. No worries and no complicated thoughts. We only needed to focus on walking and breathing during the day, and when we arrived at the next lodge, check that there is sunshine streaming into the room. We were happy if there was a little sunshine in the room; cheap and good food made us super happy; but to take a hot shower made us super, duper happy! I had only one hot shower before reaching the peak as most of the time, there was only cold water at the lodges. It's better not to take a shower when ascending as it increases your chance of getting high altitude sickness or catching a cold. In the mountains, temperatures dip dramatically once the sun disappears.
Through tough times
After 4,500m, I had a hard time breathing and moving… I felt extremely tired and sleepy. I couldn't control myself. After 5,000m, it got worse – I felt like I couldn't move at all.
We got up at 2.50AM and started walking from 4.20AM When the sun came out, snow started to melt, and sometimes avalanches can happen, so we needed to get to the top – Thorong La Pass (5,416m) – before the sun got too strong. Actually, just a few days prior, we met trekkers on their way down who couldn't get through the pass because there was so much snow. Many people had to be rescued by helicopters, and one Nepali died (I said a prayer for him).
The day before we were to hit the peak, my boyfriend was worrying so much that his usual smile was gone. He told me he wasn't confident about bringing me to the top. From the last camping lodge, there was still 800m to go, and oxygen levels are a lot lower. I had been struggling even before we reached that point and felt that I couldn't find a reason to continue. But a new strength came to me – maybe I just wanted to make him feel comfortable. "No worries, I can do it! I will do my best! When we get up, let's check the weather… if the weather is not good, let's stay one more day or go down," I said to him. He agreed.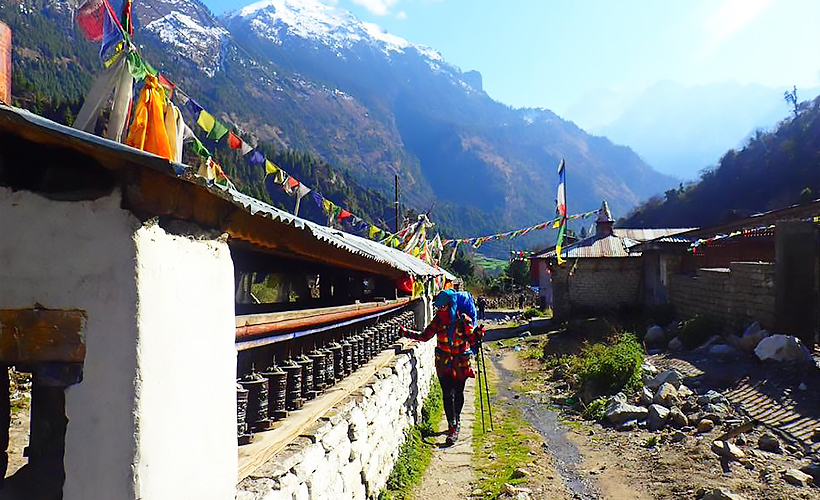 The big day arrived. There were countless stars twinkling in the sky. It was going to be a good day! We prayed. We got out of bed and packed, and then we started to move at 4.20AM. We were among the first to head out, but very quickly, other trekkers were passing me. My hands and feet soon felt numb, cold and hard. It was frustrating and the sensations drove me mad.
Sigh and breathe, sigh and breathe. But I'd better choose breathing over sighing in order to survive here, I thought to myself.
I concentrated on my breathing. In and out, in and out. I made full use of my lungs to take in as much oxygen as I could; something we don't often do in our daily lives. No one teaches us how to breathe well. We breathe, but not mindfully. On the mountains, breathing is all that matters.
I love this picture my boyfriend took of me. He was way ahead of me all the time, waiting and cheering me on. I couldn't get my phone out to take pictures even though the mountain, the sky and the route were amazingly beautiful. But he captured me in this particular moment. I was so thankful and grateful when the sun rose. More than that, I want to say a very special thank you to my boyfriend, Kentaro. I couldn't have made it without him.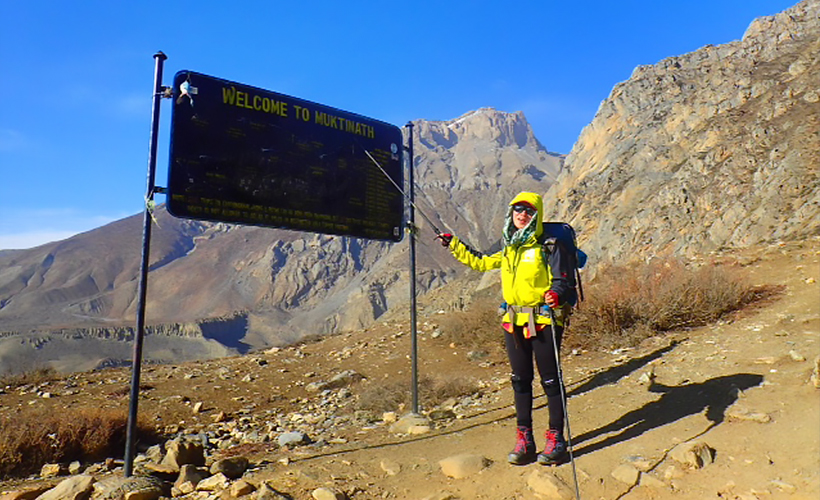 Live every moment
Reaching the peak was never my goal. It was more important for me to spend quality time with my boyfriend and to be mindful of every single moment. I've been meditating for a few years, and it has changed the way I think of and see the world. I was more concerned about the spiritual conquest of my inner universe, and not of the physical space around me. So I don't consider myself as having accomplished an amazing feat – anyone can do this, if you really want to. To conquer my own universe, keep smiling, maintain peace of mind and breathe mindfully are the real achievements.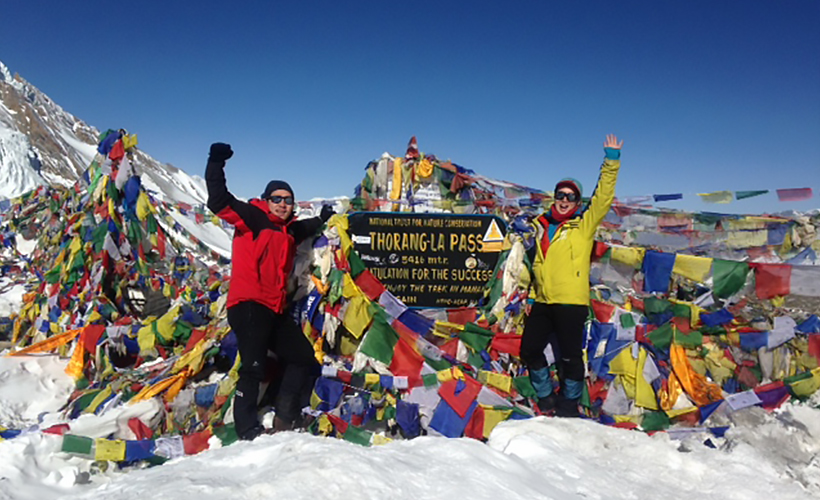 In gratitude
As soon as I saw the sign that said 'Thorong La Pass, the peak (5,416m)' I burst into tears.
So many thoughts were passing through my head and a flood of emotions flowed through my heart. Yes, I am alive! That is why I can feel, see and appreciate all the beauty around me. Thank You, Gods of the Himalayas, for taking care of me, for giving us beautiful weather throughout our journey and for the valuable life lessons.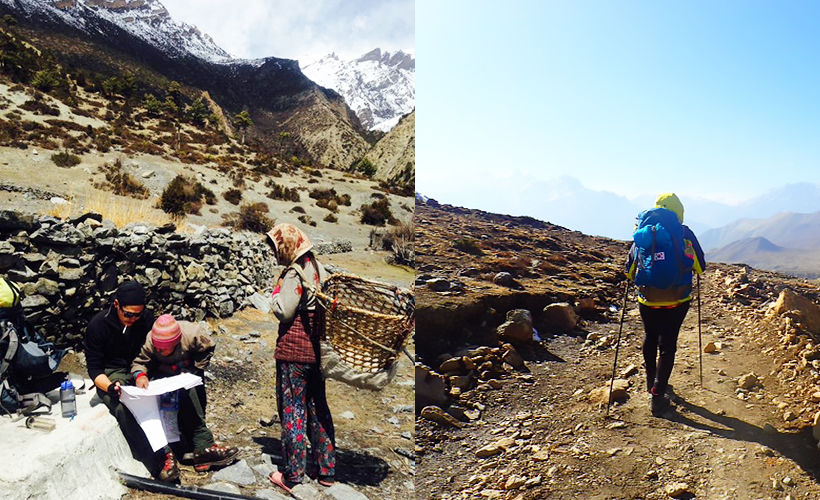 Bistari, bistari ('slow, slow' in Nepali)
We met a lot of people along the way who asked if we were trekking without a porter or guide. We didn't; my boyfriend is a well-experienced mountain enthusiast who had already trekked the circuit twice and also completed many other trekking courses in Nepal. The mountains are practically his home.
When he was trekking alone, his goal would be to complete the trek as quickly as possible but he's come to realise that speed is not a priority. When you take it slow, you're giving yourself the opportunity to discover new things, meet people, enjoy beautiful moments and have good conversations. There's also less risks of getting high altitude sickness.
So we took our time and went with our natural pace. We would stop to ask the locals for directions and speak to them in Nepali. They smiled when they heard us using their language, even though we only managed some basic words. They were also surprised at my boyfriend's grasp of the pronunciation – he can sound like a native Nepali!
Where did you learn Nepali, they would ask.
Our answer: "It's all from this journey."
More pictures from Christina's Annapurna Circuit trek:
[/vc_column_text][zf_post_carousel images="17025,17011,17012,17013,17014,17016,17017,17023,17026″ img_size="full" speed="100″ autoplay="yes" hide_pagination_control="yes" loop="yes" images_caption="Sunlight never felt so good! (Photo credit: Christina Cho),Blue skies and vibrant colours (Photo credit: Christina Cho),(L) Can't ask for a better reading corner; (R) Beer and momo make the best meals (Photo credit: Christina Cho),Us taking a break (Photo credit: Christina Cho),Feeling on top of the world! (Photo credit: Christina Cho),I cried the minute I laid eyes on this sign (Photo credit: Christina Cho),Achievement unlocked! (Photo credit: Christina Cho),One of many wondrous landscapes we came across (Photo credit: Christina Cho),View through the window at one of the hotels we stayed at (Photo credit: Christina Cho)"][vc_column_text]
Read our last Travel Tale: Travelling With Mom: 16 Questions To Ask Yourself
Here's your chance to get published on Zafigo! We want your most interesting Travel Tales, from memorable adventures to heartwarming encounters, scrumptious local food to surreal experiences, and everything in between.
They can be in any form and length –short stories, top tips, diary entries, even poems and videos. Zafigo is read by women travellers the world over, so your stories will be shared to all corners of the globe.
Email your stories to [email protected] with the subject line 'Travel Tales'. Include your profile photo and contact details. Published stories will receive a token sum.
[/vc_column_text]10559, 16743, 6943[vc_column_text]
[/vc_column_text]