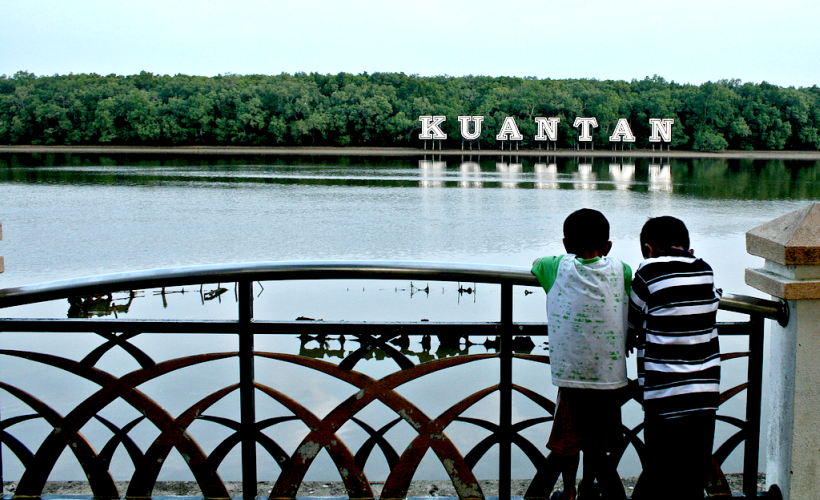 Kuantan, the capital of Pahang in Peninsular Malaysia, is a peaceful town that's best known for its beaches. Where food is concerned, it may not match up to Penang, Ipoh or Melaka, but if you're hankering for a taste of Malaysian East Coast specialties, there are a number of surprising gems that will make a food hunt worth your while. The small influx of people and tourists enables restaurateurs to focus on providing great quality food.
1. Hai Peng Kopitiam
Jalan Haji Abdul Aziz
Opens 9am-5pm daily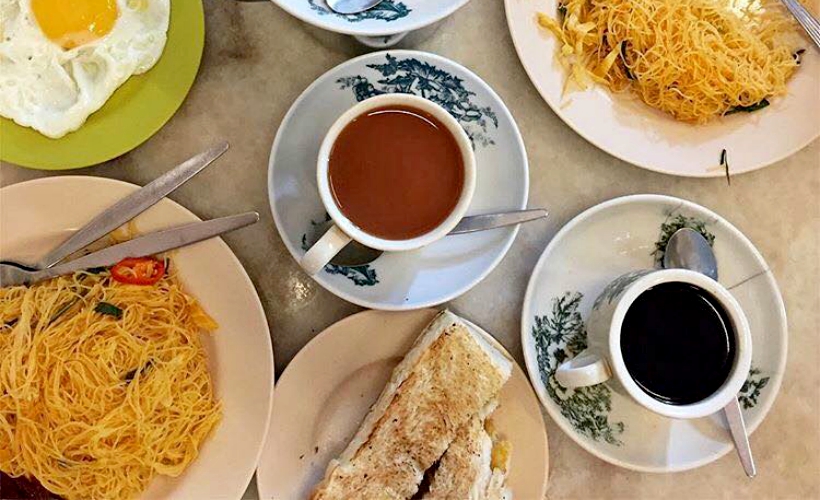 This institutional coffee house from Kemaman in the state of Terengganu has a branch in Kuantan and is as equally popular. Locals and tourists come by for their famous Hainanese coffee, which you can enjoy hot or with ice. The beans are roasted in-house and enjoy a loyal following. Pair your coffee with a light meal or snacks from their pork-free menu, which is small (an abridged version of the original) but substantial as it has all the kopitiam staples on it such as half-boiled eggs, toast with kaya and butter, nasi lemak, and assam laksa.
2. Dapur Mama – Original Nasi Kukus
36 Jln IM 6/7, Bandar Indera Mahkota and Jalan Putra Square 3, Putra Square
Opens 10am-11pm daily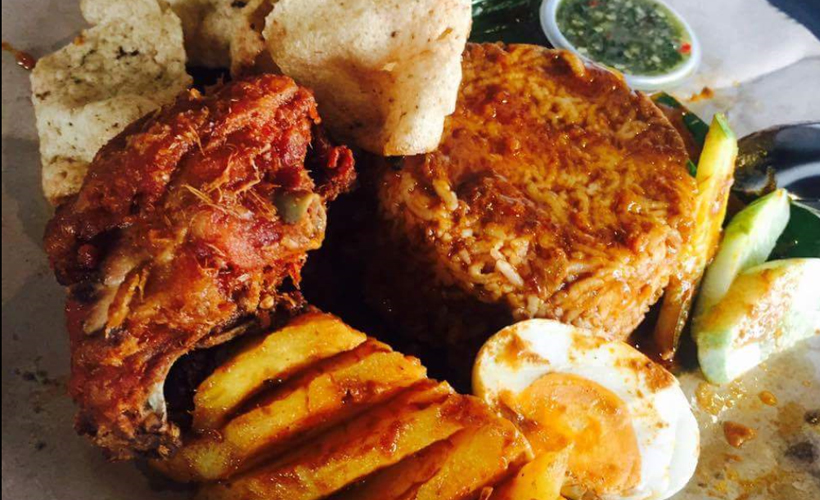 It sounds like the simplest of meals: Steamed rice. When paired with their spiced fried chicken – a harmony of sweet, savoury, and slightly spicy curry – it is mouth-wateringly good and absolutely satisfying. Nasi kukus is widely available in Kuantan but this restaurant stands out for its comfort, efficient service, ease of ordering and most importantly, the excellent taste of its fluffy rice and spiced fried chicken. You will be tempted to have seconds.
3. Restoran Ana Ikan Petai
Kampung Tanjung Lumpur
Opens 5.30pm-12am daily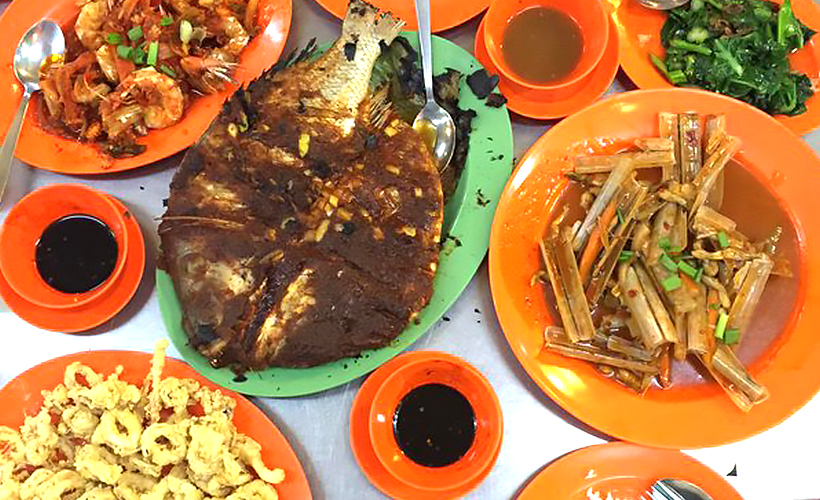 Every evening, this restaurant is the busiest place in town, and trust me, it's an understatement. Restaurant Ana sits on a huge piece of land by the beach with hundreds of tables; and yet you have to wait for a place if you're late.
Kuantan is first and foremost a fishing village, allowing you to savour the freshest of seafood here. Secondly, this restaurant serves one of the best ikan bakar (grilled fish) in town. So you can understand the hype. Besides being grilled plain, you can have the fish served in a number of ways: Bakar petai (the most popular, featuring stinky beans), masak cili (with chillies), halia (ginger), kerabu manga (mango salad), or goreng kunyit (fried with turmeric).
4. La Gourmet Noodle House (Hup Kee)
48 Jalan Haji Abdul Aziz
Opens 8.30am-5pm daily, except public holidays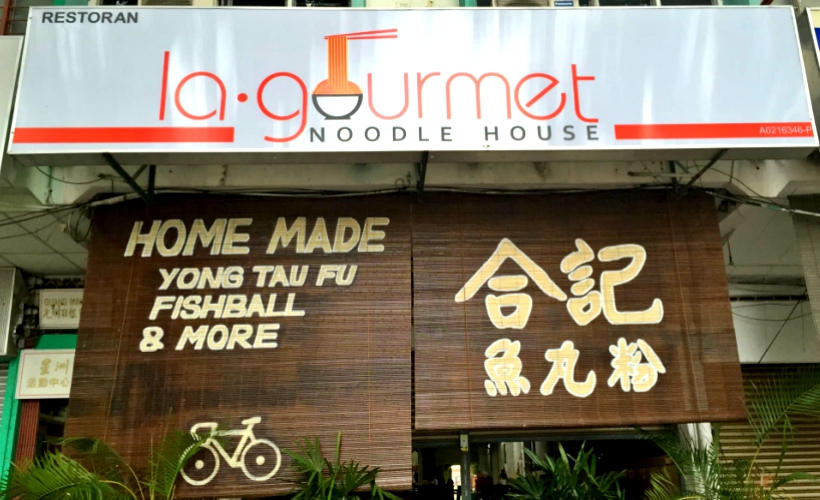 This pork-free noodle house is where locals go to get their mee (noodles) fix. Their signature dish is the fish ball noodles, which you can have dry or with soup, with the option to add pieces of yong tau foo (vegetables stuffed with fish or meat paste). There are four types of noodles to choose from, but for newcomers, I recommend the Sungai Lembing mee. It's a type of local noodle from Sungai Lembing – a town located 45 minutes from Kuantan. Slightly thicker than the usual yellow noodle, it's springy to the bite and goes well with the yong tau foo. La Gourmet also serves delicious chee cheong fun (rice noodle roll) that comes with generous servings of onions, sesame seeds, and fried shallots. Down the food with a refreshing iced coffee or tea and you will be plotting your next meal here.
5. Karipap panas Pak Ngah
Lot B8, Taman Gelora Food Court
Opens 1pm-7pm daily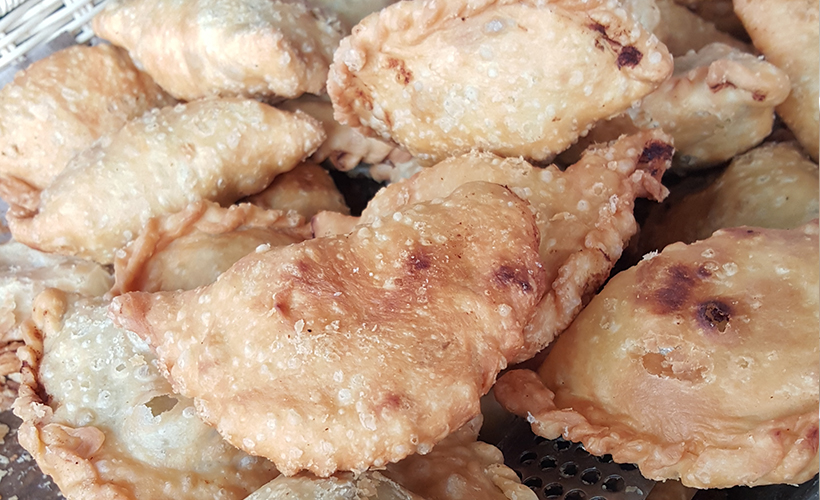 Pak Ngah certainly doesn't skimp on the fillings – potatoes and eggs cooked in a spicy curry – and once fried to golden brown, the flaky pastry takes on a crunchy texture that is a delight to bite into. As his stall is located in Taman Gelora, a beachfront park, regulars typically start turning up by 4pm to queue for this popular snack and then munch on them while taking an evening stroll. His other bestseller is the keropok lekor (fish crackers).
6. Cendol Air Putih
B260/E, Ground Floor, Jalan Air Putih
Opens 11.30am-6.30pm daily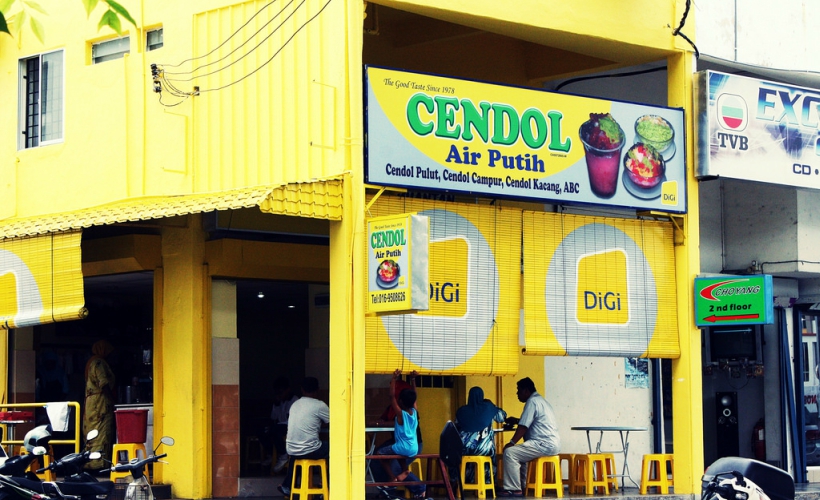 A Kuantan institution since 1978, this corner shop with its cheerful yellow façade has been drawing cendol lovers for generations. Have yours plain or with a selection of toppings such as kacang (red beans), jagung (creamed corn), pulut (glutinous rice), or campur (mixture of both). Their ABC or ais batu campur (shaved iced dessert) is popular too, as are their traditional snacks and food such as curry puffs, nasi lemak, and pulut panggang (grilled glutinous rice with stuffing). Afternoons are their busiest times, so expect to wait for a table.
7. Alor Akar Seafood Restaurant
Lot 7695 & 7696, Jalan Kubang Buaya, Taman Mariana
Opens 6pm-12am; closed alternate Tuesdays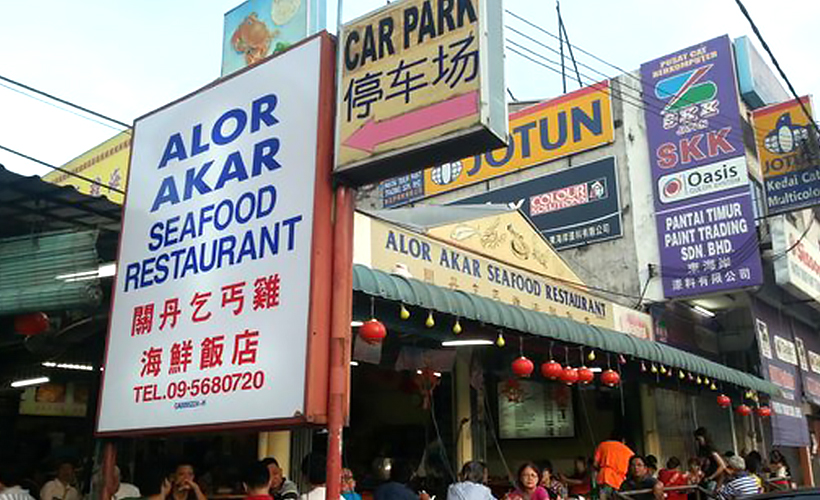 Locals also call the restaurant hak yi gai (beggar's chicken) as it's one of their signature dishes and hence, a must-try, but Alor Akar does other dishes with equal aplomb. This tai chow – which translates to "big fry" and refers to eateries that serve an extensive menu – is always packed and has a reputation for serving the cheapest seafood in town.
You'll be tempted to over order, so as a guide, the general rule of thumb is to order as about many dishes as diners. That means two to three dishes for two persons, three to four dishes for three persons, and so on. Helpfully, the menu comes with photos to ease the decision-making process. Or you can always ask the staff for recommendations. Dinners are always packed and parking is limited, so it's best to get here before 6.30pm.
8. Kuantan Curry House
A-19 Lorong Sekilau 22, Taman Anda
Opens 7am-7pm; closed alternate Sundays
This gem of an Indian restaurant serves an excellent range of breakfast. You won't go wrong with roti canai, chapati, idli, or thosai served up with a variety of curries and chutneys. Wash it all down with a frothy teh tarik (pulled milk tea) for a great start to your morning.
Or head here for lunch and feast on some seriously good banana leaf rice. With the leaf as your plate, you pile on steamed rice, vegetables, curries, meat curries, and crunchy poppadum.
9. Cherating Steak House
679 Jalan Beserah, Kampung Alor Akar
Opens 12pm-3pm & 6pm-12am daily
Originally located in Cherating (thus its name), this restaurant offers the best ambience for a fancy night out. Head chef Sherwood Chen lived in Switzerland for many years and has brought all things Swiss into this steakhouse. You will feel as if you've stepped inside a little Swiss hut to tuck into rosti and a good piece of meat. Other Western favourites are available too, complemented by a wide selection of wines and draft beers. The décor is a quite eclectic, featuring antiques and peppered with the chef's personal collectibles, such as a lion dance head.
10. Akob Patin House
Lorong Haji Abdul Rahman 1
Opens 10am-10pm daily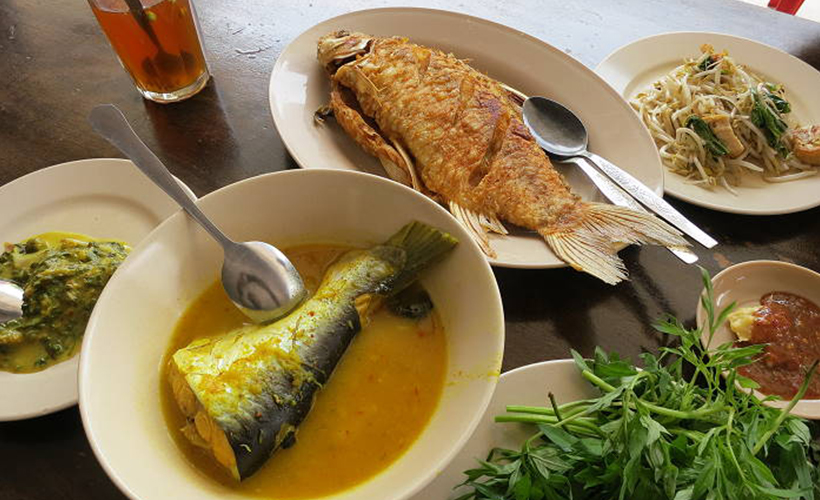 Akob specialises in patin tempoyak, a traditional dish from Pahang that's loved by locals. It features patin fish cooked with fermented durian, giving the fish an exotic flavour that's an acquired taste for many. As the saying goes, "tastes like heaven, smells like hell." But if you love the pungency of the king of fruits, you will likely savour this dish. Otherwise, it can be strong for you to stomach. Give it a try to see if you love it or hate it.
11. Satay Zul
No. A 2600, Jalan Alor Akar
Opens 5.30pm-12.30am daily
Most locals grew up having Satay Zul served at their house parties and till today, no party or family gathering is complete without their skewered and grilled meat. It is not uncommon for customers to order their satay in the 100s, as one can easily eat up to 10 sticks at one go. The shop itself is a landmark – a corner shop lot located along the way to the popular Teluk Cempedak beach.
12. Restaurant Tanjung Ria
158 Jalan Telok Sisek
Opens 11.30am-10pm; closed Mondays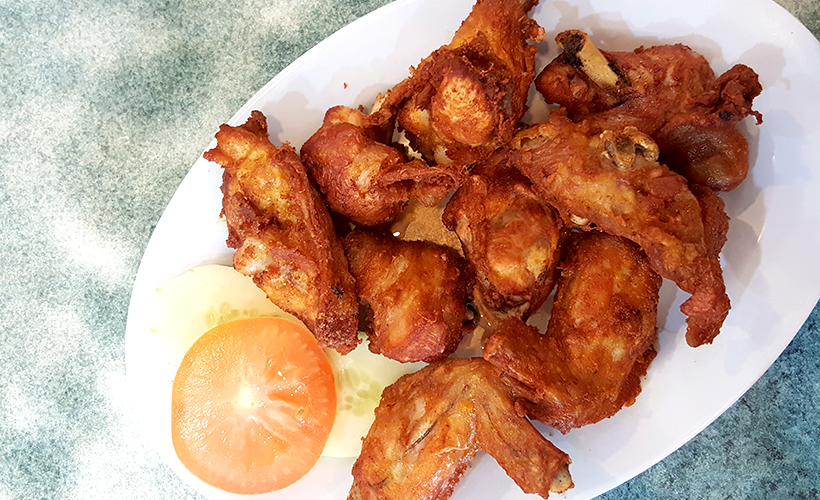 This humble, pork-free restaurant is like a time capsule from the 1970s or 1980s, with an old-school charm that prevails in its non-descript décor and a menu that has likely remained unchanged since then. Like the good old coffee houses and steakhouses that were ubiquitous back in the day, their offerings are a mixture of local and Western fare and hybrid dishes of both cuisines – think kopitiam staples such as chicken chop. Be sure to try their signature dish: Tanjung Ria Fried Chicken.
13. Pasar Sejahtera/Beserah Fish Market
Kampung Tuan, Beserah
Opens 3pm till late evening; closed during monsoon seasons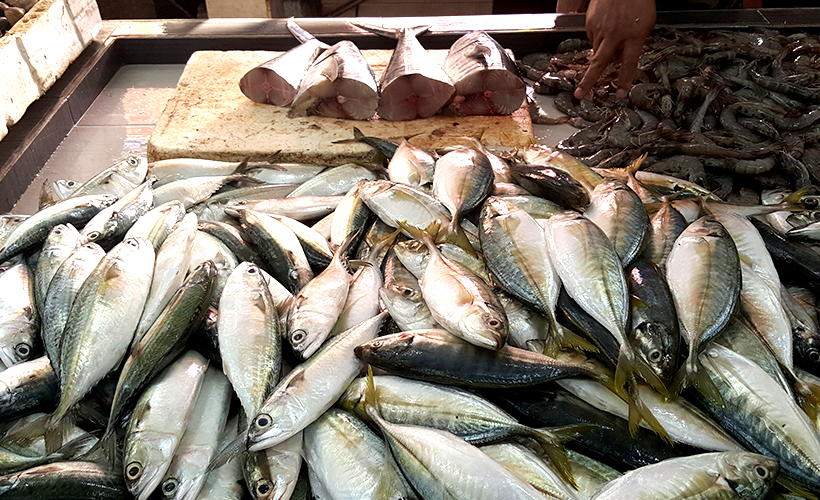 Seafood is easily available in Kuantan but if you're looking for the freshest, deep-sea catches of the day, take a 10-minute drive to Beserah. The picturesque fishing village is home to this quaint seafood market where fishermen unload their daily hauls.