Looking to get out of Kuala Lumpur for a day? You don't have to go that far. Escape the city for 24 hours to neighbouring states like Selangor, Negeri Sembilan and Pahang where there's still plenty to see, do and discover.
Here are our suggestions of five must-experience day trips to take from KL:
1. Reconnect with history in Malacca
Just a two-hour drive out of Kuala Lumpur, Malacca was listed as a UNESCO World Heritage Site in 2008. If you're a history buff, Malacca is a must. The town is rich with historical structures and heritage buildings. Being the first Malayan state to be colonised in the early 1500s by the Portuguese, and later by the Dutch and British, imprints of these forces can be seen till this day in the form of churches, forts, and towers.
What To Do
See/Do – Visit old colonial treasures like Christ Church, Stadthuys, A Famosa (Porta de Santiago) and St. John's Fort. Stroll through the Botanical Gardens. View Malacca in whole up from the Taming Sari Revolving Tower. Learn about the Baba Nyonya/Peranakan culture with an audio-guided Museum tour. Take a boat ride on the Melaka River Cruise.
Shop – Shop for clothes, local trinkets and souvenirs at Jonker Street and the weekend antique market on Jalan Hang Lekir. Visit local malls such as Dataran Pahlawan and Mahkota Parade.
Eat – Try the Nyonya assam laksa, cendol and muah chee at Jonker Street, burgers, and special brewed coffee at Baboon House, satay celup at Capitol or Ban Lee Siang, Klebang's famous coconut shake and chicken rice ball at Huang Chang Chicken Rice Restaurant.
Getting There
Distance from Kuala Lumpur: 136KM (2-hour drive)
Bus – Take the KLIA Transit, RapidKL Ampang line or KTM Komuter to the Bandar Tasik Selatan station. There, you'll find many different bus companies coming in and out of the city selling trips to Malacca. Tickets between Kuala Lumpur and Malacca are fairly easy to purchase on the day of departure unless it is a public holiday or a weekend. Alternatively, you can book your ticket via EasyBook.com and leave from a KL bus hub of your convenience.
Train – Take the KTM intercity train from KL Sentral to Tampin or Batang Melaka.
Car – Take Lebuhraya Utara-Selatan/E2 (North-South highway) to Lebuh Ayer Keroh/Route 143/M29 in Durian Tunggal. Take exit 231-Ayer Keroh from Lebuhraya Utara-Selatan/AH2/E2. Continue on Lebuh Ayer Keroh/Route 143. Drive to Route 5 in Malacca.
2. Get away from the city heat at Fraser's Hill, Pahang
If you're looking to get away from the city heat, then calm and cooling Fraser's Hill would be your best bet. Though a highland resort destination, there's still much to do there for a day trip. Named after Scottish prospector Louis James Fraser, Fraser's Hill used to be a tin mine which ran out of deposits in 1913. Do expect heavy mist and rainfall on most days. Public transportation on the hilltop is almost non-existent so you may want to either drive yourself or hire a personal driver.
What To Do
See/Do – Participate in a guided trek through one or more of the eight available nature trails. Head to the Fraser's Hill Nature Education Centre for a day of bird watching. Try the 9-hole golfing course at Fraser's Hill Course. Ride paddle boats at Allan's Water. Have a picnic at the Jeriau Waterfall. Or go horseback riding at The Paddock.
Shop – Buy fresh strawberries, vegetables and ornamental plants at the Garden Centre. Souvenirs are also available at the Nature Education Centre and handicraft shop at the Sports Complex (only open on weekends and public holidays). There is also a bazaar that opens on weekends near the golf course office.
Eat – Upon entering Fraser's Hill you will see Kheng Yuen Lee restaurant and here you'll find Chinese cuisine. Cheap yet tasty local hawker treats are available at the Food Garden and Mimi's Strawberry Tropical Rainforest Restaurant. For something a little more classy, dine at the restaurants in Puncak Inn and Shahzan's Inn. If you're looking for beers and cocktails, venture a little further out of the town centre and pay Scott's Pub & Restaurant at Ye Olde Smokehouse a visit.
Getting There
Distance from Kuala Lumpur: 116KM (2-hour drive)
Bus – There are no buses with a direct route to Fraser's Hill, the closest stop being in Kuala Kubu Bharu town (approx. 32km away). If you do still opt to take a bus, taxis from the town are available.
Train – Take the KTM Komuter from Kuala Lumpur to Kuala Kubu Baru (you will need to switch trains in Rawang (platform 2 for trains to KKB). From Kuala Kubu Baru, hire a taxi or local driver.
Car – Take the North-South Highway (Lebuhraya Utara – Selatan)/E1 to Bukit Beruntung (Route 3208), Rawang. Take exit 118-Bkt. Beruntung from Lebuhraya Utara – Selatan/E1. Continue to Rasa then take Route 55 to Jalan Gap-Bukit Fraser (Route 56).
3. Have a beach party at Port Dickson, Negeri Sembilan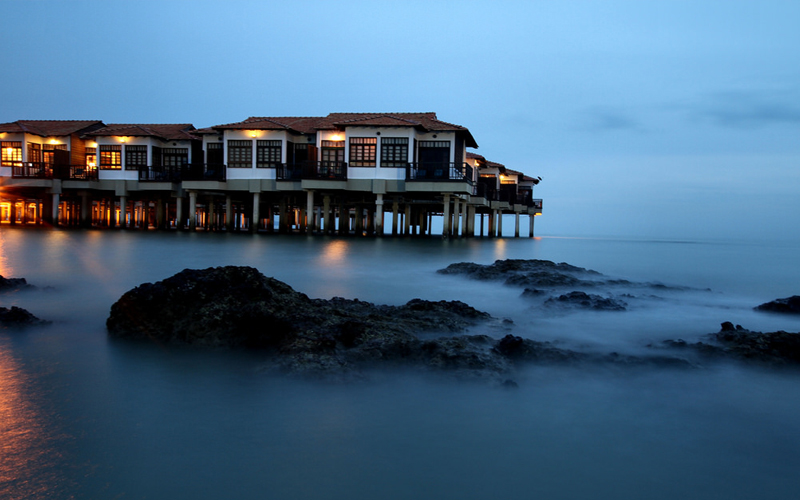 More fondly known as P.D. to locals, Port Dickson is a popular weekend getaway for visitors from Kuala Lumpur and Singapore. Instead of running away from heat, travellers here embrace the warmth of the sun and entertain themselves with beach-side picnics and water sports activities. In the 1880s, British official, Sir Frederic Dickson turned this beach-side village into a port for transporting the tin ore deposits and the town was renamed Port Dickson. After the tin ore trade faded, the town transformed into a beach resort destination.
What To Do
See/Do – Spend a day at the beach water skiing, canoeing, windsurfing and sailing. Have a picnic at Blue Lagoon, Teluk Kemang or Bagan Pinang. See Bugis warrior, Raja Jumaat's fort in Kota Lukut. Ascend the Cape Rachardo (Tanjung Tuan) lighthouse tower and view the Sumatran coastline. Visit Wan Loong Temple and Fort Kempas to see the megalith stones and Syeikh Ahmad Majnun tomb that is said to be the oldest known grave in Malaysia built in the 14th century.
Shop – A night market opens every Saturday at the open carpark at the 4th Mile.
Eat – Beach (day) trips definitely call for seafood cuisine. Try the three-flavour deep fried fish at Weng Yin seafood. Hawker stalls along Teluk Kemang also sell delicious and cheap grilled fish. Try the chicken candlenut, chincaluk omellette and popiah at Nancy's Kitchen for authentic Nyonya food. Lucky King Bun at Restaurant Lucky (PD) Seafood offers lovely pork rib curry and Dongpo pork buns. For something classier, dine at The Glass in Thistle PD. End your day with a coconut shake or cendol at PD Famous Coconut Shake Power.
Getting There
Distance from Kuala Lumpur: 92KM (1.5-hour drive)
Bus – Buses to P.D. are available at most bus hubs in KL. You can also check out EasyBook.com.
Train – There are no train services to PD. The nearest train station is in Seremban which can be easily reached from Kuala Lumpur. You will then have to catch a bus or taxi.
Car – Take the Kuala Lumpur-Seremban Highway (E37) to the North-South Highway (E2), then Seremban-Port Dickson Highway (E29). Head to Jalan Seremban (Route 53) in Port Dickson. Take exit 2902-Lukut from Seremban – Port Dickson Highway, then follow Route 53 to Jalan Baharu in Kampung Bahasa Kapor.
4. Go bird watching at Sekinchan & Kuala Selangor, Selangor
Sekinchan is a cosy little but popular farming and fishing village in Selangor. It is also one of the major rice-producing areas in Malaysia. This place is blessed to be a unique geographical environment, as it's close to both the sea and land, hence its name meaning 'land of plenty'. During the British colonial era, Sekinchan was also known as 'Ang Mo Gang' by locals due to many English opting to live there.
A 30-minute drive from Sekinchan is Kuala Selangor – a small coastal town where the Selangor River meets the sea. Kuala Selangor was conquered by the Dutch in 1784 while attempting to expand their base in Melaka for a share in the tin trade of Perak and Selangor. Here, you'll find the Kuala Selangor Nature Park.
What To Do
See/Do – Take a drive through and photograph the green paddy fields. Visit nearby factories and learn about the paddy plantation process. Bird watch and look out for Shorebirds, Black-shouldered Kite, Eastern Marsh Harrier, Pied Harrier, and more. Visit the Bagan fishing village. Watch the sunset, fly kites, make soap bubbles and make a wish by at the wishing tree at Redang Beach. In Kuala Selangor, participate in the environment education activities at the nature park. Visit Melawati Hill. Go eagle viewing and feeding. Take a walk through the Freshwater Fish Park. And at night, take a river boat ride and view fireflies.
Shop – In Sekinchan, shop for rice at the factories and lookout for roadside stalls selling giant, juicy mangoes. Shop for fresh seafood and fish balls at the fishing village. And look out for any stall selling keropok!
Eat – In Sekinchan, head to Restoran Cha Po Tion or Jiann Chyi Seafood Restaurant for an all-seafood feast. Slurp on coconut water and munch on deep fried crayfish and oysters on Redang Beach. Look out for a stall selling tea-time snacks opposite Old Friend Kopitiam. In Kuala Selangor, look for Auntie Foo for homemade ice-cream and other refreshments. Also, look for the famous cendol bakar stall. Enjoy Chinese seafood cuisine at Sungai Janggut Seafood Restaurant.
Getting There
Distance from Kuala Lumpur: 70 – 95KM (1 – 1.5-hour drive)
Bus –  Buy a bus to Sekinchan at Pudu Sentral. Take Selangor Bus No.141 from platform 24. To head to Bandar Melawati, Kuala Selangor directly, take Bus No. 100.
Train -There are no trains directly to Sekinchan or Kuala Selangor.
Car – Take the North-South Highway (E1) and LATAR (E25) to Jalan Kuala Selangor (Laluan 54/Route 54) in Bestari Jaya. Take the Route 54 exit from LATAR (E25). To Kuala Selangor Nature Park: Follow Jalan Kuala Selangor (Laluan 54/Route 54) and Route 5 to your destination in Kuala Selangor. To Sekinchan: Follow Jalan Kuala Selangor (Laluan 54/Route 54) and Route 5 to Jalan Malinja in Pekan Sekinchan.
5. Learn about elephants at the Kuala Gandah Elephant Conservatory Centre & Deerland Park, Pahang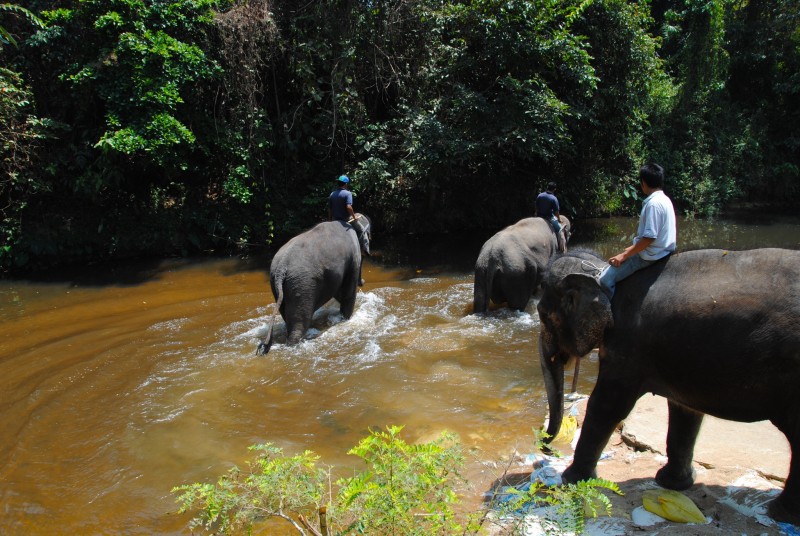 Kampung Lanchang is a small village in Temerloh, Pahang about a two-hour drive out of Kuala Lumpur. The town is home to the Kuala Gandah Elephant Conservation Centre and Deerland Park.
The elephant relocation centre and orphanage sanctuary was established in 1989 for the Elephant Relocation Team, which has been rescuing elephants whose habitats have been destroyed since 1974. Visitors get to see the elephants being washed and fed and are allowed to follow them through the jungle with a guide and go into the river and bathe these gentle giants; a rare and fantastic opportunity to get up close and personal with Asian Elephants, also known as Elephus Maximus.
Deerland is located not far off from the elephant sanctuary. Here, apart from learning more about the deers, you also get a chance to feed and stroke them. There are also ostriches, sun bears and snakes and other attractions to keep visitors, especially the young ones, entertained.
What To Do
See/Do – Participate in the learning activities at both animal centres, though the isn't much else to do there if you do not want to head back to the city immediately. Alternatively, you can head to nearby town, Bentong for good food and light shopping. in Bentong, visit Chamang Waterfall, soak in the hot springs at Suria Hotsprings Resort, and visit the rabbit park and Japanese village in Bukit Tinggi. Also, drive around Kampung Perting and the town centre and admire the old architecture.
Shop – The Sunday morning market (Pasar Besar Bentong) is a must. Buy Bentong gingers and Bentong-branded soft tofu/beancurd. Look for Aunty Mok's stall, Mokie Home Baked Pastry, at the back of the market and buy her kaya buns.
Eat – Try the wantan mee at Yuen Kee Kopitiam. Fancy homemade ice-cream? Then head to Kow Po Ice-cream. Enjoy your chee chong fun or yong tau fu with scrumptious curry at Choy Kee Kopitiam. Have an early dinner at Restaurant SHL before your drive back to KL and try the braised yam and pork belly and stuffed tofu puff (tau fu pok) soup.
Getting There
Distance from Kuala Lumpur: 103KM
Bus – There are no direct buses from KL to Kampung Lanchang. Take a bus to Bentong or Temerloh. Then you will have to take a taxi.
Train – There are also no trains stopping in Kampung Lanchang. You will need to take a train to Bentong and take a taxi from the station.
Car – Take the Karak Highway to Kuantan, drive past Karak, exit at Lanchang toll and head towards Kuala Lipis/Raub. There will be signboards to Kuala Gandah Elephant Sanctuary, once you have identified the signboard, drive about 8KM more and turn right down a narrow tar road to Deerland Park on Bukit Rengit.

Read Next:
Get all the latest travel stories from Zafigo. Follow us on Facebook and Twitter.