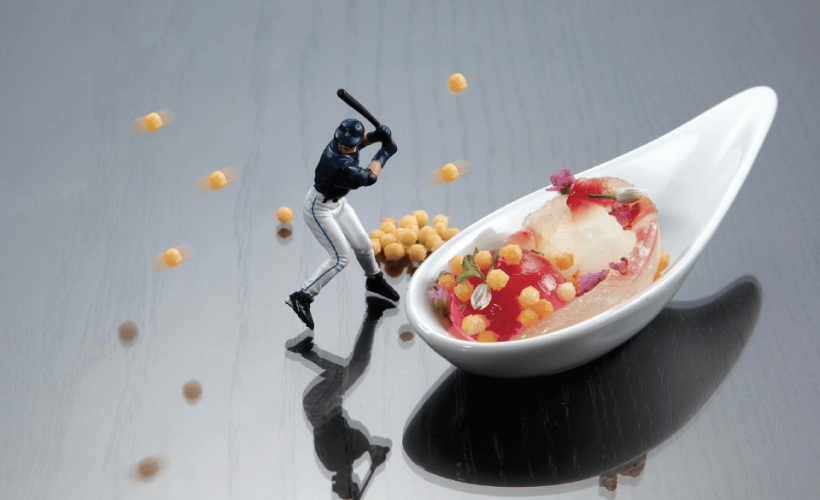 Whether you're in town for a short weekend getaway, or just looking for something to spice up your date night in Kuala Lumpur, it's never a bad thing to try new experiences. Rather than heading out to a run-of-the-mill restaurant, why not kick things up a notch and treat your partner (and yourself) to a unique dining experience?
Babe
Growing up, your mother may have told you not to play with your food, but at Babe, fun is part of the menu. Helmed by Michelin-starred chef Jeff Ramsey, Babe serves up Japanese-accented tapas, or as Ramsey calls it, 'Japas'.
Throughout your tasting session, be prepared to be amazed by the play of textures and flavours. One such instance is with their "smoking" lemon meringues dunked into liquid nitrogen. As the meringue fizzes and melts in your mouth, tendrils of cold smoke will pour out from your mouth and nostrils.
If you've ever wondered what the craze over molecular fine dining is all about, then this is the place to find out.
11th Floor, Work@Clearwater, Changkat Semantan, Damansara Heights
Tues – Sun | 6pm, 7pm, 8pm & 9pm seatings | Closed on Mondays
Dining in the Dark KL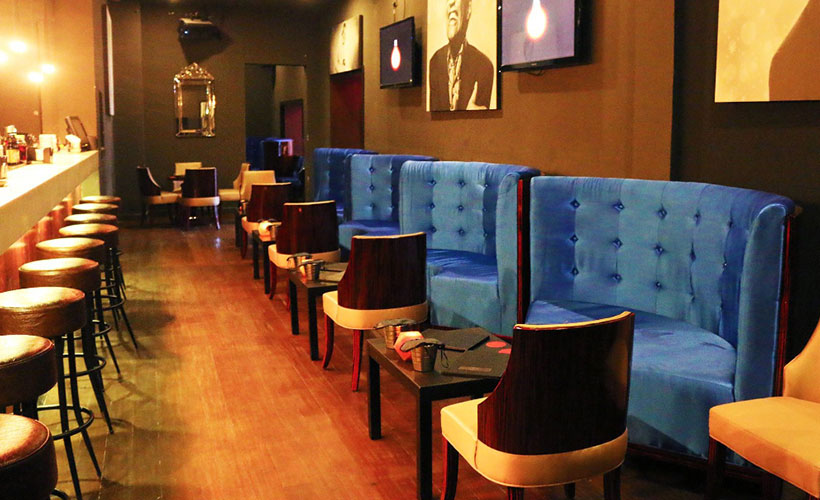 Snaps of aesthetically-pleasing dishes flood our Instagram on a daily basis, but have you ever wondered whether you would enjoy our food just as much if you couldn't see it? At Dining in the Dark KL, diners are sat in pitch darkness over a 4-course meal, encouraging them to use their other senses to appreciate their food.
Besides slowly savouring your meal, your attention is also solely focused on your dining partner, so here's your chance to show off your sparkling conversational skills without worrying whether you've got spinach stuck in your teeth.
As your meal progresses, you'll likely switch between using cutlery and relying on your fingers to touch and feel your food (thank goodness no one can see). You'll also be prompted to guess what you're eating, turning the experience into a fun game of who has the sharpest tastes buds and senses.
50A, Changkat Bukit Bintang, Kuala Lumpur
Open daily | 6pm – 9.30pm
Tamarind Springs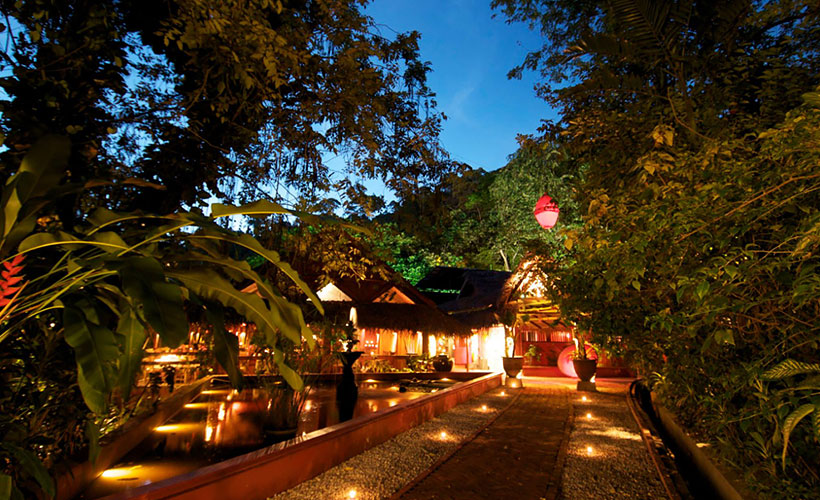 When KLites are asked to name their top romantic dining spot, many will mention Tamarind Springs. The restaurant's intimate, romantic settings are heightened by its lush surroundings, and it's hidden away in a small patch of jungle in Ampang that's around 15 minutes away from the city centre.
Its Indochinese menu is inspired by Laotian, Khmer and Vietnamese influences with stir-fried dishes and coconut-infused curries that's sure to tantalise your taste buds and spice things up.
Jalan 1, Taman Tun Abdul Razak, Ampang
Open daily | 6pm – 12am (dinner)
Dinner in the Sky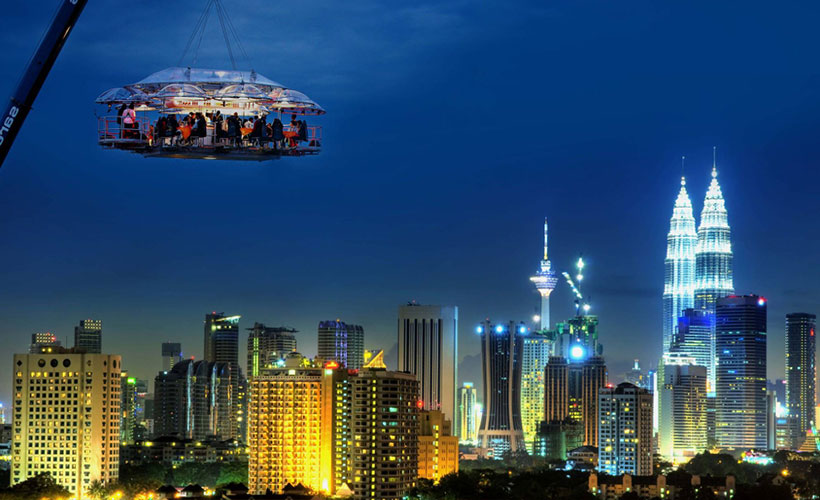 We hope you and your date aren't afraid of heights, as it's a major part of your dining experience at Dinner in the Sky. Bear in mind that this isn't your typical dining-from-way-up-high experience either, as you'll be strapped in to your seat at the table and hauled up 50 metres in the air by a crane, literally hanging by a rope as you enjoy your meal.
Introduced in Kuala Lumpur back in 2015, the initial one-hour, 5-course meal has since been shortened to a 3-course meal, allowing diners to savor the experience without having to rush through the menu. Comprising a starter course, main course, then dessert, the experience costs RM279 on weekdays and RM289 on weekends.
231, Jalan Bukit Bintang, Kuala Lumpur
Open daily | 6:30pm and 8pm seatings
Nicsmann 1940s By Lewré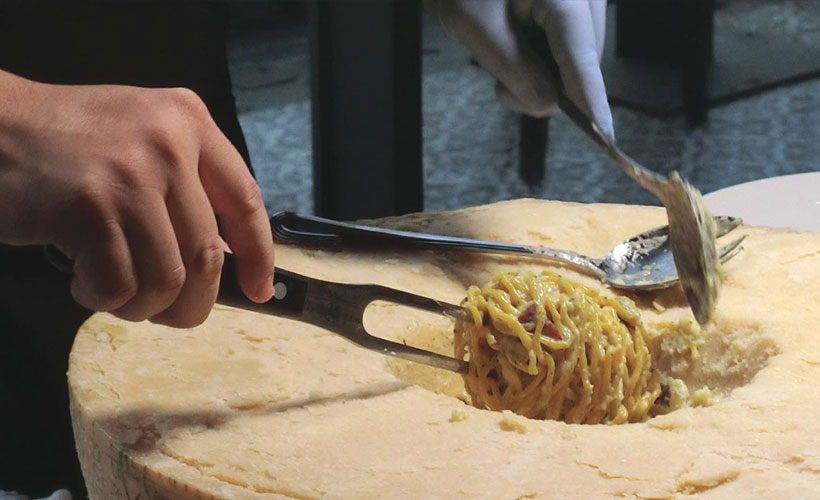 You know those viral foodie videos of diners enjoying a huge serving of pasta that's been tossed around in a large cheese wheel and coated in ooey-gooey cheesy goodness? If you despaired over whether you'd ever get to try it here in Malaysia, then we've got good news for you: Nicsmann 1940s By Lewré offers its version of the dish, called the 'The King Of Cheese'.
Cheese lovers can get their fill of freshly-cooked wholemeal durum pasta tossed in a wheel of parmigiano reggiano and mixed with a topping of your choice: choose from beef bacon, mushrooms or grilled salmon. Their other dishes, such as grilled lamb ribs and the seafood platter are fantastic as well, but if you're like us, then you'll only have eyes for the cheese.
Lot G-034 &G-035 Ground Floor, The Starling Mall, Damansara Utama, Petaling Jaya
Sun – Thurs, 10am – 2am | Fri – Sat, 10am – 3am

This story was originally published on Traveloka.
Zafigo republished this story in full with permission from the author to hopefully bring the story and the author to a larger audience, simply because good authors and stories should be read by as many people as possible! If you are keen on Zafigo republishing your stories that will be of interest and useful to women travellers especially in Asia and the Middle East, please get in touch with us at info@zafigo.com.
Get all the latest travel stories from Zafigo. Follow us on Facebook, Twitter, and Instagram.