Kuala Lumpur – TripAdvisor, the world's largest travel site has announced Club Med as the recipient of several Certificate of Excellence Awards 2015 – 41 Club Med properties around the world were awarded with the Certificate of Excellence and 17 resorts were listed in the Hall of Fame for winning the certificate over five consecutive years, namely Club Med Bintan Island, Club Med Kani, Club Med La Plantation d'Albion, Club Med Hokkaido and Club Med Peisey – Vallandry.
"Club Med constantly strives to provide the best services tailored to our guests while maintaining the brand that is long associated with happiness. Our signature Premium All-Inclusive concept allows guests to enjoy luxury without having to spend more. These TripAdvisor awards really strengthen our belief that Club Med is special in the hearts of travellers,"
"We would like thank our guests who have joined the Club Med family, especially loyal customers who have helped us win these awards. The support that we have received throughout the years has been fantastic!" shared Ms Geraldine Boyer, Marketing Manager of Malaysia and Singapore.
Other outstanding resorts that have garnered TripAdvisor's Certificate of Excellence Awards 2015 were Club Med Cherating Beach (Malaysia), Club Med Pragelato Vialattea (Italy), Club Med Valmorel (France) and Club Med Yabuli (China).
The prestigious Certificate of Excellence Award honourees were determined by a proprietary algorithm that factors in a variety of user-generated content. This includes review ratings, overall rating, quantity and reviews. To qualify for a Certificate of Excellence, a hospitality business must maintain an overall TripAdvisor rating of at least four out of five, possess a minimum number of positive reviews, and listed on Trip Advisor for a minimum of twelve months. A property's popularity ranking on TripAdvisor is also factored into the algorithm.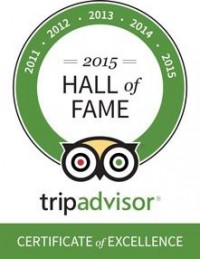 Club Med Sun Resorts Hall of Fame
Among the listed Club Med resorts in the Hall of Fame, Club Med Bintan Island, Kani, and La Plantation d'Albion are some the top favourite sun resorts in this region. Named the best resort for families in Asia, Club Med Bintan Island is ideal for families, golfers and relaxation as the island has a striking history marked by fallen empires and the spice trade.
For those who fancy exploring underwater life on coral reefs and swimming in the turquoise lagoon, Club Med Kani is the perfect vacation destination. This tiny paradise in the Maldives archipelago has 75 lagoon suites and when viewed from above, it resembles a giant palm tree straddling the lagoon.
Club Med La Plantation d'Albion is yet another popular destination nestled in a bay. Cocooned by two white sandy beaches in Mauritius with the Indian Ocean gently lapping its shores, this 21-hectare resort is the ultimate romantic escapade, with luxurious accommodation, gourmet dining, breath-taking sunsets and exceptional pampering.
Club Med Snow Resorts Hall of Fame
For guests who crave snow sports such as skiing, snowboarding and snow sledding, Club Med's All-Inclusive snow holidays has something for everyone. One of the prominent snow resorts that have received the Certificate of Excellence for five consecutive years is Club Med Peisey-Vallandry in France. Perched 1,600 metres (5250 ft) high in the Tarentaise Valley among torrents, lakes, larch, and spruce trees, guests enjoy the great outdoors as they float between skiing, snow shoe walks, Nordic walking and hiking.
In Asia, Club Med invites you to discover ski holidays in one of the world's best ski domains in Hokkaido. Enjoy the quintessential Japanese lifestyle and unique experiences such as the traditional Japanese hot tub, or savouring a delicious nabe "stew" at our resort in Sapporo. Inducted in the Hall of Fame by TripAdvisor, Club Med Hokkaido is the ski mecca in the land of the rising sun and Club Med has the perfect facilities to host children and adults alike!
Unparalleled Luxury
Venturing into the upper echelons is Club Med Finolhu Villas and Val Thorens Sensation where guests can anticipate the premium all-inclusive, hassle and worry-free holiday in 2 brand new resorts.
The perfect combination of modern luxury against azure skies and crystal clear waters, Club Med Finolhu Villas hosts 52 elegant and romantic villas. Themed sun rise and sun set, each villa is equipped with a private pool and tailored services are at your disposal with the help of a dedicated Villa Host (butler). The resort lies cosily on the beautifully preserved island of Gasfinolhu.
For holiday-goers looking to conquer the largest ski domain in the world, Club Med Val Thorens Sensations in France boasts skiing conditions of the highest standards including powdery snow for sports. To top it off, guests can relax at the soothing *Club Med Spa by CARITA, get cosy in the evening beside an authentic log fire, enjoy festive nights with friends, and savour fine cuisine from an extensive menu featuring local Savoyard specialties to nouvelle gastronomy by Michelin-star chef Édouard Loubet.
**Activity is subject to extra charges; other terms and conditions apply.
To book your holiday today, contact 03-20531888 between 9am and 8pm from Monday to Saturday, or email [email protected], or visit www.clubmed.com.my
Follow us for our latest updates on Facebook via ClubMedMalaysia.
Enjoy the following prices on selected dates when you book before 30 September 2015:
MALAYSIA Club Med Cherating Beach @ RM1,036
THAILAND Club Med Phuket @ RM1,502
INDONESIA Club Med Bali @ RM1,288; Club Med Bintan Island @1,597
MALDIVES Club Med Kani @ RM2,162; Club Med Finolhu Villas @ RM6,778
JAPAN Club Med Hokkaido @ RM1,572
CHINA Club Med Yabuli @ RM1,630; Club Med Guilin @ RM1,467; Club Med Dong'Ao Island @ RM1,741
**Price is per pax per 3 nights of stay
FRANCE Club Med Peisey-Vallandry @ RM4,500; Club Med Valmorel @ RM4,769; Club Med Val Thorens Sensations @ RM3,765
ITALY Club Med Pragelato Vialattea @ RM4,353
**Price is per pax for 7 nights of stay
All Information is correct at time of release and subject to change without prior notice.