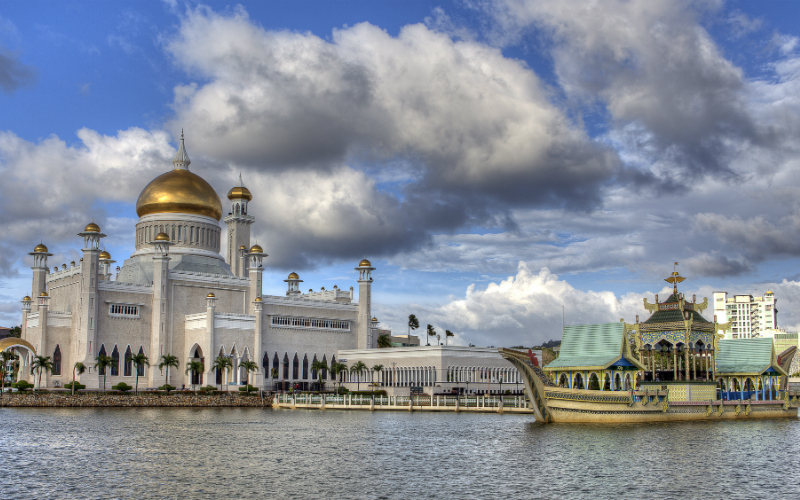 Many travellers will probably not jump at the opportunity to visit Brunei. Being a Muslim country, Brunei doesn't exactly shout 'spring break vacation destination', but if you're looking for something more laid-back and nature-driven, this small country just might be the answer.
Brunei's lack of popularity as a holiday destination may also be due to a dearth of available travel information; being one of the largest oil fields in Southeast Asia, the country does not have to depend on tourism as a top resource.
Brunei Darussalam (Darussalam means abode of peace) is one of three (and the smallest) countries that make up Borneo. The country is completely surrounded by Malaysian state, Sarawak and is separated into two unconnected parts by Limbang. Most of the citizens live in the Western district, where the country's capital, Bandar Seri Begawan is located. Eastern Brunei (Temburong District) is, until this day, mostly covered by pristine forest.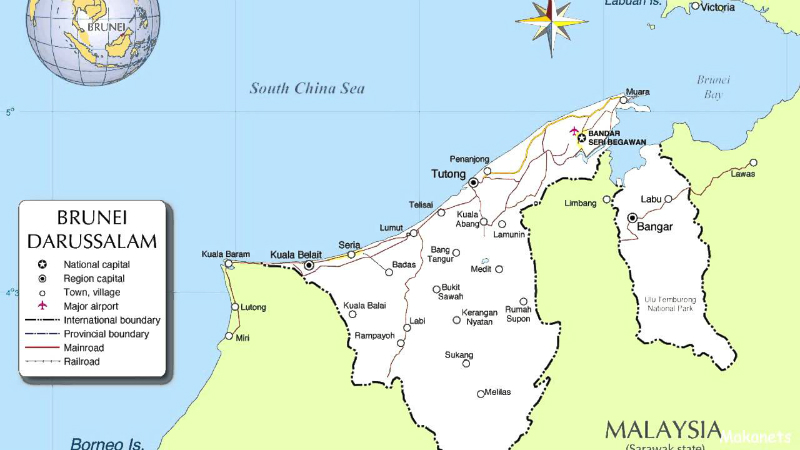 Ask people who have been to Brunei what there is to do and they will probably tell you to eat and shop because "there really is nothing else to do". As a teenager, I had the opportunity to live in this quaint country for two years. Whenever people ask me about Brunei, I'd joke and say "I did my time and got an early release due to good behaviour" and echo the 'eat and shop' sentiment. However, even since I left, every few years I find myself wanting to be back on Bruneian soil, yearning for the calm and quiet the country presents.
So while there may be no music-thumping bars or beautiful infrastructure to gawk in awe at, if you're willing to dig a little deeper, you'll find that there is so much to discover.
Western Brunei
Being the more populous (over 90% of the population) side of the country, there'll be more to see and do. There's no shortage of restaurants and malls and after you're done eating and shopping. Here are some sights worth a visit to for a peek into local life.
1. Kampong Ayer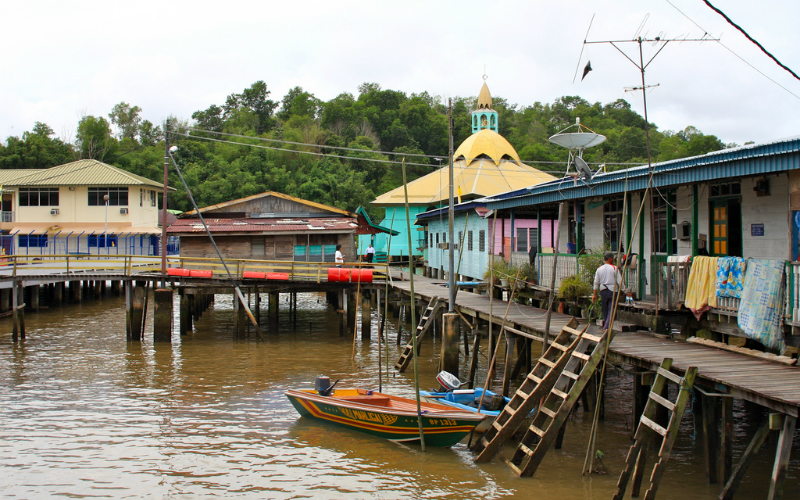 Dubbed the "Venice of the East" by Italian explorer, Antonio Pigafetta, Kampong Ayer (water village) is located along the Brunei River. The village, which is also the world's largest water village, has a fully-functional community with over 4,000 structures including shops, restaurants, schools, a police station, mosques, and even a hospital, built entirely on stilts and connected by wooden walkways.
You can explore the village either by foot or boat but both are different experiences so you might as well explore it both ways.
Start off by doing the boat cruise. Head down to one of the water taxi stops by the river. Water taxis (unofficially referred to as 'flying coffins' due to their shape, speed and unavailability of life jackets) are motorboats that ferry people to and from Kampong Ayer and other places around town. Water taxi operators will be more than willing to take you on a tour. The cost will depend on the number of people in your party and duration of the tour but do bargain for a good deal. As a reference point, if you're planning for a one hour tour, it shouldn't cost more that BND25 (USD18).
Get your boat operator to drop you off two or three stops before your destination and take a walk through the village and experience the local life. Interact with the locals and browse the little shops. Children will be more than willing to speak to you and pose for pictures.
End your day at the Kampung Ayer Cultural and Tourism Gallery. It's a good place to visit if you want a better understanding of Brunei history and to see how the country has evolved over the years. Entrance is free.
2. Tamu Kianggeh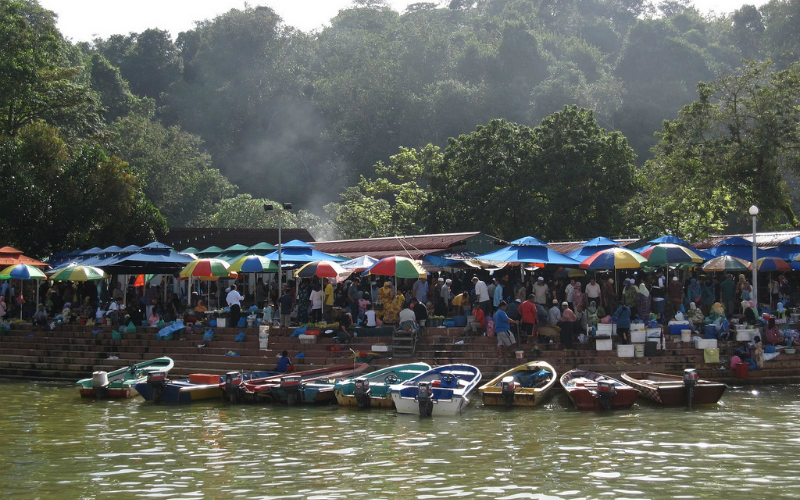 Tamu Kianggeh (Kianggeh market) is a market located on the banks of the Kianggeh River. The marketplace was developed as a place for locals (especially those from Kampong Ayer) to sell their own products. Stalls sell a variety of things from various produce, fresh catch of the day, dry goods and even local hand-crafted goods and cooked food such as the local favourite nasi katok (white rice, a piece of fried chicken and sambal). Many of the handicrafts sold here are not available in conventional shopping malls. If you're looking to buy souvenirs and a good bargain, pay this market a visit.
The open-air market, which has been a staple in Bandar Seri Begawan for many years, recently underwent a facelift and move. Now located just a 2-minute boat ride across the river from where it used to be, the brand new Tamu Kianggeh Complex has added facilities such as a public seating area, public toilets, paid parking area and a management office. The market complex officially opened its doors on 1st June 2016, just in time for Ramadan.
The best times to go are on Friday and Saturday mornings. Do keep your valuables secure as there have been reports of pickpocketing at the market.
3. Luagan Lalak 
When you're done exploring the city, take a drive down to Labi. About an hour out of Bandar, you'll first reach Luagan Lalak (Lalak Lake), which despite its name, is actually a freshwater swamp (that looks like a lake). Luagan Lalak is also a recreational park that you can explore. The park is relatively new having only officially opened in 2012.
Take a walk through the tree-shaded path until you reach the swamp. Walk out to the wooden huts over the swamp and take in the view. Walking towards the huts that sit within the lake is a must-do to make the trip even more worthwhile.
If the water level is low enough, you'll see fishes swimming around and egrets and herons hovering down to hunt them.
4. Labi Longhouses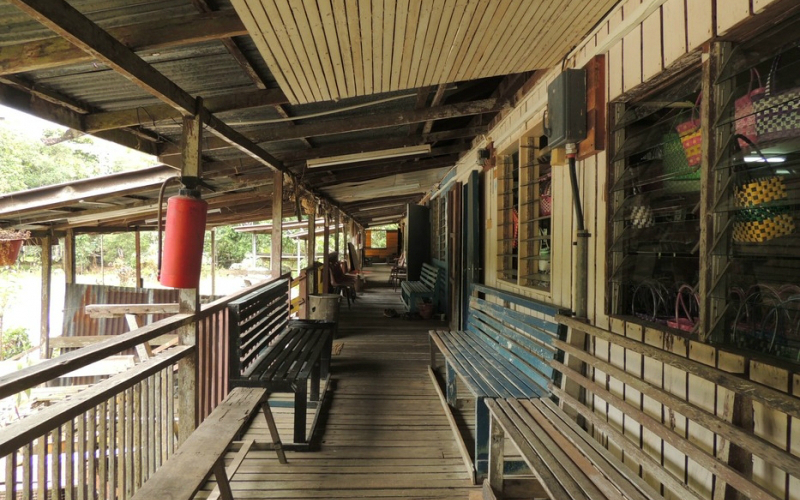 A further drive down from Luagan Lalak are the Labi longhouses. Labi is a small Iban (once a fierce head-hunter tribe) settlement located about 40KM out of Bandar. There are four longhouses here: Rampayoh, Mendaram Besar, Mendaram Kecil and Teraja. It's common to see women weaving baskets and making other handicrafts on your visit.
Going without a guide is fine, but your understanding of the long-house culture and what you get to see may be limited without a local English speaker present.
There are full day tours to the longhouses that also include stops at Luagan Lalak and a short trek to Wasai Wong Kadir (Wong Kadir waterfall).
The longhouses are a mix of modern and traditional; some have been done up and renovated a couple of times and all now have 24-hour electricity.
Eastern Brunei
The eastern side of Brunei, or Temburong District, is separated from the western district by Malaysia and the Brunei Bay, hence you can travel there either by car or boat. This district is also home to Brunei's first national park.
5. Ulu Temburong National Park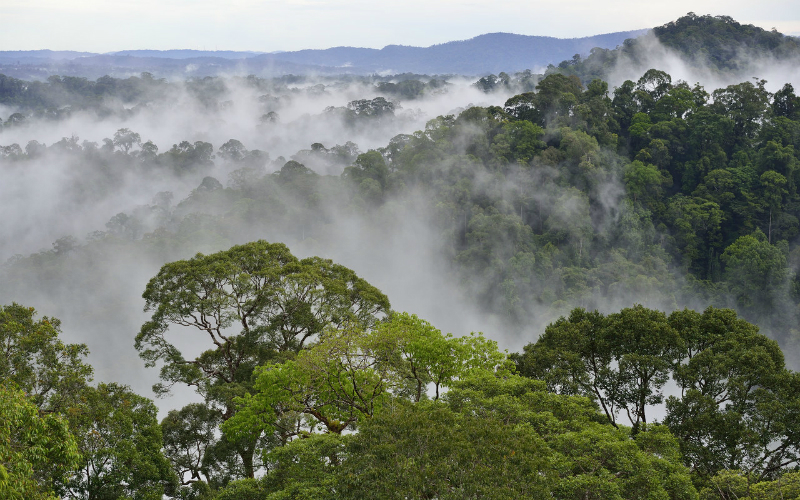 Located within Batu Apoi Forest Reserve is Ulu Temburong National Park. Dubbed the "green jewel of Brunei", the national park covers 500 square km of untamed jungle and is only accessible by boat via the Temburong River. As wide as it is, only 1 square km is open to tourists and admittance is part of a guided tour. The rest of the park is home to the Kuala Belalong Rainforest Field Studies Centre.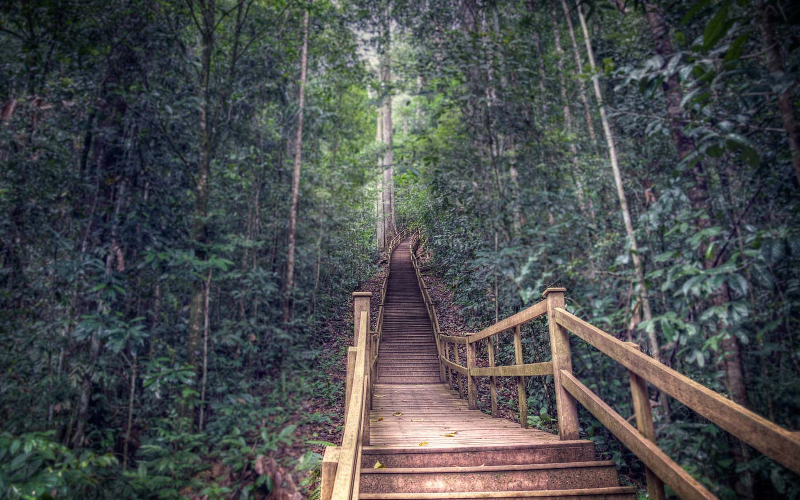 For travellers who would prefer to spend a night or two at the park instead of just going for a day trip, the can make reservations to stay at the gorgeous Ulu Ulu Resort, Brunei's only rainforest resort destination, which is nestled along the banks of the Temburong and Belalong rivers.
Like a wallflower, Brunei has been quietly sitting in the background. Take a chance with Brunei and you will see that it has much to offer.

Read next:
Get all the latest travel stories from Zafigo. Follow us on Facebook and Twitter.