Before the pandemic, we had it all planned out — we would visit one of the most beautiful North African countries, Morocco. I mean, we had the itineraries ready, and all that was left was booking the flight, and we were SO close too.
But before we could click that 'book your flights' button, Malaysia announced the first ever Movement Control Order (MCO), and we had to put our Moroccan trip on the back burner. Not getting over the fact our trip was suddenly halted, we resorted to researching places in Malaysia with Morrocan-like themes, so that once the MCO was lifted, we could visit Morocco without getting on an aeroplane. Here's what we found:
Villas fit for Moroccans
1. Villa Sajuri, Selangor
Inspired and designed with the traditional riads found in Morroco in mind, Villa Sajuri stole our hearts with its sumptuous design and a swimming pool as its centrepiece. Not long after we discovered this villa, it started gaining traction as a place for photoshoots and vacationers on staycations, and with good reason too!
From RM1,400, Villa Sajuri hit all the right spots for a Moroccan-themed stay — from the tiles used for its walls and flooring to the colour palette. With three bedrooms, this villa can fit up to 12 people and even comes in with a pool table. Families travelling with kids will be pleased to know that there's even a bouncy castle, and this getaway is only an hour's drive away from Kuala Lumpur (KL).
Address: Jeram, Selangor (Exact location to be provided after booking)
2. Riad Al-Majnoon, Melaka
Located in Ayer Molek, Melaka, this villa known as Riad Al-Majnoon will make you feel like you are in Morocco upon entry with its gorgeous pool and garden. The villa can comfortably house up to 16 guests and has a total of four bedrooms.
Though the interior itself is one of a more simple style, its courtyard area definitely transports you elsewhere. There's also a barbecue pit, so you and your loved ones can cook up a feast! This staycation spot is definitely a destination worth visiting if you want a quick getaway from life.
Address: Exact location to be provided after booking
3. Moroccan Mediterranean, Selangor
A mixture of casual-modern with a touch of Moroccan-Mediterranean influence, this homey stay is perfect for those looking for a home away from home. With living rooms, bedrooms, and a pool fit for big groups, no one will ever be bored — especially with a foosball and snooker tables available too.
Address: Exact location to be provided after booking
Treat yourself to a Moroccan pampering session
Hammam Spa, KL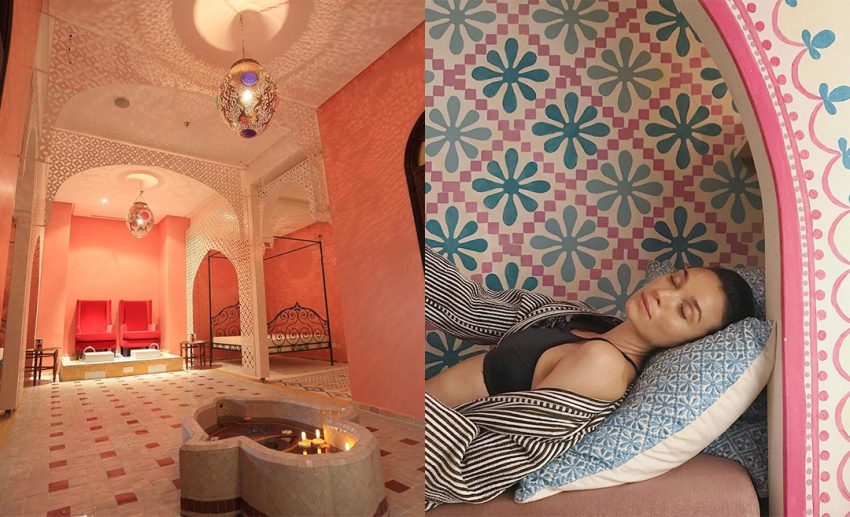 If you're not up for a weekend away in any one of the villas, why not opt for a quick day-thing instead? Treat yourself to the ultimate pampering session at Hammam Spa. For those unfamiliar, a hammam session often offers massage and exfoliation services that are carried out in a public steam room.
With three outlets in KL, Hammam Spa provides incomparable authentic spa services. Give their Hammam & Gomage package a try, and prepare yourself to be scrubbed down by a Moroccan native. If you have the time, add on a massage session too. We promise you'll come out feeling more relaxed than ever.
Address: Block C2, Level G4, Solaris Dutamas, 50480 Kuala Lumpur (Publika outlet)
Contact: +6013 437 0881
Feast like a Moroccan
1. Marrakesh Restaurant, KL
Known for being one of the longest-established restaurants that offer Moroccan and Mediterranean cuisine is Marrakesh Restaurant. Indulge in some of the best dishes with influences from Berber and Andalusian culture, and if there's one thing you simply must order here, it's their Mandi Biryani.
The portions here are incredibly generous, so before you go on an over-ordering spree, keep in mind that you can share each dish with up to three people. Moroccan cuisine wouldn't be the same without some couscous, so Couscous Lamb and Tagine Kafta are also must-haves.
Address: Jalan Raja Uda, Kampung Baru, 50300 Kuala Lumpur
Contact: +6012 664 0734
2. Tajine Restaurant, KL
The casual yet elegant Middle Eastern ambience of Tajine Restaurant is located in the heart of KL and is the perfect place for a Moroccan culinary experience. With heavy Arabic influence, you can expect the dishes on the menu to reflect this.
Their Lamb Kabsa is full of flavour and served with lamb chunks leaving you satisfied, and for the carnivores, don't miss out on the Royal Mixed Grill — a succulent combination of Shish Kebab, Shish Tawook, chicken kebab, and lamb chop.
Address: Menara Bintang Goldhill 239, Jalan Tun Razak, 50450 Kuala Lumpur
Contact: +6018 276 5600