I've always envied those who consistently find themselves jet-setting from one destination to another. Whether it's driven by work or pleasure, it always seems like a glamorous way to live. But flying often can affect your regular self-care rituals — particularly your skincare.
Personally, I'm not one for a rigmarole skincare routine, especially not while travelling, because it requires too much effort. But now that we're back to flying (cue dry skin) and have to do it while all masked up (cue maskne), it's time to pay a little more (or a lot more) attention to our skin's health.
So, with some help from Malaysian skincare experts including Sian Chiew, Co-Founder of Root Remedies, and Julius Lim, CEO and Co-Founder of B&B Labs, I gathered a few tips to guide you on how to best care for your skin on-the-go.
Pre-travel prep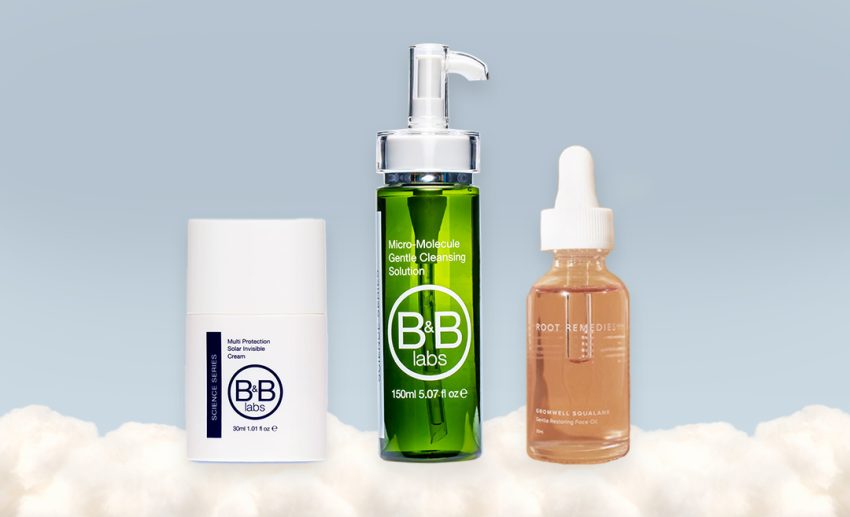 Pack yourself an in-flight skincare bag that includes makeup remover wipes, micellar water, moisturiser, and sunscreen — your mum was right about this one! Both Sian and Julius agree that applying sunscreen is the skincare step that should never be skipped. An additional habit to include into your pre-travel preparation is double-cleansing.
"I'm huge on double cleansing and I believe this is the most important step in our skincare routine. Double cleanse your skin before heading in flight, and make sure the skin is hydrated," advises Sian Chiew. She also suggests opting for a light moisturiser like the Gromwell Squalane Gentle Restoring Face Oil (Gentle Oil). "It's made with 100% Beetroot Squalane for moisture that feels weightless. The addition of Gromwell extract promotes faster skin-healing and soothes irritation," she adds.
Wipe it all down
Pandemic travel calls for an update to our packing checklist. Perhaps not the most glamorous thing to carry around, but having antiseptic wipes on a plane can be a lifesaver. The first order of business is to wipe down everything — including your face shield. If you're on a long flight, carry an extra face mask with you and change it after a few hours. It may seem a little extreme, but it reduces the chances of you picking up any unwanted germs on your flight.
Most hand sanitisers tend to dry your skin but B&B Labs' Protect Hand Serum is a great alternative to hand creams. Not only is it an alcohol-free product that eliminates 99.9% of germs, but it also moisturises at the same time.
Break the no-makeup rule like a pro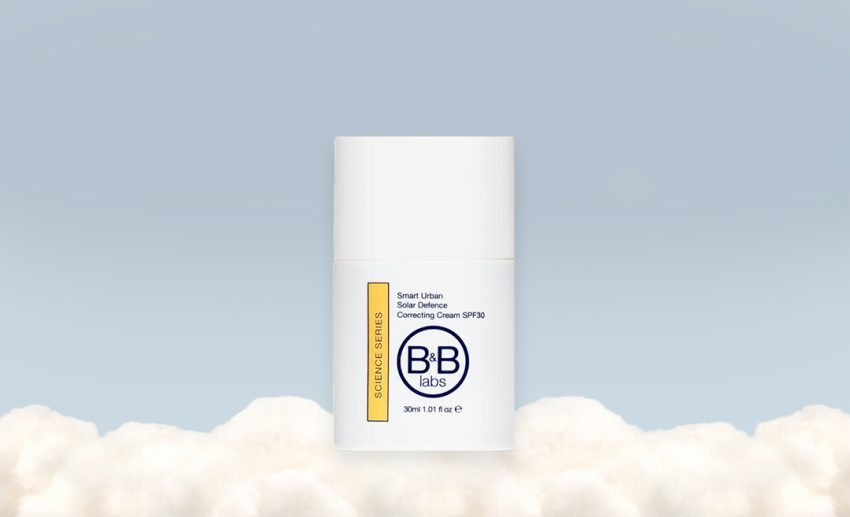 Having on layers of makeup in a pressurised aeroplane cabin dries your skin, and ultimately makes room for unwanted breakouts. After all, no one wants to step off a plane with a soon-to-be spotty and dry face, so we definitely recommend a lighter makeup option. B&B Labs's Smart Urban Solar Defence Correcting Cream with SPF30 might be a mouthful to say, but it sure is handy to have on your skin, and in your carry-on.
"We'd suggest skipping makeup, but if it's a must, opt for natural looks — light foundation and makeup-skincare hybrids that are rich in moisture," says Julius. Meanwhile, Sian Chiew also recommends a tinted moisturiser. "Choose one with an oil-free and lightweight formula. It perfectly blends makeup and skincare to fix imperfections, and enhances your complexion to give you the best 'no-makeup' makeup finish," she says.
Moisturise in the sky
The humidity levels in aeroplane cabins are very low, which means your skin will need all the help it can get to stay moisturised during the flight. A good moisturiser will help improve your overall skin health regardless of your skin type.
Try the Pomegranate Intense Hydration Cream by B&B Labs. If you prefer a serum, the Nacific Fresh Herb Origin Serum is perfect for this too. Apply lightly onto clean skin to maintain a healthy amount of moisture on your complexion. Another option is the Prickly Pear Dewy Hydrating Face Oil (Dewy Oil) from Root Remedies. Besides keeping your skin hydrated, it can be used on your body, lips, and hair. Talk about handy!
Gut check
What you put in your body matters just as much as what you apply on your skin. Skip the sodas and stick to water. While there's little to do about the in-flight food options, what you can do is to include probiotics into your diet. Probiotics help supply your gut with good bacteria, which help maintain your skin's health. You can find them in supplement form or in foods and drinks like yogurt, vegetables, and kombucha. Speak to your dietitian before adding any kind of supplement to your diet.
In the meantime, microbiome friendly skincare is also a good option to include to improve your skin's immunity. Yes, your skin functions similarly to your gut, in that there are billions of tiny organisms living on your skin that need pre-, pro-, and postbiotics to thrive. For long flights, we recommend indulging your skin with the B&B Labs CustoMask — the world's first customisable microbiome sheet mask.
Carry a one bottle cure-for-all everywhere you go
The Body Shop's Tea Tree Oil is great if you notice an itch or acne rising. Its antibacterial and anti-fungal properties make it perfect for calming inflammation and redness if your skin gets irritated on a flight. It also acts as a great disinfectant. Add a few drops of tea tree oil to a small spray bottle mixed with water, and use it on your hands or any other surface that may need a little sanitising.
S-L-E-E-P!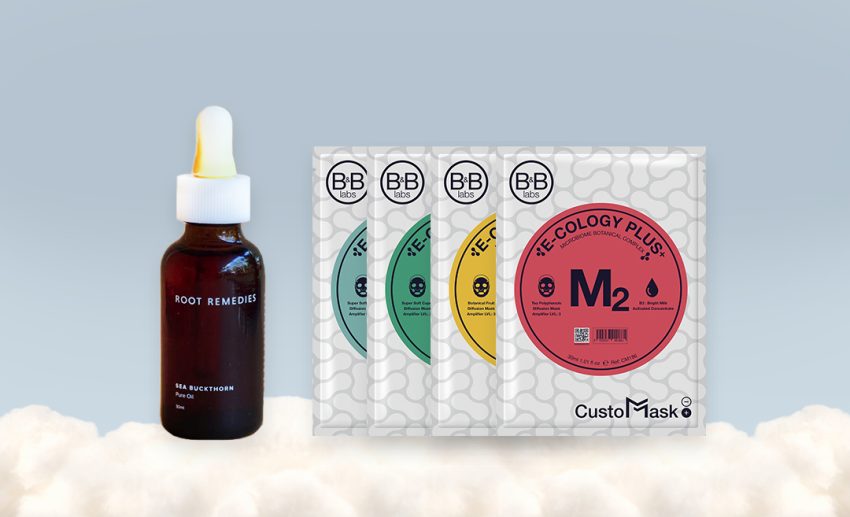 Post-travel recovery is just as important in keeping your skin happy and heathy. Poor sleep can deplete your skin's overall health. So be sure to catch up on that much-needed slumber. If you struggle to get enough sleep during travelling, try these tips. Then, try these sleep tips for after your holiday.
In addition to getting enough sleep (they call it beauty sleep for a reason), Sian Chiew also recommends an overnight treatment. "Try the Sea Buckthorn Pure Oil, it's filled with 190 skin-boosting nutrients, and is a well-rounded and powerful nighttime treatment. It soothes and repairs skin while you sleep so you'll wake up to soft, dewy, and glowing skin."
It's easy to neglect self-care while travelling when newly installed rules of conduct are in place – wearing face masks, using face shields, and keeping your hands off just about everything. Skincare is personal and as with any advice, take what is applicable to you, and leave the rest. Make your own rules and feed your skin what it loves, and most importantly, what it needs.
---
Root Remedies
Root Remedies is a homegrown brand that offers tried-and-true solutions for skin problems. The thoughtfulness of this brand, in making their products clean, accessible, and effective are second to none.
B&B Labs
B&B Labs is a cosmeceutical skin wellness and beauty brand, designed for both men and women. Using both Asian techniques and ingredients, they focus on creating formulations with medical benefits to give you swift and effective results.