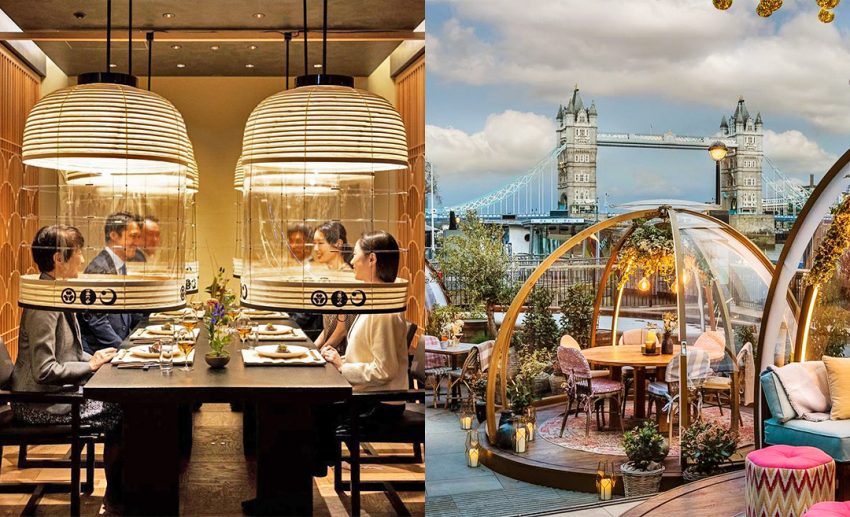 [box color="#14afa9″]Subscribe to our new Telegram channel for the latest updates.[/box]

Outdoor bubble dining gained popularity in countries with chilly weather as they kept customers warm while still offering them an outdoor view in the cold. They started gaining more traction during the pandemic as well, although there were concerns about the air circulation inside the 'bubbles'.
Regardless, restaurant owners have definitely gotten creative with their 'bubble' decorations and airflow solutions. We think it's a wonderful dining experience and they may be here to stay for the long run. Look at the pictures below and you'll see why!
1. Lafayette Grand Cafe & Bakery, New York City
The perfect little greenhouse for your winter wonderland dreams.
---
2. Culinary Crafts, Utah
Look at the view. We're speechless.
---
3. Hilton Hotel, Manila
'Vubble' dining is what they call it. Savour a three-course meal and wine in the comfort of their fully air-conditioned Vubble pods.
---
4. 230 Fifth Rooftop Bar, New York City
Enjoy some drinks with friends while taking in the view of New York City at night.
---
5. Nom Wah, New York City
This Dim Sum parlour took creativity to new heights with their 'bubble' pagodas!
---
6. Katana Kitten, New York City
Cosy up in their little tents while you enjoy warm Japanese oden.
---
7. A Date with Bliss, Colorado
A unique picnic date in my own private cosy bubble? Yes, please.
---
8. Café du Soleil, New York City
Brunch in a bubble on a toasty Sunday morning.
---
9. Mediamatic ETEN, Amsterdam
Spend a romantic evening in a little greenhouse soaking in the view of the Oosterdok, while enjoying vegan food.
---
10. Coppa Club, London
Look at these charming little wooden framed bubbles. Adding dining with a view of the London's Tower Bridge in my bucket list right now.
---
11. Blank Slate, New York City
Indoor or outdoor dining? We'd choose these outdoor see-through cabins!
---
12. Butcher's Chop House & Bar, Utah
Dine in a glass globe with a panoramic slope view, Bluetooth speakers for playing your own music, and watching skiers skiing down the slope.
---
13. MUSE Coffee + Food, Kilkenny
Located in a historical building called Evans' Home, the building also features a gallery. It'll be the perfect café to add to your itinerary on a holiday.
---
14. Lady Byrd Café, Los Angeles
This charming café has private greenhouses for dining, and their menu comprises of vegan and vegetarian options too. Also good to know: their animal products are sourced from farms that prioritise sustainability and animal welfare!
---
15. Hoshinoya Hotel, Tokyo
Not exactly 'bubble' dining, but it would be an interesting experience to dine in your own individual chochin lantern.
---
16. H.A.N.D., Paris
Another non-bubble dining idea, but this time one that resembles a blown-up face-shield. Saves us the trouble of bringing our own face shields, perhaps?
[vc_row][vc_column][zf_post_boxes widget_hide_desc="true" num_post="3″ post_id="43243, 41583, 22191″][/vc_column][/vc_row]
Follow Zafigo on Instagram, Facebook, and Twitter. Sign up for our bi-weekly newsletter and get your dose of travel tales, tips, updates, and inspiration to fuel your next adventure!