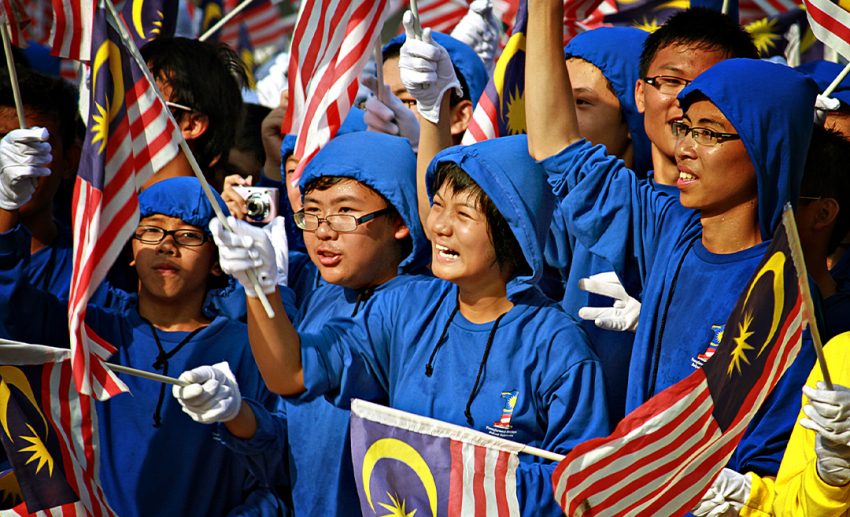 Subscribe to our new

Telegram

channel for the latest updates.
"Oh my God, why did I sign up for this? Why do I always put myself in situations like these?"

10 years ago today, this thought plagued me for an entire night. I couldn't sleep a wink. Instead of counting sheep, I paced back and forth, fuelled with excitement and nervousness. Held on Malaysia Day, which is 16 September 2011, I was about to make my dancer's debut on national TV at the 54th Merdeka Day parade tomorrow!
Little did I know, this experience from a decade ago became a once-in-a-lifetime memory that I will never forget.
How it all started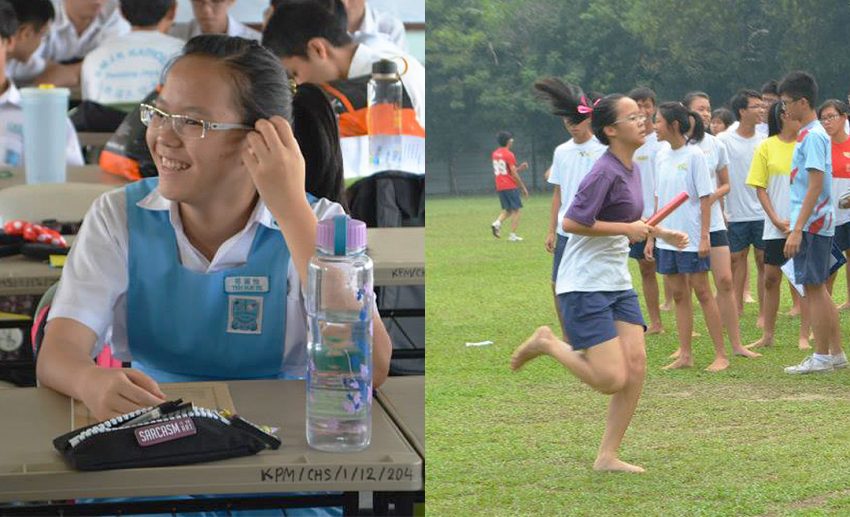 As someone who is born with two left feet, the last thing that anyone will catch me doing is dancing (unfortunately, till today and despite being a Get Z-er, I can still barely master any TikTok dance), so why would then-14-year-old me go out of my comfort zone?
Sometime around the middle of 2011, my school headmaster announced that the Selangor Department of Education was looking for a handful of student volunteers to perform during the upcoming Merdeka Day parade. On top of getting to perform, we will be receiving monetary compensation for our work.
After an intellectual discussion amongst my classmates, we deduced that joining the training meant getting to skip our classes, getting paid to perform, and being able to keep an eye out for cute boys (or girls) from other schools! It's a win-win situation for all of us, so why not sign up?
The teacher in charge was pretty overwhelmed by the turnout, and assigned our entire class to be selected to undergo the training for two months, alongside students from other classes too. It became the 'class outing' that our little Form 2 minds really looked forward to.
Getting down to business
The training was initially conducted at Putra Indoor Stadium (that's now been renamed Axiata Arena Bukit Jalil) for a period of two months and then at Dataran Merdeka for a month prior to the parade. The sessions were held every weekday morning, and by the time we were done, it would be around lunchtime.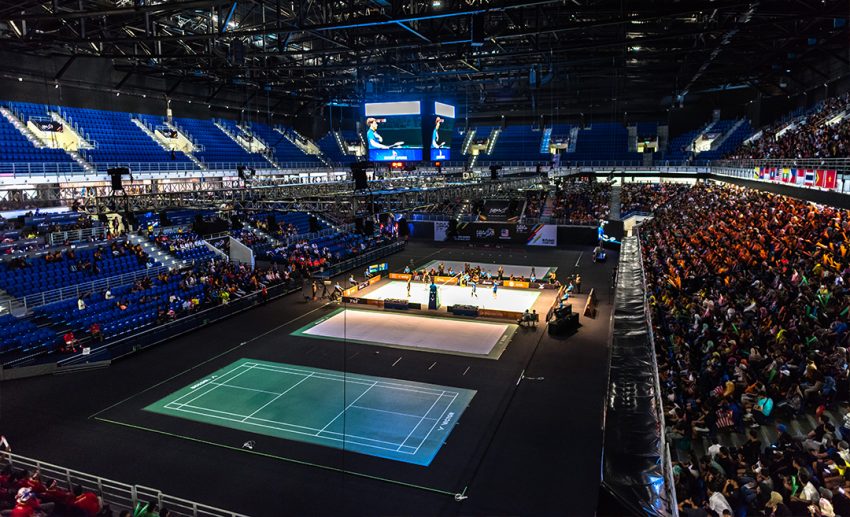 Although the training sessions were held in the morning, my school didn't allow us to go home and rest after. That meant Operasi Ponteng Kelas (Operation Skipping Classes) backfired on us. The schooling period starts in the afternoon, and those who joined the training had to endure being up at 6am until when classes end at 6pm. As we had to train under the sun for a month, many of us were knocked out for the better half of our classes. Oh, the things we would do for money and our studies!
Training at the Putra Indoor Stadium was the best, there was air conditioning available, and hence it was always cool and breezy. Most of the participating schools were Sekolah Menengah Kebangsaan (SMK) schools, and a majority of the students there were Malays. My school is the only Sekolah Menengah Jenis Kebangsaan (SMJK) selected and has a majority of Chinese students, so it was fun to mingle and gossip with students from other races.
When we started our training at Dataran Merdeka, we quickly realised how much we took the cooling breeze of the air conditioning system at Putra Indoor Stadium for granted. By the time we finished dancing under the sweltering heat in long sleeves and pants, our clothes and caps had sweat stains, and the smell emitting from the student dancers would make any passer-by faint.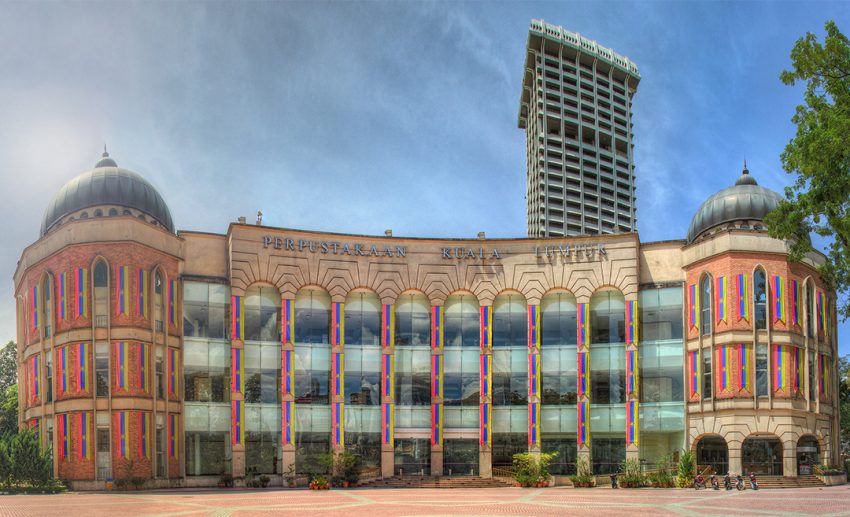 To beat the heat, we would swarm around the drink stalls nearby to buy giant servings of Milo ikat tepi, and let me tell you, the taste of overly-sweetened, ice-cold Milo hitting our parched throats was so much more flavourful than what's offered from the iconic Milo trucks.
We didn't fit in
Although it was fun to meet new people to talk to, it wasn't always pretty. Undeniably, our school stuck out like a sore thumb amongst the other students as we are of the Chinese majority.
We got picked on by a gang of delinquents. We almost had our lunchboxes stolen by students from the said gang, but luckily, we had friends from another school that helped us. We got framed by the bullies for being noisy and destructive, to the point where an official complaint was lodged against us. Our school was threatened to not be included as a part of the future Merdeka Day parades.
Why was there a need to pick on us? Just because our skin colour was different? How ironic it is that all of the students were here in the name of performing for racial unity and harmony.
Luckily, our supervising teachers and the new close friends we made from neighbouring schools put their trust in us and vouched for us. Building on the rapport that we've received, we collectively stood up against these bullies and made sure to always keep a lookout for each other. The bullying eventually subsided, and we managed to tough it out and successfully completed our training in time for the day of the parade.
The day of the parade
I can never forget the bubbling excitement that I felt when it was our turn to perform the Rukun Negara (National Principles). The wind in my face when we ran across the grass to get into formation, the booming music accompanied with the product of our meticulous three-month long training, everything fell right into place. I was on a patriotic high.
The theme for the year was 1 Malaysia, Transformasi Berjaya. Our performance was the human graphic display of the Rukun Negara, which involved 250 students dressed in red, blue, yellow, green, black, and white. The performance was divided into four parts, with each part corresponding to each principle of the Rukun Negara.
Our costume consisted of a long-sleeved hoodie in a specific colour, matching long pants, and white gloves with sneakers. Our school was assigned to the colour blue and were given cloaks to wear. Others received pom-poms and mini umbrellas as visual props for the performance.
Performing the dance was fairly simple (thank goodness the moves were easy) since we had musical cues and dance moves drilled into our minds. My body moved on its own to the beat, and my mind was free to wander — all I could see were smiles from the faces of my friends. Everyone was having a great time, and some were giggling throughout the entire performance!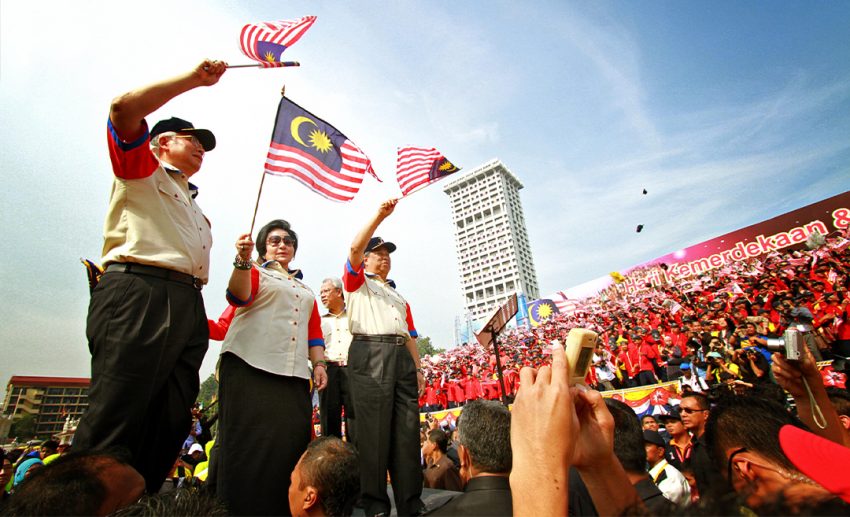 After our dance segment ended, we stood under tents located by the sidelines to watch the remainder of the parade as we weren't allowed to roam after the performance. We only managed to get glimpses of the parade, but after former Prime Minister Dato' Sri Najib Razak's speech, the field burst alive with patriotic excitement as everyone, including the public, came to celebrate on the field. It was then that we finally got to enjoy the celebrations with our new-found friends. Phones and cameras were whipped out to snap pictures, and this moment was etched in our minds forever.
Malaysiaku Cinta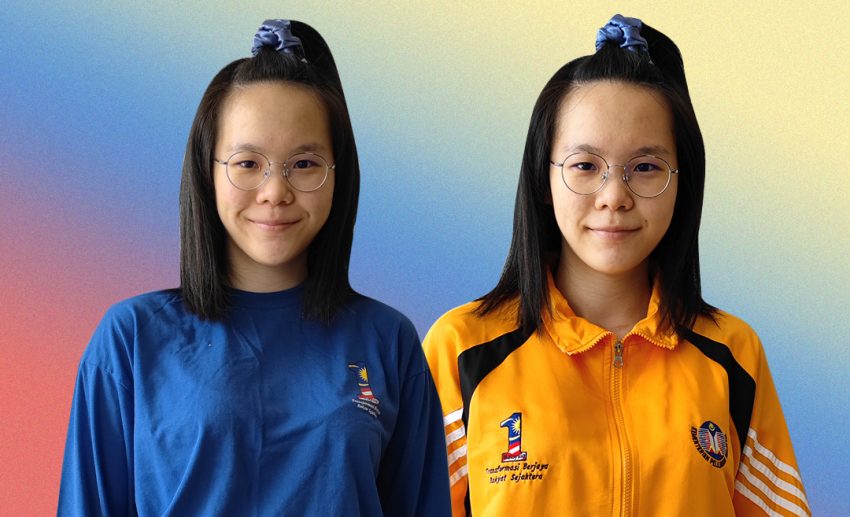 To this day, celebrating Merdeka makes me reminisce the fun that I had. I am grateful that my 14-year-old self gave me this once-in-a-lifetime opportunity to experience Malaysia's independence day in full 'Tanah Tumpahnya Darahku' spirit.
Given the chance, would I relive this memory again? Definitely.
Wishing all Malaysians a safe and happy Hari Malaysia, and to tanah airku, I raise the Jalur Gemilang to 64 prosperous years of independence!
[zf_post_boxes widget_hide_desc="true" num_post="3″ post_id="46637, 47115, 46550″]