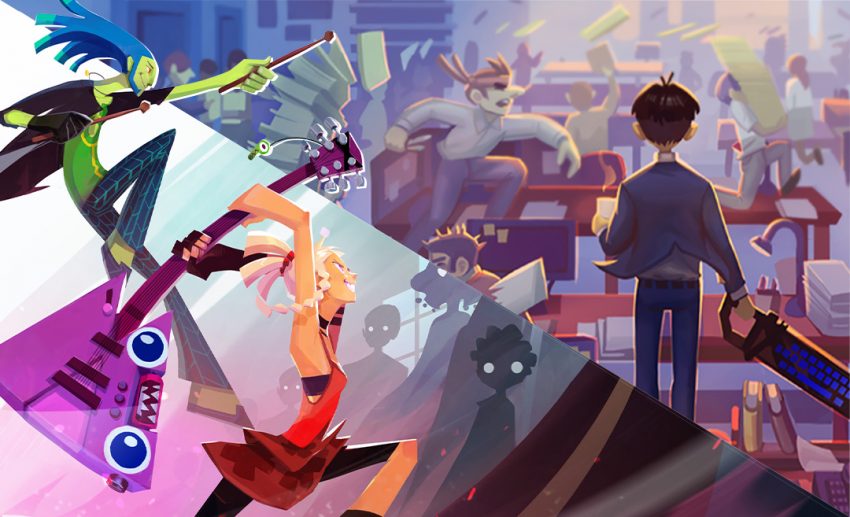 Subscribe to our new

Telegram

channel for the latest updates.
In recent years, there have been a number of Malaysian-made games that've made international headlines and bagged various awards from notable competitions! From casual mobile games with impeccable storytelling to hair-raising role-playing games, Malaysian game studios have a knack for adding uniquely Malaysian traits into their internationally-renowned games. With Malaysia Day coming up, why not put on our patriotic hats and take a look at what these 11 award-winning games have to offer?
Games best enjoyed together
Police Sentri
Remember playing cops and robbers with your friends during recess? Well, now you can play it with your friends on your mobile phone! Police Sentri is a delightful reimagination of a children's game where players are divided into two groups: police versus robbers. Will justice prevail or will it be payday for the robbers?
Get it free at: itch.io (PC) | Google Play | App Store
Bake 'n Switch
If you enjoyed wreaking havoc in Overcooked, then you'll like baking up some mischief in Bake 'n Switch. This game features undeniably vibrant graphics and cute Bun creatures that your avatar can bake in-game. A perfect co-op game for families, friends, and couch gamers.
Get it at: Steam | Nintendo Store
Action and adventure
The Company Man
The Company Man is a tongue-in-cheek 2D side-scroller in which players can battle their way up the corporate ladder. In this game, you can fight your co-workers, shoot emails, and defeat evil bosses while replenishing your health bar with coffee. This game is best enjoyed after a long and hard day at work.
Get it at: Steam
No Straight Roads
From the minds involved in the making of video game franchises Final Fantasy XV and Street Fighter V, births a musically-fuelled action-adventure video game! No Straight Roads sees a rockstar duo wanting to regain control from the oppressive reign of the EDM (electronic dance music) empire in Vinyl City. To make that into reality, players have to pass several boss stages by synchronising and timing their attacks to the banging beats!
Get it at: Steam | Playstation Store | Microsoft Store | Nintendo Store
Postknight
This adorable game sees you as a knight tasked to carry out difficult deliveries in and around the kingdom of Kurestal. Differing from traditional role-playing games, where players need to do a lot of in-game grinding to level up, Postknight offers a more relaxed and casual experience and is designed for those who are on the go. A sequel is in the works right now, and you can play it in early access here!
Get it free at: Google Play | App Store
The Creepier, The Better
Short Creepy Tales: 7 PM
Short Creepy Tales: 7 PM takes place during Ghost Month and follows the shared accounts of three children who attempt to invite a mysterious new neighbour to play. The unique visuals of this game reference paper effigies that are burnt as offerings to the deceased, and we think that it's a pretty cool concept.
Get it at: Steam
Simulacra
Simulacra was a pioneer in the visual novel genre for mobile games when it was first released in 2017. Propelled to fame by notable horror-loving gaming YouTubers and being nominated for multiple international awards, Simulacra solidified its take on visual storytelling as a crucial part of video games, and many casual mobile gamers loved it. If you enjoy the thrill offered by Simulacra, do check out the sequels of this game.
Get it at: Steam | Google Play | App Store | Nintendo Store
Dying Flame
In Dying Flame, you play James, a man who's trapped in a mansion and realises that his wife Mary is trapped alongside him too. Armed with only the flicker of light emitting from a cigarette lighter, you have to defend yourself from the horrors of the dark. Dying Flame pays homage to Japanese horror role-playing games (JRPG), so if you're a fan of jump scares and puzzle-solving, this will be your cup of tea. Not convinced? You can play through the free demo here to have a taste of what's it like to be alone in the dark. We warned you!
Get it at: Steam
Storytelling Done Right
Fires At Midnight
Telling the tale of two lovers Yun and Chitra, you get to explore the memories of the couples' relationship through a series of flashbacks from both of their perspectives. This gripping visual novel has been appraised for its layered and well-paced storytelling and also highlights the complex nature of being in a relationship. Do take note that this game explores mature themes and nudity.
Get it at: Steam
Games in the works
Gigabash
Gigabash is set in a post-apocalyptic world where Titans (a giant monster featured in Japanese fantasy and science fiction films — think Godzilla) reign supreme. In this brawler game, you can play as either a rampaging Titan or work to reclaim humanity's spot at the top of the food chain. Bash it out with to up to 10 friends in multiplayer mode to decide who will take the title as the leader amongst the Titanshome!
Wishlist it at: Steam
Kabaret
Made by the same bright minds behind Fires at Midnight, Kabaret is an interactive visual novel featuring Southeast Asian folklore. The catchy and yet hauntingly beautiful theme song is enough to make anyone want to know more about this unique tale of Jebat who journeys into a realm called the 'Alam' to break a curse that turned him into a monster. Can't wait to check it out? Play the demo here!
Wishlist it at: Steam
45679, 44400, 45144