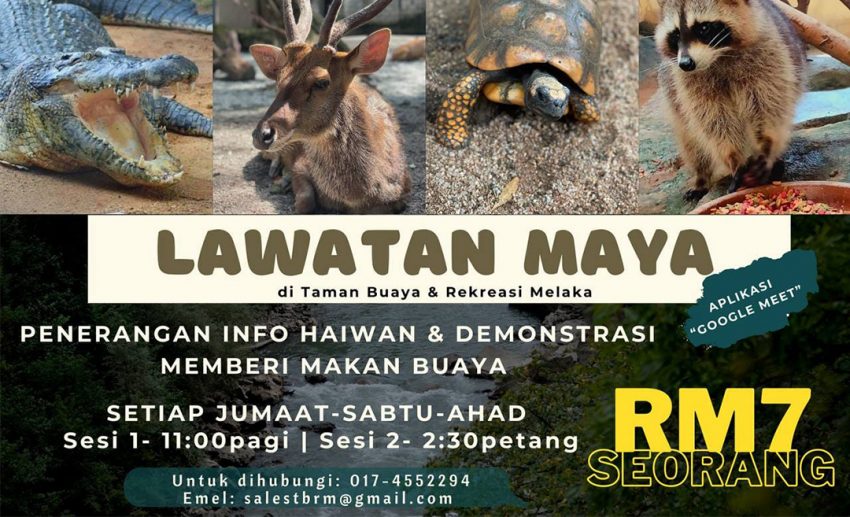 Subscribe to our new 

Telegram

 channel for the latest updates.
It's not just us humans who've got it bad thanks to the pandemic. Many zoo animals are also having a tough time, and it's not because of possibly getting infected with COVID-19. As frequent iterations of the MCO keep occurring throughout the year, without people regularly visiting the zoo, they're unable to generate income. As unfortunate as this may be, you can play a role in helping to maintain the welfare and upkeep of Malaysia's zoo animals by loving them from afar. Just take them on a virtual date! 
Melaka Crocodile and Recreational Park (TBRM) conducts virtual tours of the park that houses many different species of wildlife such as crocodiles, snakes, snapping turtles, and even racoons and deer. An online tour with them costs a mere RM7. 
Buddyz has also organised similar projects. They offer an exciting online experience with dolphins, topped off with fun recreational activities, and a virtual safari with their Bornean Sun Bear and dusky leaf monkeys. Fees start at upwards of RM40 per person. 
View this post on Instagram
Before you think that it's too hefty a price tag, remember that your generous support is reciprocated in the form of education and entertainment – especially for children. Besides, you won't need to go through the hassle of sweating because of the sweltering heat while on one of these virtual tours. How exciting it would be to visit the zoo in a comfortable, air-conditioned home space?
We're certainly glad that more zoos are getting creative with their means of staying afloat during these trying times. 
42971, 35233, 37757