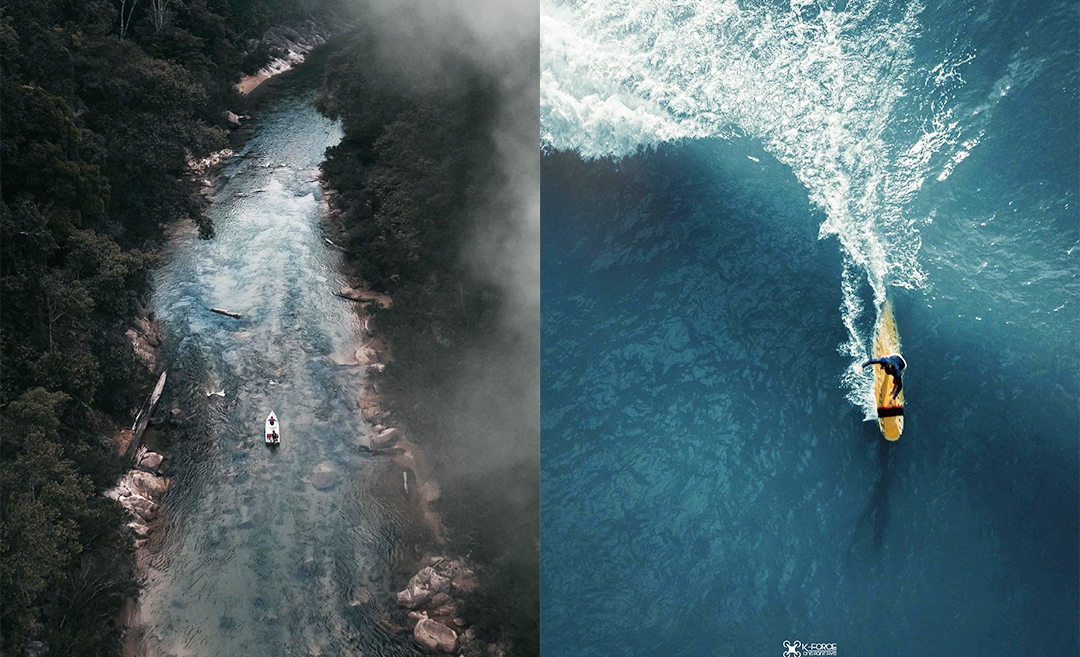 Subscribe to our new 

Telegram

 channel for the latest updates.


Surprise, surprise – the possibility of MCO 3.0 is staring us in the face (although, on the upside, it's been refuted). If you're feeling anxious about the possibility of reliving the early months of 2020, you're not alone.
For those of us who have 'exercise more' on our list of New Year's resolutions, but are also concerned about the gym clusters popping up lately, you might want to say goodbye to the studio in the meantime and go back to YouTube workout videos. While effective in maintaining our physical and mental health, home workouts can get repetitive and, very soon, really boring. This is especially the case for adventurers who love trying new things and being outdoors! We need adrenaline, excitement, and a touch of the unpredictable, don't we?
So, as we do our part by keeping away from small, enclosed spaces (read: studios) to stop the spread of the virus, we're going beyond the confines of the gym – to the mountains, the seas, and wherever our imaginations take us. Here are 12 exhilarating ways to get moving and stay active this year:
1. Paddle away
View this post on Instagram
Put your hands up for this fun workout on the waters! Kayaking lets you get some fresh air and plenty of vitamin D with this heart-healthy activity that also works muscles in your arms, back, core, and legs.
Try: Kelab Tasik Putrajaya, Kuala Lumpur Canoe Association.
2. Now pedal away

 
View this post on Instagram
Whether your goal is to build muscle, burn calories, or strengthen your immune system, cycling is the way to go. You can pedal anywhere with a safe path and explore the city at the same time. Or, head to a beautiful park where bike rentals are available.
Try: KL Car Free Morning; Kepong Metropolitan Park; The Central Park, Desa Park City; Taman Tasik Titiwangsa; Forest Research Institute Of Malaysia (FRIM); Taman Botani Negara, Shah Alam
3. Conquer mountains
View this post on Instagram
Hiking is my all-time favourite workout! I love the feeling of being challenged – pushing myself through the huffing and puffing, the burning in my thighs, and the voice that says I should just give up and make a U-turn. While not all trails lead to a beautiful view at the peak, there's no doubt they all lead to an unbeatable sense of achievement, and a fitter body.
Try: KL Forest Eco Park, Bukit Gasing, Bukit Broga, Bukit Batu Chondong, Bukit Batu Putih, Gunung Datuk, Gunung Bunga Buah, Gunung Nuang.
4. Go wakeboarding
View this post on Instagram
Apart from looking really cool on the water (especially when you've mastered tricks), wakeboarding can help you strengthen arm and leg muscles, improve flexibility in the hands and feet, and get you swimming to burn extra calories.
Try: Wakeboard Malaysia, Putrajaya Waterski School.
5. Just keep swinging
View this post on Instagram
Whether you're picturing yourself as a ninja or Tarzan in the jungle, let your imagination run as wild as your limbs let you climb, fly, swing, jump, and balance your way through an obstacle course set in the great outdoors.
Try: Skytrex Adventure, ESCAPE. For indoor options: SuperPark, District 21, EnerG X Park. 
6. Hit the road

 
View this post on Instagram
You know how we walk for hours without complaining when we travel? It's because that's how we discover a place, taking it all in with our five senses. Well, why not rediscover your city on foot? 
Personally, I live in Kuala Lumpur, and sometimes, on my 'me days', I take an MRT to Petaling Street and pretend I'm a tourist. I grab a refreshing fruit juice and walk along the river to Masjid Jamek. Other times, I take the MRT to Muzium Negara and walk to the Perdana Botanical Gardens where I work up a sweat before heading to Bukit Bintang for a well-deserved dinner.
Try: Wherever your heart leads – as long as it's safe for pedestrians.
7. Get climbing
View this post on Instagram
Whether it's indoors or outdoors, rock climbing is a full-body workout that burns calories, tones you up, and improves your flexibility, stamina, and balance. It also keeps the mind focused and can help amp up problem-solving skills. I truly felt this when I tried rock climbing as I took my own sweet time figuring out where to place my hands and feet next.
Try: MIR Adventures. For indoor options: Camp5, Bolder Ventures, BUMP Bouldering.
8. Perform parkour
View this post on Instagram
When you make the world your playground and run, jump, leap, swing, roll, and climb your way around town, you're sure to get a fun full-body workout. I've never tried this, but I honestly think it could help me live out my stuntwoman dreams. Anyone else?
Try: Alpha Movements or learn from YouTube.
9. Tag, you're it!
View this post on Instagram
Pew pew pew! How many times have we worked up a sweat running after each other when we were kids? Now, who says we can't do that as adults?
My friends and I went for a game of laser tag at The Rift, Mid Valley a few years back and wow, I felt like I was starring in an action movie. There were only four of us, two people on each team, and we had two floors to run, hide, and battle each other out. It was fast-paced and tiring, but so, so much fun.
Try: XnR Laser Tag. For indoor options: The Rift, Galactic Laser, Laser Battle, LaserOPS.

10. Build a home
View this post on Instagram
Make a difference to your health and to the lives of others by volunteering to build houses. You'll be outdoors, meeting new people, and doing all sorts of physical activity as you do your part in the formation of a happy home for those less fortunate.
Try: EPIC Homes, Happy Family Homes
11. Surf's up!
View this post on Instagram
Is surfing in Bali and Bondi on your bucket list? Start practising here in Malaysia! Whether it's with the surfing simulator at 1-Utama or with real waves at one of our beautiful beaches, surfing adds cardio to your day and strengthens muscles all over.
Try: Tioman Cabana; Pantai Batu Burok, Kuala Terengganu. For indoor options: FlowRider 1-Utama, Cheratingpoint Surf School. 
12. Play pretend
View this post on Instagram
"Quick! The floor is lava!" Remember these games we used to play as kids? Pretend the floor's lava and climb from furniture to furniture at home. Or, role play with your kids (or loved ones who are kids-at-heart) at the neighbourhood park. Whether you're spies fighting an evil corporation or knights battling monsters, as long as it gets you up and moving, it's working. Have fun!
Try: Home, the playground, anywhere.
Follow Zafigo on Instagram, Facebook, and Twitter. Sign up for our bi-weekly newsletter and get your dose of travel tales, tips, updates, and inspiration to fuel your next adventure!