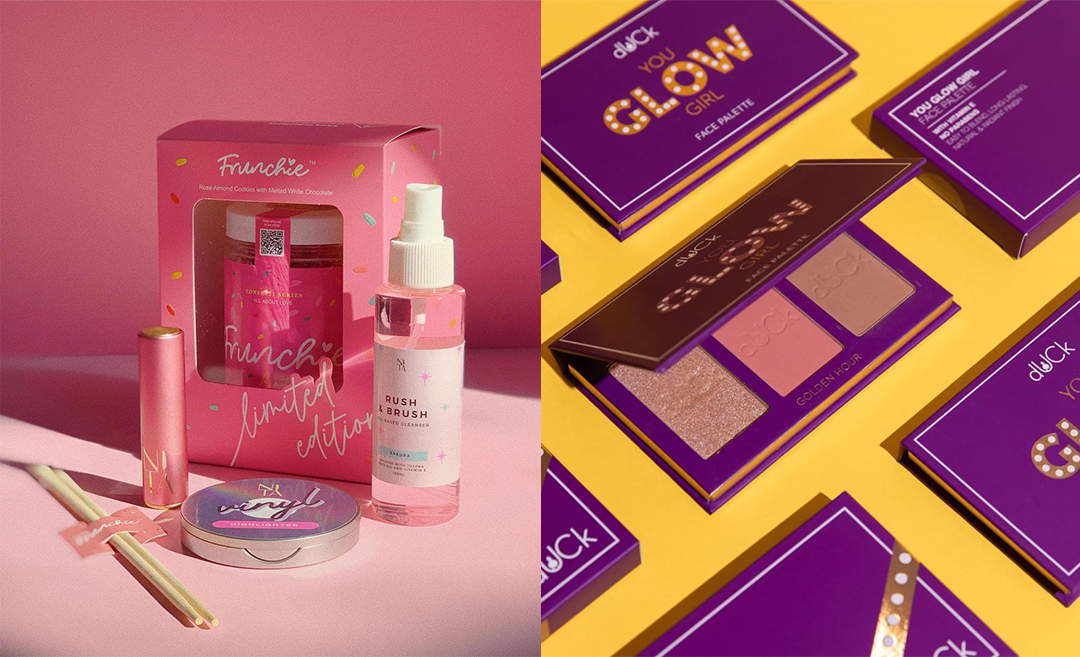 Subscribe to our new 

Telegram

 channel for the latest updates.


Who says your faith and values need to be compromised in the name of beauty? In Malaysia, the halal beauty market is a growing sector that's competing to appease the local market's many hungry Muslim beauty connoisseurs. However, let's be clear: you need not be Muslim to appreciate these products.
Essentially, halal beauty pertains to ingredients, manufacturing, packaging, and storage that exclude and avoid exposure to animal-derived ingredients, alcoholic beverages and their derivatives, blood, carrion, and other harmful content. If you're unsure if a product fits the checklist, just look out for the halal sticker that ensures it's approved by the Department of Islamic Development Malaysia (JAKIM).
Achieving milestones in terms of quality and variety, you can do no wrong with picking one or two of these locally-made halal beauty products. From make-up to skincare and everything else in between, we've rounded up six affordable halal Malaysian beauty brands to help you glam up with ease this Raya (yes, we know the first day was two days ago, but Raya sebulan, right?):
1. Velvet Vanity
View this post on Instagram
No talk of 'halal beauty' can begin without mentioning the widely-loved (and inclusive) Velvet Vanity. Emerging onto the scene with an ultra-successful launch of liquid matte lipsticks, their offering has grown to include their latest concoctions of gel-cream cheek tints and shimmering liquid eye shadows. Adding any of these beauties into your cart is a guilt-free no brainer with guaranteed payoff. 
---
2. SO.LEK
View this post on Instagram
Say goodbye to the hassle of avoiding or removing your nail polish before prayer. Courtesy of the wudhu-approved (water permeable and breathable) Kilat range from fan-favourite SO.LEK, adding a touch of colour to your digits has become a total cinch. Feel free to pick up other items titled after elements in Malay culture such as the Mekar blush and Alis 3-in-1 brow shaper.
---
3. NITA Cosmetics
View this post on Instagram
With a helping hand from NITA Cosmetics, you'll have pretty much everything needed to get dolled up. From foundation and highlighter to mascara and makeup remover, the zesty label has triumphed in expanding beyond the typical matte liquid lipstick phenomenon. On another note, the embedded references of the vibrant, inviting culture of Malaysia onto their products and packaging is undeniably a heart-warming touch. 
---
4. Breena Beauty
View this post on Instagram
Struggling to achieve that flawless, photo shoot-ready finish even with the right foundation, concealer, blush, and bronzer? Look no further than Breena Beauty's beauty tools to assist in attaining an Insta-ready visage. Offering the finest synthetic (read: animal-friendly) bristles, go for their popular Face Essential Makeup Brush Kit. Similarly, their equally soft eye brush collection will have you singing high praises.
---
5. Orkid Cosmetics
View this post on Instagram
In the local lippie game, one brand that has certainly conquered the scene is Orkid Cosmetics. Their non-transferable, smudge-proof, non-sticky, and super-pigmented shades of liquid lipsticks with a matte suede finish have quickly attracted a loyal fan base. Better yet, their line contains Vitamin E for extra moisture, so fret not over cracked chaps!
---
6. dUCk Cosmetics
View this post on Instagram
Extending their Muslimah fashion empire to include beauty, dUCk Cosmetics has cemented itself as a major player in the local cosmetics scene. Often incorporating witty phrases into their product names, the brand has dabbled in every essential from face, lips, and eyes to hair and body care. Apart from their signature violet-toned packaging, the multi-hued illustrative ones reserved for limited edition collections like the latest Blooming dUCk Rose Lipstick Set make for excellent gifts.
Follow Zafigo on Instagram, Facebook, and Twitter. Sign up to our bi-weekly newsletter and get your dose of travel tales, tips, updates, and inspiration to fuel your next adventure!