[vc_row][vc_column][vc_column_text]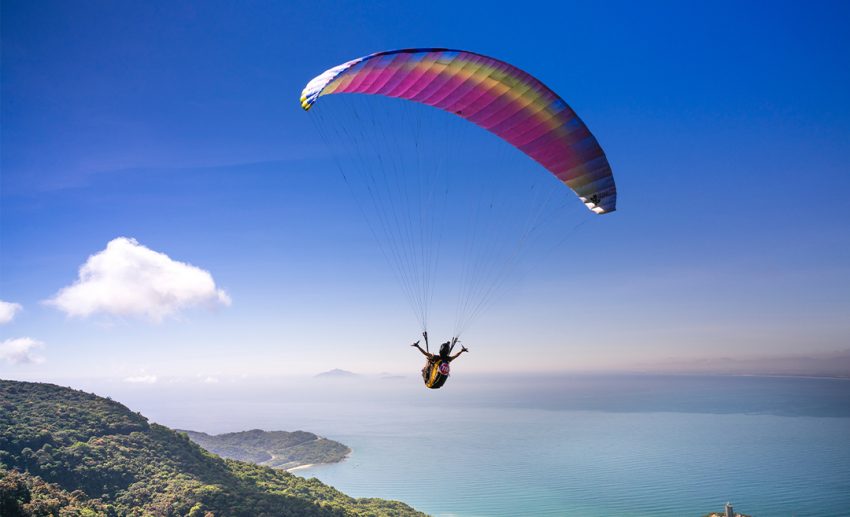 Picture this: you fall from an aircraft 14,000 feet above ground, and feel the cold air sting your cheeks, while gusts of wind pull your lips back as you hurtle towards the land below. After what feels like an eternity, you're suddenly pulled back by the parachute your skydiving instructor has opened, and you open your eyes wide to take in the jaw-dropping view of the mountain range and blue sea you're gliding over. Majestic, isn't it?
For any adrenaline junkie, skydiving is usually one of the extreme sports on their bucket list. Since life's too short to live it without any action, we've picked out the best skydiving spots in Asia for your next adventure!
Langkawi, Malaysia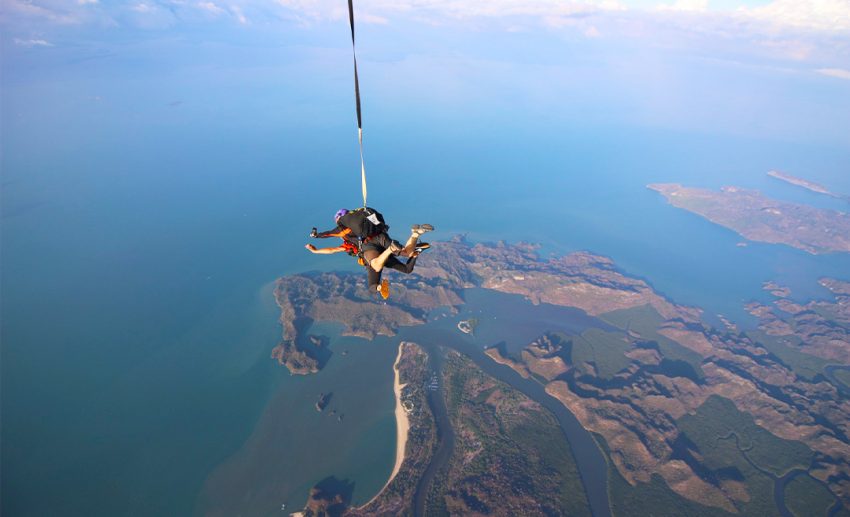 Langkawi is affectionately known as the Jewel of Kedah, and is a tourist hotspot for all things beach- and adventure-related. Check out Skydive Langkawi for Southeast Asia's only tandem skydiving experience. As the first global venture by award-winning Australian company Coastal Skydive, Skydive Langkawi boasts a team of experienced skydivers who've amassed a total of 50,000 jumps. Due to the current pandemic, the centre has paused its operations temporarily, but do keep up with their social media for future updates.
Price range: Starting from RM1,595 (approximately USD386) per pax. 
Dubai, United Arab Emirates
View this post on Instagram
Skydiving in Dubai is a dream come true! Of sand dunes and sleek cityscapes, Dubai attracts many professionals and amateur skydiving enthusiasts. and Skydive Dubai operates two drop zones named the Palm Dropzone and Desert Dropzone. The Palm Dropzone features the stunning view of the iconic Palm Jumeirah island from 13,000 feet in the air. On top of offering skydiving services, you can also complete an Accelerated Freefall (AFF) jump course and apply for a skydiver's license.
Price range: Starting from AED1,799 (approximately USD490) per pax. Book on Klook 
Mount Everest, Nepal
View this post on Instagram
There's only one certified skydive centre that offers a panoramic view of the Himalayas, and that's Everest Skydive Nepal. The Bloomberg-featured, world record-holding skydive operator offers the highest freefall experience in the world. The operator recently teamed up with a Nepalese tourism company to launch Pokhara Skydive, and their experiences include a nine-day tour of the city of Pokhara, a rafting experience at Trishuli River, and two to three tandem or solo jumps.
Price range: Everest Skydive experience from USD25,000 per pax; Pokhara Skydive experience at USD3,000 per pax.
China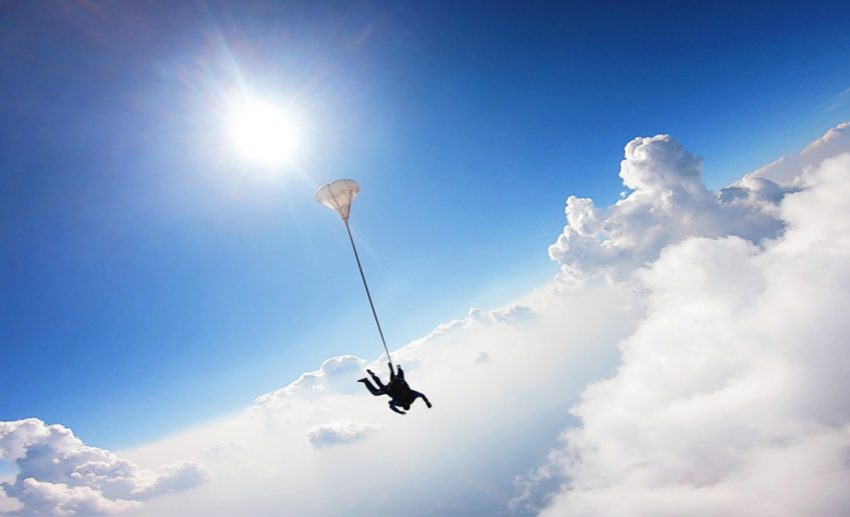 Tuofeng Skydiving is China's first USPA (United States Parachute Association)-affiliated operator in China. With a total of 12 different drop zones scattered over mainland China, you can enjoy picturesque views varying from the farmlands of Shanxi to the snow-tipped mountains of Yunnan. For those looking for a memorable experience, there are options to customise your jump for both wedding and romantic themes.
Price range: From RMB3,880 (approximately USD592) per pax for all provinces.
Pattaya, Thailand
View this post on Instagram
Boasting an impressive amount of 15,166 tandem skydives completed, Skydive Thailand is the country's answer for thrill-seekers. Located near Pattaya in the Klaeng district of Rayong province, this drop zone features idyllic and white sandy beaches, a stark contrast to the hustle and bustle of Bangkok. Skydive Thailand prides itself on offering Thailand's highest jump experience at 13,000 feet and has its own private airfield and facility.
Price range: From THB7,500 (approximately USD239) per pax.
Indoor Skydiving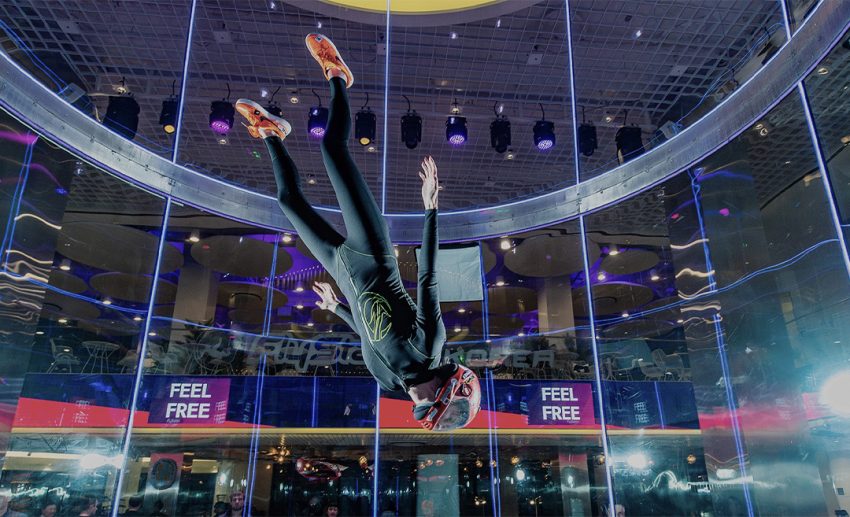 Let's face it – jumping out of an airplane with nothing but a backpack (yes, we mean the parachute) isn't for all of us. But, that doesn't mean you should limit yourself to the experience of free-falling. A safer option is indoor skydiving, which has been quite popular in recent years. Not only is it safe, but also budget-friendly and great as a family activity too!
Petaling Jaya, Malaysia
View this post on Instagram
Air Rider's indoor skydiving tunnel replicates a 14,000 feet free fall at their newly-opened centre at 1-Utama, Petaling Jaya. The facility houses a 32-foot tall all-glass wind tunnel and is the first to build an indoor skydiving facility inside a shopping mall in the Asia Pacific region. Book on Klook today. 
Sentosa, Singapore
View this post on Instagram
Located on Sentosa Island, iFly Singapore is a world record holder for being one of the world's largest wind tunnels that can accommodate up to 20 professional flyers at any one time. Book on Klook today.

Yongin, South Korea
View this post on Instagram
Those in South Korea can head over to Fly Station Korea located in the city of Yongin in Gyeonggi-do province for their dose of adrenaline. The relatively new indoor skydiving facility opened its doors to the public in early 2019, and the state-of-the-art facility aims to encourage more of its citizens to participate in indoor skydiving. Book on Klook 
Dubai, United Arab Emirates
View this post on Instagram
iFly Dubai offers a unique indoor skydiving experience by making it digital – with virtual reality! One of the first and only of its kind in the United Arab Emirates, skydivers will get to soar through the skies in the safety of a wind tunnel and barely off the ground. We say it's a win-win! Book on Klook
+++
Cover Image from Everest Skydive
[/vc_column_text][/vc_column][/vc_row][vc_row][vc_column][vc_column_text css=".vc_custom_1617695046987{margin-bottom: 10px !important;}"]
Read More:
[/vc_column_text][/vc_column][/vc_row][vc_row][vc_column][vc_column_text][related_posts_by_tax post_types="post" posts_per_page="3″ format="thumbnails" image_size="medium" title="" taxonomies="category,post_tag" order="RAND"][/vc_column_text][/vc_column][/vc_row]