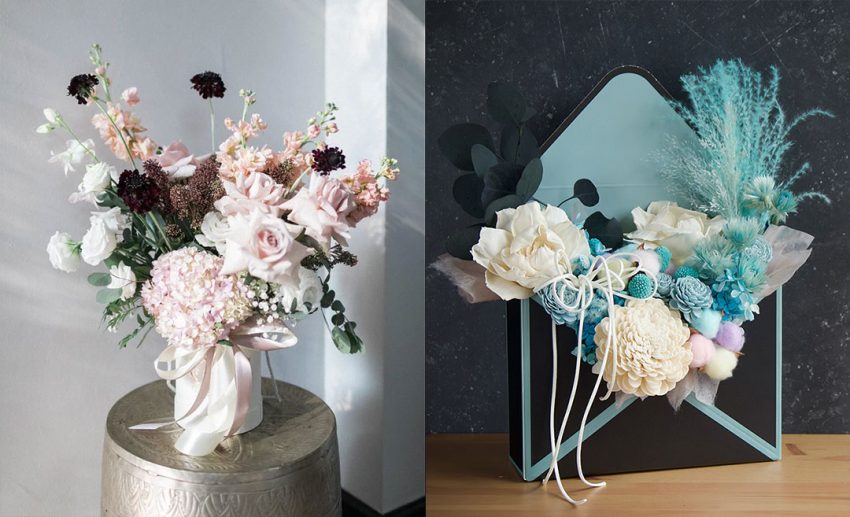 Subscribe to our new
Telegram
channel for the latest updates.
While Valentine's Day may look a lil' different this year, one thing remains constant and ever so timeless: flowers. After all, can such a celebration of love flourish without colourful, scented blossoms to evoke warm, romantic feels? As floral enthusiasts, we don't think so. If you're on the same page and on the hunt for the right blooms to gift your loved ones, look no further than this.
Whether you're sending these to someone special or picking some up for yourself, here are 14 online florists to purchase your blooms from this V-Day. Of course, you can save this list for when the mood strikes, and not just for special occasions.
Blush Floral
View this post on Instagram
From the lavender-toned baby's breath to the slightly more unusual use of baby blue hydrangeas and sunset-hued tulips (with anthurium filler), spread your love with Blush Floral. You can go big with their enormous flower basket accompanied by a bottle of Taittinger Brut Reserve Champagne or take the subtler route with their bloom boxes filled with preserved and dried flowers. Either way, it's a win-win.
Website | Instagram | Facebook
DONCE Fine Floristry
View this post on Instagram
Extravagant. Dramatic. Opulent. There are no better adjectives to describe the sophisticated label of DONCE Fine Floristry. With a sense of avant-garde flair, they've released a selection of grand bouquets and bloom boxes that are too gorgeous to resist. Our personal favourite? The 'Love Me' and 'Love Me Not' floral arrangements – particularly the whimsy of the latter – that come with a satisfying serving of delicious cake by Totem Bake. It's a great gift for someone who's totally over a break-up.
Website | Instagram | Facebook
Kim's Florist
View this post on Instagram
You won't be able to take your eyes off these striking blooms bundled in an envelope-shaped box, courtesy of Kim's Florist. The label has dropped an impressive batch of assorted floral goods apart from the two envelope arrangements (the blue one is moon-shaped, by the way). Expect bouquets, vases, glass domes, and gift boxes filled with fresh and preserved blooms of every colour. If you're on the lookout for great Galentine's Day gifts to pass to your BFFs or co-workers, they've created some adorable terrariums that'll surely liven up their space.
Website | Instagram | Facebook
Evermore Flower
View this post on Instagram
Craving a truly timeless floral arrangement? These delicate beauties in a vase full of water, are handmade entirely out of paper, thanks to the art of origami practiced by Evermore Flower. With skilled hands, they manipulate art and crepe paper using techniques such as weaving, quilling, and overlapping to create these realistic 3D flowers.
In this upcoming day of romance, go for their limited edition The Only One of All flower frame or get a matching set to commemorate your eternal love. Also, feel free to step outside the box with their rainbow-coloured Unicorn Bouquet. Regardless, these floral replicas are perfect for non-green thumb-owning plant enthusiasts.
Website | Instagram | Facebook
Misty Bloom Co
View this post on Instagram
On the lookout a floral gift box unlike any other? Apart from the Be My Valentine Box consisting of Kenya red roses and chamomile along with dry wheat flowers and eucalyptus, Misty Bloom Co have released a unique preserved flower box called Mystic Dream. It's filled with powder blue roses and lavender, together with a flacon of the Marc Jacobs Daisy Dream perfume and a pair of ceramic polar bear chopstick stands – the ideal present for any sophisticated-yet-kitschy woman.
Website | Instagram | Facebook
Bloom This
View this post on Instagram
Offering everything under the sun including out-of-the-box ideas like flower vases and desserts to dried flower greeting cards and liquor, Bloom This has been a solid contender in the gifting game. Kick things up a notch with their magnificent flower boxes that they've collaborated with Mamonde for. Each floral arrangement is topped with a luxurious skin serum that's infused with, what else, but wonderful roses.
Website | Instagram | Facebook
Hua Bar
View this post on Instagram
Hua Bar's floral designs are lux from root to petal, and their latest Valentine's Day collection is no exception. Centred around the beauty of roses, take your pick from their flower bouquets, gift boxes, or dome arrangements that are incredibly detailed – some even have pretty butterflies hovering over them! Aside from the beautiful geometric heart glass flower box that's too beautiful to comprehend, they've released floral gift boxes in collaboration with GLASSSKIN that's perfect for beauty enthusiasts.
Website | Instagram | Facebook
Hwā Floral Design
View this post on Instagram
The pink pastel-hued V-Day floral creations by Hwā Floral Design are undoubtedly elegant and luxurious pieces fit for a romantic escapade, especially during that early 'butterflies in your stomach' stage. From floral boxes and bouquets to baskets and large vases, you'll be very pleased with their available collections. Although there are some deep red roses added into their 2021 V-Day bunch, we simply can't stop staring at their 'nudey' design and colour palette that's delicate yet seductive.
Website | Instagram | Facebook
Quince KL
View this post on Instagram
When Julie Andrews sang, "Brown paper packages tied up with string, These are a few of my favourite things," we'd venture to say that the floral arrangements from Quince KL fall under this category. The team has crafted a gorgeous V-Day collection featuring fresh roses, carnations and their signature best-seller harum sundal malam (tuberose), along with dried flowers. While jar flowers are assigned sleek white boxes, the old brown newspaper encasing their bouquets are a standout feature that'll bring warm nostalgia to anyone who receives them.
Warm Wishes Florist
View this post on Instagram
In this upcoming season of love, go bold and head over to Warm Wishes Florist to pick up unusual floral arrangements like tangerine- and raspberry-hued tulips straight from Holland (there are even sky blue ones available) or marble effect-like Cappuccino roses from Kenya. Additionally, take a look at their beautifully preserved roses encased in a mini glass dome – reminiscent of the one seen in the Disney classic, Beauty and the Beast.
Website | Instagram | Facebook
Daun + Petals
View this post on Instagram
Do you know what would make a stunning accompaniment to your V-Day photographs? Answer: Bucketlists from Daun + Petals. Acting as statement pieces all on their own, these beauties come in a plethora of blooms such as orchids, sunflowers, and peonies, along with the less common yet equally eye-catching king protea and succulents. Another unexpected arrangement you can turn to is one of the amber-toned dried flower bouquets – think of every earthy autumn colour rolled into one pretty floral package.
Website | Instagram | Facebook
Scentales
View this post on Instagram
Scentales often compose dainty and whimsical floral arrangements that are impossible to resist. After all, where else can you find a sushi flower bouquet? Aside from dried flower wooden frames, their latest V-Day collection also involves limited edition floral gift boxes accompanied by selected gifts, ranging from scented body care and elegant jewellery to decadent chocolate – think luxe brands like L'Occitane and Jeoel. Their extravagant Elise Dried Flower Box is great for the non-romantic relationships in your life, if you're in search of something offbeat yet charming.
Website | Instagram | Facebook
Floweria
View this post on Instagram
How about we allow the classic roses to take a backseat this year and opt for something more unconventional? With the help of Floweria, you can easily achieve that and more. Perfect for those in long-term relationships looking to spice up their floral choices, exquisite blooms of sweet William, spray carnation and alstroemeria are ripe for the picking. The best part is that these fresh flowers come with vases hidden under bouquet packaging, as well as flower food and care instructions to ensure hassle-free longevity. On another note, they've collaborated with FRAMOIR to have their tiny bouquet of sweet Williams pair with your own framed star map of any romantic day in mind.
Website | Instagram | Facebook
Tailored Floral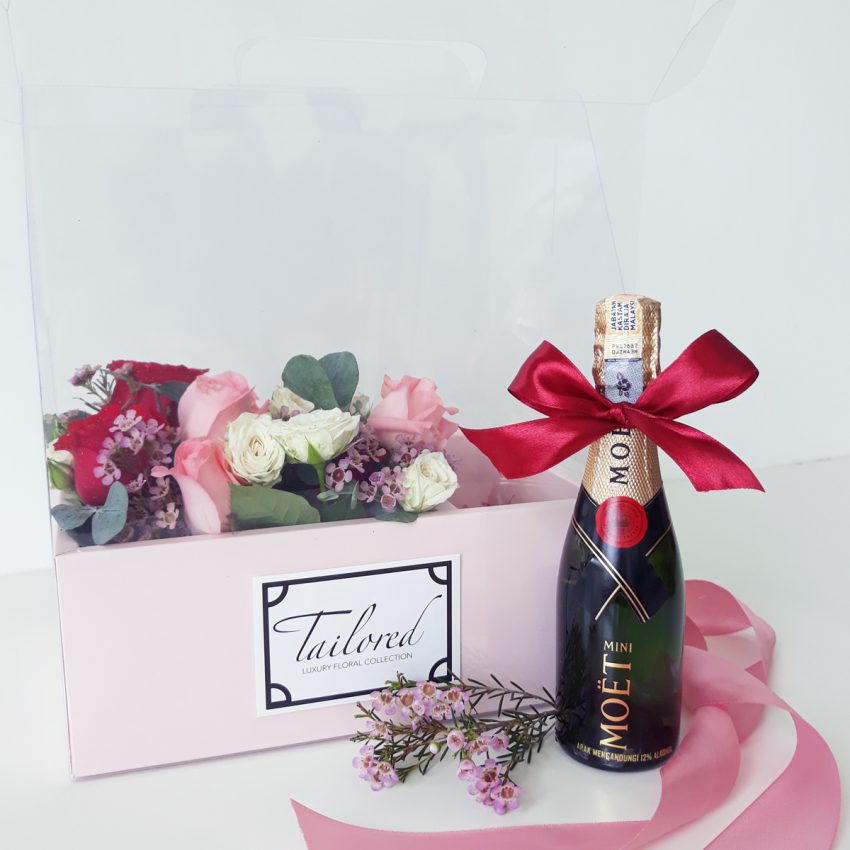 Nothing screams 'Night of Romance' quite like wine or champagne along with ruby red roses. Courtesy of Tailored Floral, you can now get your hands on their V-Day range that includes some boozy For Her and For Him sets. Our top pick is the Sparkling Love basket set that's perfect for an enchanting indoor picnic thanks to the roses, champagne (plus flutes), as well as the rose geranium bath bomb! However, the stalks of preserved classic roses and Cellier De Montignan red wine cocooned in a pretty pastel pink heart-shaped box is a lovely gift to be shared too.
Website | Instagram | Facebook
Littlegirl.florist
View this post on Instagram
Although "Regularly wash your hands with soap" has become our daily mantra, perhaps the realistic-looking soap flower creations by Littlegirl.florist should remain off limits. Instead of opting for real flowers, go for their rich red, love-shaped or pastel-hued bouquets of stunning soap flowers.
Other than their fresh bouquet of baby's breath arranged in a dazzling blue gradient colour scheme, another lovely choice is the rose or chamomile bouquet paired with the minimalist, floral-matching ring cake box bundle in partnership with Blissful Bites.
Follow Zafigo on Instagram, Facebook, and Twitter. Sign up to our bi-weekly newsletter and get your dose of travel tales, tips, updates, and inspiration to fuel your next adventure!
40673, 40772, 40549