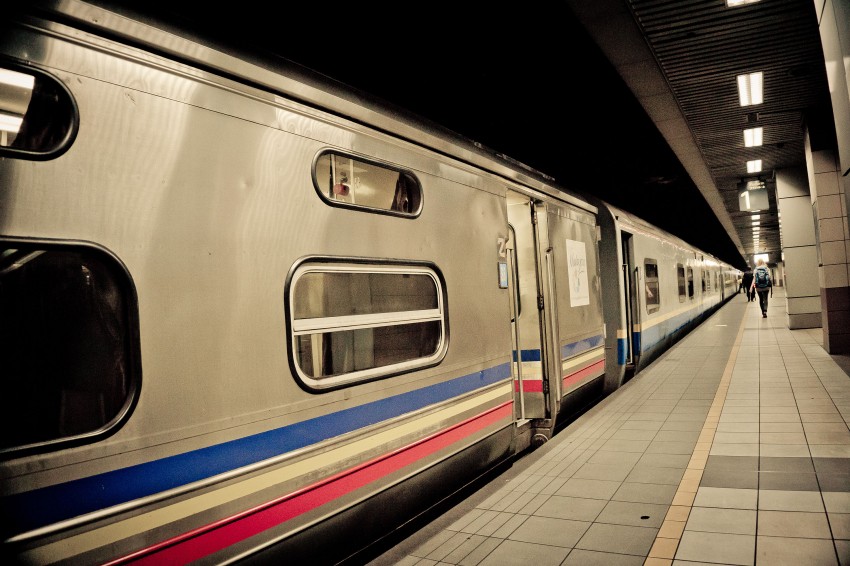 Over the years, I have travelled many different ways from Kuala Lumpur to Singapore. There's the 50-min direct flight from KLIA, KLIA2 and Subang airports which can get expensive and don't necessary save time. If you live a good 40-minutes ride from the airport, your single journey to Singapore could translate to a full 4 or more hours including check-in.
There's the self-drive option which is not affordable to many people, especially casual tourists. First you need a car. Then you need a pocket full of money because you'll be paying for petrol, highway tolls and the Singapore's Vehicle Entry Permit which costs an arm, leg and Singaporean torso.
Let me break down the fees for you. Say you're driving into Singapore on Thursday and returning on Monday: That's S$111.50 just to whizz in and out of the tiny island! It converts to RM300, equivalent to 60 plates of chicken rice! Here, you can calculate the entry fees for yourself.
Of course there are the 5-hour bus rides. There are two types of buses, even. One is the fancy coach where RM90 gives you a very comfortable seat with refreshments in between. The other's the layman RM40 option where you drag yourself to the bus station, make your way past ticket hustlers and easily buy a ticket at your selected counter. Then you close your eyes and pray (hard) that you do not end up in an old, shriveled, miserable excuse for wheels with malfunctioning air-conditioning and a near-psychotic driver.
Recently, while making holiday plans to the Lion City, my friends and I decided on a new adventure, that is to take on the KTM's overnight train!
The Keretapi Tanah Melayu Berhad (KTMB), Peninsular Malaysia's main rail operator was started in 1885 to transport tin. Its diesel-powered KTM Intercity ferries passengers from Bangkok to Hat Yai, Butterworth, Kuala Lumpur and Johor Bahru to Singapore.
Sure, it's going to take you a while to reach your destination. The daytime train from Kuala Lumpur to Singapore takes 6 hours and 40 minutes. The overnight trains require nearly 8 hours for the same journey. I can't imagine what it must be like for the KL – Bangkok train, but that's another adventure for the future!
Also, it's cheap…er. Prices start from RM34 for a standard seat to RM40 for an overnight sleeper. The only caveat is that you have to buy your tickets early – bookings are open 30 days prior to your selected travel date. I highly recommend that you buy your ticket the soonest you can. I'd bought our overnight sleeper tickets on-line exactly 30 days before our travel date. The next day when I checked the reservations site, all overnight sleeper tickets for that date were already sold out.
The ADNS / 2nd Class Sleepers / Overnight sleeper is marked "25 SenandungSutera". Note that the same journey starting from Singapore to Kuala Lumpur at the same time is "24 SenandungSutera". It costs RM46 for a lower berth bed (just 9 plates of chicken rice!) and RM40 for an upper berth. If you are claustrophobic or just enjoy more space, I highly recommend the lower berth, which is comfortable enough for a larger sized person.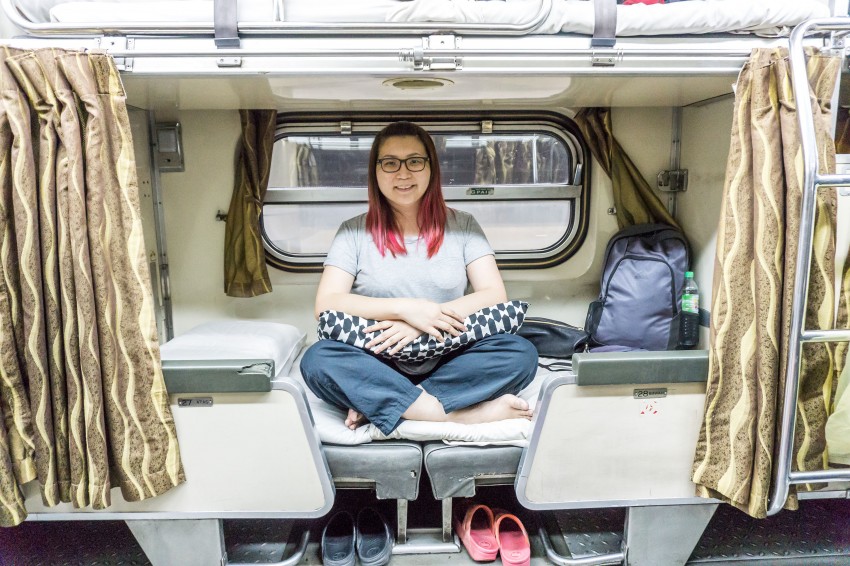 At KL Sentral, the gates opened 15 minutes before our 11pm departure time. Check-in was quick and painless; just flash our tickets for verification, then we were ushered to the train and our beds!
There didn't seem to be a special compartment to store luggage. That means you keep your bags in your bed, or along the shared walkway. Toilets though tiny, were wonderfully functional. The pillow and bed sheet looked clean but do not expect pearly white bedding. The night lamp did not work, nor the velcro straps meant to fasten the curtains.
Tip

: bring your own clips to fasten the drawn curtains for total privacy
What of the journey itself? You won't get to see much at night so best (try) to get some sleep. There is a constant whirling noise made by the train moving on the rail tracks. At times when the trains pull up or move out at other stops (there are 12 stops between KL and SG), the movements were abrupt and jerky.
So it is not the best experience for light and troubled sleepers. For everyone else, just put on your sleeping mask, plug in your ear plugs and you're sorted for the 8 hour journey!
10/10 would take the overnight sleeper train again. Just remember to bring your own water and snacks, plus a light jacket; the air-conditioning could get a tad cold at night.
When you arrive at the Johor Bahru and Woodlands checkpoints and immigration, revel in the fact that the waiting time is significantly shorter because… just one train at the station, heyyy!  Those who have had to wait forever at the immigration for buses and coaches would know what I mean.
And now you're in Singapore where a plate of chicken rice costs twice as much as in Kuala Lumpur.
Enjoy!
KTM KL-SG trains run 3 times daily.
For more information on KTMB services, visit their official website.

More from Zafigo
City cycling: What you need to know about exploring Kuala Lumpur on a bicycle
Top 8 things to do when you arrive at KL Sentral
Get all the latest travel updates from Zafigo. Follow us:
[button url="https://www.facebook.com/zafigo" size="small" value="Facebook" color="#94288e"]  [button url="https://twitter.com/ZafigoAsia" size="small" value=" Twitter " color="#89c44c"]  [button url="https://instagram.com/zafigoasia" size="small" value="Instagram" color="#14afa9″]