If you find yourself in Penang this month, be sure to check out the George Town Festival. The George Town Festival is an arts, culture and heritage festival that runs for a month, every year in Penang, Malaysia. For an entire month, the Pearl of the Orient is transformed into a city-large stage for performers and artists, both local and international, to showcase their work.
Showcases take place at various places on the island and this year, festival-goers can look forward to activities on the Penang mainland as well.
One of the main arts event of the year, George Town Festival 2015 presents a refreshing array of activities ranging from exhibitions to theatre, dance and more. This year, we can also look forward to activities moving beyond George Town to the Penang mainland and even aboard the ferry service – POSKOD.MY
There are many activities to pick from, from talks and workshops to exhibitions and theater shows and so much more. To see their schedule for the entire month of August, go here: George Town Festival > View All Events.
There are even month-long events happening at various locations. To see their schedule for month-long events and shows, go here: George Town Festival > Month Long Events.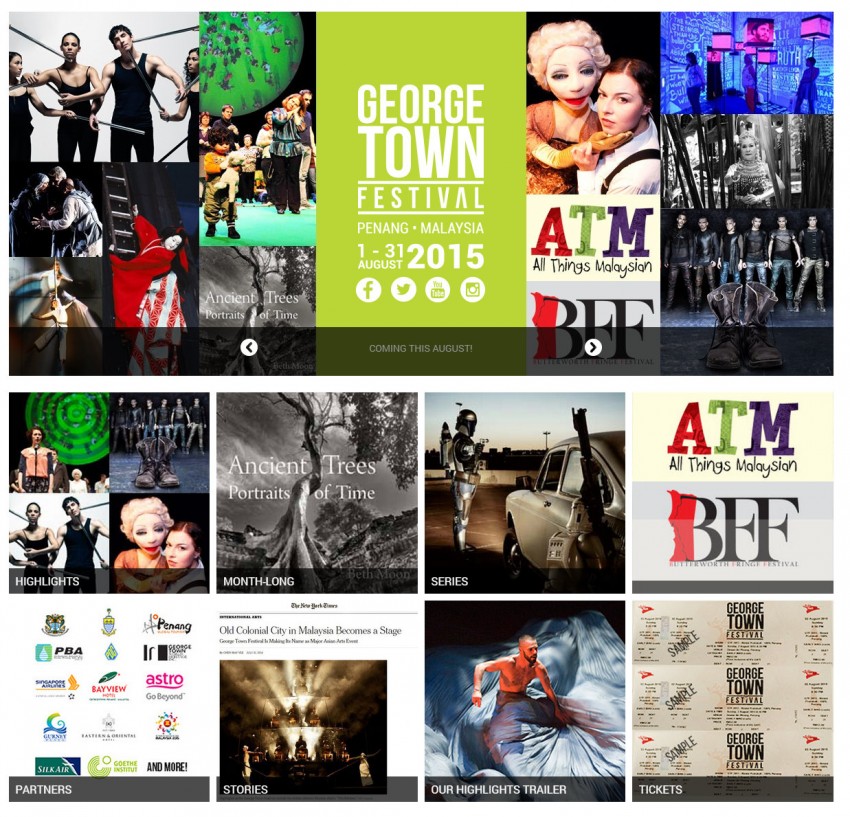 If you are having trouble deciding on what shows/exhibitions/talks to check out, Poskod.my has selected and compiled a list of not-to-miss activities which you can read here: Poskod Picks: George Town Festival 2015.
Check out the trailer below for a quick overview of Malaysia's Arts event of the year:
[responsive-video identifier="NER05ieMv54″]
George Town Festival 2015 runs from the 1st – 31st of August, 2015.
Tickets are available for purchase online via RedTix or at the following outlets in Penang:
George Town Festival Office
86 Lebuh Armenian 10200, Penang
Gurney Plaza
170-06-01 Persiaran Gurney 10250 (New Wing, Ground Floor)
Queensbay Mall
100 Persiaran Bayan Indah 14300 (North Zone, Ground Floor)
For more information, visit their official website: www.georgetownfestival.com, and like/follow them on Facebook, Twitter and Instagram.

Picture/video credit: georgetownfestival.com , youtube
More from Zafigo:
Adventures with Uber in Penang
You need to experience these cultural festivals in Asia at least once
Get all the latest travel updates from Zafigo. Follow us on Facebook, Twitter, and Instagram.