Sofia is a Malaysian third culture kid who was back in Kuala Lumpur on a month break and had set herself a mission to learn about the city she's from yet knows so little about. She joined Zafigo as an intern and began exploring the KL arts scene, dipping her toes into volunteering stints as well. Through her assignments for Zafigo, she hopes to find her roots, understand her hometown and help others open up to a city full of soul. This is one of her many adventures.
---
KL's neighbouring city of Petaling Jaya (PJ) has as much to offer as the capital, and entertainment is not limited to bars, clubs or pubs. If you're looking for more than just a good tipple to wind down with, here are three ways to liven up your evenings.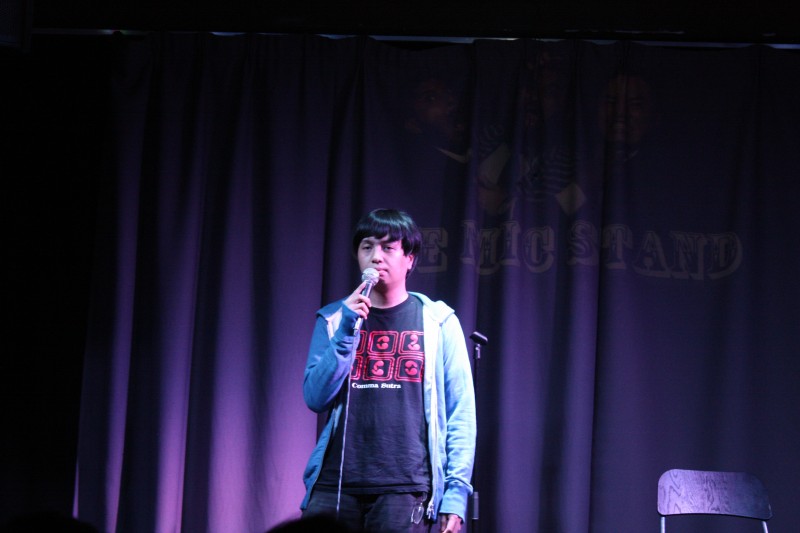 For a good laugh: One Mic Stand
One Mic Stand is Malaysia's first weekly stand-up comedy open mic night. The cosy room where it was held had a simple set up – just a row of plastic chairs in front of a small stage. The audience ranged from 'peculiar' looking people to your standard office workers. After all, comedy is for everyone.
When the show started, I realised that the 'peculiars' in the audience were actually the comedians. If you're wondering why I'm describing them as such, trust me, the jokes they cracked about their own appearances were a whole lot more savage!
Their enthusiasm was infectious, and created an atmosphere that I don't think I would find in a big production comedy house
The comedians were as diverse a group as the audience, ranging from Malaysians of every race to "white guys", as one of them put it. There were men and women, first timers and established names. There were also the occasional dad-like figures who broke out of character and got the audience laughing to their repertoires.
The jokes covered a variety of topics and were mostly Malaysia-oriented, from personal stories to local politics. As heavy as some of the topics were, the comedians possessed enough tact and wit to make the material appealing to the audience. I actually threw my head back and roared with laughter at one point, the kind of reaction I thought you'd only see in movies! Sure, at some points, the jokes leaned on the bitter and some things were so politically incorrect that when I laughed, I had to simultaneously assure myself I wasn't a racist.
Some of the more crude jokes were met by silence, but that's part of the experience. Comedy is about the social construct of "the line"; whether you are crossing the line with a big step, or tastefully dipping your toe on the other side. The comedians were brave enough to acknowledge the line, dabble in it and cross it without wandering too far.
The comedians I watched that night handled that line brilliantly, eliciting a constant flow of chuckles throughout the show. Being a part of the audience was a highlight in itself as the majority of the crowd were regulars. Everyone seemed to know each other and the comedians, often shouting out comments towards the stage, which added to the enjoyment. For some reason, things are always funnier when you're among familiar faces. Think of it this way: If somebody showed you a video of a grandmother dancing, you would chuckle politely. But if it's your grandmother, a shy old-fashioned lady busting a move, you would laugh much harder.
It's the same for these regulars at the show. Their enthusiasm was infectious, and created an atmosphere that I don't think I would find in a big production comedy house. I felt that I had found my comfort zone: A tight and welcoming community, people who understand the value of a sense of humour, and jokes about things I could relate to. I was awfully glad I went to One Mic Stand, and perhaps more that I didn't bring my politically-correct mum along as I had originally intended to.
One Mic Stand takes place every Tuesday from 9-11 pm at PJ Live Arts – 2A-3 Block K, Jaya One, Section 13, No. 72A Jalan Universiti, Petaling Jaya. Tickets: RM15 Note For mature audiences only.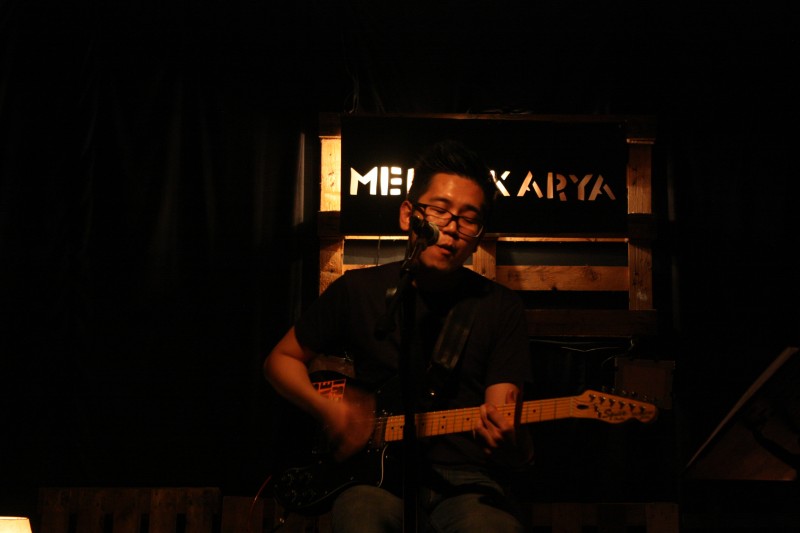 For live indie music: Merdekarya
Merdekarya was created by artists for artists, to share their work, thoughts and stories. They hold live indie music performances five evenings a week (Tuesdays to Saturdays) from 7pm till "whenever", and feature three open mic slots each of those nights. Admittance is the purchase of a drink from the cafe/bar and attendees are encouraged to tip the performers (tip jars are placed on the tables). The cafe also serves a selection of hot food, and there is a retail area where you can buy music, books and other creations by independent Malaysian artists.
The entrance to Merdekarya is in a dark alleyway behind some shop lots so it certainly lives up to its underground concept. The first thing I noticed upon entering the dimly-lit room was that most of its furniture and fixtures were made out of…garbage. There were tables fashioned from barrels, stools made out of egg cartons that had been layered and tied together, while wooden crates were used as decorations.
This is what Merdekarya is about – the music
A whitewashed wall was covered with drawings and signatures, while another displayed a wooden board with the word 'Merdekarya' cut out. I read on their website that the owners could have said they were trying to be eco-friendly, but in reality, they were artists and had to do things cheaply. Like its website, there's a satirical charm to the place.
Except for one other table, the place was empty when we arrived. The bartender told us that the open mic performers had cancelled on them at the last minute, so the show would start later. When it did, I realised that the bartender, Brian Gomez, was actually a co-founder of Merdekarya and a singer. He kickstarted the show with a soulful song, featuring lyrics that were a mixture of English and Malay, and told of situations one typically encounters in Malaysia. My poor command of Bahasa Malaysia meant that the song did not have the same effect on me as it did my friends, who whispered "that was so good" to each other.
When Brian hummed along to the sound of his strings, his voice and guitar wrapped around each other so well that the strength of it filled the room. That was when I realised that this is what Merdekarya is about – the music. Not the audience, not an extravagant venue or overpriced tickets. These people just care about expressing themselves through music.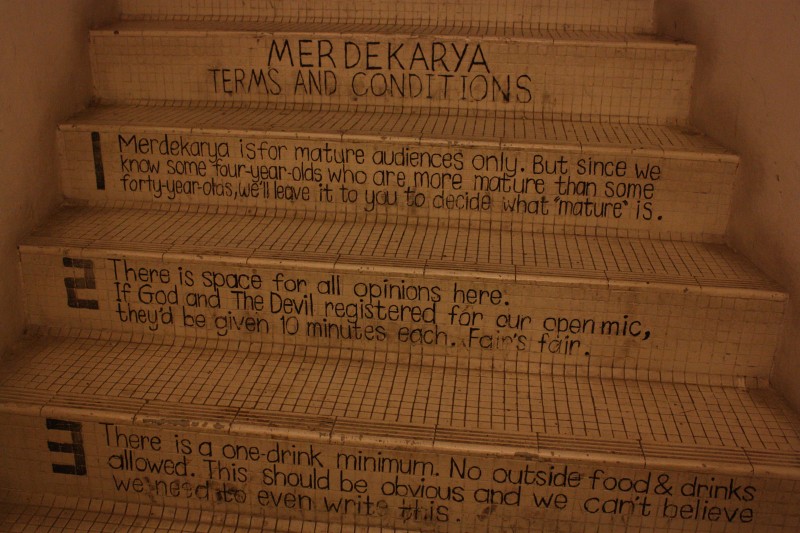 Brian was actually opening for the main act, Hilmy Amim, who seemed to be intimidated by the audience at first, despite there being only seven of us. He told us that he would be performing songs he wrote himself and hoped that he wouldn't bore us. Well, he didn't. I liked how he introduced each song with an anecdote, like "I wrote this song about this girl who would always come to me about her boy problems, because apparently I look like a guy who cares". His voice was soft and the lyrics were easily relatable, often striking a cynical or bittersweet chord that stirred my heart strings. Over a few songs I noticed that Hilmi was starting to feel more at ease, and he showed an awkward sense humour that I love. "Thanks for…clapping" he said once after a round of soft applause. I laughed the loudest.
As my friends and I drove home at the end of the night, one of them brought up something I've been noticing at the other art scenes I've attended in Malaysia. She liked that the lyrics – like a sign by the bar that said "For Malay, Indian, Chinese and other, whatever other is" – were something that she and other Malaysians could relate to, both emotionally and musically. To those who had been telling me "I heard it's good" about Merdekarya, I can now tell you that yes, it is.
Live shows at Merdekarya happen 5 nights a week from Tuesday – Saturday, 7pm til late (performance timings can vary and start as late at 9.30pm). Address: Jalan 5/57, Bukit Gasing, Petaling Jaya.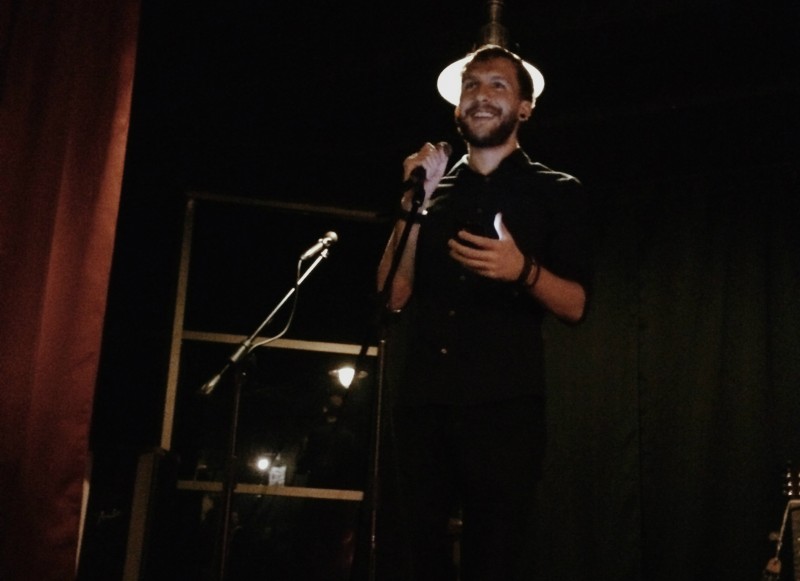 For a spot of poetry: If Walls Could Talk
Gaslight Cafe & Music's interior is mellow and artsy. Dim lamps hang low above small wooden tables and couches. The room is decorated with hipster-friendly items: Vinyls on the walls, good reads slumped on shelves.
On the evening I visited, the room was packed with a diverse crowd: A handful of office workers and some families, artistic types sporting man buns, tattoos, floral shirts and stylish skirts. Eight out of 10 had nose rings. I found out later that I sat next to a model, across from me was an author of a poetry book, and one of the poets is a film producer. These are the people who epitomise the local arts scene.
To see it live is a very powerful experience – sincere and moving
The evening kicked off with a slam poetry-style announcement where we were clued in on some general rules, such as clicking our fingers if we appreciated a verse. The audience is also encouraged to take to the stage and perform if we felt like it.
And then it began. Slam poetry is about expressing the poet's personal experiences or struggles, delivered in an emotional style that often involved a crescendo of one's voice peppered with dramatic pauses. The poets who spoke that night ranged from first timers to national winners. They announced their poem titles with personal anecdotes, and topic ranged from first loves to homesickness, religious beliefs to drugs, recited in numerous ways that included the satirical and the sensitive. I have watched my fair share of slam poetry YouTube videos but to see it live is a very powerful experience – sincere and moving.
What made it all the more special was the welcoming crowd. People were polite and would go out of their way to make you comfortable. When I arrived, there were no seats left but someone promptly found an extra chair for me. The audience was engaged and attentive throughout; I didn't see anyone staring at their phones. They showed equal appreciation for all the poets, snapping their fingers and cheering whenever a verse struck the right chord.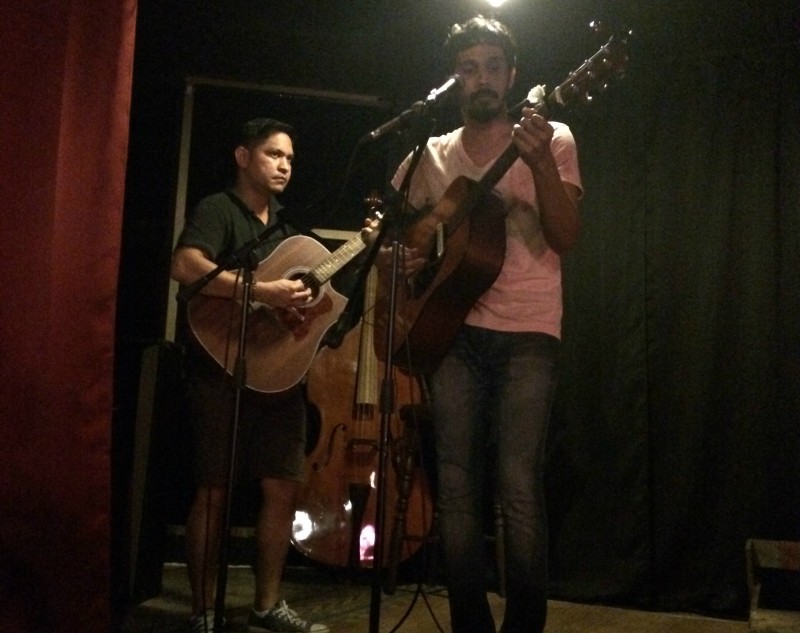 This truly is a sanctuary for poets and those who enjoy poems, a safe place to bare your soul among like-minded folks. That realisation made me happy. To top it off, at one point, the guys behind the bar suddenly emerged under the makeshift spotlight and performed as a band. They sang soulfully into the mic, accompanied by a guitar and a cello. It was truly a moment for me.
When the night ended and they announced that the next poetry reading would be happening in two weeks, I immediately said, "I'm going".
For updates on upcoming poetry nights, visit Gaslight Cafe's Facebook page or see If Walls Could Talk. Address: Unit 15-2, Jalan Medan Setia 1, Plaza Damansara, Bukit Damansara, 50490 Kuala Lumpur.

Read more from Sofia
More from Zafigo:
7 tips on how to survive KL as a travelling musician
Tips to negotiating the club scene in KL
Get all the latest travel updates from Zafigo. Follow us on Facebook, Twitter, and Instagram.