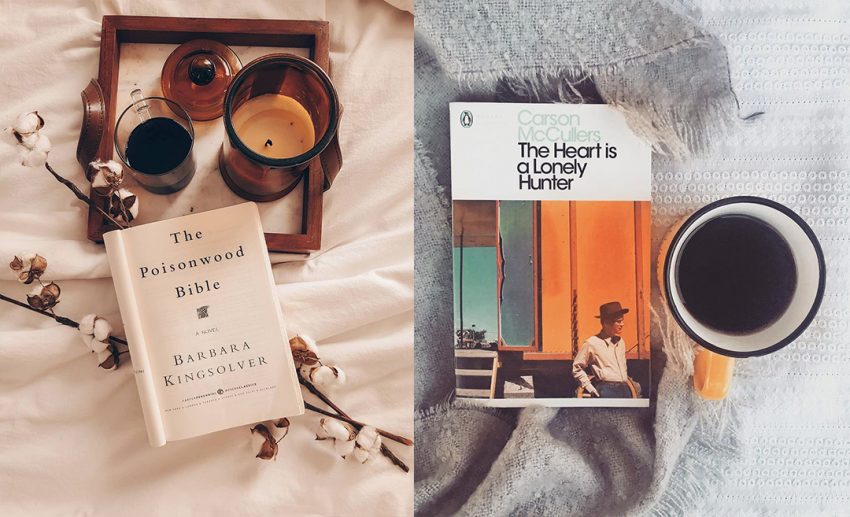 Subscribe to our new

Telegram

channel for the latest updates.
Mark Twain himself said it, "Good friends, good books, and a sleepy conscience: this is the ideal life." While life is certainly less than ideal with the COVID-19 pandemic raging around us, we can still retreat into our little literary bubbles at the end of a long, hard day. If anything, a good book may inspire you into remembering that there's still a whole big world out there to explore and discover. We just need to figure a few things out first. Until then, we'll leave you with these witty quips we love from five of the many books featured in our Busy Reading Books Podcast.
"… ageing is nothing to be ashamed of




especially when the entire human race is in it together"
Girl, Woman, Other

Bernardine Evaristo

The eighth book from British novelist Bernardine Evaristo, Girl, Woman, Other, tells the stories of 12 very different but connected people, and takes place over more than a hundred years of change. The book, featuring mostly black females, has been called, "a love song to modern Britain and black womanhood." It's a sweeping, vibrant, glorious portrait of historical and contemporary Britain.
For more books set in London, listen to:

"You don't need to belong to one another in order to love one another."
Beauty is a Wound



Eka Kurniawan

Eka Kurniawan's works have been called fierce and bold, and his debut was one of the finest works of translated fiction to come out from Indonesia in recent years. Part folklore, part Indonesian history, and part magical realism, Beauty is a Wound follows a beautiful prostitute and her four daughters who go through heartbreaking experiences. The book also explores Indonesia's troubled past, stretching from the end of Dutch colonialism to the end of the 20th century. Trigger warning: This novel depicts scenes of sexual violence and rape.
For more book recommendations from Lily Yulianti Farid and Pauline Fan, listen to:

"If you have love, even plain cold water is sweet."
Wild Swans: Three Daughters of China



Jung Chang

A memoir set over a century prior to and during the Mao regime, Wild Swans: Three Daughters of China recounts the lives of three women – a grandmother, who was a warlord's concubine; a mother, a young idealist and later, elite Communist member; and Jung Chang, the author herself who was a Red Guard during the Cultural Revolution.
For more books set in China, listen to:

"How can the dead be truly dead when they still live in the souls of those who are left behind?"
The Heart Is a Lonely Hunter



Carson McCullers

Carson McCullers may have only been 23 when The Heart Is a Lonely Hunter was published, but that didn't stop critics from calling it a near-perfect book. This poignant story is set in 1930s Georgia and explores the lives of a disparate group of characters and how they intertwine with that of a lonely, deaf-mute man.
For more book recommendations from Sharlene Teo, listen to:

"Everything you're sure is right can be wrong in another place."
The Poisonwood Bible



Barbara Kingsolver

This best-selling novel tells the story of a missionary family from the US, who move from the state of Georgia to the village of Kilanga in the Belgian Congo in 1959, with the intent of bringing enlightenment to the 'savages'. The story progresses from the point of views of the preacher's wife and his four daughters, and as they learn about the local culture and the people they need to 'fix'. A lot of praise is given to Barbara Kingsolver for her ability to write five very distinct characters a believable voice.
For more books set in Africa, listen to: