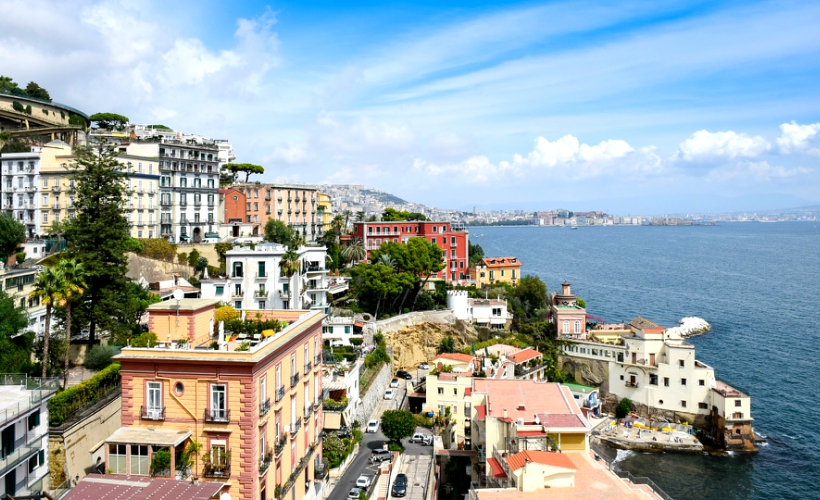 While Naples is long thought to be "not worth it" by many, specifically spurred on by a certain Reddit thread, the third largest city in Italy is now honoured with UNESCO's World Heritage Status. More specifically, the art of pizzaiuolo – the Neapolitan pizza dough twirling and subsequent baking in a wood-fired brick oven – was approved by the UN Cultural Body's World Heritage Committee as an "intangible heritage."
Italy argued that the practice was part of a unique cultural and gastronomic tradition and approximately 2 million people had signed a petition to support Naples' application.
With all that fuss, what exactly is the big deal about the art of pizzaiuolo, you might ask.
Well, the spinning and twirling of pizza dough in the air is done with the same flair as bartenders and their tin tosses mid cocktail making. Except, with the Naples pizza, it's not just for show. The tossing is supposed to oxygenate the dough for a soft crisp pizza crust. (And if you've ever tried the famously light Naples pizza, we're sure you'd agree.)
The pizzaiuolo craft has been handed down for generations,and encompasses the social ritual of songs, stories and gestures that takes place between pizza makers and diners in Neapolitan neighbourhoods. The committee said, "The culinary know-how linked to the making of the pizza, which includes gestures, songs, visual expressions, local slang, the ability to handle the dough, show oneself off and share it is an indisputable cultural heritage."
UNESCO's list of "intangible heritage" was set up in 2003, mainly to raise awareness, and altogether today consists of more than 350 traditions and crafts. These traditions range from the better known practices of Spanish flamenco dancing, to the more obscure items such as a Mongolian camel coaxing ritual.
The list is dedicated to practices, representations, expressions, knowledge and skills that communities recognise as part of their cultural heritage with performing arts, traditional skills and oral traditions included. The list runs alongside the better known "tangible" heritage list that covers buildings, monuments and artifacts.
According to The Guardian, Saudi Arabia and Kyrgystan was also among those celebrated this year, with al-Qatt al-Asin, elaborate interior wall paintings traditionally created by women, and the horseback game of Kok Boru, where players score points by putting a goat's carcass in an opponent's goal, being recognised.
Get all the latest travel stories from Zafigo. Follow us on