Kids love KidZania, that's a given. But besides immersing the kids in innovation, real-world experiences, and fun learning experiences, the great thing about KidZania Kuala Lumpur is that there's always something new to look forward to. And now, they've just unveiled three new Purpose Partners (what they call their brand partners such as AirAsia for the piloting job, Kodomo for the the dentist job, or BFM Radio for the deejay job). Suffice to say, it's time for another visit!
This one-of-a-kind interactive theme park for kids has just upped its game with by teaming up with Pandamart, YAYOI Japanese Teishoku Restaurant, and Jac & Ivy. We gave it a go for ourselves with one of our little ones, and here's how it went.
Pandamart
Children can have an exciting e-commerce excursion at Pandamart, where they can fully comprehend the dynamics of ordering and delivering groceries. At this new supermarket, children have a choice between three jobs — food packer, cashier, or food delivery rider.
Supermarket packers must carefully prepare orders in accordance with a given list before they're packed. Then, cashiers ring them up, while finally, deliverers will drop them off at assigned points throughout the 80,000 square feet replica ciy.
This interesting task instills a sense of accountability while fostering an awareness of the procedure involved in order fulfilment. KidZos will be earned with every job completed to teach kids the valuable lessons of economy and hard work.
Yayoi Japanese Teishoku Restaurant
Make them work for their lunch! This delightful addition to KidZania Kuala Lumpur brings the flavours of Japan right to your child's fingertips. For a fee of RM15.90, kids may experience what it's like to be a professional sushi chef and learn how to prepare traditional Japanese sushi.
Their culinary talents will be put to the test as they roll sushi or make delectable tempura. Along the journey, they'll also learn a lot about Japanese culture and traditions. Of course, the kids get to keep the food they make and it comes with a drink too.
Jac & Ivy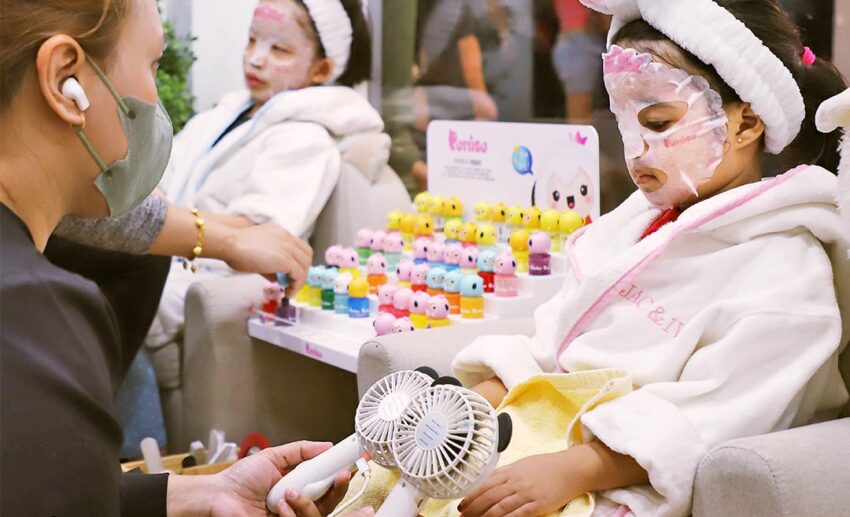 Let the little ones kick back at the spa after a long day. They'll deserve it after a day of 'working'! This trendy nail spa lets kids explore the world of style and design. Thanks to this innovative collaboration, young people will get to (literally) dip their toes in the world of personal hygiene and appearance enhancement.
At the Kidz Spa, the little ones learn the value of taking care of themselves early on by exploring concepts like personal grooming, sanitation, and the transformative potential of self-expression through manicures, pedicures, face masks accompanied by facial massages, and even a makeup session if they so desire.
All the products used here are 100% kid-friendly, non-toxic and specially formulated and made in Korea. Additional fees do apply and prices vary according to the treatments. We can nestle tell you that this was probably the highlight of our little one's day, so it's totally worth the small extra spend.
Alright, if you're ready to embark on an adventure of a lifetime, head over to KidZania Kuala Lumpur and let your child's imagination run wild!