Barbie fans of all ages, this is for you.
From now until 21 October head down south to ION Orchard, Singapore to immerse yourself in Barbie's dream world! Make your childhood dream come true at the House of Dreams — a larger-than-life Barbie exhibition featuring a breathtaking collection of more than 600 unique Barbie dolls.
All of the dolls on display are from the personal collection of prolific Singaporean collector Jian Yang, who will also be hosting paper couture workshops in which attendees will design and make their own custom Barbie outfits using recycled materials.
Plastic fantastic
A spectacular collection of Barbie dolls, set against the backdrop of the Barbie Dreamhouse, will be on display at this first-of-its-kind exhibition, sponsored by the Singapore Tourism Board. There is also a Barbie box photo booth where guests can take turns posing as real-life Barbies. How fun!
Keep your eyes peeled for your favourite Barbie as she's dressed in a variety of attires, including extravagant evening gowns, stunning bridal wear, F1 racing gear, traditional and ethnic clothing, and more.
You'll also find her all dressed up as some of your favourite pop culture figures, such as Elvis, Superman, Audrey Hepburn, Marilyn Monroe, and Cher, as well as dolls from numerous other movies, TV shows, and musicals, including Harry Potter, High School Musical, Wicked, The Wizard of Oz, Twilight, and The Hunger Games.
Don't miss out on some of the most lavish dolls in the collection, each of which are decked out in designer clothing from some of the world's most prestigious fashion houses, including Valentino, Louis Vuitton, Christian Dior, and Christian Louboutin, as well as a range of dresses made in association with some of Singapore's favourite local brands, including Bynd Artisan, In Good Company, Klarra, and Love, Bonito.
Also, this is not your typical Barbie exhibit, as the dolls on show represent a wide range of ethnicities and body types and careers. At this exhibition, you may discover dolls of different colours, sizes, and shapes, as well as dolls with disabilities.
Come on Barbie, let's go party
Adding tot he fun, multiple workshops and promotions will be held by various brands at ION Orchard throughout the exhibition's month-long run, allowing visitors and shoppers to enjoy multi-sensory Barbie-themed experiences in the areas of cuisine, beauty and skincare, and more. There will also be a series of spending promotions lined up.
Click here for details on the House of Dreams exhibition and to learn more about the brand partnerships listed below.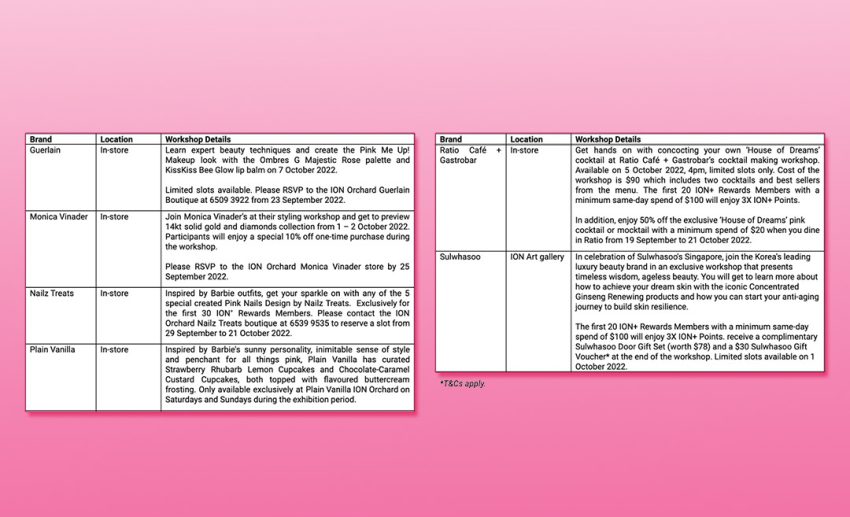 Dates: Now till 21st October 2022
Address: ION Art Gallery, Level 4, ION Orchard, 2 Orchard Turn, Singapore 238801
Opening Hours: 10am to 10pm daily