Hari Raya Aidilfitri is still being celebrated by Muslim communities in Malaysia and around the world — as they say, "Raya kan sebulan?" Even as we're reaching the last weekend of the month-long celebration, cities have started to get busy again as we continue towards COVID-19 endemicity and people continue visiting each other's homes. A month-long celebration is rare, so make the most of it by spending time with loved ones and indulging in holiday treats.
In keeping with the spirit, The Row KL and Batik Boutique have teamed up to close this Raya Aidilfitri month with a joyous celebration along Heritage Row in Downtown KL (now simply known as The Row) on 28 and 29 May 2022 from 10am to 8pm.
So, if you're looking for something to do this weekend, or just looking to get your last taste of Raya sprit for the year, then check out these entertaining activities: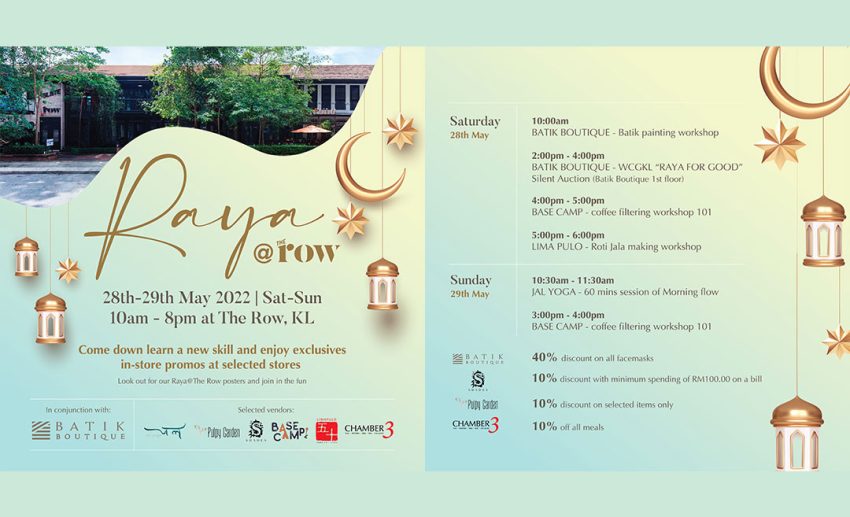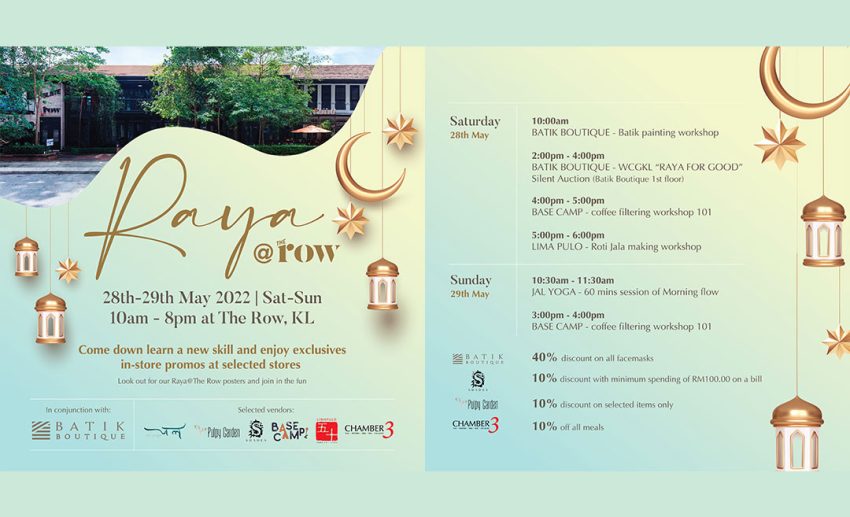 Saturday (28 May)
10.00am
-Batik Painting Workshop
2.00pm-4.00pm
– Silent Auction
4.00pm-5.00pm
– Coffee Filtering Workshop 101
5.00pm-6.00pm
– Roti Jala making Workshop
Sunday (29 May)
10.30am-11.30am
– 45 min intro to yoga
3.00pm-4.00pm
– Coffee Filtering Workshop 101
Select vendors at The Row KL provide a 10% discount to customers who meet the minimum spending requirement. There is something for everyone, so make the last weekend of this year's Raya one to remember.