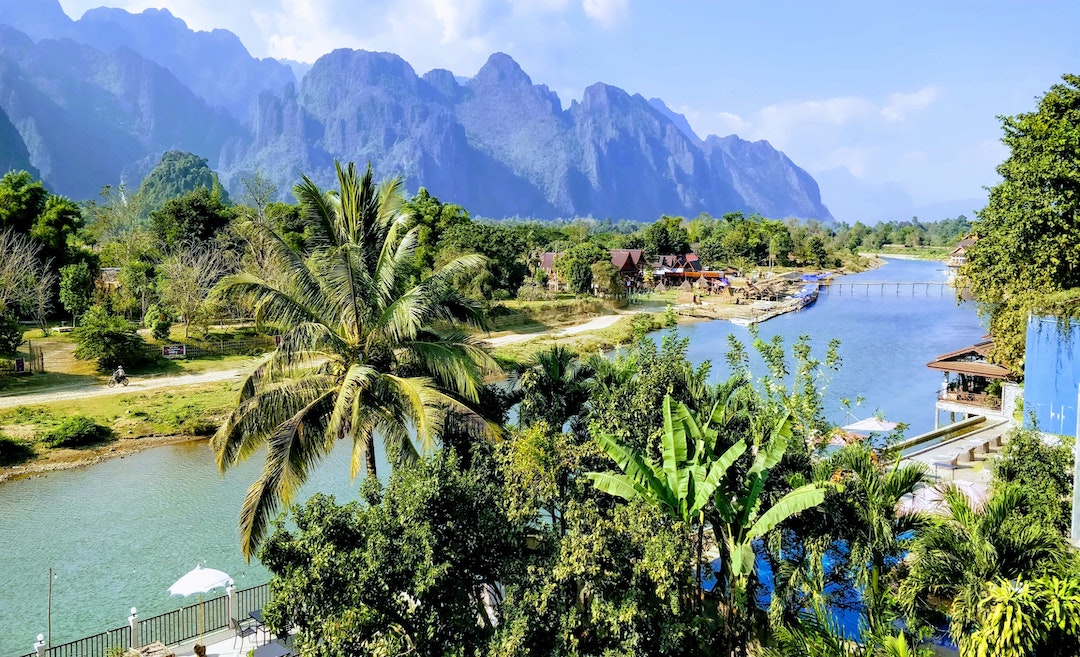 Zafigo's Quick Guide to Vang Vieng for Women Travelling Alone or with Family and Friends
If you ever find yourself commuting between Luang Prabang and Vientiane, as most tourists do, Vang Vieng is the perfect stopover point. Often left behind, Vang Vieng has much to offer, so much so that a whole week of adventures may not even suffice.
Here's a word picture for you – imagine a land filled with tall limestone karsts, lush greenery, blue lagoons, and that enviably slow Laotian speed of life. Whether you get your kicks from a relaxing-yet-fruitful session of morning yoga, or from the adrenaline rush of an ATV ride, Vang Vieng boasts it all.
Now, now, before you go ahead and book a trip, we've condensed the Vang Vieng essentials just for you: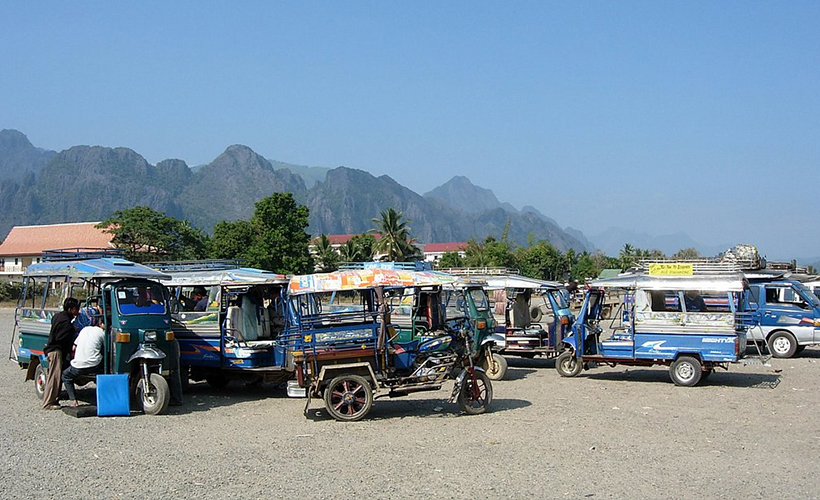 1. Getting there
Yeah, about that… Vang Vieng doesn't have an airport. If you think about it though, that only makes it more appealing – it's a remote haven unspoiled by the gargantuan tourism industry.
Vientiane to Vang Vieng
If you're travelling from the capital city Vientiane, you have a few options. The easiest one is to hop on a bus from the Khua Din Bus Station that's just opposite the Talat Sao mall and market. It involves a four- to five-hour trip and will cost roughly LAK40,000 (approximately USD4.60). Buses depart at 6AM, 7AM, 9AM, 11AM, 12:30PM, and 2PM daily, finally stopping at the Northern Bus Station in Vang Vieng. From the bus station, town is only a LAK10,000 (approximately USD1.15) ride away on a tuk-tuk (auto-rickshaw).
If local buses don't work for your delicate tastes, you have the option of booking a LAK60,000 (approximately USD7), four-hour comfy ride via the Thavonsouk Bus Company or Malany Bus Company that depart close-by from the National Cultural Hall. The final option to get to Vang Vieng from Vientiane is via a chartered car, bus, or van. Local tour operators will be happy to assist; for a pretty penny of course.
Luang Prabang to Vang Vieng
Travelling to Vang Vieng from Luang Prabang is a little less advantageous, seeing as the trip is a couple of hours longer, and typically costs up to five times more. Those undaunted can hop on a minibus that leaves daily at 9AM or 2PM. Another option is a VIP bus that departs at 9:30AM daily. The commute takes up to six and a half hours, with the final destination being the Northern Bus Station in Vang Vieng. From there it'll cost you around LAK10,000 to get into town.
Fair warning
The terrain along the trip to Vang Vieng can be rough and extremely windy. How windy you ask? Enough to rock an already swaying bus. If you often find yourself car sick, load up on motion sickness pills and choose a seat closer to the front of the bus. Oh, and don't forget snacks!
2. From luxe to less
Whether you're tightening or loosening the purse strings, Vang Vieng caters to all. Should you go the luxury route, the Amari Vang Vieng, Riverside Boutique Resort, and Silver Naga Hotel are up there. All of these hotels are 4-star resorts with great rooms, views, and facilities. Rooms can be booked from as low as LAK250,000 (approximately USD29), rising to more than a million LAK (approximately USD115), depending on your level of decadence.
For travellers who prefer to spend most of their time exploring, and see less value in a fancy room, Vang Vieng has a selection of cosy hostels. Pans Place Guesthouse, Chillao Hostel, and Army Barracks Hostel are sure-fire ways to save money while staying comfortable and are all staple destinations for budget travellers in Vang Vieng.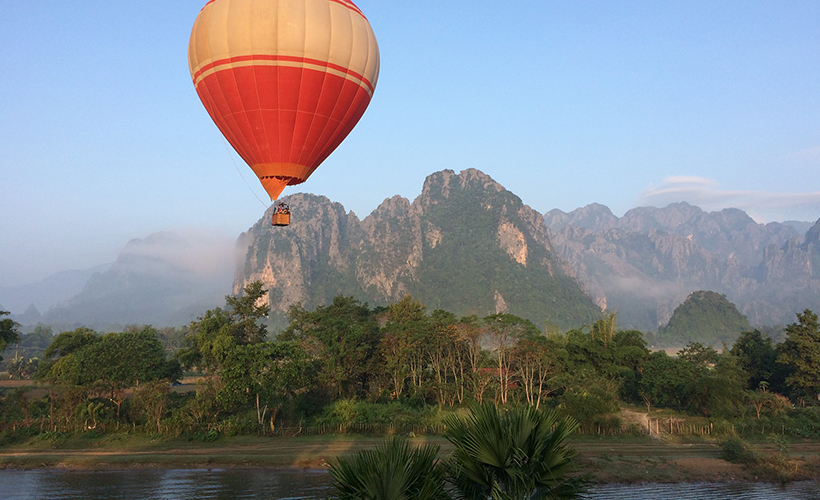 3. Best time to visit
It really depends on what you're after, but assuming you'd rather soak in some sun than drink up the rain, any time between October and April is your safest bet. During this gaping window, the sun is out and the rain is limited, leaving you with a plethora of options, all at your own time.
You know how they say too much of a good thing can be bad? Consider this a warning; it can get extremely hot during midday, making heat strokes common. So stay hydrated! Apart from the midday deathly heat, mornings and nights are pleasantly cool. Should you be eyeing up the Mekong, we recommend you travel between November and January, ensuring that water levels are nice and high.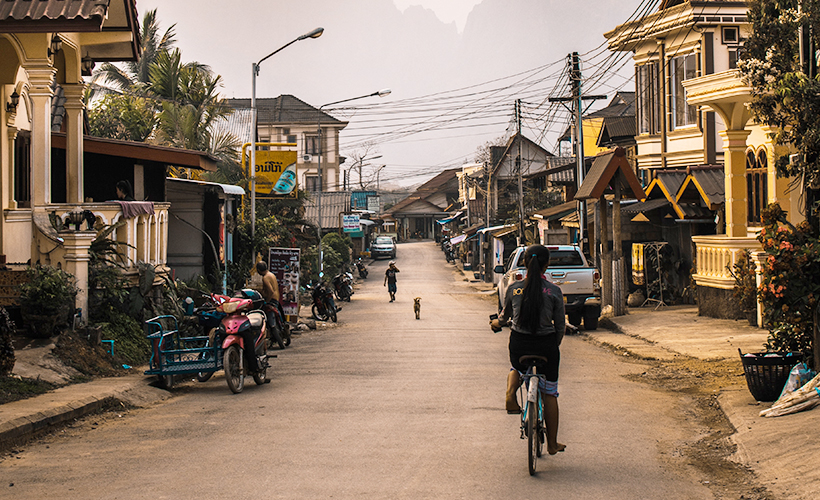 4. Getting around
As with most Southeast Asian countries, getting around is pretty easy. Bicycles can be rented for around LAK20,000 (approximately USD2.30) per day, with motorcycles available from as low as LAK50,000 (approximately USD5.70) per day. While these are the most freeing methods of transport, the area is littered with potholes, making night riding extremely dangerous. Stay safe! On that note, tuk-tuk rides are an easy alternative, costing roughly LAK10,000 to get you anywhere you need to go. That being said, Vang Vieng is a small town, making it a less daunting task to traverse on foot.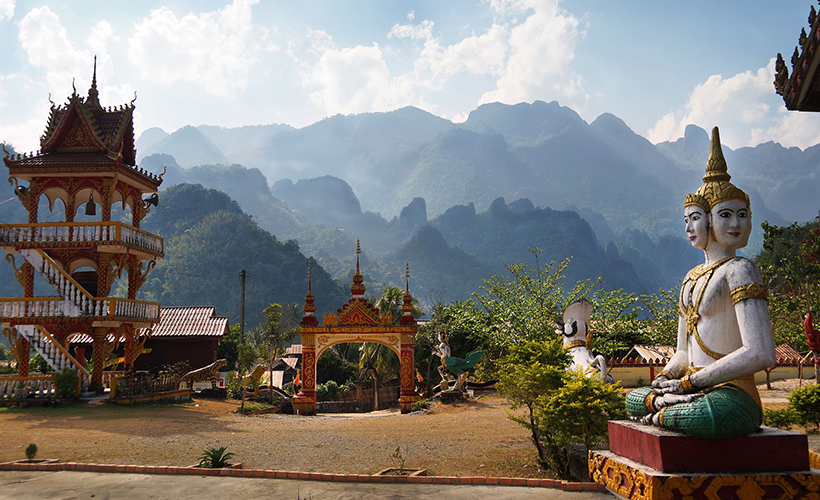 5. Keeping modest
Modesty is a dominant part of the local culture. Public displays of affection (even hugging) is frowned upon by the locals. Interestingly, the government has even passed a law making it illegal for foreigners to engage in sexual activity with a local. The law even covers all forms of relations, be it heterosexual or not. You'll often find locals swimming fully clothed, once more highlighting the love of modesty. While being a tourist cuts you some slack, we recommend adhering to the local customs by wrapping yourself in a sarong after a swim.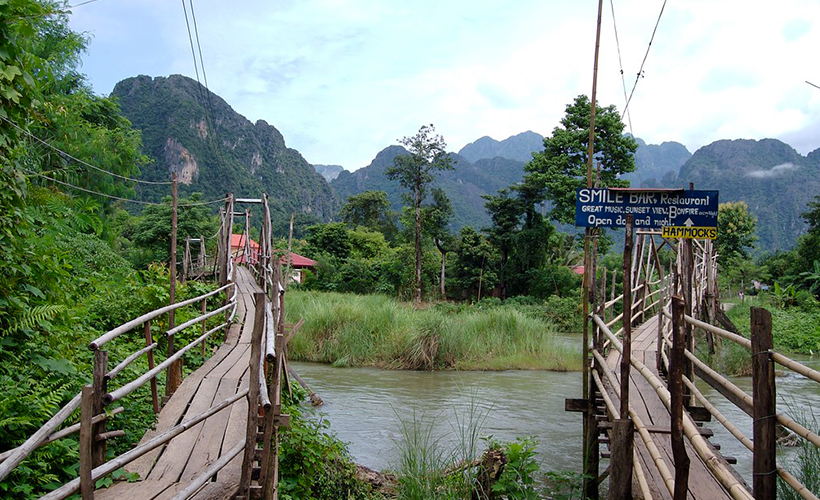 6. Don't go wandering off the beaten track
While Laos is a comparatively safe country when it comes to violent crime and theft, the country is not without its own brand of danger. Between 1964 and 1973, an estimated 260 million cluster bombs were dumped around the country, leaving thousands of unexploded ordinances sitting tamely on the countryside. Every year, more than 100 people are injured or killed by these duds. Should you decide to hike, stay on the beaten path. Better yet, hike with a local guide who knows the land.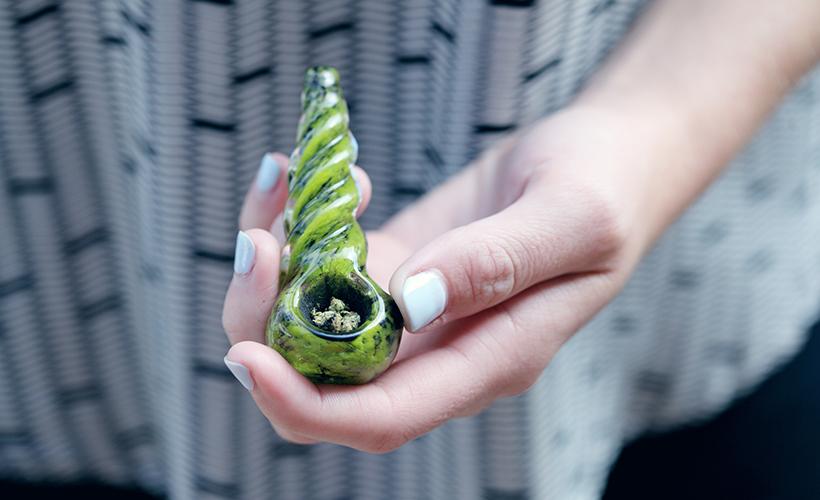 7. Soak in the green (or not)
Marijuana, more fondly called 'weed', can be easily sourced in Vang Vieng. So easy in fact that one might wonder if they've slipped through a fracture in time and space and ended up in a certain Dutch city. Just walk into a shop, buy some weed, edibles, or even a pre-rolled joint. Heck, they even have magic mushroom shakes. Hold up though, it's not all free and loose. While it's easily available, the police will fine and arrest you if you are spotted indulging in public.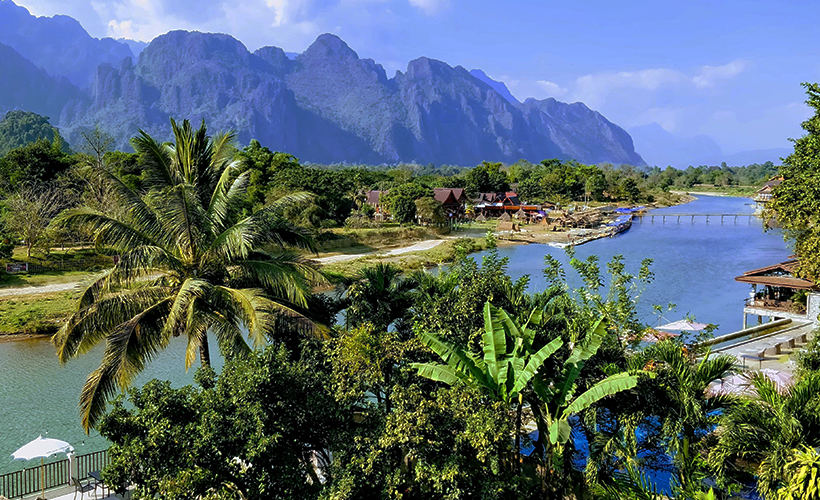 8. The healthy life
Vang Vieng may have gained notoriety in the past for its party culture and narcotics abuse, but the town has plenty to offer hikers and nature lovers. The town is surrounded by mountainous areas, offering hikers an exciting opportunity to soak in the stunning views. One particular spot to check out is the Phangern Mountain Viewpoint. While there are likely several other hikes in the region, this trek is the most accessible, closest in proximity to the town, and involves stunning views to take your already-strained breath away. From a hiking perspective, it's a brief 30-minute trip, but the views that follow on its multiple lookout points are not to be missed.
9. All the noms
No trip is complete without a comprehensive sampling of the local flavours. While Laos, in general, isn't known for its stellar cuisine, we took a look at some of Vang Vieng's unique dishes. Things didn't quite happen how we'd expected. It turns out the entire town has hopped onto the western food bandwagon and doubled down on catering to tourists. You'll need to look hard to find a traditional Laotian restaurant, especially considering the locals aren't big on eating out. That being said, the town is filled with interesting culinary experiences you'll be hard-pressed to find in similar regions.
Il Tavolo
This Italian restaurant is the hit of the town, drawing boatloads of tourists from around. The restaurant is run by an Italian father and son aiming to provide Italy's finest to this remote paradise. They even have a traditional wood-fired oven for all the pizza you can eat, and an incredible arrabiata to match.
Cafe Eh Eh
In the heart of town sits this quaint Australian-owned cafe, offering up a wide range of pastries and the best baguettes and coffee in town. The cafe prides itself on its reasonable pricing and urges everyone to try their very own home-brewed kombucha!
Sabaidee Burger
This Belgian-owned burger joint has built up a cult following for burger and fries lovers, even finding itself at the top of the list in Southeast Asia. Their deliciously juicy burgers and relaxed environment are only boosted by the great sunset mountain views. A must check out, no matter how odd burgers in Vang Vieng sounds.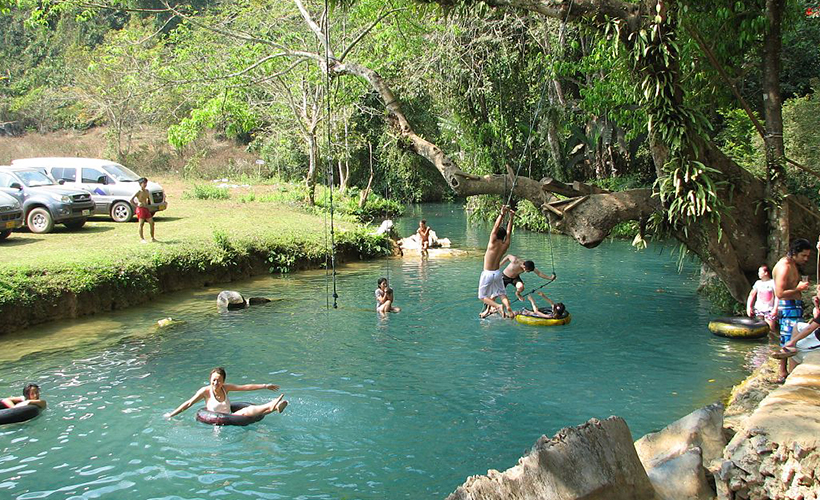 10. Getting your tube on
The days of the Vang Vieng's legendary tubing was officially stamped out by the government in 2012 after immense international pressure. However, a watered-down version of the fun activity is still available, minus the drugs and suspect liquor. Over the past seven years, the vast majority of the region's famous river bars have been closed. Today, tubing has devolved into a leisure activity centred around the appreciation of Vang Vieng's natural beauty. Fret not though, there are three stunning spots to get your groove on for just LAK10,000.
Vang Vieng Blue Lagoon 1
Roughly seven kilometres from the town centre rests the most popular tourist hotspot in town. The lagoon lives up to its moniker, and even features a long zip-lining course and the Tham Phu Kham Cave for avid spelunkers. Be warned though, Blue Lagoon 1 gets incredibly crowded, meaning you'll need to beat the crowds if you wish to set up camp.
Vang Vieng Blue Lagoon 2
Also known as Nature Park Patong Cave & Bubbling Springs, Blue Lagoon 2 is next on the list of tourist hotspots. Sitting another seven kilometres away from Blue Lagoon 1, this smaller lagoon has a number of different pools to frolic in. There are small zip lines, swings and platforms, and a number of deck chairs, making it suitable for soaking up the sun between swims.
Vang Vieng Blue Lagoon 3
The most remote and least crowded of the lagoons, Blue Lagoon 3 is a test of commitment. The 17-kilometre journey is arduous, to say the least, making passengers endure severely broken roads and an extremely bumpy ride, capable of hurting even the squishiest of derrières. However, the brutal journey is worth making, as the lagoon is said to be the most fun, littered with a number of swings, zip lines, balance beams, and even a bamboo raft.
Cover photo by DEZALB via Pixabay