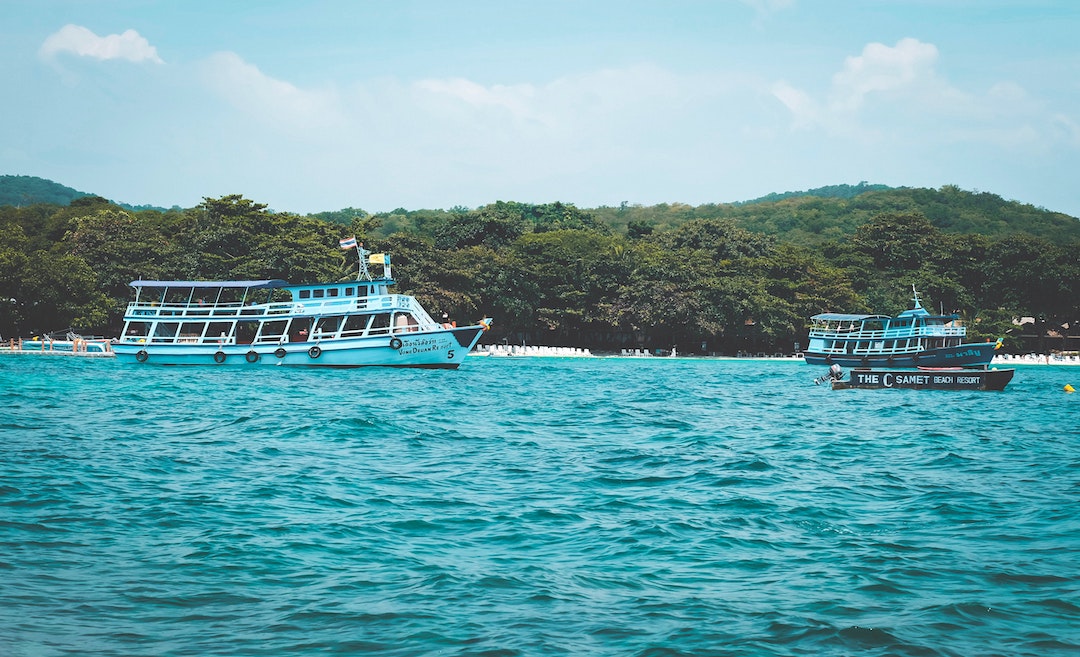 Craving some time away from the concrete jungle? If you're travelling in Bangkok and would like to balance the urban excitement with some chill-out time, consider heading to a nearby island. A personal favourite is Koh Samet, and it's perfect if you're looking for a three- to four-day escape. I generally hate long travel days so the fact that I can be on the island within four hours of leaving Bangkok is a huge advantage. Plus, there are plenty of options for whatever you are looking for and the island is overall quite affordable no matter your budget.
These 10 tips will help you make the most of your sun and sea getaway:
1. Easy connection from Bangkok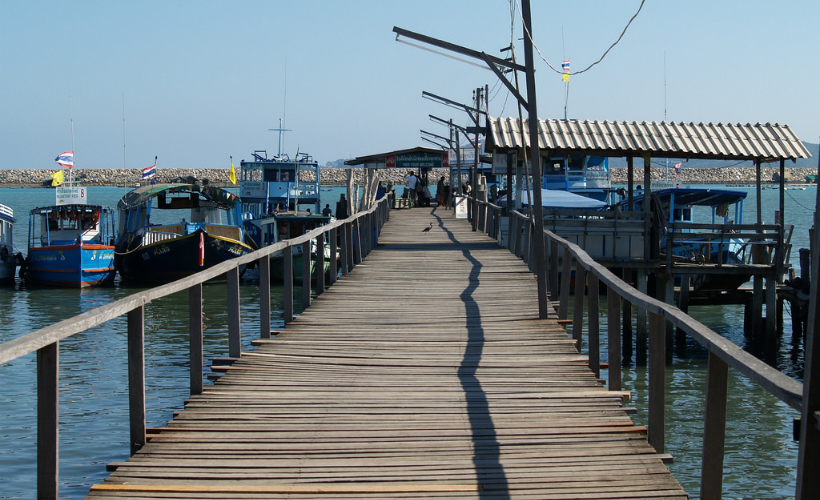 Ban Phe's Nuan Thip Pier, about 220km from Bangkok, is the mainland destination to get a ferry to Koh Samet but most bus, taxi and minivan companies will label the destination as Koh Samet on signs to keep things easy.
From Bangkok, I recommend getting an air-conditioned bus from Ekkamai Bus Terminal for around THB150 (about USD4.30). It is usually the slowest option (3-3.5 hours without traffic), but it is cheaper than taxis (which are usually around THB2,000/USD58) and generally safer than the minivans, which cost about the same price. I avoid minivans as much as possible because the seating is normally quite cramped, and if you're really unlucky, may get a reckless driver.
2. Airport transfer
If you are going from Suvarnabhumi Airport, getting to the Ekkamai Bus Terminal will add an hour or so to your journey. If you are in a group, you may want to consider a taxi. A friend recently got a taxi from the airport for THB2,000 and it only took 2.5 hours to the pier. There used to be a bus service but online research and word of mouth has told me this route no longer exists. For solo or budget travellers, a taxi to Ekkamai then a bus will still be cheaper but all around longer.
If you are coming from Don Mueang, older websites would have advised you to get a minivan from Victory Monument, but in late 2016 the government removed the minivans from Victory Monument to Ekkamai Bus Terminal. From the airport, take a taxi via toll roads to the bus station (45 minutes, not counting for traffic) or go to Mo Chit BTS Station (by bus or taxi) and take the Skytrain to the Ekkamai BTS Station. The bus terminal is a few steps from the station.
3. Approaching the island: Ferry or speed boat?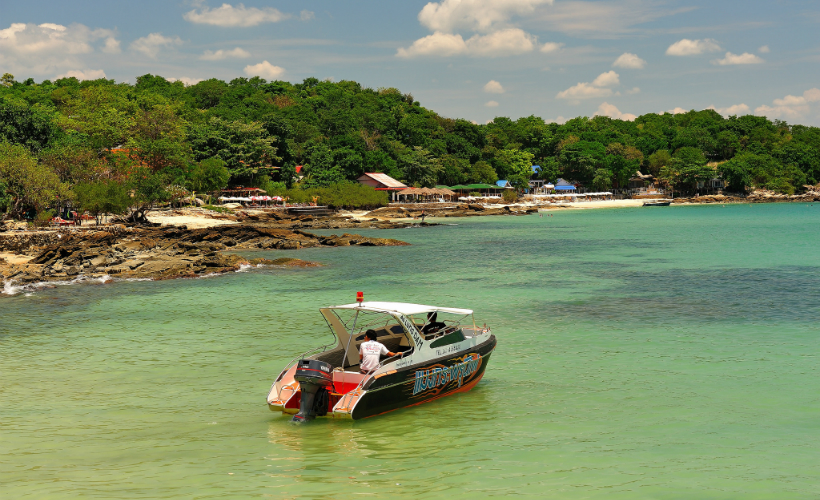 If you take a bus, you'll be dropped off next to the Nuan Thip Pier (either across the street or directly in front of the pier entrance). Ferries run regularly, take 30-45 minutes, and cost THB100 (about USD2.90) to the island and THB50 return.
If you arrive on an off-time, such as by taxi, you may have to wait until the next bus arrives to get a ferry so most people choose to take a speedboat instead. They cost around THB200 (about USD5.80) per person during normal hours – more if there are only a few passengers or if the ferries are not running – take closer to 15 minutes and can take you directly to the pier or possibly to your hotel's beach.
Fair warning, the speedboats are fast which means they slap against waves and can be a nightmare for anyone with motion sickness. Also, if you go to a different beach than the main pier, you will get your bottom half wet getting off the boat to walk through the shallows to the beach, but the boat operators will help with your luggage.
Top tip Given all of this, I recommend a bus from Ekkamai and the ferry from Nuan Thip, (with some motion sickness medicine from the 7-Eleven next to the bus station). If you take this route and do not hit traffic, you can be on the island in just slightly over four hours from the bus terminal.
---
Be a conscious traveller to ensure that your favourite beaches won't be closed:
---
4. Songthaew or scooter?
Since most people stay away from the pier, you'll need to decide how much you'll be driving around the island. Songthaews are the only communal form of transportation on the island, with no vans or taxis available. At THB50-200 per trip per person, using a songthaew to get around can add up but if you're just going between the pier and your hotel, it is your best bet.
If you plan to go around to different beaches, renting a scooter makes the most sense at THB400 (about USD11.60) per day. Just make sure that the tank is full and that you keep an eye out for the many small speed bumps all along the island's roads. Also avoid driving through sugar sand to avoid getting a what's known as a 'Thai tattoo' – a road rash from knocking over on the scooter.
5. Pick the right beach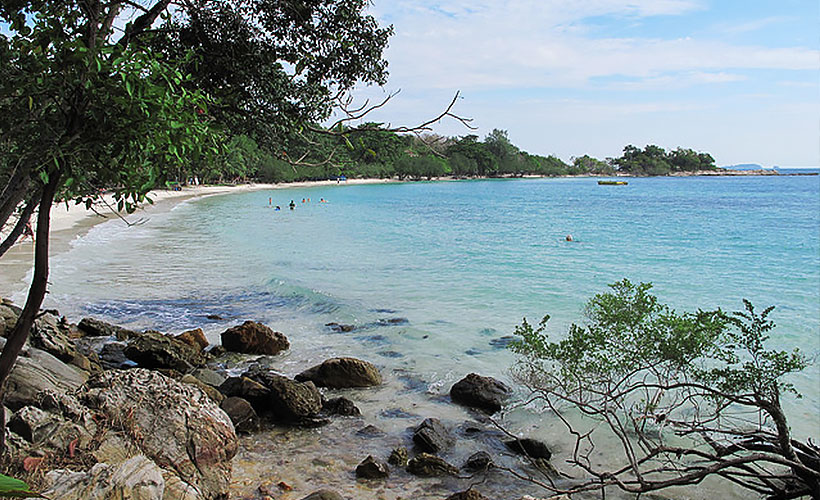 Hat Sai Gaew (also spelled Sai Kaew) and Ao Wong Duan (also spelled Vong Duern) are the most popular beaches given their size and number of hotels, restaurants and beachside activities. Hat Sai Gaew, while closer to the pier, has many more shops and restaurant options than the other beaches but is also busier.
Ao Wong Duan, on the other hand, remains fairly quiet at night and has about half a dozen restaurants, ranging from Thai to BBQ to pizza. There are one or two small convenience stores too for emergency buys (the only 7-Eleven is the one back at the pier).
But if peace is what you yearn for, an even quieter and less busy beach is Ao Wai. It's exclusively developed by the Samet Ville resort but is open to non-guests. For THB100 per beach chair, it is a bit more expensive than other beaches, but you can opt to forego the chair in favour of a blanket. There is a restaurant and bathroom facilities (for a fee) as well. Another great option is Ao Tubtim, a much smaller beach with about four hotels and a mix of restaurants lining it. Beach-side chairs here go for a mere THB50 each and include umbrellas. Plus, at the edge, there is an art installation of piled rocks that make for a great backdrop for selfies.
Top tip For a list of beaches with photos, check out this website.
---
Want to party it up safely? Check out these beaches:
---
6. Booking a room: Direct is best
Hotels range from THB800-4,000 (about USD23-115) per night with most places averaging around THB1500 (about USD43) during peak season. You can find good deals off-season but there isn't a lot of variety in terms of pricing on the island. While there is an increasing numbers of hotels offering lodgings through Agoda.com and Booking.com, your best option for a more affordable stay is to find the hotel's phone number and give them a call directly. Many hotels fill up online but if you call, they may have an opening not posted online, or even make arrangements for you at a nearby hotel.
I like to frequent the unusually named Tom Pizza Resort on Ao Wong Duan (THB1,000-1,500/about USD29-43 per room). When they are full, they place me in various bungalows around the resort, each under a different name but all on the same plot of land.
7. Food is generally cheap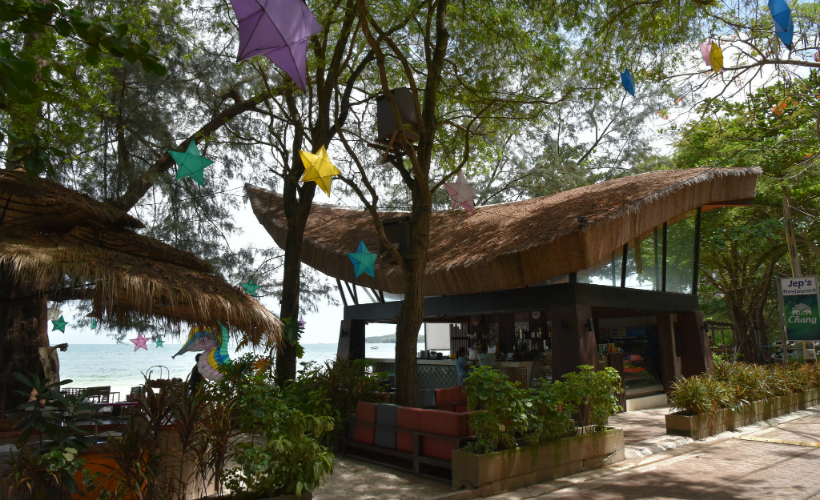 Water costs between THB20-30 (about USD0.60-0.90) for 1-litre bottles, and beer is between THB70-100 (about USD2-2.90), depending on size. Even at restaurants, food and drinks are only marginally marked up. Local fare such as pad thai and other common Thai dishes are priced around THB100-150 (about USD2.90-4.30). For western eats, get ready to shell out around THB200-250 (about USD5.80-7.20).
The beachside BBQ is also excellent at Ao Wong Duan – they grill to order and can be a bit of a wait, but it's totally worth it. Definitely get the ribs and corn for a delicious meal. Seafood is the star of the show, naturally; a must-try is yellow curry with crab and seafood (bu pad pong karee).
Top tip I always stop at Jep's Restaurant for lunch and a smoothie. It is a great spot, nearly alone on a beach along the main road.
8. What to pack
Koh Samet is a well-equipped, tourist-friendly island so there isn't much you won't be able to find should you forget to pack it along, but here are a few things to remember:
Bathing suit My first trip to Koh Samet started with a very frustrating bathing suit shopping trip because I packed before my morning hit of coffee which led me to forget what a beach is. Arriving without the most key essential for an island getaway, I had to go to a beachside shop for a bikini and struggled to find a suit with a suitable and comfortable fit. Many of the shops have a good variety of colours and prints, but not likely any variety in size, so if you are well-endowed or in need of a specific cut, make sure not to leave your suit at home.
Sunscreen You can buy sunscreen on the island, but it will be much more expensive and likely have whitening agents. So if you are there for a tan or, like me, are sensitive to whitening products, best to bring your preferred brand.
Cash There are ATMs and an exchange booth at the main pier, but you if you are venturing to other parts of the island you will want to already have enough cash to cover your costs. Most hotels and restaurants will be able to take credit cards, but beach vendors usually accept cash only.
Books You will not find very many opportunities to buy or trade-in books, especially in foreign languages so make sure you pack your beach read or e-book reader.
9. Party town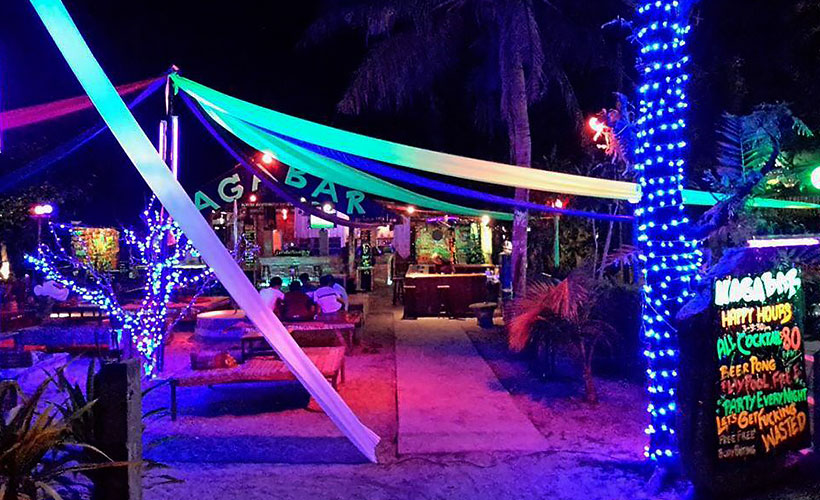 While many of the restaurants along the main beaches become bar-like at night with flashing lights and thumping music, they usually do not have a real party atmosphere. For dancing the night away, check out Naga Bar and the Silver Sands resort's bar. Both are always crowded with people looking for a fun night (though music usually has to be lowered at 11PM). Dress casually and look out for neon paint that stains just about everything it touches.
---
Make sure you bring enough cash to avoid trouble when entering the country:
---
10. Get the perfect picture
If you rented a scooter, head over to the southern tip of the island. Once there, stop for a smoothie at the small food stall in the gravel parking lot and indulge in what is, in my humble opinion, the best mango smoothie on the island. Then, walk along the short path to a great viewpoint to capture the island's most photogenic scenery.
Top tip On the way back, stop along one of the smaller viewing points to catch a great sunset. Since most of the beaches face east, these west-facing Cliffside stops make for a relaxing and picturesque way to end the day.
Cover image credit: samedresorts.com