Downtown Kuala Lumpur (KL) is one of those areas we're all somewhat or even fairly familiar with but don't spend much time at. But what if we told you that there is more to explore here than you could ever imagine? What with the rapid gentrification of the area in the last few years.
Familiarity can stifle the growth of a wandering and curious mind. So, here's a suggestion: Forget everything you think you know about this part of town and let us reintroduce you to it, starting with the list below.
Take a tour of Kwai Chai Hong, Chinatown
Art, heritage, and history is what you'll find at Kwai Chai Hong, a once-neglected alleyway that has been transformed into a bustling hub for both young and old to come together and celebrate what used to be a lively street in the 1960s. After their launch in 2019, Kwai Chai Hong showed no signs of slowing down.
With cafes, restaurants, and bars taking residence in their restored pre-war shophouses replete with interactive murals – painting stories of the past and an ever-exciting list of events — you'll find yourself leaving with a rich understanding and appreciation for the history of this local sweet spot.
Safety tips: Downtown KL can be tricky to navigate if you're new to the area. Use a map to navigate the busy lanes and back alleys or travel with a local who knows their way.
Address: Lorong Panggung, 50000 Kuala Lumpur
Contact: +6012 316 6212
Pick up a new bike at the Bike Artisans, Chow Kit
Here's a treat for those who enjoy exploring town by bike. Apart from being a great way to explore the city, meet the locals, and discover hidden gems, it is also one of the cheapest ways to get around. We know it gets hot, but we promise, it's worth trying at least once!
The Bike Artisans is where to go to find all your biking goods or get yourself a custom bike. Whether you're a city cycling novice or a pro, you can trust the staff to take good care of you.
Safety tips: Riding bikes in a busy part of the city is always risky. Wear appropriate gear and reflective material. Avoid riding on the main roads during the KL rush hour.
Address: 36G & 38G The Row, Jalan Doraisamy 50300 Kuala Lumpur
Contact: +603-2202 8018
Treat yourself to a makeover at Lee Ying Hair Salon, Pudu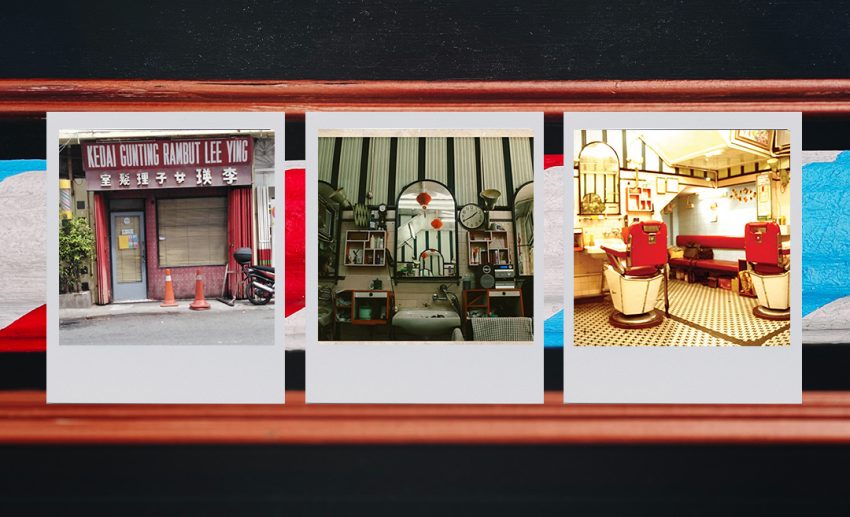 Alright, I know this isn't a conventional touristy thing to do in KL, but if you do find yourself in this part of town exploring the old streets of Pudu, why not make a quick stop at this hairdresser? You'll find that it has been wonderfully preserved in all its 50s glory. This is an experience you probably won't find in many other parts of the city.
Safety tips: While most Malaysians are generally friendly and helpful, we still encourage you to be alert at all times. Watch your valuables closely as Downtown KL is known to have pick-pockets and snatch thieves.
Address: No 26 Ground Floor, Ruby Complex Jalan Kancil, Off Jalan Pudu, 55100 Kuala Lumpur
Contact: +6016 205 7968
Get your Nyonya cuisine fix at Limapulo: Baba Can Cook, The Row (Heritage Row)
Formerly known as Heritage Row, The Row is now home to 22 1940s pre-war shophouses that have been restored into a street of trendy restaurants, outdoor beer gardens, and co-working spaces.
While there, have lunch at Limapulo, a restaurant that celebrates the great history of Baba Nyonya cooking through servings of Nyonya laksa, roti jala with chicken curry and a heaping bowl of cendol. Chef John Tan, affectionately known as Uncle John by his customers, is the Chef and Co-Founder of Limapulo. Being a native of Melaka himself, you can trust every dish will be prepared with heart and soul.
Safety tips: Tourists do not need to worry much about safety in the area as it is typically full of people moving in and out of shops and restaurants. However, parking can be a challenge. Plan ahead of time, so you have a safe way to the destination and back to your accommodation. Local ride-hailing app services include GrabCar, MyCar, and Riding Pink (women only). Alternatively, you can hop on the Monorail.
Address: 50, Jalan Doraisamy 50300 Kuala Lumpur
Contact: +603 2698 3268
Head out for cocktails at PS150, Petaling Street
Housed in a pre-war building and divided into three sections – the Opium Den, the open-air courtyard, and the main bar area — is PS150, a cocktail bar in Petaling Street. Fronted as a toy shop, PS150 will charge your curiosity as this place unveils itself in a moody and almost playful way.
Sip Southeast Asian-influenced concoctions made with ingredients found locally and a line-up of spirits and liqueurs to choose from. You'll want a set of decent clothing and footwear as there are dress code requirements on Fridays, Saturdays, and the eve of Public Holidays.
Safety tips: Late night excursions in Petaling Street require vigilance at all times. It's best to travel in groups and never leave a drink unattended.
Address: 150 Jalan Petaling, Ground Floor 50000 Kuala Lumpur
Contact: +603 7622 8777
The ever-changing landscape of downtown KL is both exciting and challenging. There is a desperate need to preserve culture while reinventing it to suit a younger generation. So, take time to reacquaint yourself with the city and share your exciting finds with the people around you.