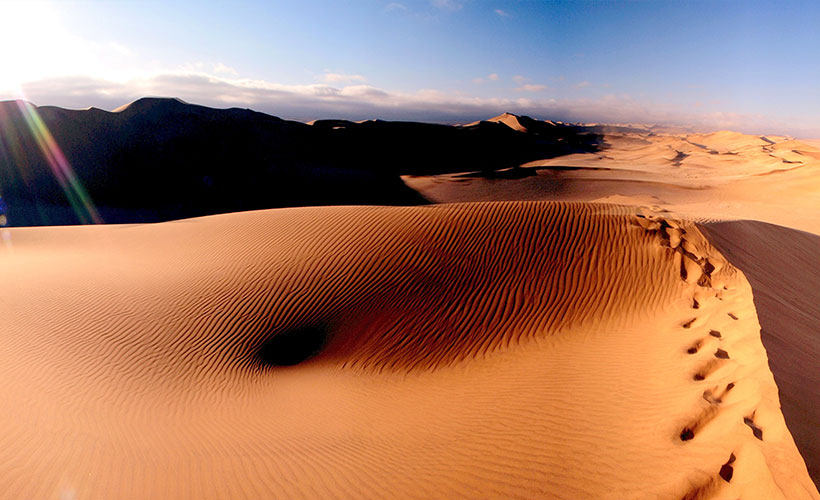 One would assume that you can only see sand dunes in the Middle East, Morocco or even California. Well, there's no need for a long-haul flight anymore as there are (secret) sand dunes closer than you can imagine — and that's in Vietnam. Here's a basic travel guide on how to visit Mui Ne, a beach resort town that's home to not one, but two sand dunes, just a few hours away from the city of Saigon.
Getting There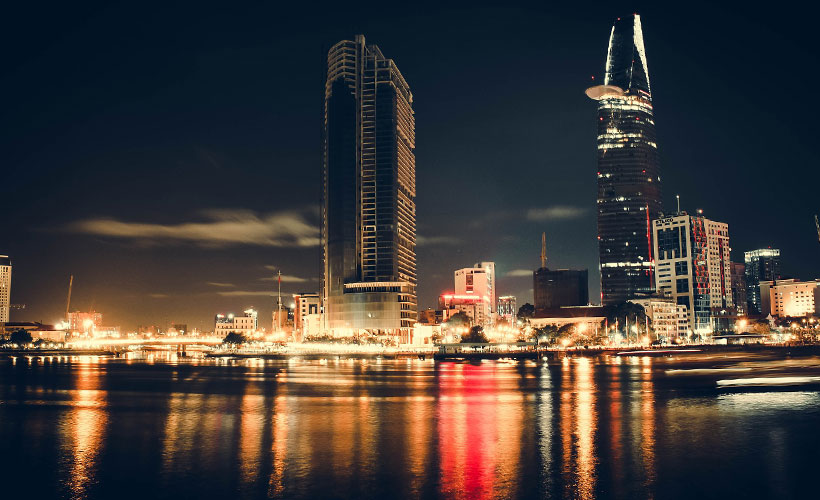 The nearest international airport to Mui Ne is in Ho Chi Minh City, and thereafter, you can take a four-hour trip either by train, bus or private cab; perfect for nomads who love the scenic route.
From the city centre, there are trains that depart at Saigon Railway Station in District 3 and arrive at Phan Thiet, a 20 kilometre distance from the town proper where you'll easily find plenty of metered cabs waiting. Travelling by sleeper bus is another option and it's also the cheapest alternative. Just be sure that you can tolerate the bumpy roads and you'll do just fine!
Where to Stay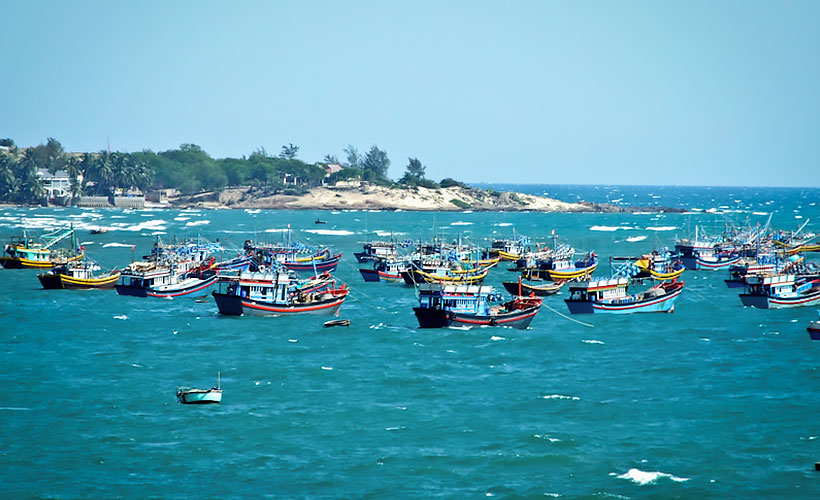 Mui Ne's coast is packed with hotels but choose carefully; some resorts are great while others are underwhelming at best. Our luxe pick to splurge and indulge on is the beautiful Anantara Mui Ne Resort. Set on a quiet beach location, the 90-room resort is composed of deluxe and premier suites including beachfront and family pool villas. After a busy day around town, pay a visit to their signature Anantara Spa or take a dip in the pool and simply let go of any and all stress.
What to Do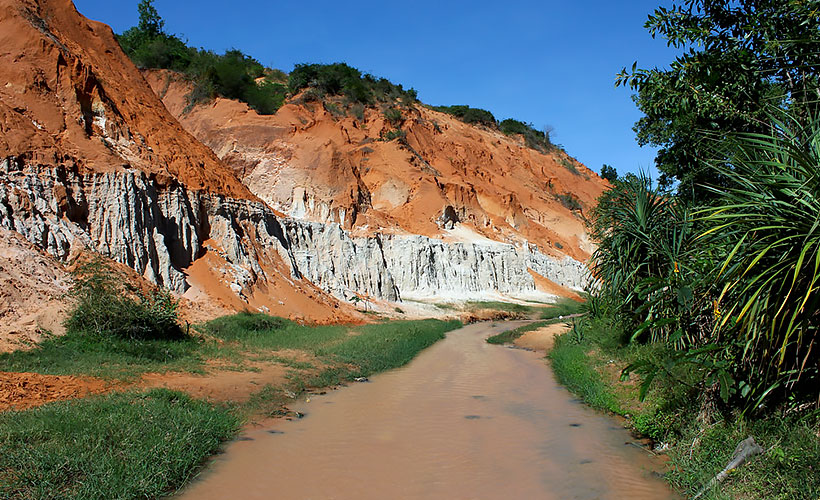 Time for action! Most hotels offer jeepney tours either starting from sunrise or sunset, letting you cover Mui Ne's popular attractions in the best times possible. That being said, do make sure that you plan your trip well enough for the sun to actually be seen too (hint: Sunnier days run from December to April; avoid wet months from May to November).
Fairy Stream (Suoi Tien): Explore the magical Fairy Stream of Mui Ne, an ankle-deep stream surrounded by 'rock' or sand formations and lush greeneries in between. No real fairies here, but the stream, whose entrance is hidden behind an alley, lets you take on a nice relaxing stroll to appreciate the landscape and even some parts of the sand dunes surrounding it. Carry your shoes and put on a friendly face as you'll see a vast number of travellers making their way in and out too. You'll never know who you'll meet back in town.
Lai Chang Fishing Village: Mui Ne is best known for its fresh seafood. With a large variety of open-air restaurants, your golden opportunity to savour the the day's catch is by making a quick stop at the Lai Chang Fishing Village. Aim to get there in the early morning to anticipate the local fishermen returning with massive hauls of scallops, crabs, shrimps and even stingrays. You'll be excited about dinner soon enough.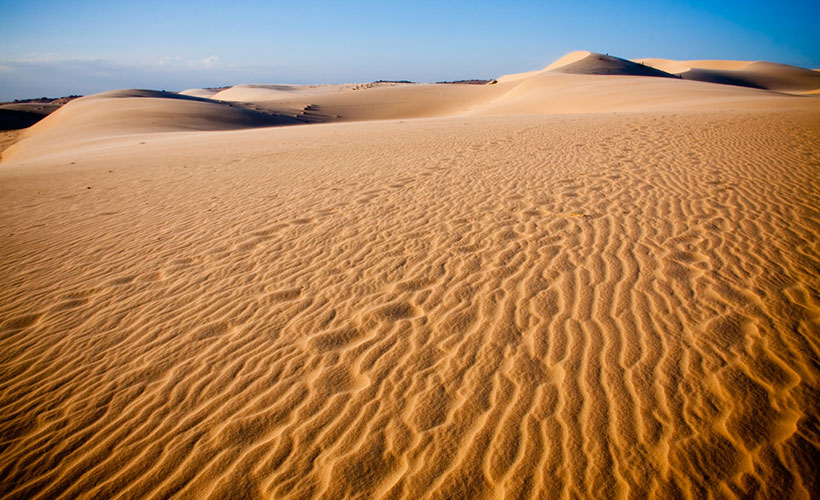 White Sand Dunes: Now, the main reason for a visit to Mui Ne is, of course, the sand dunes. The biggest of the two is the White Sand Dunes. Once you arrive, treat yourself to a little off-road adventure and hire an ATV bike with a driver who'll get you to the best spots in no time. Apart from taking Instagram-worthy photos, have fun sand dune sledging. Some brave souls will challenge themselves to drive solo, but these unfamiliar terrains may prove challenging. We had one couple in the group who hit a bush and got themselves completely turned over!
Red Sand Dunes: Our last stop is the smaller, yet equally beautiful Red Sand Dunes. They say sunset is best viewed here so do try to arrive on time. Once it gets darker, it'll be rather difficult to appreciate anything.
Back to the city? How 'bout the beach?
If you're looking to experience more of Vietnam, head back to Ho Chi Minh city and enjoy luxurious stays like no other. Do extend your holiday to include some vitamin-sea and travel to Da Nang, Nha Trang, and Ninh Van Bay!
This story was originally published on Wanderluxe by The Luxe Nomad.
Zafigo republished this story in full with permission from the author to hopefully bring the story and the author to a larger audience, simply because good authors and stories should be read by as many people as possible! If you are keen on Zafigo republishing your stories that will be of interest and useful to women travellers especially in Asia and the Middle East, please get in touch with us at [email protected].
Get all the latest travel stories from Zafigo. Follow us on Facebook, Twitter, and Instagram.