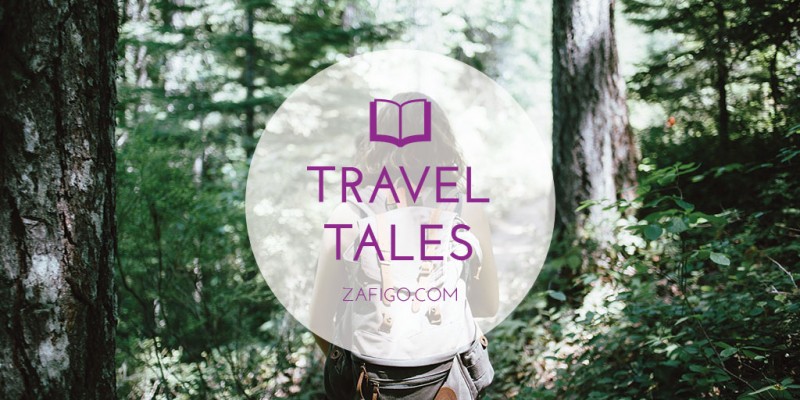 On a small island nation at the top of the globe, there is a landscape unmatched in diversity by any other place on earth. This tiny country, one of the most volcanically-active locations on the planet and home to the largest glacier by volume in Europe, is called Iceland.
Iceland's magnificent terrain encompasses some of the finest sites Mother Nature has to offer: Powerful volcanoes, lava fields as far as the eye can see, explosive geysers, steaming natural hot springs and pools, beautifully blue glaciers, miles of black sand beaches, fjords that will make your heart stop, and of course, the famous Aurora Borealis.
Iceland is small, and I mean very small. The most common road-trip route for tourists is known as the Ring Road, a 1,330km circular route which roughly follows the highlights along the country's perimeter. The general rule of thumb is that it takes travellers a bare minimum of one week to complete the Ring Road at a moderate pace. Because we visited in the dead of winter (read: limited daylight hours with potential for adverse road conditions) and had just shy of a week at our disposal, we planned our route to thoroughly cover the highlights and hidden gems of southern Iceland. Here are 5 of them.
Chasing waterfalls: Brúarfoss 
The Icelandic word for waterfall is foss. Brúarfoss is arguably the most underrated waterfall along Iceland's famous Golden Circle. The stunning blue water cascading down tiers of black lava rock speaks for itself. While it requires a bit of effort to find, it is absolutely worth it.
For a quick look at Brúarfoss, there is a gravel road off of Route 37 that will take you to a small parking area within a 10-minute walk of the waterfall. The exact route that leads to the parking is a bit of a maze, so it's best to have an idea of where you're going before you get started (approximate GPS location: 64.262900, -20.509858). Once you park, walk across the small bridge and follow your ears. You can't miss it!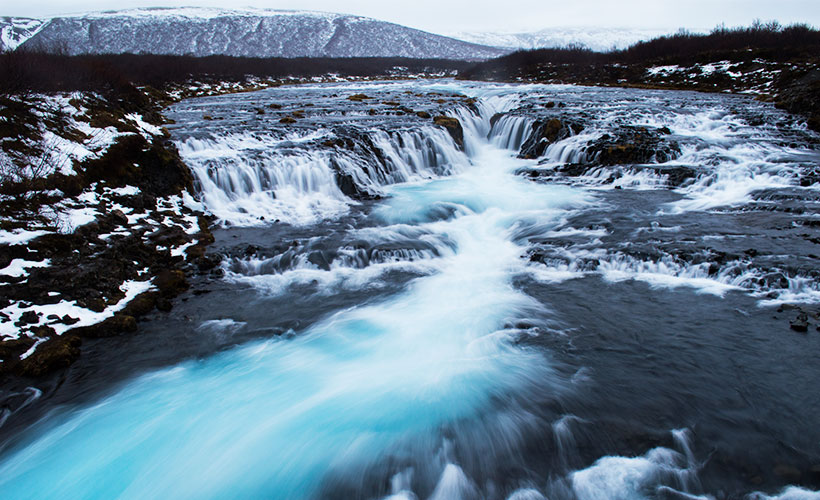 An alternative option for the more adventurous waterfall seeker is to hike in. Coming from Laugervatn and following Route 37 towards Geysir, just before crossing Road 355 you will go over a bridge that crosses Brúar River. You can park at the bridge and go upstream following the right side of the river approximately 3.5km to Brúarfoss. On the way, you will pass two even lesser-known waterfalls: Hlauptungufoss and Midfoss. Because it was a beautiful day we opted to go for the hiking route.
In reality, it was not much of a hike in the traditional sense, but more of an adventurous, muddy struggle. We jumped fences, bush-whacked, slipped and fell far too many times, and almost went over a cliff…and had a great time doing it! Of the two waterfalls along the way, the first, Hlauptungufoss was my favourite. The sheer power of the water roaring over the edge, the turquoise water, the boulders of pitch-black lava – it was our first sense of how truly spectacular this country was, and it was only the first day.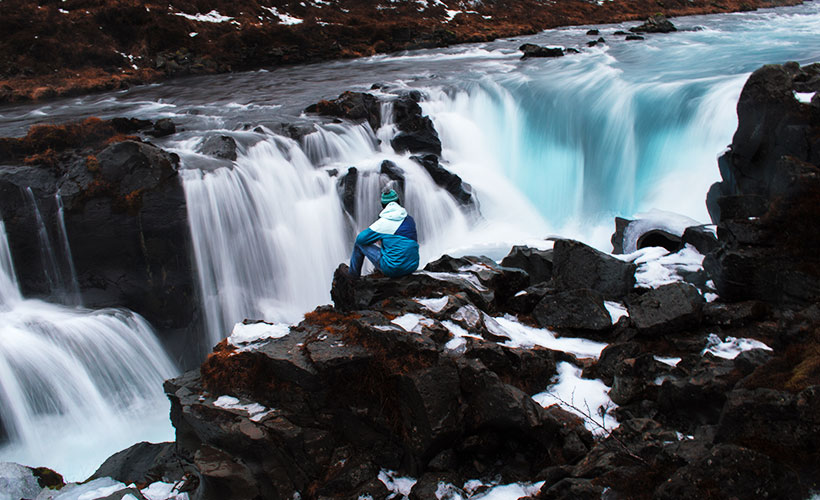 Awestruck, we lost track of time and only snapped back to reality once we realised that the 4.30pm sunset was creeping up on us and we had no idea how much further we had to go. We scooped some water to drink from the river and hit the trail. With mere minutes of sunlight remaining, we reluctantly hurried past Midfoss and continued on. Just as dusk started to roll in we heard the roar of the third and final waterfall. We made it, we found Brúarfoss! With the impending sunset in the back of our minds, and the inevitable 2-hour walk back, we took a moment to appreciate the beauty that is Brúarfoss as it began to rain. After all, that was what we came to see. It was like no site we have ever seen before…truly incredible!
Now…how to get back to our van in the dark? Our decision: Hitchhike. Luckily for us, a few travellers who had driven to the waterfall were kind enough to give us a ride, saving us what was probably three hours of walking on the less-direct, but easier road route.
Colour therapy: Glacier blue
As silly as this may sound, one of my favourite things about Iceland was discovering a new favorite colour – Glacier Blue. It's funny because I cannot tell you how many times I have read 'Glacier Blue' on the label of Gatorade bottles but never considered that glaciers really are THAT blue. But oh, does it ring so true to me now!After a long night of driving through torrential downpours and ferocious winds, we finally pulled into a parking lot around midnight to get some sleep, completely unaware of our surroundings. What happened in the morning is something I will never forget…
"Babe, get up! You HAVE to see where we slept last night!"I stumbled out of my sleeping bag and into the parking lot. I looked up and rubbed my eyes from both fatigue and disbelief. There it was… the most vibrant and breathtaking colour I had ever seen in nature, Glacier Blue.
Vatnajökull National Park: Ice caving
With mountains for a backdrop and black sand along the lagoon's shore, the icebergs floated perfectly still and silently, only 30 meters (100 feet) away. The glass-like water disturbed only by a single seal popping up to look around. We had woken up in the parking lot to one of the most impressive sites in all of Iceland: Jökulsárlón, a glacial lagoon on the edge of Vatnajökull National Park.
This national park is home to the largest glacier by volume in Europe, Vatnajökull Glacier. The glacier thickness averages 400m and can reach upwards of 1,000m, covering an approximate area of 8,100km2. Several active volcanos are located beneath this massive ice cap. Ice climbing, trekking, ice cave tours, and snowmobile riding are some of the attractions that draw visitors to Vatnajökull every year.
We were visiting to explore an ice cave. Our guide, Gunnar from Adventure Point, told us that the ice caves were flooded due to excessive rain the day before. Since seeing an ice cave was near the top of my Iceland Bucket List, you can imagine my disappointment upon hearing that they were inaccessible. Saddened, but knowing it was out of our control, we agreed to do a glacier hike instead and were very happy we did because we ended up stumbling across a small ice cave that's dry and ready for explorers.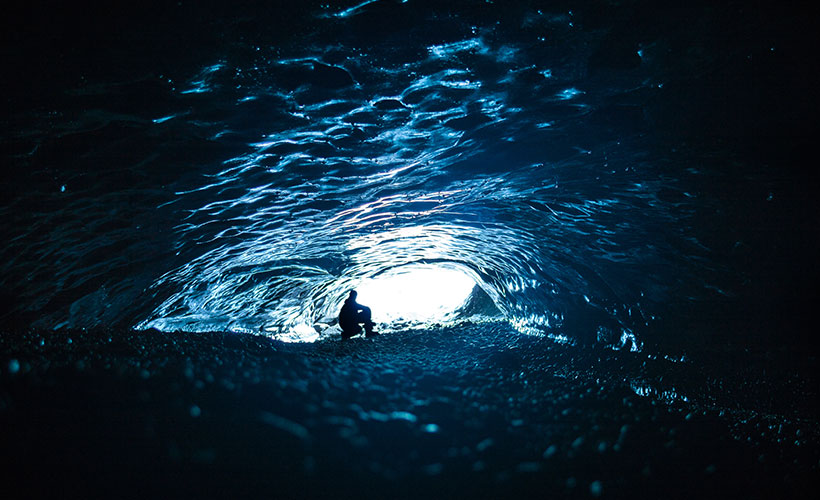 The three of us crouched and crawled through the vacant ice cave. Somewhat eerie, it was like entering another world, with crunching lava stones and trickling water beneath our feet, rippled blue walls, and the occasional beam of sunlight illuminating the tunnel through holes above.
Ice is nothing new, nothing special, but something about this ice was so foreign, so unique. We found ourselves gently touching it and just smiling, in awe of its colour and texture. We smiled, realising that we were but mere ants inside this frozen giant. It was truly something out of this world, which is also true of just about everything in Iceland.
In case you hadn't noticed, I like to make my boyfriend the subject of many pictures because I think it better illustrates the sheer magnitude of the surroundings. Of the hundreds of moments I captured in Iceland, this next one at the black sand beach in Vik, called Reynisfjara, was probably my favourite – and almost his last.
Reynisfjara Beach
An ominous feeling settled in when I set foot on the lunar-esque landscape of this infamous beach. Reynisfjara Beach is primarily known for its black sand but receives notoriety for being the most dangerous beach in all of Iceland. Rogue waves at the black sand beaches of Vik are unfortunately known for taking the lives of many unsuspecting tourists. Just a couple weeks before we visited, a woman from Germany lost her life after being swept away by what the locals call a "sneaker wave".
While ice caving, Gunnar had warned us to exercise the utmost of caution if visiting the beach. "There will be 19 normal waves and then 1 mammoth wave…a 'sneaker wave'. Very dangerous!".
Heeding his advice, we kept more than a safe distance from the ocean…or so we thought. Having been at the beach for 30 minutes or so, we had a good idea of how far up the waves were coming. Standing on some small rocks, chatting about who knows what, the father of all waves came crashing up the beach with only a moment's notice. Wide-eyed and lost for words, we both turned and fled like our lives depended on it…because they did.
Tripping over a rock, I found myself face first in the sand before scrambling back to my feet as the waves licked at my heels. I glanced back to see that my boyfriend had met a similar fate, and was not lucky enough to outrun the wave. Soaked to the bone, he stood up as the wave retreated to the ocean. He was drenched and quite unhappy, but safe. The freezing temperature had us rushing back to the van in search of dry, warm clothes. And that was the end of our black sand beach exploration for the day.
Seljalandsfoss: The 360-degree waterfall
One of our final stops along our road trip was to one of the most famous waterfalls in Iceland, Seljalandsfoss. The reason that this waterfall is so popular is because you can go behind it through a small cave-like passageway.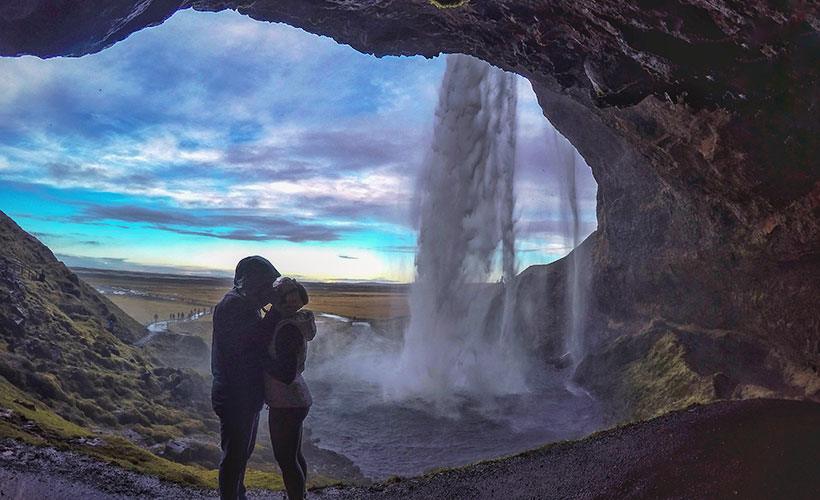 Walking behind the waterfall, you very quickly get covered from head to toe in water. It's unavoidable. There is even a small path that you can walk down that will practically bring you underneath the waterfall if you are are in need of some serious cooling off. There's something about passing through a cave behind a waterfall and getting soaked that will make you feel like a little kid again. Crossing through the wettest part of the path, we were running from the water (with zero chance of avoiding it!), and giggling about it the whole time. Sure we were wet, sure the temperture was barely above freezing outside and we were out of dry clothes, but did we care? Not one bit. It was too beautifully surreal.
Looking back now, I think the spirit of our brief visit to Seljalandsfoss is truly representative of our entire week in Iceland. We were rained on almost every single day; I would even say that it rained more than it didn't. But when there is stunning scenery every which way you look, when each view is more impressive than the last, when you run out of adjectives to describe the landscapes that you're looking at, when you realise that you have a permanent smile across your face, when all of that happens…you honestly don't care that you're wet and freezing cold. It becomes part of the experience and the memories, and, truthfully, I wouldn't have had it any other way.
Iceland is a world second to none. A place of dramatic wonders, each worthy of being the main attraction. It is a country so small that you could circumnavigate it in one day, but so jaw-dropping that it will take you 10. Its sights will leave you speechless over, and over, and over again. A trip to Iceland is a trip to an entirely different universe, go see for yourself!
 Read our last Travel Tale:
The Twelve Apostles are a must-see, of course, but along the drive from Melbourne, there are plenty of other sites worth stopping for. Pristine sandy beaches, unique rock formations and breathtaking views of the ocean are part of the charm in this area. Popular pit stops include the Loch Ard Gorge, The Arch, and The Grotto.
The best thing about these attractions is that they're all (except for the lighthouses) free. A self-drive trip is the best way to enjoy the sights, and it's easy to navigate the roads. All you have to do is rent a car and set aside at least nine days if you want to have a leisurely time and not rush from one spot to another.
Happy travelling!
---
Read our last Travel Tale:
---
Here's your chance to get published on Zafigo! We want your most interesting Travel Tales, from memorable adventures to heartwarming encounters, scrumptious local food to surreal experiences, and everything in between.
They can be in any form and length –short stories, top tips, diary entries, even poems and videos. Zafigo is read by women travellers the world over, so your stories will be shared to all corners of the globe.
Email your stories to [email protected] with the subject line 'Travel Tales'. Include your profile photo and contact details. Published stories will receive a token sum. 
Get all the latest travel stories from Zafigo. Follow us on Facebook and Twitter.