The season of love is here. There's a certain rush in the air and Cupid's little cherubs are out and about playing matchmaker. Couples seem more smitten by each other than ever and even the birds seem to have given up their melancholic tunes for seemingly love-fueled ones.
With this perfect overtone, keeping all love-drunk couples out and about in Bangkok in mind, I've drummed up the 5 most romantic places you and loved one can spend this Valentine's Day.
 Asiatique The Riverfront
Overlooking the famous Chao Phraya River, this open concept shopping district is enchanting with small boutiques and wonderful restaurants. The night market has a quaint charm to it, and it's a treat watching it come alive in the evening with beautiful lights and soft, arresting music. The Chao Phraya River acts as a stunning backdrop, with the reflection of the night sky and the soft market lights waltzing serenely on the surface. If you're looking to do some light shopping with your date and grab a bite for two, this is the place to go to. Be sure to check out the mighty Sky Asiatique Ferris wheel looking over the buzzing market; the gondolas on it are perfect for those seeking quality time together.
For a great Valentine's dinner, we recommend the Fire and Dine Restaurant
Opens: 4pm-12am daily
Getting there: Catch a a short, free ferry ride to Asiatique from below the Saphan Taksin BTS Station
Gramercy Park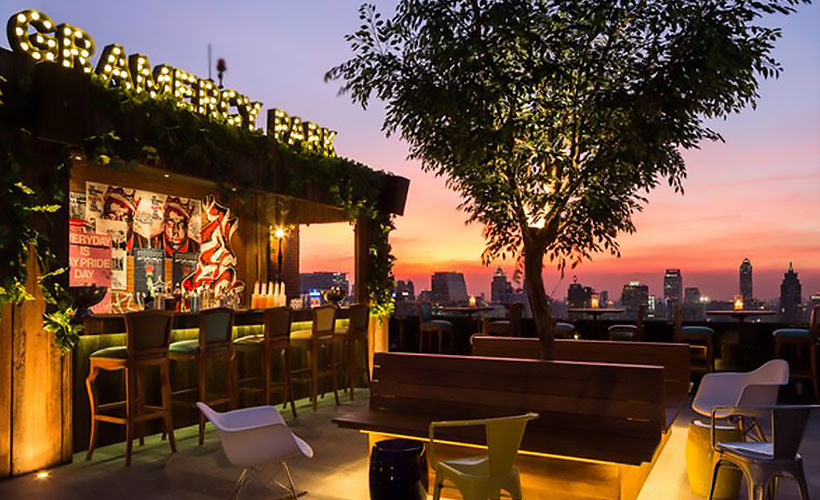 While most only know of the first two floors of Above Eleven, it's third and top floor, known as Gramercy Park, offers a softer and cosier atmosphere with the same spectacular views. Located at the roof of Frasier Suites hotel, this small bar is an extension of Above Eleven's fabulous fusion restaurant and serves ceviche, sushi and sashimi with almost 10 selections on wine by glass starting from THB230. It's perfect for couples who want to sit back with a glass of wine, relax and watch the sunset.
Opens:  6pm-2am
Getting there: BTS Nana, Frasier Suites at Sukhumvit Soi 11
Gaggan
Probably the most expensive on the list, Gaggan has been rated the best restaurant in Asia and for good reason. The restaurant is set in a stunning whitewashed colonial-style wooden house that will make you forget you're in Bangkok. Be transported to a different world where you and your loved one can unwind and enjoy award-winning Indian cuisine paired with an extensive list of wines. The table setting is intimate and, although the menu is set (THB4,000b ++ per person), there are constant changes that add an element of surprise every time you're there. Reservations are a must, and it's best to call as they can be slow to respond to online queries.
Opens: 6pm-11pm
Getting there:  Near BTS Chit Lom on Lang Suan Road
Another romantic restaurant by the riverside, the Princess Terrace is popular among locals and expatriatess for its amazing view of the Chao Phraya River and its extensive Thai cuisine. There are seats available right beside the river, providing you with a breathtaking view along with soft live music that will leave you and your companion feeling at ease and content.
Opens: 4pm-12am
Getting there:  BTS Krungthonburi followed by a short walk or cab ride
The House on Sathorn
Not to be missed, the House on Sathorn is a romantic colonial mansion built in 1889 that's been transformed into a dining masterpiece. It is separated into three different sections.
The Dining Room, only open from 6pm to 10.30pm,is bathed in soft lights and rich mahogany colors, perfect for a dinner with drinks and plenty of conversation.
The Bar is just as opulently designed, and hosts an unbeatable list of drinks including Champagne, wine, sake and cocktails. The menu also provides a range of Asian-inspired snacks. The Courtyard is a personal favorite, sitting right at the centre of the House, well away from the busy streets of Sathorn to provide for a relaxing and enjoyable night of food, fun and drinks. Make sure to dress for the occasion – the House on Sathorn will not serve guests in "short pants, flip flops or slippers, and sandals or sleeveless shirts for men".
Opens:12pm-5.30pm and 6pm-10.30pm
Getting there: BTS Chong Nonsi, between the W Hotel and Sathorn Square