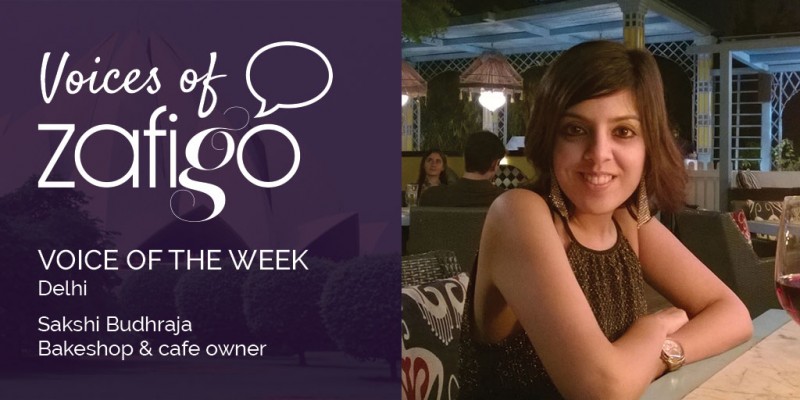 Sakshi Budhraja
Owner of a bakeshop & café in Gurgaon called Madison & Pike
I was born and raised in Delhi, went to school and completed my undergrad here. While my formative years were spent in Delhi, nearly a decade of my adult life has been outside Delhi.
After grad school in Mumbai and a few years working outside the country, I returned to Delhi three years ago. It took a while to recover from the initial culture shock (Delhi has transformed so much in the last decade!) but I am beginning to feel like a Delhite again! Before spending my time concocting specialties like Madison & Pike's lavender cupcakes, I was a marketer in the technology space.
History peeps at you from nearly every corner, and yet Delhi wears its modern, big-city garb with aplomb. Driving through Lutyens Delhi is possibly my favorite Delhi 'thing to do' – there is something about the green spaces, the beautiful buildings, the roundabouts and broad avenues, that leaves a lasting impact on you. And then, there is the amazing shopping! From gorgeous malls to neighbourhood markets, from big brands to hidden gems, there is a little something for everyone!
What are your tips and advice for female travellers to Delhi that can make their stay, either for work or for leisure, safer, easier, better and more enjoyable? Anything about the city that may be different and unique that she should be aware/careful of?
I would avoid travelling alone late at night if I possible. I recommend sticking to a reliable transportation service such as Uber or Ola Cabs when getting around the city after dark.
Always be aware of your surroundings and walk the streets with an air of confidence. That alone is often enough to keep any unwanted stares at bay.
Have a local contact's number saved on your phone as an Emergency contact.
What are your recommended top three (or more) must-try experiences and activities for female travellers in Delhi?
A drive through Lutyens Delhi, especially around dusk, is just beautiful.
The Lotus Temple (Bahai Temple) near Nehru Place is an island of peace and tranquility in an otherwise loud, bustling city.
This is a no-brainer but I will say it anyway: A historical tour to learn more about this vibrant city's story over the centuries. Look up some options online.
A visit to Dilli Haat – you are bound to find excellent souvenirs from one (or more) of the many State stalls there! The pashmina stoles and colourful jewellery are some of my favorite items to pick up.
Other places to shop for cool souvenirs: Fab India (there is one in nearly every mall) and Good Earth (the latter is pretty expensive, but visiting the store alone is a treat! I recommend the one in Khan Market.)
What are your recommended top three (or more) must-try foods?
Dinner at Olive Bar & Kitchen in Mehrauli: there is something about sitting in the courtyard of an old haveli under a sprawling banyan tree, looking up at the stars. If you head up to their terrace, you get a bonus view of the Qutub Minar! It helps that they also serve excellent wine and the food is pretty incredible! Be prepared to spend close to Rs. 2000 per person for an entrée and a drink though (it's well worth it.).
Delhi street food is awesome, but if the idea of eating from a street-side vendor makes you squeamish (the hygiene can certainly be questionable), the Haldiram and Bikanervala chains are a clean, hygienic way to get your street-food fill. You will find one of these in the food courts of nearly every Delhi mall. My favorites are the Matar Kulcha and the Bhel Puri.
For the best food experience, you really must snag an invite for a home-cooked meal from a local, preferably cooked by their mother 🙂 Nothing beats that, trust me!
Farzi Café at Cyber Hub Gurgaon – Indian food reinvented. Can't recommend this place enough!
In Voices of Zafigo, we ask local women to give us their top recommendations on a particular subject or area of interest in their city. If you'd like to be featured in this section, drop an email to editor@zafigo.com with the subject line 'I want to be a Voice of Zafigo for my city'.

To find out more about Delhi, read Zafigo's City Guide here
Read more Voices of Delhi
Get all the latest travel updates from Zafigo. Follow us:
[button url="https://www.facebook.com/zafigo" size="small" value="Facebook" color="#94288e"]  [button url="https://twitter.com/ZafigoAsia" size="small" value=" Twitter " color="#89c44c"]  [button url="https://instagram.com/zafigoasia" size="small" value="Instagram" color="#14afa9″]