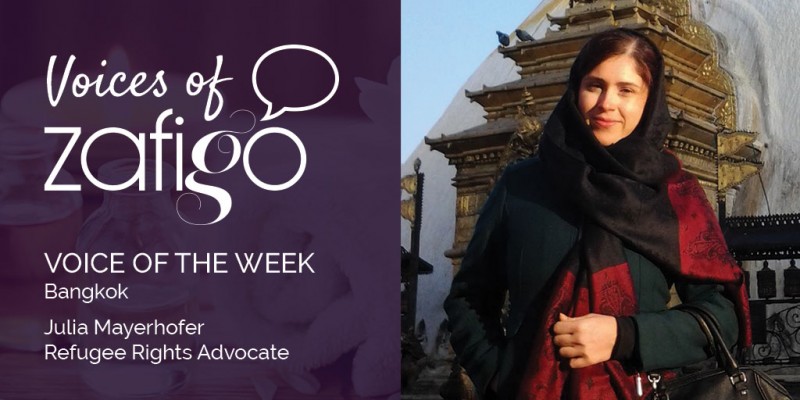 ---
Julia shares her own personal stories and tips about Bangkok and her favourite things to do in the city
---
Julia Mayerhofer
Refugee Rights Advocate
My name is Julia, and I just turned 30. I came to Bangkok in May 2011 and have been working as a Programme Manager for the Asia Pacific Refugee Rights Network (APRRN) since then. APRRN is a NGO focusing on influencing refugee policy across the Asia Pacific region, so luckily I get to travel a lot. Most importantly I really love my work, and I am really passionate about it.
I am originally from Austria (no not Australia 🙂 ). I grew up in Austria but started travelling to Asia when I turned 19. Mostly this is because of my father – he loves Asia so much and really infected me with the "Asia bug". During my undergraduate student days, I kept coming back at least twice per year and also did a lot of volunteer work on the Thai-Burma border with refugees. I moved to Hong Kong to pursue my master's in 2008 and then moved to Thailand for my current job in 2011.
I have a love-hate relationship with Bangkok. I grew up in a village with 8,000 people – so sometimes the traffic, pollution and crowdedness really drive me crazy. But what I love about Bangkok is it's people – what makes a city special is really the people that live in it. I don't mean only my friends but Thai people I just bump into on a daily basis – despite the craziness in Bangkok, Thai people are incredible friendly and helpful.
My favourite thing to do in Bangkok is anything related to fitness. In my first year in Bangkok, I started going to the gym more regularly. I have a real passion for weightlifting and because I did not have so many friends when I first got here, I spent more time in the gym. I gradually got into bodybuilding and in 2013, I competed in Thai bodybuilding show and placed 2nd. This was a really amazing experience for me and despite being the only white girl at the competition everybody was very welcoming.
I have stopped competing since then, but I still go to the gym at least 5 times per week. I also started playing basketball and really just love sports. It's a great way to stay fit but also to make friends in a new city. The fitness industry has also really evolved in Bangkok – there are so many new gyms, yoga studios, personal trainers, boot camps etc. There is also a growing awareness of how to eat healthy, and this is something I am very passionate about it.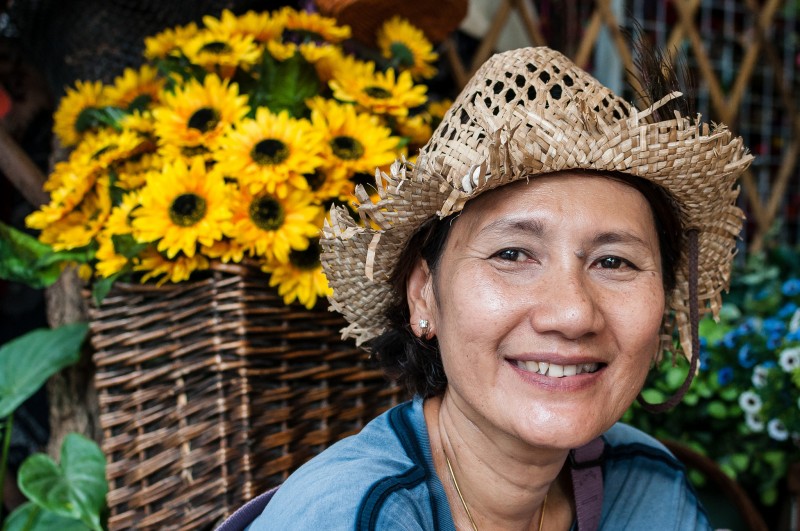 What are your tips and advice for a female traveller to Bangkok that can make their stay, either for work or for leisure, safer, easier, better and more enjoyable? Anything about the city that may be different and unique that she should be aware/careful of?
Of all the places I have been, I really feel Bangkok is a very safe city – in over four years I have not had a single problem here. People also watch out for each other – I forgot my ATM card at the machine a few months back and a Thai guy picked it up and ran after to me to return it. Apartments are usually also very safe, with security guards and access key cards. Even at night I always feel safe because the city never sleeps and there are always people on the street.
I've heard of other women sometimes having issues with taxi drivers; I think apps such as Grab Taxi are a great way to stay safe at night. And of course you want to take precautions like you would do in any other big city.
Thai culture is something that many people might have difficulties to get used to. I find Thai people very laid back. It reminds me a little bit of life on the countryside in Austria. Also Thai people might sometimes not really tell you what they think but this is just because they do not want to lose face – it would be seen as disrespectful or embarrassing for you and for them if they told you negative information.
Learning a bit of Thai is really helpful; Thai people appreciate it when you can speak a few words and also it helps a lot when communicating with taxi driver, since many do not speak any English at all.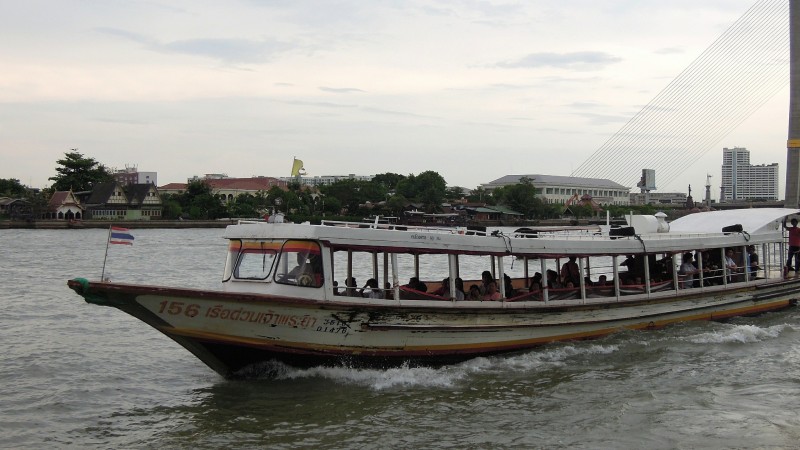 What are your recommended top 3 (or more) must-try experiences and activities for a female traveller in Bangkok?
Shopping! Bangkok is a like a shopping paradise. My favourite places are Central World and the entire area around Siam. Chatuchak Weekend Market is also great, especially when you are looking for cheaper things.
The riverside – I really like going to that area and taking a ferry boat from Saphan Taksin station up the river. There are also a lot of nice hotels in this area that have riverside terraces with very nice views at night.
Massages, hair salons, spa: I love getting a massage every once a while. My favourite place is called The Touch in Ploenchit. Bangkok is also great for women because hair dressers and all other beauty treatments are affordable.
What are your recommended top 3 (or more) must-try foods?
Mango, mango, mango. I just love mango so much I can't even describe it. Luckily mango comes in many dishes here: mango smoothies, mango ice cream, sticky rice with mango, mango salad etc.
Thai classics such as Pad Thai, Som Tam (papaya salad), all curries, grilled chicken and sticky rice. You can really never go wrong with that.
I have this big thing for Lebanese food – luckily we got a few restaurants in town such as Bamboo in Sukhumvit Soi 3, Nadimos and Beirut. They have shisha there too!
In Voices of Zafigo, we ask local women to give us their top recommendations on a particular subject or area of interest in their city. If you'd like to be featured in this section, drop an email to [email protected] with the subject line 'I want to be a Voice of Zafigo for my city'.

To find out more about Bangkok, read Zafigo's City Guide here
Read more Voices of Bangkok
Get all the latest travel updates from Zafigo. Follow us: