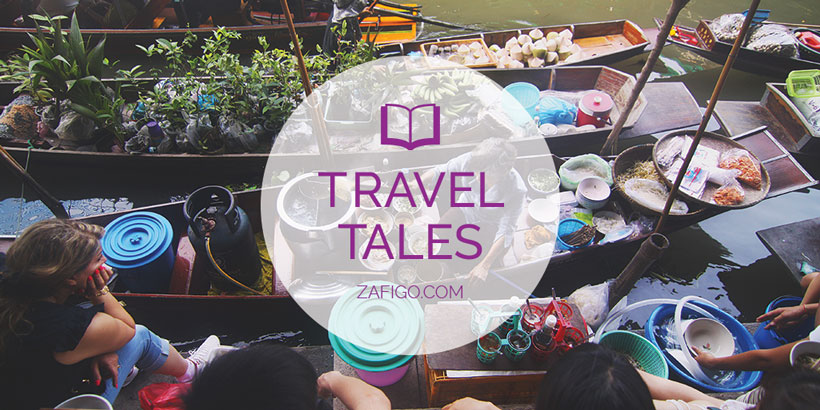 While living in The Philippines, I celebrated my 30th birthday on an adventure around Puerto Princesa, Palawan. For some background, I booked my excursions to the underground river and firefly trip via text messages with operators I found online. I was determined to plan my perfect birthday weekend to a tee.

It was all perfectly safe too, as the guides picked me up and dropped me off at my hotel. It worked out so well that I'm now even friends with one of the shuttle drivers around Puerto Princesa and El Nido. He gave me a ride around the Palawan Wildlife Rescue and Conservation Center (Crocodile Farm), Baker's Hill, and the Palawan Butterfly Ecological Garden and Tribal Village.

Puerto Princesa Subterranean River National Park
The underground river is a UNESCO World Heritage Site and one of the New Seven Wonders of Nature. For a long time, this was the longest underground river in the world until the discovery of a longer one in Mexico. However, the Puerto Princesa Underground River at the Puerto Princesa Subterranean River National Park is still the longest navigable underground river.
I wanted to be a tourist that weekend, so I planned and booked the trip to the underground river with excitement until I remembered that I don't actually like caves. And I'm slightly claustrophobic. I breathed through my discomfort as I slipped on my life jacket and safety hat, and climbed into the row boat that was to take me down the river under a mountain along with six or seven other people.
The river entrance is a beautiful, serene lake. We gently glided into the mouth of the cave and I was wonderfully surprised. I noticed immediately that the river's quite wide, much to my relief. Its caves have beautiful formations too, with stalactites and stalagmites that open up to large caverns in places.
In typical Pinoy fashion, the tour guides are funny and accommodating, making everyone (even a slightly claustrophobic woman) feel at ease, pointing out formations that look like horses, mushrooms, the holy family, and even a naked woman.
Need to know:
The river is 8.2 kilometres long with about 4.3 kilometres easily accessible by the public. Special permits are required to travel down the rest of the river.

To get to the entrance, you need to take a boat from Sabang.

The lower part of the river has brackish water – a mixture of seawater and fresh water.

The underground river is underneath a mountain but above sea level.

Travel time from Puerto Princesa to Sabang takes about 90 minutes.
Firefly Watching
I booked a firefly tour on the evening of my birthday. The tour company picked me up at my hotel and took me to a harbour. There, I waited with a number of other people to board a large boat. As the sun set, we travelled part of the way, where we met up with a number of smaller paddle boats. We all climbed into the smaller boats and set off into the dark with our tour guide chatting away.
On the way, we saw bioluminescence glowing in the water, sparkling in the wake of the boat. Then, as we entered the mangroves, our guide encouraged us to call out greetings to the fireflies. It was all so enchanting.
You see, fireflies glow when oxygen combines with certain chemicals in their bodies – the faster they breathe, the more oxygen they consume, the more they glow. Areas in the grass and whole trees lit up all around us as we silently floated along on sparkling water. After we left the mangrove, we were taken to a large boat where we had a delicious buffet of local food, ending a magical night.   
Need to know:
The tour travels about 10 kilometres through the mangroves and takes about 30-45 minutes.

The length and route of the tour depends on the tides.

The fireflies live in the mangroves found along the banks of the Sicsican and Iwahig rivers.
Butterfly Ecological Garden and Tribal Village
You'll find the Butterfly Ecological Garden tucked away in a side street and behind a tiny building. The garden itself is filled with plants that provide a natural habitat and breeding ground for butterflies. There's also a variety of other critters, like stick insects, scorpions, lizards, and unique beetles to look at.
In the back, through a door in the wall, you'll find the tribal village. Here, you'll get a real idea of how the indigenous people (called Pal'awan) live. Individuals from the Pal'awan tribe take turns to visit this village from their home in rural Palawan. They exhibit their craft, skills, and way of life to educate tourists. They even let me hold their 2.5-metre long pet python named Samson!
Need to know:
The indigenous tribe speak their own dialect and a translator serves as an interpreter for visitors.

The natives hold a pure Pal'awan bloodline.

Pal'awan use and sell Bagtik to the townspeople. Bagtik is a plant sap sourced locally.

This educational centre is a few metres from the South National Highway of Baranggay Sta. Monica, Purto Princesa City.

The butterfly garden also homes wildlife rescued from poachers.
Palawan Wildlife Rescue and Conservation Center (Crocodile Farm)
Crocodile Farm's tour starts off in the reception area where the skeleton and skin of a giant crocodile stands alongside the skull of a sperm whale found on Tubataha reef. From there, we went to the hatchling house where baby crocodiles are kept. Surprisingly, baby crocs are cute.
Next, we went to the den where they keep the adult crocodiles. The last stop is the Cage of the Living Crocs, where the large crocodiles are kept. You have to walk over a steel bridge suspended over these cages to get to the end of the tour.
After the crocodile tour we explored the rest of the reserve. The natural surroundings are beautiful and there are many animals to look at, including bear cats, wild boars, bearded pigs, and a variety of birds. I even had the opportunity to have my picture taken holding a baby crocodile.
Need to know:
The reserve is located at the South National Highway in Baranggay Irawan, Puerto Princesa City.

The crocodile farm is a conservation research centre with a focus on Palawan's endangered species.

The giant crocodile in the reception was caught in the municipality of Bataraza in the South. It's said to have eaten a young girl which led to it being caught and killed.

The hatchling house holds both fresh and saltwater crocodiles

The Palawan bear cat is locally known as Binturong and can grow to up to 1.4 metres!

The park houses a Philippine Eagle – the Philippines' national bird.
Baker's Hill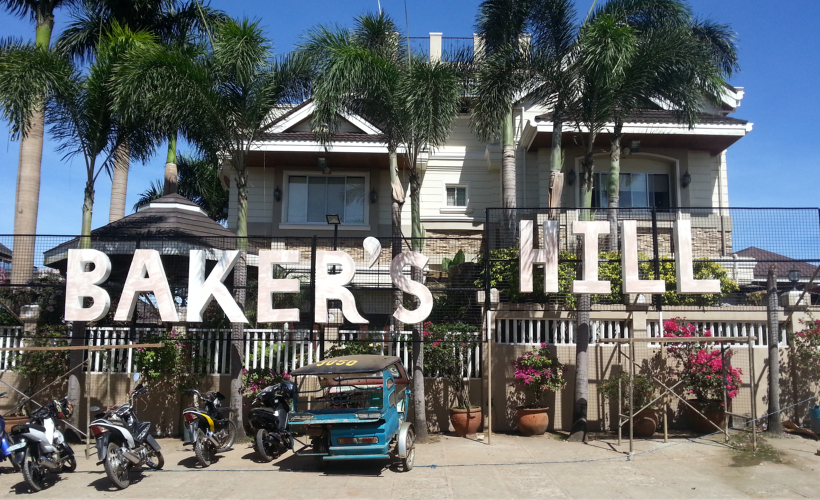 Baker's Hill is a fantasy land filled with beautiful gardens and beautifully decorated streets along with little nooks and crannies to explore. Of course, it absolutely lives up to its name with the selling of delicious baked goods. Keep your eyes peeled for beautiful fresh flower arrangements peppered throughout the park.
Need to know:
Baker's Hill started out as a bakery and has since grown into a small tourist attraction with a few restaurants, snack bars, shops, and a viewing deck.

A new attraction to Baker's Hill is The House of Shrek – a fully-furnished tree house with statues of the characters from the beloved animated film.

A must try is the Baker's Hill

hopia/jopia

(a bean-filled pastry).

Baker's Hill is on Mitra Road in Baranggay Sta. Monica, Puerto Princesa City.
Zipping over the skyline
I wanted to do some ziplining and my friend took me to a place he knew. So, with courage strapped securely to myself with a harness and hard hat, I set off, up to the first platform. After a very short safety briefing, I followed my guide, flying over the beautiful terrain of Palawan.
It was scary, exhilarating, and exciting all at once; flying over the world below, zooming past with barely enough time to take in the spectacular view. Although I didn't do the zipline over the ocean, this experience is definitely something I'll never forget! Two places you can get spectacular views while ziplining in Palawan are: Sabang X Zipline and El Nido's Las Cabanas Beach Zipline.
Puerto Princesa gave me four days of adventure, and the chance to soak up some city life before I returned to my remote little beach home north of the island. To cap off my birthday weekend, I treated myself to a relaxing massage – in the comfort of my hotel room – with a bottle of vino for company. Naturally, the massage was great, while the bottle of good South African red acted as a natural muscle relaxant. Wherever you are, whatever you're celebrating, you've always got to end things on a sweet note.
*All photos courtesy of author unless otherwise stated

---
 Read our last Travel Tale:
6 Things I Learned After 4 Years Of Solo Travel
---
Here's your chance to get published on Zafigo! We want your most interesting Travel Tales, from memorable adventures to heartwarming encounters, scrumptious local food to surreal experiences, and everything in between.
They can be in any form and length –short stories, top tips, diary entries, even poems and videos. Zafigo is read by women travellers the world over, so your stories will be shared to all corners of the globe.
Email your stories to editor@zafigo.com with the subject line 'Travel Tales'. Include your profile photo and contact details. Published stories will receive a token sum.
Get all the latest travel stories from Zafigo. Follow us on Facebook, Twitter, and Instagram.