I'd heard about Petrina Thong long before I'd met her. Stories of the girl who hitchhiked from Sweden to Malaysia were all over the internet, on sites like the Dailymail and the New Straits Times. Not only did she do it with very little money which ran out in no time, she did it alone. I was in awe of her daring and perseverance.
I finally got the chance to meet Petrina in person at ZafigoX 2018, which she attended as a guest, having spoken at the same event in Penang a year prior. She told me she had an upcoming trip to Latin America in 2019, and that she'd love to write about it for Zafigo. Petrina proposed a series of solo travel tales but told in a very intimate format – letters. I immediately jumped at the opportunity to publish these letters, as it's something Zafigo's never done before.
We decided that we'd call her series Letters From Latin America, and that she'd write from every stop she makes throughout her trip. Before she set out on her trip, I bombarded Petrina with questions, which she very kindly took the time to answer.
Eliza: Why Latin America?
Petrina: It kind of came about on a whim. It's a continent that I haven't been to yet, but didn't feel ready for either. One day, I woke up and thought, "Hey, I think South America is calling and I feel ready now. Time to start saving up." So there's no exact goal; I just want to see what it's all about.
E: What countries are you visiting? How long is this trip is going to take?
P: I don't have an itinerary at all; just winging everything step by step. I'll plan for the next destination when I'm at whichever current destination. The countries I'm hoping to make it to are Argentina (where I'm starting), Uruguay, Chile, Peru, Bolivia, Columbia, Panama, Costa Rica, Nicaragua, Honduras, Guatemala, and Mexico.
I don't know how long this trip will take. I want to say a year, but it could be less or more. I don't want to feel pressured in sticking to any sort of plan. It really depends on my heart. Once I feel travelled out and tired, accepting that I've soaked up enough and can't think of anything better than to be at home with my loved ones, I'll come home.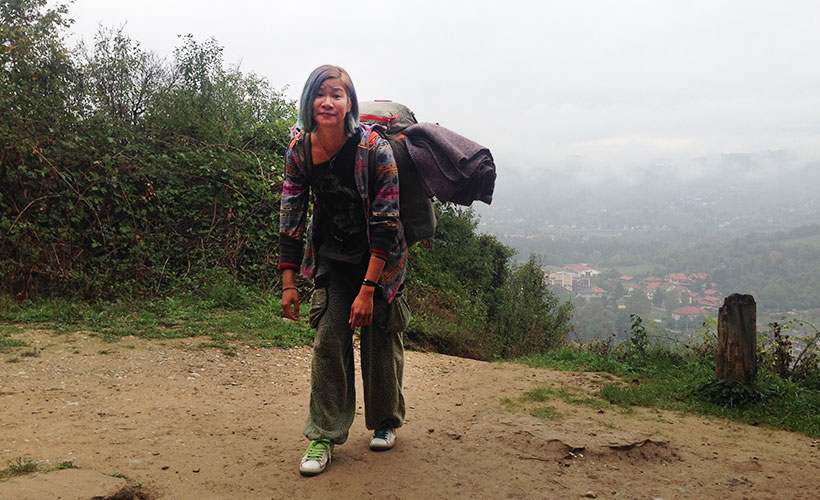 E: What inspired this trip?
P: I rarely have a specific reason why I want to do a thing. It's usually just because I feel like it, cause I haven't done it. I guess my inspiration usually comes from other travellers, whether consciously or not. When I hear them talk about a place, the seed is planted. Eventually it grows, and the only way for this seed to blossom or be fruitful is to make my way over to that place I heard about.
Movies like The Motorcycle Diaries and Y Tu Mamá También during my college days possibly also played a role. Another thing also… for the second half of 2018, I had a stable job for six months, which got me feeling as though life was too safe and that it was time to get uncomfortable again. I don't know why I do that to myself.
E: Tell me a little bit about your past travels. What inspired you to explore the world practically full time?
P: Travelling started off from curiosity and FOMO, then soon became an addiction. Not just because of the external experiences, but more because of how I get to evolve and grow mentally, emotionally, and spiritually. Even now, I need to remind myself, that while it's often not easy, it'll always be worth it.
I was extremely envious of all my friends who had the opportunity to study overseas. I knew we couldn't afford it, and the way I (hardly) studied didn't deserve such expenditure anyway. With that envy, I told myself I'd start travelling once I started working and could save up enough.
My very first solo trip was in 2012. I quit my first – and only – full-time job and flew to Europe. It was only for a month plus, but it was then that I discovered my love for solo travels. Then I went to the US through Au Pair in America, a work/travel programme, and worked as a live-in nanny for a family with three children in California for 13 months. Throughout that year, I discovered my love for cooking, Couchsurfing, and how I'll be okay being away from home for an extended period. I also realised how short trips are simply not as satisfying.
In 2015, my curiosity reached an all-time high of how far I can push my limits when it comes to saving money while being on the road. This birthed my 13-month hitchhiking journey from Stockholm to Kuala Lumpur. That ended in July 2016. Now, it's 2019, and it's been the longest break from extended trips. I've had smaller trips in between, of course, but all safe and cushy. Naturally, I got restless.
E: How do you sustain your travels?
P: I try and save up as much as I can before I fly, then I simply live cheap while travelling. Work and save up. Travel and spend money. Return to Kuala Lumpur (KL). It's a cycle, but really not a sustainable lifestyle. When I'm back home in KL, I rarely shop, I don't drink, I hardly go out, and I cook and pack my own meals to work. That's how I cut down on expenditure. I'm pretty much a hermit by choice. Long gone are my days of socialising.
E: What are you looking to gain from this trip to Latin America?
P: Right now, I don't know what that is. I'm hoping to discover (soon-ish) what this trip is about. When I purchased my flights, I felt like it was somewhere I should be. I don't know why, but I believe the universe will reveal her reasons when the time is right. If not, then, hopefully I'll at least be able to speak some Spanish by the time I return.
E: What are some of the things you're looking forward to on your trip?
P: Before I arrived, I was excited about the culture; how people here are generally more extroverted and ready to party. Upon arrival, I realised that that excitement, was targeted at my younger self. Now, I'm more in search of some peace and quiet. All I know about this trip is that I want to be at the right place in Chile on 2nd July to catch the solar eclipse.
Besides that, I don't really have anything in mind. I didn't really do much research, but I'm always looking forward to eating. I'm definitely not looking forward to the cold. It makes hitchhiking so much harder and sleeping in the tent so much more sufferable.
E: What can readers expect from these letters you'll be sending Zafigo
P: I'll be sending very personal and honest updates about what's going on. What I'm thinking, how I'm feeling, who I meet, whether I like them or not, my tears and fears, and struggles and joys.
As I find out what hitchhiking is like from country to country, I'll let you know. I'll also throw in some travel tips if I come across any. Maybe also some Spanish phrases here and there — the necessary ones.
And if, or when, I make mistakes, may it be so that you won't have to. I'll be sure to share any pockets of wisdom and knowledge I collect along the way. I can't foresee what kind of stories you will get. One thing's for sure though; you can expect to read words that come straight from the heart.
Get all the latest travel stories from Zafigo. Follow us on Facebook, Twitter, and Instagram.