Penang is known to be a paradise for foodies, with myriad culinary options that are mostly affordable and always delectable. Even so among the locals, where out-of-towners drive for hours just to queue up for a piping hot plate of nasi kandar or char kuey teow. Being situated right at the heart of George Town, you can count the Royale Chulan Penang as a must when building your foodie trail. This four-star heritage hotel has four dining outlets with food offerings for any occasion that's sure to tantalise your taste buds.
Tea Room
Everyday from 2pm to 5pm, the Tea Room serves up a delightful English afternoon tea. Each order comes as a set for two, and includes a pot of fine tea from TWG of your choice, deluxe sandwiches, a selection of yummy cakes and tartlets and of course, warm scones with fresh cream, strawberry jam and fresh strawberries.
Sri Tanjung Café
This is the Royale Chulan Penang's coffee house and the hotel's busiest restaurant, where you can enjoy leisurely meals in a comfortable ambience. We recommend trying their signature oxtail assam pedas – a delicious spicy and sourish Nyonya dish normally served with a side of white rice.
Poolside Bar
No better way to enjoy the lovely tropical sun than with a dip in the hotel's pool. To make your swim even better, the Royale Chulan Penang's poolside menu makes soaking under the sun much more satisfying. Our favourite poolside snack? The chips!
The Spice
Set right by the pool, enjoy an ambient degustation dinner made up of fusion cuisine. Reservations can be made for Saturdays through Thursdays. In the day, pop by for a hearty executive lunch that features a three-course set menu, topped of with a complementary Royale Passion mocktail – the house signature.
Foodie Paradise
If you're looking to stretch those legs and move a little beyond. Here are some other dining options loved by locals that are just a short distance away from Royale Chulan Penang:
80m from Royale Chulan Penang (RCP)
A great place to sample a bit of everything! The highlight here's the nasi lemak but you can find other local favourites.
The Leaf Healthy House Café
550m from RCP
If you're a vegetarian or simply health-conscious, the food at the Leaf Healthy House Café is right up your alley.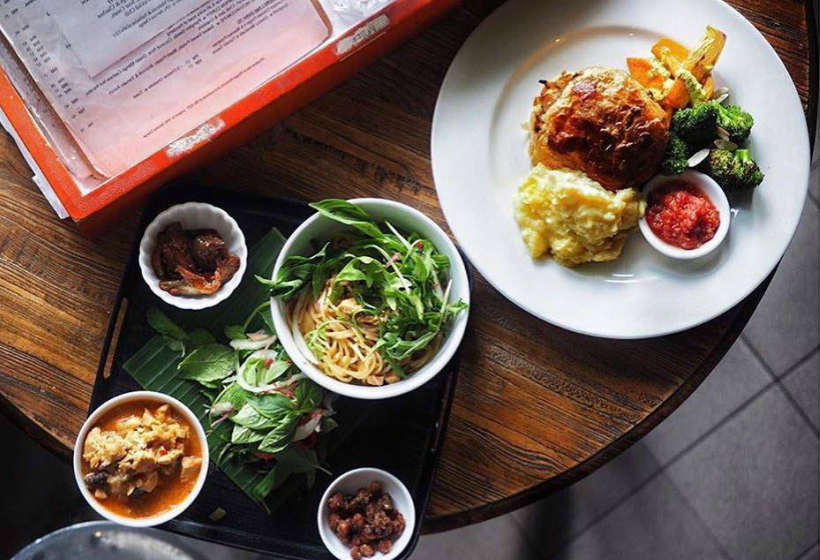 800m from RCP
Heaven for anyone with a sweet tooth, they feature a wide array of cakes and other delectable desserts at Penang's longest café.
Hameed Pata Mee Sotong
900m from RCP
One of the island's most famous food haunts, the mee goreng sotong (fried noodles with squid) is their signature dish.
Nasi Kandar Beratur Original
1km from RCP
Possibly the most famous nasi kandar (rice with a combination of curries, sauces and viands tossed over it) joints in Penang.