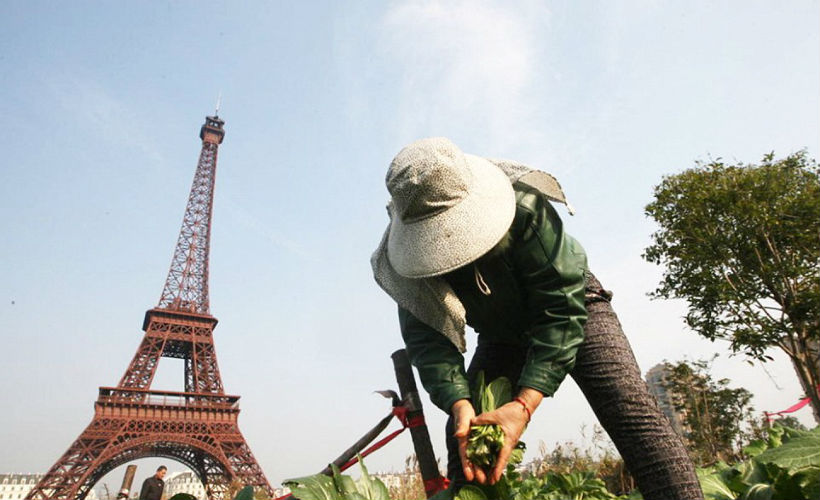 We've lovingly – or sometimes economically – consumed by China's cheap imitations since the dawn of the country's industrial boom, from Dolce & Banana, HiPhone, and Deats by Dr. Nani to more sleekly packaged brands like Xiaomi. But have you heard of China's fake cities?
Architectural mimicry is not something that's singular to China. Throughout history, many developing countries have appropriated iconic elements from other countries. Yet the sheer scale of China's replications is unprecedented :Entire citiesare being copied, serving as status symbols for local homebuyers and tourist attractions for visitors who flock to these sites in the thousands.
Is a trip to one of these cities as good as the real thing? No. Many of these cities aspired to luxurious heights, but have since become ghost towns or generic Chinese townships within European facades. Still, they're worth visiting for their novelty value if you're already on holiday in China. We also highly recommend them if you've got a wedding photoshoot planned and want to save a few pennies – we won't tell if you don't. Here are some of our favourites:
Yujiapu Financial District
Where: Binhai New Area, Tianjin
Replica of Manhattan's financial district
With a budget of $50 billion, Yujiapu was supposed to be the world's biggest financial centre – 164 million square feet of office space, even larger than the original district it is imitating. Ironically, unforeseen financial circumstances have caused a delay in construction though the city is expected to be complete by 2019.For now, visitors can take in the sights of China's very own Twin Towers, as well as the Rockerfeller Center, which comes complete with the Atlas statue in the courtyard (the Rockefeller Group is directly involved in its investment and construction). The development even has the familiar horseshoe of rivers wrapped around its bend.
Tianducheng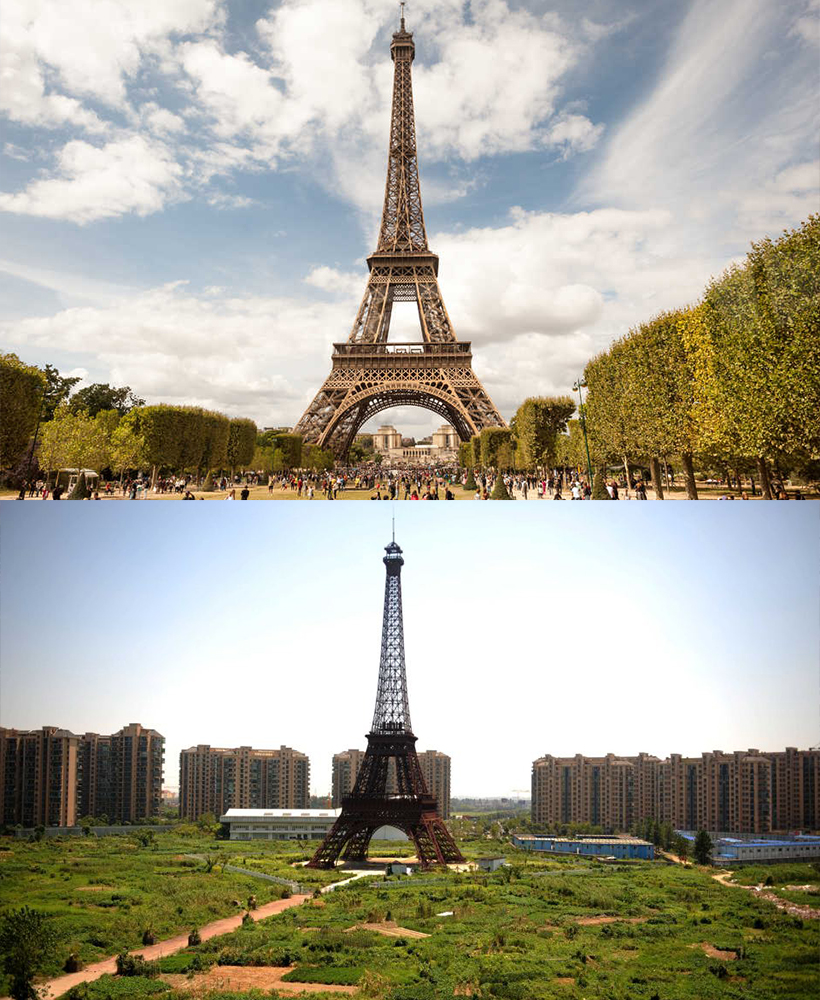 Where: Hangzhou, Zhejiang Province
Replica of Paris, France
No city of Paris is complete without an Eiffel Tower and Tianducheng houses a replica that, at 300 feet, is about one-third of the size of the original but looks realistic enough to fool most people. There is even a replica of the Fontaine de l'Observatoire from the Luxembourg Gardens, a stunning work of art by French sculptor Jean-Baptiste Carpeaux, which has four female figures – representing the four parts of the world – carrying a sphere above their heads.
While the city of Tianducheng was expected to house up to 10,000 residents, it remains mostly deserted due to its out of the way location amidst the farmlands. At least the lack of crowds will make it easier to for you to pose with your pointer finger on the tip of the tower, right?
Hallstatt 2
Where: Luoyang, Boluo County
Replica of Hallstatt, Austria
The picturesque little village of Hallstatt in Austria is a UNESCO World Heritage Site…and the blueprint for this fake township in Buluo County. Like the other replicas, Hallstatt 2 is very much a ghost town, deserted except for tourists and wedding photographers who come in throngs to pose amidst the lush greenery and mountainous backdrops. Here you'll find all the trappings of village life: A clock tower, village square, and exact duplicates of historic buildings and streets in the centuries-old village. The Viennese Waltz plays in the background at the square, where couples and families linger for photo opportunities.
While Austrians were initially taken aback by the project, they've since come round to see it as a loving dedication to the original Hallstatt and as an opportunity to promote tourism in their own home country. The mayor of Hallstatt, Alexander Scheutz, even participated in Hallstatt 2's opening ceremony, and agreed to a cultural exchange.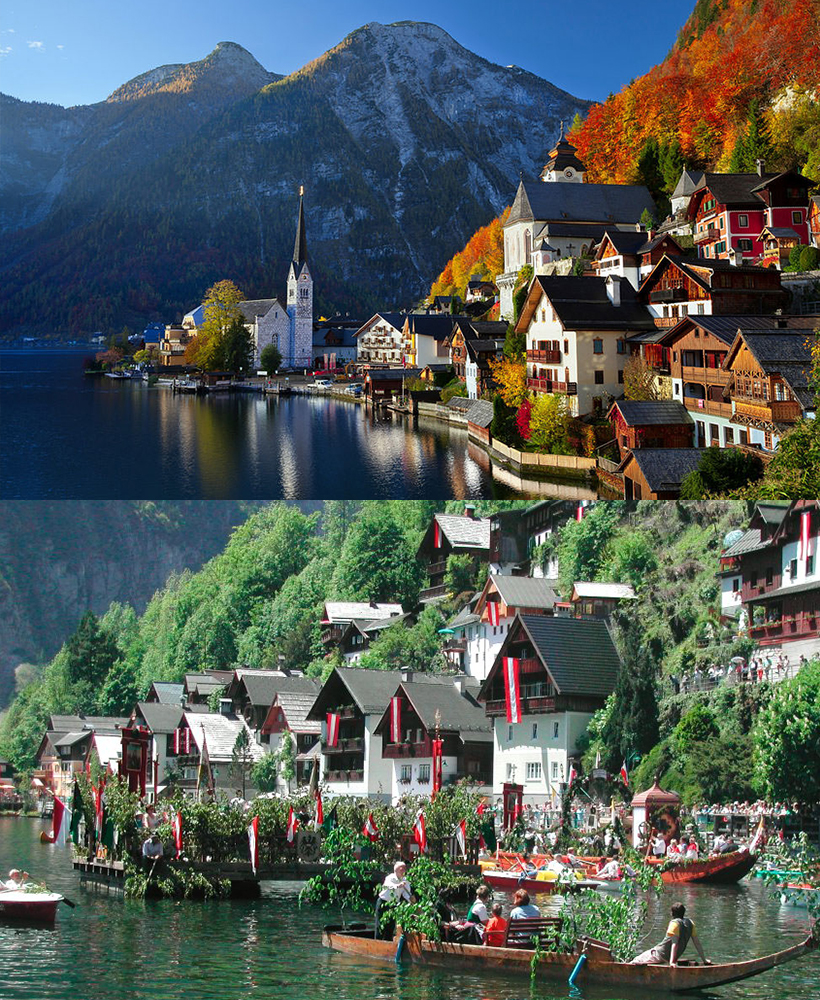 Thames Town
Where: Songjiang District, Shanghai
Replica of Various English towns
From cobbled streets to traditional pubs and the ubiquitous red telephone booths, Thames Town is convincingly British, except it's just 40km out of Shanghai. You'll find mock Tudor-style buildings, Edwardian town houses, Gothic churches, even a scale replica of Christ Church in Bristol, and canals to live up to its moniker. And what British town is complete without a fish and chips shop? We hate to sound like broken records, but Thames Town too has seen better days. For now, it remains popular for wedding shoots because nothing says fancy like the English.
Holland Village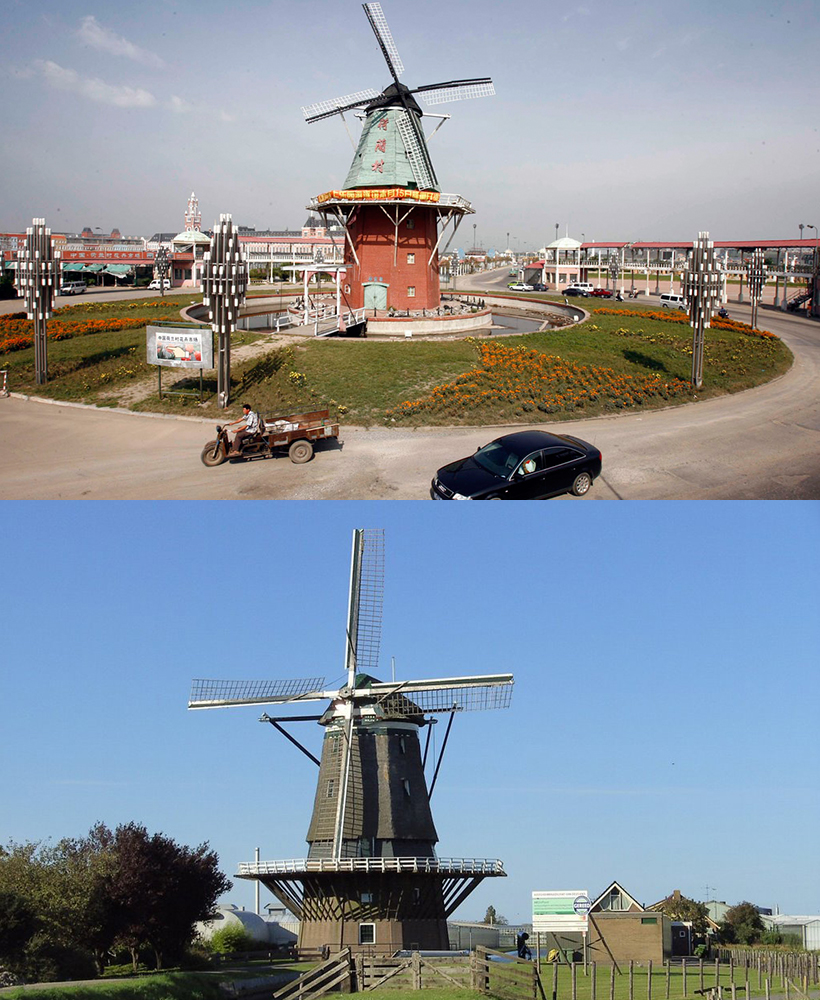 Where: Pudong New Area, Shanghai
Replica of Amsterdam
CNN has likened this to "an abandoned movie set", which bodes well for tourists but not so much for investors. Just over one square km, the Dutch village is a little smaller than its counterparts and seems like an afterthought, wedged as it is within the industrial area of Shanghai. Yet it's size proves to be an advantage, as the romantic little town is a lovely homage to its motherland.
You'll know you're in the right place when you see the windmills (of course), grassy plains, and canals. You'll find dedicated replicas of The Netherlands Maritime Museum, Amsterdam's Bijenkorf department store, and Voorburg's Hofwijck mansion.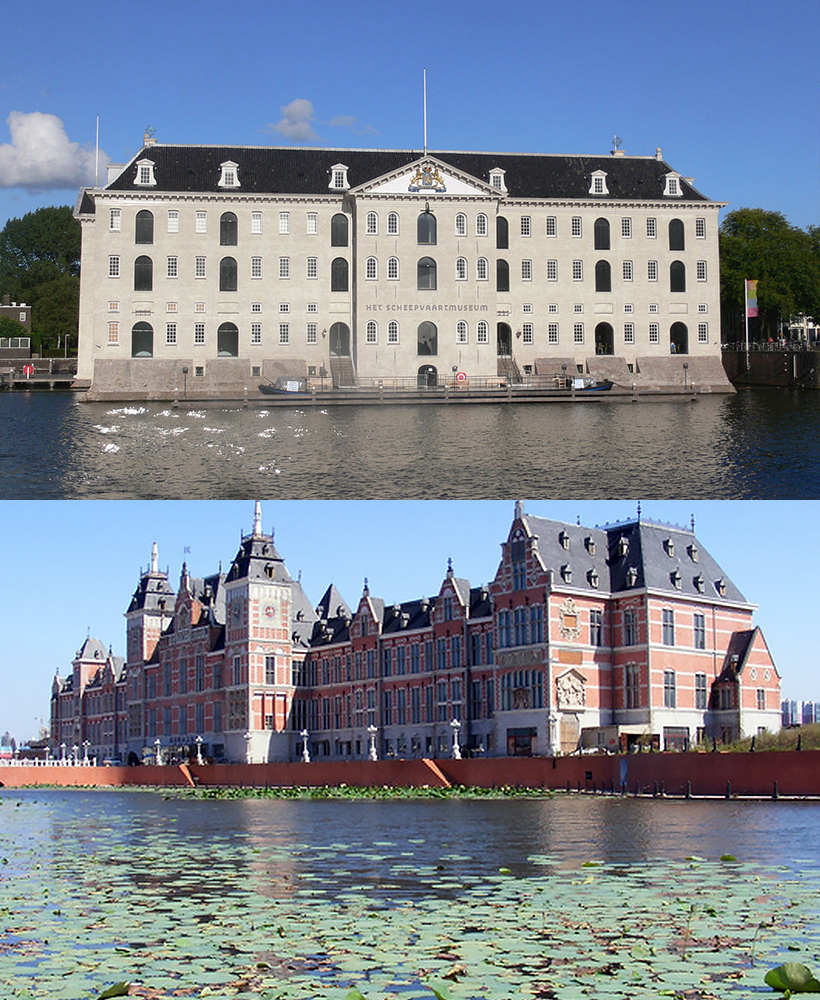 Jackson Hole
Where: Hebei Province
Replica of Jackson Hole, Wyoming
Beating all odds, this version of the American mountainous Old West town is wildly popular, with property value almost tripling since being built. The township is not a direct replica but rather, is "heavily inspired" by the original. Popular among wealthy Chinese city dwellers looking for holiday homes, the development which was designed by Portland-based designer Allison Smith is an American frontier-style town where you can experience log homes filled with bearskin rugs and elk antlers, a Cowboy Bar (inspired by the Million Dollar Cowboy Bar), and the closest thing to a duplicate – the Teton Village.
The American way of life has also been embraced here; as you walk about, you can catch a baseball game or watch boy scout troupes going about their day. For many, the main draw is the exciting aura of the Wild Wild West, for which you can head to the Cowboy Bar for a quick draw…of liquor.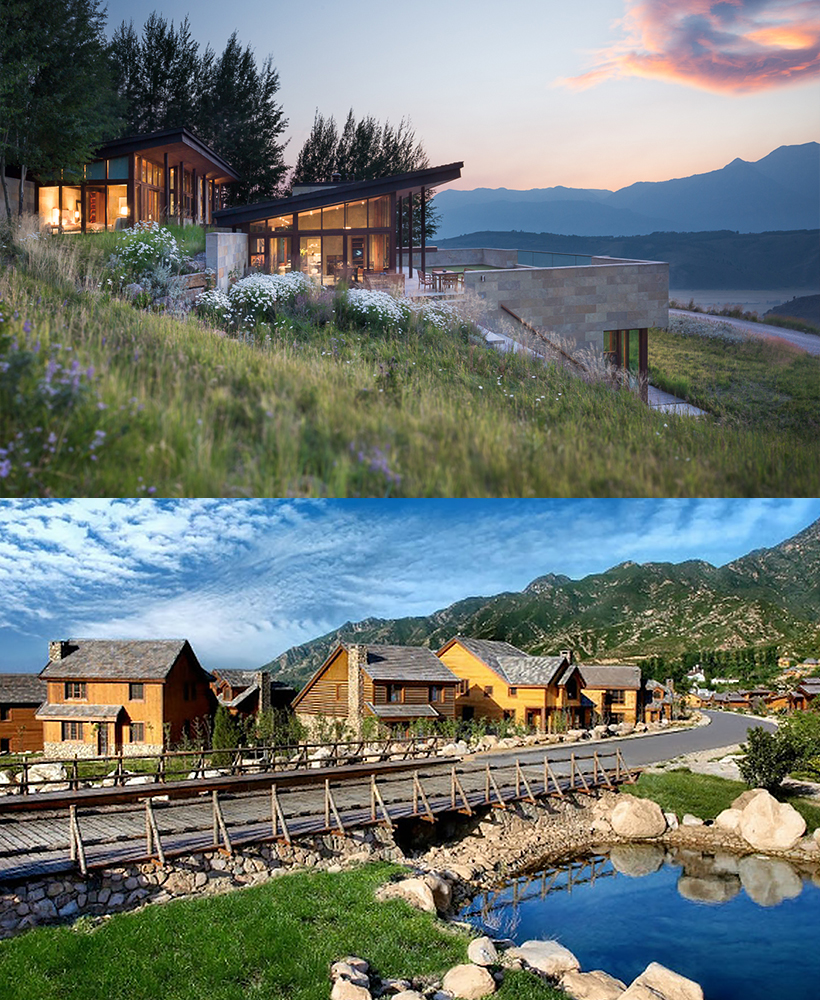 Meiquan 22nd Century
Where: Chongqing
Replica of Wangjing Soho complex in Beijing
It's not just Europe that the Chinese like to copy from – they steal from their own too. The Wangjing Soho complex in Beijing, a complex of three asymmetric skyscrapers, was designed by Zaha Hadid as a "welcome and farewell to Beijing". It was quickly copied in the southwestern city of Chongqing, by the Meiquan 22nd Century building, which threatened to precede the original as developers worked fast to complete it. While legal action (shockingly!) has been taken in this instance, the developer of the copycat building says that they "Never meant to copy, only want to surpass". Truth? Visit both to decide for yourself.