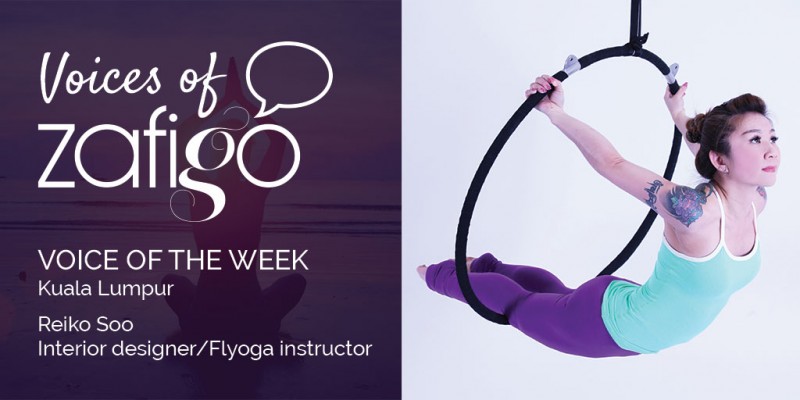 Reiko shares how she stays on top of her game as a fitness instructor
---
Reiko Soo
Interior designer/Flyoga® instructor
Reiko wears many hats. By day, she is an on-the-go interior designer whose schedule is packed with client meetings, site visits, deadlines, and coming up with original ideas and concepts. By night, she runs Dreams Dance Studio & Dreams Dance Sanctuary, which she founded, and teaches Flyoga®, pole fitness and aerial hoop.
A yoga instructor for 12 years, Reiko took her passion for the ancient form of exercise a step further by founding Flyoga®, a combination of yoga and aerial fitness designed to make easy traditional yoga poses more challenging. At the same time, it actually makes challenging traditional yoga poses easier!
She shares how she stays on top of her game as a fitness instructor.
Flying without wings
"Five years ago, I created Flyoga® to live my passion – combining what I am good at (yoga and aerial fitness) and sharing it with the world. Besides being fun and exciting, Flyoga® is a total body workout that has low impact on the joints, promotes blood circulation, decompresses the spinal cord, and is mentally rejuvenating. It is also endorsed by the president of the Malaysian Association of Yoga Instructor, Master Manisekaran, as being safe and in accordance with the yoga concept.
Of course, being the founder has its own challenges. I have to research and create new poses to make sure that Flyoga® continuously evolves. On top of that, I also teach it, run teacher's training courses and workshops locally and abroad. It's a hectic schedule but totally worth it!"
Where to go |

Dreams Dance Studio

37C-39C Jalan SS15/4 Subang Jaya, Selangor | 

Tel

+6017 331 1688/+6012 424 8551 |  

Opens

6pm-10pm, Monday- Thursday; 9am-11am, Saturday 
Shake that body
"Dancing always makes me feel feminine and it relieves stress, which is why I like teaching and doing pole fitness. Because it combines dance and acrobatics around a vertical steel pole, it is a great way to build upper body strength, tone, develop coordination and build up your self-confidence. You don't have to be fit to pole but you pole to get fit!"
Where to go | 

Dreams Dance Studio

and

Viva Vertical Malaysia

Lot G02, Ground Floor, Heritage House, 33 Jalan Yap Ah Shak, Kuala Lumpur |

Tel

+6016 209 6997 |

Opens

5pm-10pm daily 
Get a taste of Cirque de Soleil
"I practice aerial hoop dance as a maintenance routine for upper body strength and agility. It helps my body coordination tremendously as having to move from pose to pose in mid-air and on a spinning hoop requires great focus and composition. Being suspended from the ceiling on a steel hoop is amazing for upper body strength, strengthening the core, improving agility, body awareness and toning and defining muscles."
Where to go | Dreams Dance Studio and Viva Vertical Malaysia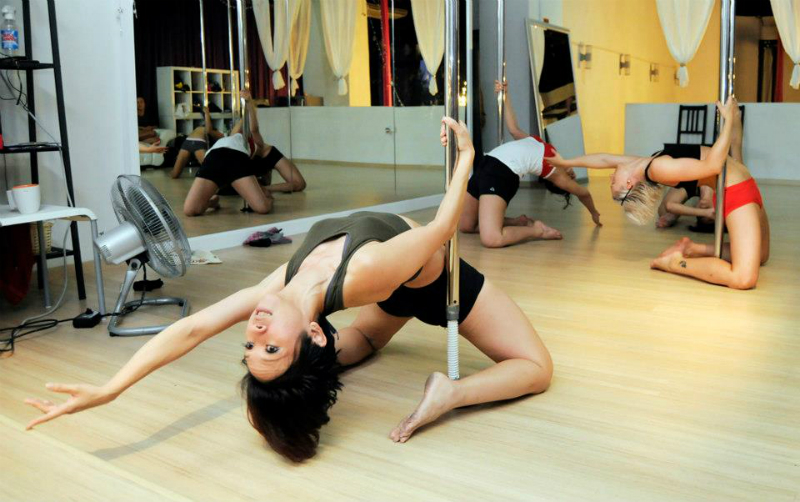 Staying grounded
"As you can tell, I 'defy' gravity quite a bit! To stay grounded I train with Nana Al Haleq at Physiques For You. She works with me to develop muscles and strength, especially targeting the lower body which doesn't get as much a workout as my upper body does, and strengthening my weaker muscles around the knees."
Where to go | Physique For You Unit 28 & 30 – 2, Plaza Damansara, Jalan Medan Setia 2, Bukit Damansara, Kuala Lumpur | Tel +6019 990 9914 | Opens 9am-noon and 5pm-11pm daily 
In Voices of Zafigo, we ask local women to give us their top recommendations on a particular subject or area of interest in their city. If you'd like to be featured in this section, drop an email to [email protected] with the subject line 'I want to be a Voice of Zafigo for my city'.

To find out more about Kuala Lumpur, read Zafigo's City Guide here
Read more Voices of Kuala Lumpur
Get all the latest travel updates from Zafigo. Follow us:
[button url="https://www.facebook.com/zafigo" size="small" value="Facebook" color="#94288e"]  [button url="https://twitter.com/ZafigoAsia" size="small" value=" Twitter " color="#89c44c"]  [button url="https://instagram.com/zafigoasia" size="small" value="Instagram" color="#14afa9″]