Mmmm… ayam goreng (fried chicken) and sambal (chilli paste) is so hard to resist! Restaurants selling ayam gepuk, ayam geprek and ayam penyet are mushrooming all across town, but are they all the same thing? Well, you'll be glad to hear that each type of fried chicken is made different, with nuances in the marinade, the way it's fried, and in the sambal's recipe.
First and foremost, it's important to note that these dishes originate from Indonesia and are now popular here in Malaysia too. The fried chickens are all served the same way — with rice, super spicy sambal, and accompaniments like cabbage, cucumber, tempe, and deep-fried tofu. So, what's the difference?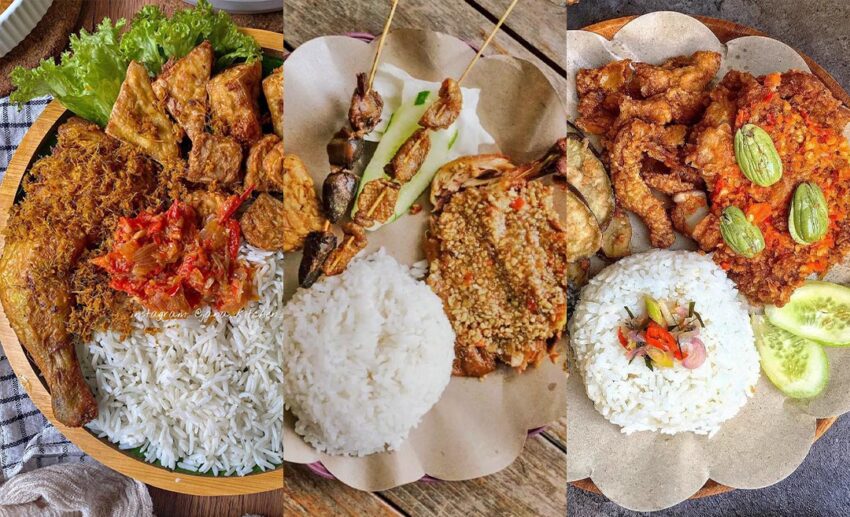 For starters, ayam penyet is pretty much considered the OG, and the other types are simplified or modified versions. Typically, ayam penyet has a more complex marinade recipe, after which it's deep fried till crisp and flattened with a chopping knife. Penyet is translated as 'to flatten'.
Ayam gepuk is similar to ayam penyet, but after marinating, it's boiled first before deep fried. This makes the fried chicken soft inside and crispy outside. It's then crushed using a knife, so the meat slides off the bones when you eat it! What's extra special about ayam gepuk is the sambal. It's crushed together with peanuts, which adds a fragrant, nutty flavour to the heat!
For KFC fans, ayam geprek might be your favourite choice. It's dipped in batter and then deep-fried, giving it an extra layer of crunch. Sambal is usually served on top of the fried chicken, instead of on the side.
Now that we know the differences, it's time to find out where we can dig in to these yummy dishes! Really, the ultimate question here is: CAN YOU HANDLE THE HEAT?
1. Ayam Gepuk Pak Gembus
If you're a foodie who loves ayam gepuk, this one should be no stranger to you! They have outlets all over West Malaysia, so there's no excuse not to try it. I particularly love their sambal, in which the nutty fragrance of the peanuts really shines through and complements the chilli! In my opinion, no other sambal has yet to top Ayam Gepuk Pak Gembus'.
Check out their outlet locations here.
2. I Am Geprek Bensu
Having ayam geprek at I Am Geprek Bensu is a whole different experience. The restaurants are self-service, so you'll know it's quick, easy, and delicious. Their Nasi Goreng Daun Limau is a must-try, especially if you prefer fragrant rice, as it gives that extra oomph to your meal. There's also ayam geprek topped with cheese (instead of sambal) for those who can't take spice!
Outlet locations:
Klang Valley: Seksyen 7, Shah Alam; Bangsar (Cloud Kitchen)
Ipoh, Perak: Taman Fair Park, Ipoh
Penang: Jalan Perak, Georgetown; Perda, Bukit Mertajam
3. Wong Solo
Wong Solo is known for their Indonesian dishes, and of course, their signature Ayam Penyet Wong Solo. You'll usually find their restaurants full-house during mealtimes, as it's a great place to dine with family or in a group. Besides ayam penyet, take your pick from a selection of a la carte dishes, or go for their tilapia penyet if you prefer fish!
Outlet locations:
Klang Valley: Kampung Baru; Cheras; Ampang; Starparc Point; Shah Alam; Cyberjaya
Selangor: Bangi, Bandar Seri Putra
Negeri Sembilan: 9 Avenue Inlay
Melaka: Taman Melaka Raya
4. Ayam Penyet AP
The recipes at Ayam Penyet AP are inspired by Indonesian cuisine, specifically those of Surabaya origin. Reviews on the food are quite mixed depending on the location of the outlets, so do try at your own risk. Overall most people find their ayam penyet satisfying, but service may need improvement.
Check out their outlet locations here.
5. Ayam Gepuk Ori Selayang
Trust me when I say, the pictures do not do the food justice. Taste-wise, the ayam gepuk and sambal here are pretty decent! Though I've seen others saying the customer service needs improvement, I can only vouch for their delivery service. The only thing I WILL say is, go slow on the spice!
Outlet locations: Taman Selayang; Jalan Sentul Pasar (Maxim Citylights); Ukay Perdana; Eco Grandeur (Puncak Alam)
6. Tiga Budak Gemok
You might be wondering why Nasi Ayam Kicap is included in this list. Well, it's because of their well-loved sambal gesek! Whenever you'd like to savour something different from the usual fried chicken fare, try Tiga Budak Gemok. Their fried chicken dish is coated with a premium soy sauce paste and then served with rice, cucumber, and sambal gesek.
I've ordered this time and time again because the ayam kicap paired with rice and sambal is absolutely heavenly. Do take caution if you're not keen on spice, because with their sambal, 'don't play play'!
Check out their outlet locations here.