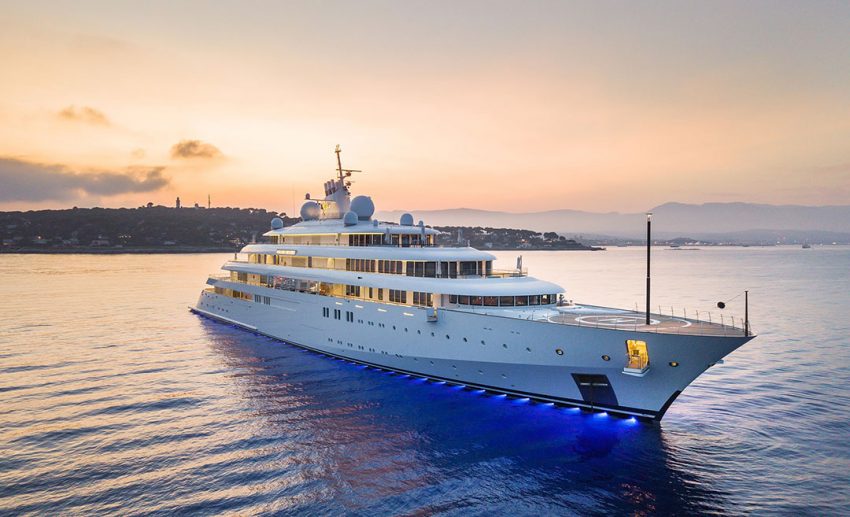 Subscribe to our new 

Telegram

 channel for the latest updates.
Ah, there's nothing quite like sailing the open seas as the sun kisses your skin and wind blows through your hair. While the majority of us only ever get to hop on a ferry, there's the lucky 1% who get to do it in private. And in sheer luxury.
Whether it's just to 'cuci mata' or inspire you to hustle a little (or a lot) harder, if you've ever wondered what millions of dollars looks like floating on water, here are some rather amazing luxury yachts. 
1. ARKUP Livable Yachts 
Yes, you read that right. A liveable yacht probably sounds bizarre to you. However, ARKUP's aim of turning ordinary living into extraordinary living is actually an approach to a more sustainable lifestyle. These liveable yachts are solar powered, self-sustaining, and first of their kind to exist. There are even modular build options for you to have the yacht house of your dreams.
2. Foiler, The Flying Yacht 
Ever-changing technology has revolutionised the world, making transportation on water possible. Water transports that once upon a time typically sail or cruise, can now fly too. The Foiler is a motor yacht, offering you the option to fly above water while remaining fuel efficient, capable of moving at high speeds, and being soundless all at once. Of course, you get to 'fly' in style too. The appeal of such high technology adds a little bit of edge and elegance to your voyage. 
3. Somnio  
Soon-to-be the world's largest superyacht at over 700 feet, this behemoth fits 39 deluxe apartments that are available for purchase via invitation only. Of course, the apartments aboard the Somnio boast bespoke features, allowing residents to tailor their dwellings to their tastes. 
Life aboard the yacht liner — as it's aptly described — features 6-star service by hand-picked crew and the finishing and facilities to match. Somnio will take its residents on a never-ending adventure, being sure to reach every corner of the world, even remote islands that you never knew existed.
4. Riana
The Riana kicks it old school with the grace and elegance of a traditional sailing yacht. Although, truth be told, the only traditional feature of this motor sailing yacht is its design. 
When it comes to this yacht's performance and facilities, expect nothing but top-notch opulence. Able to hold 10 guests at a time, those aboard can enjoy various water sports amenities, ensuite rooms with integral entertainment systems, and great hospitality.
5. Neninka 
This beauty, named Neninka, is the Amels 220 superyacht — a 221-foot vessel that can accommodate 14 guests in seven exclusive cabins. Sleek and understated, you can expect the same from its interior, as Scandinavian design with a hint of classical influences adorn the inner spaces. 
Neninka is equipped with lavish amenities that includes a beach club with a large swimming pool, a gymnasium complete with equipment, spa, and a spacious garage home to many water toys. It's a yachting experience that's hard to beat.
6. Azzam  
What can USD600 million buy you when it comes to yachts? Well, this! At approximately 180 metres in length, the Azzam is the world's longest yacht and among the world's fastest, able to zip through warm and shallow waters. 
Luxuriously decorated by French designer Cristophe Leoni, Azzam's interiors are replete with Empire style finishings inspired by the early 19th century. This timelessness extends to the outside too, as its outward appearance shows off an innovative modern appeal.
7. Yacht A  
This stunner was designed by the renowned Philippe Starck and built by Blohm + Voss. At nearly 400 feet, this ultra-modern yacht is owned by a Russian billionaire. Although, technically, you can have one for yourself too. The interior is filled with opulent furnish with Baccarat-crystal tables, bomb-proof glass, luxurious cabins complete with secret rooms behind mirrors, movable-wall suites that can convert into larger staterooms, chairs made up of premium hand-stitched leather, and all sorts of billionaire water toys like speedboats. 
It also features three swimming pools that act like treadmills. one of them even features a glass floor, letting light into the deck below. Last but not least, you'll also find a helipad aboard Yacht A — a necessity for multi-billionaires.
8. Kismet  
Now, this is one for those of you who like to have fun! Kismet is a sophisticated superyacht that has all the trappings of a party palace. The interior was inspired by a champagne and caviar theme with black and gold finishings. And come nightfall, the dark ocean is illuminated by Kismet's spotlights and grandeur.
Besides the default amenities such as the gymnasium, spa, tender garage, and two helipads, the most additions has to be the jacuzzi at the upper foredeck that overlooks the sea and a swimming pool on the sun deck. The scenery gets better at the private observation deck that can be blocked off to other guests and crew.
9. Bugatti Niniette 66 
One of the world's most expensive car companies — Bugatti — collaborates with one of the yachting industry's most admired brands — Palmer Johnson — to bring you the Bugatti Niniette 66. This limited edition USD4 million sports yacht is inspire by the iconic Bugatti Chiron, using carbon and other advanced materials. 
The slim shape contributes to its high acceleration with absolute stability whilst a futuristic décor with a touch of timeless elegance offers balance and comfort at its finest. Of course, as with every Bugatti creation, each Ninniette 66 is tailored meticulously to your individual desires — no two will be exactly alike.
10. Aqua  
Promising a new way of yachting is the world's first hydrogen-powered superyacht — Aqua. Expected to complete by 2024, and rumoured to have been bought by Bill Gates, this visionary vessel by Sinot is mind-blowing. The Aqua features a large swimming pool at sea level, hydrotherapy massages in the wellness and health centres, and panoramic windows. 
But nothing beats the owner's pavilion, where you'll find an observatory at the bow. Like a spaceship gliding through water, Aqua's facade is as modern as they come, and one of the key highlights of this yacht are floor-to-ceiling windows that give its guests the utmost peace and that 'top of the world' feeling. 
45408, 41387, 45022