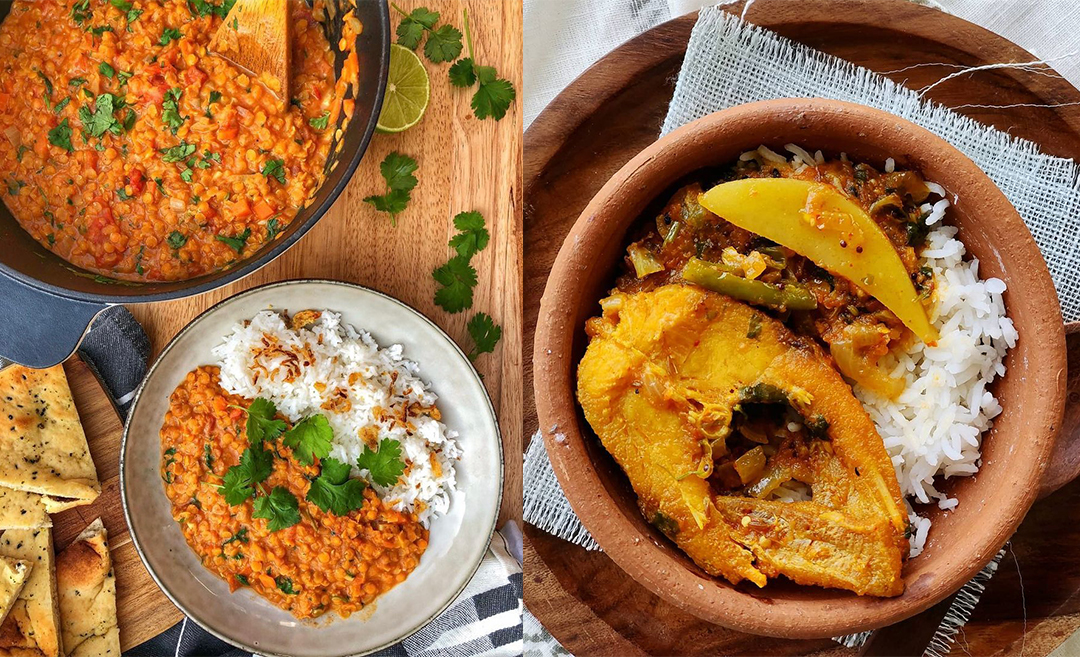 Subscribe to our new 

Telegram

 channel for the latest updates.


Whenever Indian cuisine is brought up in a casual conversation, it's often followed by recollections of eye-watering curries or traumatic flashbacks of gastric troubles. Around the world, Indian food appears to have become synonymous with the words 'hot', 'fiery', and 'spicy'.
But ask any Indian you know and they'll tell you that as much as we love our variety of spices and chilies, not all of our food is prepared to conjure up images of hellfire. Being a large subcontinent with a rich and diverse culinary history, the flavours of India vary widely from state to state. Across the country, there are a host of dishes and entire sub-cuisines that feature delicious meals with minimal heat and only the mildest of spices.
So, if you're keen to explore a little-known feature of Indian cuisine that promises not to test your hot food tolerance, here are six mild and delectable dishes from around the country that you must try:
1. Korma
View this post on Instagram
If you're not fond of spicy food but someday find yourself staring at a menu in an Indian restaurant, just look for the word korma and you should be good to go. It essentially refers to a type of mild, nutty curry that comes in a multitude of delicious forms. Korma typically features vegetables or meat in a smooth sauce made of yoghurt, cream, or coconut milk with blended cashews to give it a rich texture. While korma curries are seasoned with a variety of Indian spices, they're used to contribute flavour, not heat, making it just the right amount of mild-spicy.
Ingredients
1 kg chicken breast or thighs, cut into small cubes
1 1/2 cup yoghurt
3 tablespoons of ghee or vegetable oil
1 onion, minced
2 tablespoons of tomato paste
1//2 cup cashews or almonds, soaked in water until soft
1/2 tablespoon ginger paste
1/2 teaspoon turmeric powder
1/2 teaspoon red chilli powder
2 teaspoons of garam masala
1 pinch of cumin seeds
2 tablespoons cilantro, finely chopped
Salt to taste
Instructions
1. Mix in yoghurt with garlic paste, ginger paste, turmeric powder, and chilli powder. Add in the chicken and marinate for one to two hours. Blend the soaked cashews and almonds with some water in a food processor to form a paste.
2. In a deep pan, heat the ghee or oil. Add cumin seeds, followed by the minced onion. Fry until the onion turns golden brown, then add garam masala. Stir well.
3. Add tomato paste, the marinated chicken pieces, as well as the marinade. Stir well and fry for a few minutes. Then, add the cashew paste and season to taste. Allow the gravy to simmer for about 20 minutes or more to deepen the flavour.
4. Garnish with cilantro and serve with naan or rice.
2. Mizo bai
View this post on Instagram
An avenue of Indian cuisine that's criminally unexplored is the range of food cultures found in the country's North-Eastern states. The food of Mizoram, where a majority of the population is of proud tribal origin, is often overlooked even in discussions about India's lesser-known cuisines. While hot chillies often play a part in several Mizo dishes, many Mizo preparations focus less on spices and more on highlighting the natural taste and quality of the local produce. The most popular of these dishes, the bai is a mild, delicious, brothy dish made from boiling a variety of fresh vegetables and is a staple of Mizo households.
Ingredients
50 grams green beans
1 large eggplant
1 clove of garlic, finely chopped
1/2 cup fresh cilantro
4 cups of water
1 small green chilli, slit
A thumb of ginger, finely chopped
A pinch of cooking soda
Instructions
1. Cut the beans and eggplants into bite-sized pieces.
2. Heat the water in a pan, add a pinch of soda, and bring it to a boil. After the water froths, add the cut beans and eggplants. Add a pinch of salt to season it.
3. Add the garlic, ginger, and the slit green chilli.
4. Stir occasionally. When the beans and eggplants are cooked and soft in texture, add the coriander and bring it to a simmer.
5. Serve with rice. For a more traditional version, you can add either fermented pork fat or fermented soybean during the preparation.
3. Masor tenga anja
View this post on Instagram
Also located in North-East India is Assam, yet another state with a woefully overlooked cuisine. Despite being home to the bhut jolokia (ghost pepper), a variety of Assam's traditional dishes are mild-spiced delicacies that utilise simple ingredients to deliver complex flavours. The masor tenga anja – a sour tomato-based fish curry – is one such dish that, despite its tangy and rich flavour profile, is deceptively easy to make. 
Ingredients
200-250 grams fish of your choice
1 tbsp oil (mustard oil, if possible)
3 tomatoes, finely chopped
1 potato
3 cups water
1/2 tsp mustard seeds
1 tbsp lemon juice
1/2 cup cilantro, finely chopped
1 tsp turmeric powder
Salt to taste
Instructions
1. Mix in the salt and 1/2 tsp turmeric powder. Marinate the fish pieces in this mixture and set aside for 15 minutes.
2. Cook the potato until soft, then peel, and mash it.
3. In a large pan, heat the oil and add the mustard seeds. When the seeds turn dark, add the fish and fry for a few minutes.
4. Remove the fried fish from the pan and in the same oil, add the chopped tomatoes and 1/2 tsp turmeric powder. Mix for a minute and then add in the mashed potato. Stir the mixture for another minute.
5. Add the water, turn up the heat, and allow the curry to come to a boil. Add the marinated fish and cook the curry for another five minutes.
6. Remove from heat and add in the lemon juice and cilantro. Serve with piping hot rice.
4. Aviyal
View this post on Instagram
Like North-East Indian cuisine, the cuisine of South India also doesn't often get its day in the sun, but it's a delightful medley of ingredients like coconut, mango, tamarind, banana, gourd, yam, red rice, green gram, and much more. It also features a wide variety of dishes like Aviyal that are mild in heat but packed with an incredible amount of flavour. Aviyal, in particular, is a traditional creamy vegetable melange that's widely loved in the state of Kerala and holds special value during festivals and auspicious ceremonies.
Ingredients
Your choice of vegetables, diced: potato, pumpkin, carrot, squash, green bean, cucumber, raw plantain
3 cups water
2 teaspoons of coconut oil
1 pinch of cumin seeds
1/2 cup yoghurt
1/2 teaspoon turmeric
1/2 teaspoon
1/2 cup grated coconut (optional)
A handful of curry leaves
Salt to taste
Instructions
1. Grind together the cumin, coconut, chilli, and yoghurt into a smooth paste.
2. Add the water to a large pan and mix in curry leaves and turmeric powder. Cover and cook the vegetables in the pan till they turn soft.
3. Add the yoghurt paste to the vegetables. Cover and cook for five minutes.
4. Season with salt and drizzle the coconut oil.
5. Serve with rice or your choice of bread.
5. Thukpa
View this post on Instagram
Another mild-flavoured dish that's become a popular mainstay in the Indian street food scene in recent years is the thukpa. This wholesome noodle soup has its origin in Tibetan cuisine and is a staple in states spread across the Indian Himalayan region. During biting winters, this light-yet-hearty broth (which can be easily prepared with vegetables or meat of your choice) makes for an absolutely perfect soul-warming meal.
Ingredients
200 grams chicken thighs/breast
1-2 medium carrots, julienned
1 bell pepper, julienned
2 tbsp oil
3 cups chicken stock
1 cup water
150 grams rice/egg noodles, cooked until soft
¼ tsp cumin powder
3 cloves of garlic
½ tbsp fresh ginger
½ tbsp lime juice
2 spring onions, chopped for garnish
2-3 stalks of cilantro, finely chopped
Instructions
1. In a food processor, blend garlic, ginger, and cumin powder into a paste. Set aside.
2. Heat oil in a large pan and sauté the paste for about two to three minutes. Add chicken stock, bring to a boil and simmer for about 15 minutes.
3. Add the chicken pieces to the stock and cook for about 10 minutes. When cooked, remove the chicken from the stock and cut it into bite-sized pieces.
4. Add the julienned carrots and bell peppers and cook on low heat for about five to six minutes, ensuring that the carrot turns tender.
5. In a serving bowl, add the cooked noodles and the chicken. Pour over the stock and garnish with the chopped spring onions and cilantro. Add the lime juice for a little freshness.
6. Daal
View this post on Instagram
In a conversation about mild and flavourful Indian dishes, it would be a travesty not to mention the most-loved staple of households across the country: the humble daal. During mealtimes in India, it's not heat or spice but this simple and comforting lentil soup that brings everything on the table together. Even though there are as many ways to prepare daal as there are families in India, most homemade recipes are subtly spiced and easy to prepare.
Ingredients
1/2 cup red lentils (masoor dal)
1/2 cup pigeon pea lentils (toor dal)
4 tsp ghee or oil
4 cups of water
2 tomatoes, finely chopped
3-4 cloves of garlic, minced
1/2 tsp cumin seeds
1/4 tsp turmeric powder
1/4 tsp red chilli powder
A few stalks of cilantro, finely chopped
Salt to taste
Instructions
1. After draining and rinsing the lentils, add them to a large pot with the water. Boil the lentils for about 15 minutes. Then, add in the turmeric powder, red chilli powder, and salt, and cook for another five to 10 minutes.
2. In a separate pan, heat the ghee or oil and add in the cumin seeds. Then, add the minced garlic and finely-chopped tomatoes and mix well. Keep a lookout for when the oil starts separating from the mixture.
3. Transfer the tomato mixture to the cooked lentils and mix well for a few minutes.
4. Add the cilantro for garnish. Serve with rice or chapatis.

Follow Zafigo on Instagram, Facebook, and Twitter. Sign up to our bi-weekly newsletter and get your dose of travel tales, tips, updates, and inspiration to fuel your next adventure!