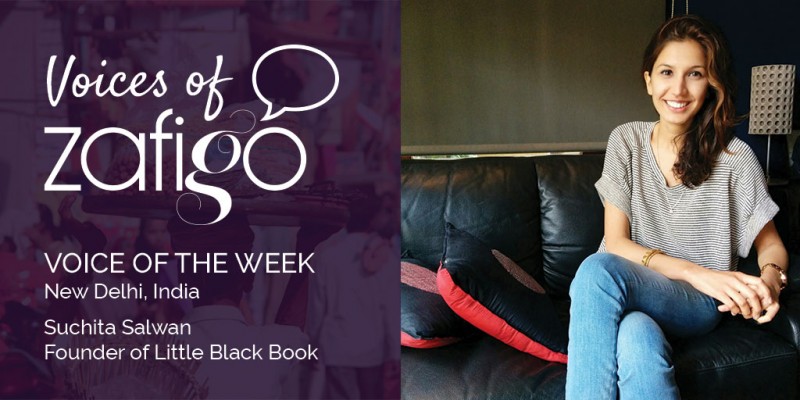 In Voices of Zafigo, we ask local women to give us their top recommendations on a particular subject or area of interest in their city. If you'd like to be featured in this section, drop an email to editor@zafigo.com with the subject line 'I want to be a Voice of Zafigo for my city'.
---
Suchita shares her personal tips on safety, the best experiences, activities and food to try in Delhi, India
---
What's your name and your current profession?
Suchita Salwan, and I am the founder of Little Black Book, a guide to Delhi and Gurgaon.
Tell us a bit about yourself:
A former events manager and PR & Marketing executive, I decided to give up the good life and take on something greater – running my own start-up. Give me a non-fiction book, some place in the outdoors, running shoes, Bombay Bicycle Club and Jay Z, and you've got a happy camper. I was born and brought up in Delhi, India, and have been living in this city for the past 25 years.
What are your tips and advice for a female traveller to New Delhi that can make their stay, either for work or for leisure, safer, easier, better and more enjoyable? 
You'll find it all here.
What are your recommended top three (or more) must-try experiences and activities for a female traveller in Delhi?
While Delhi offers plenty of options to dig into a more Western experience (think wine bars, coffee and tea chains, continental cafes and restaurants, malls, Zara, Gaps of the world), as a traveller, I'd highly recommend you give the more local offerings like the following a shot:
Street food and state bhawans
Delhi is India's number one city when it comes to gastronomy. While there are plenty of expensive fine dining options, I'm big on exploring local, north Indian street food hangouts. Don't worry, these are very clean: Haldirams, Bengali Sweets, Nathu Sweets. Try my favourite papri chaat (savoury), kulfi (sweet), and bhelpuri from Bombay Bhel in South Extension.
State bhawans are guesthouses for politicians and state officials, and always have a canteen serving local food. Tamil Nadu Bhawan's chicken chettinad is the best spicy dish I've had in the capital; Goa and Assam Niwas never fail when it comes to a wholesome, local meal.
Chandni Chowk
This is Delhi's biggest cliché but a must-visit! Check out Jama Masjid, Spice Market or Khari Baoli, Kinari Bazar (for fashion enthusiasts), and Dariba Kalan (you'll find tons of wedding cards and paper stores). You MUST try Indian desserts at Chaina Ram, which is close to Fatehpuri Mosque. The area is absolute madness, but totally worth a visit. It's the one part of Delhi that has not changed over the years.
Hauz Khas Village
You could spend a day in this south Delhi urban village-cum-coterie-of-creative-people. Start your day with a walk along Deer Park, hop over to The Rose Guest House for breakfast, drop by Coast Cafe or Barsoom while you make plans for your next couple of days in town, lunch at Naivedyam (South Indian food), get a mani-pedi at Blossom Kochhar's spa, shop ikat tunics at Translate, browse through top Indian designwear at Ogaan, pick up leather accessories at Nappa Dori or the Four Horsemen, hang out at the Hauz Khas ruins while watching the sun set, and then make your way to Social or Anti-Social for a gig and drinks.
What are your recommended top three (or more) must-try foods?
Fusion-Indian food at Indian Accent is expensive, but definitely worth it. Try the Chef's Special Tasting Menu, which takes you through wine pairings with their super edgy, utterly delightful food.
Another big movement is young, well travelled chefs working to bring local Indian food to the spotlight. A big hit is Cafe Lota; the other MUST trys are Coast Cafe, Rustom's Parsi Bhonu and SodaBottleOpenerWala (both for Parsi food), The Potbelly (Bihari food), and Carnatic Cafe (South Indian).
Cocktails is the new chai – seriously! Make sure you make your way to one of Delhi's popular bars for a drink, or two or three. I recommend PCO, Speakeasy Cocktails & Dreams, Perch, Smokey's, Monkey Bar and TownHall (the sushi is great!).

To find out more about Delhi, read Zafigo's City Guide here
Read more Voices of Delhi
Get all the latest travel updates from Zafigo. Follow us on Facebook, Twitter, and Instagram.