When dining in Bangsar, people often find themselves spoiled for choice with culinary options, but one of the few that personally stands out for me is Tsuka. A charming restaurant offering time-tested recipes that pay homage to traditional Malaysian flavours, I stumbled across this eatery while perusing the streets of Telawi, Bangsar.
With a pretty extensive menu, it's hard to pick and choose, but luckily, we had the pleasure of dining with one of the co-founders, Ms Zaidah, who helped us taste the menu.
Ambience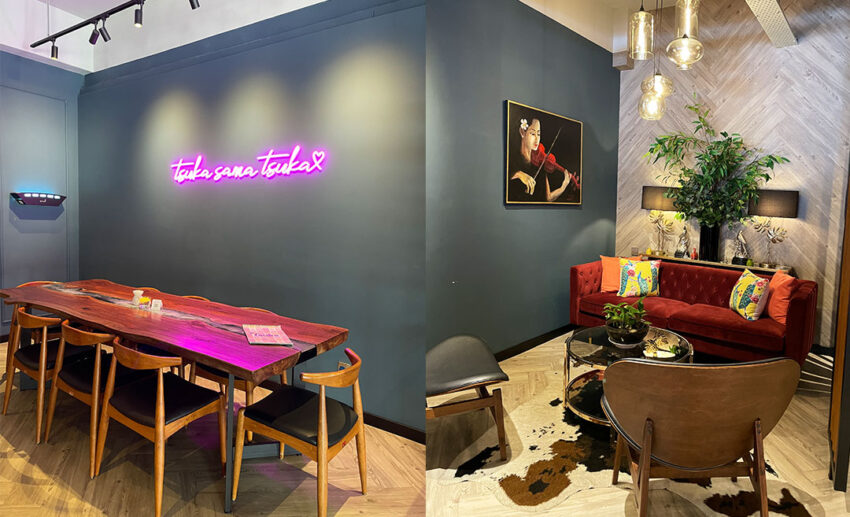 But first, let's talk about the setting because I feel the surroundings are just as important as what's on the menu. Tsuka's cosy and fuss-free ambience offers diners a perfect backdrop for an enjoyable eating experience, whether it be for lunch or dinner. The perfectly-lit interior is elegantly decorated with neon lights and feature walls that stand out but don't scream 'overdoing it'.
Service
The service at Tsuka is top-notch. The staff is friendly, attentive, and always ready to assist with recommendations and special requests. They go the extra mile to ensure every guest feels welcome and well taken care of, which adds to the overall dining pleasure.
And Ms Zaidah was an absolute pleasure to dine with. Her stories about the background of her love for food and the dishes cooked at the restaurant made the food even tastier.
Food
The heart and soul of Tsuka lie in its food, and it doesn't disappoint. The menu pays homage to Malaysian cuisine, resulting in dishes that are bursting with flavour. Here are some standout dishes that I had the pleasure of trying:
For starters, we kicked things off with the cucur udang, and while I'm no big fan of fried food, Tsuka's version of one of Malaysia's favourite snacks packs a punch. Warm, crispy, and filled with generous prawn bits, served with a chilli sauce, you'll find it hard to bite into just one piece. Also, I really appreciated that this starter dish was not doused in oil.
Tucking straight into the mains and with Ms. Zaidah's encouragement, we ordered the Lontong Kering Special, which was something completely foreign to me, but what a delightful dish it was. The soft rice cakes paired with Tsuka's beef rendang, peanut sauce, coconut floss, and sambal were the perfect medley of flavours. It's worth noting the beef rendang was perfect in consistency, not too watery but just thick enough; the beef was tender as I'd expect and pulled apart effortlessly.
A Kelantanese delicacy, we took our tastebuds for a real treat with the Laksam Mek Kelate: thick rice noodles drenched in rich coconut fish gravy sauce. As if the wholesome broth is not enough, the dish is also topped with raw vegetables, giving it a crunch. Other notable dishes include Nasi Ambeng JB, Ipoh Char Away Teow, and the Asam Pedas Ikan Pari.
To end our dining experience on a sweet note, we opted for Kerala Appam Manis, which was easily my absolute favourite. Being a massive fan of appams, I set high expectations, and Tsuka's version is much to shout about.
It's apparent that the owners' love for food and sharing good food translates into every single item on the menu. Filled with plenty of comfortable spots, diners can truly have a taste of Mum's cooking away from home.
All images are courtesy of the author.